Viisi parasta Apple Music Recorderia vuonna 2020
How to record the music from Apple Music with the original quality? For recording the music, you'd better make use of the audio recording software to get your favorite music. However, when you search music recorders on the Internet, you would find that there are a plethora of options to pick from. Which one is the best to capture the audio with the best quality? Just to make it easy for you to choose the most suitable one, this article lists top 5 Apple Music recording software for Mac and Windows.

TOP 1. Vidmore Screen Recorder | Mac & Windows
Vidmore-näytön tallennin is the versatile audio recording software that can capture the music from Apple Music with the excellent quality. It also enables you to capture video, webcam and even take snapshots with a high quality. Moreover, there are multiple editing features to edit and enhance the recording files.
Ominaisuudet:
Record the music from Apple Music with the original quality.
Sieppaa ääni mikrofonista, järjestelmän äänestä, erilaisista äänisovelluksista jne.
Säädä äänenvoimakkuutta, valitse lähde ja säädä lähtöparametreja.
Pikanäppäimet tallennusprosessin aloittamiseksi / lopettamiseksi, keskeyttämiseksi, jatkamiseksi ja hallitsemiseksi.
Kuuntele tallennetut äänitiedostot ennen niiden viemistä tietokoneelle.
Aseta tehtävän nimi, alkamis- ja lopetusaika sekä kesto ajastetun äänitallenteen tekemistä varten.
How to Record Apple Music with Vidmore Screen Recorder
Vaihe 1. Free download, install and run this Apple recording software on your computer. In the main interface, click Äänen tallennin siirtyäksesi äänen tallennusliittymään.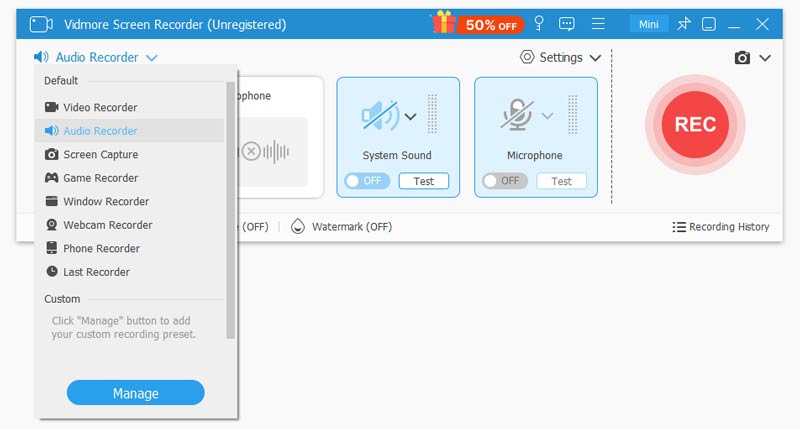 Vaihe 2. Valitse äänilähtö muodossa Järjestelmän ääni tai Mikrofoni tarpeidesi mukaan.
When you want to record your favorite music from Apple Music, you just need to toggle on System Sound and off Microphone.
Jos haluat tallentaa oman äänesi, sinun on kytkettävä mikrofoni päälle.

Vaihe 3. Klikkaus REC aloittaaksesi musiikin tallentamisen tietokoneellesi. Oletusasetus tarkistetaan Näytä lähtölaskenta ennen tallennusta. Kun napsautat REC-painiketta, näytöllä näkyy kolmen sekunnin lähtölaskenta.

Vaihe 4. When the music stops playing, you can click the Stop button to listen to the recorded audio and click Tallentaa viedä se tietokoneellesi.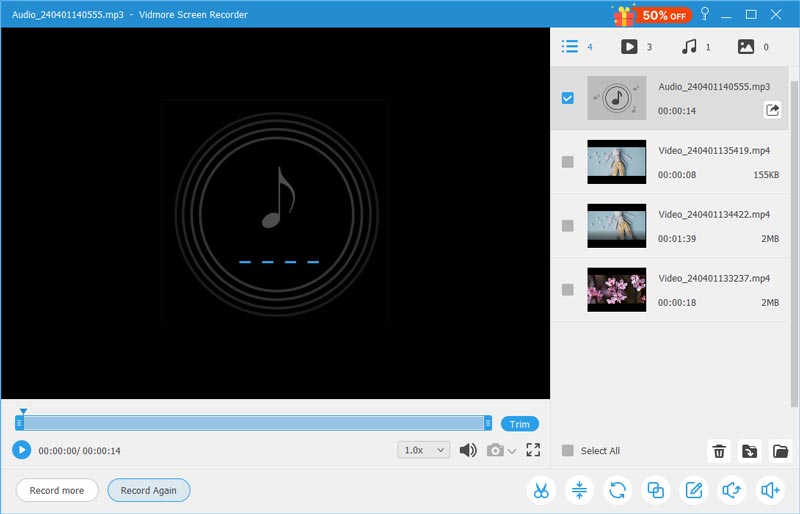 TOP 2. Audacity | Windows, MacOS, and Linux
Audacity is a free and open-source audio recording application that is available for Windows, MacOS, and Linux. If you are looking for the free audio recording software for capturing Apple Music, Audacity can do you a great favor.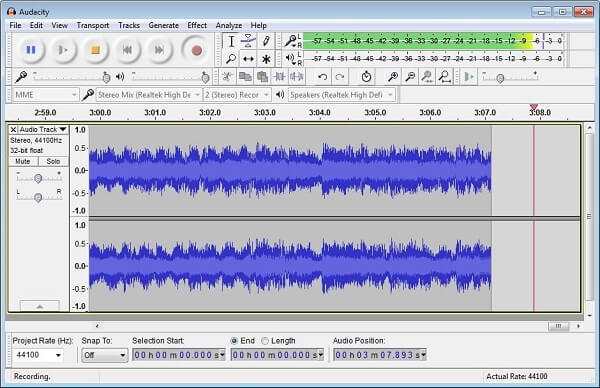 Audacity audio recorder allows you to record music from different websites and applications. It is not only a powerful recording tool, but also an amazing audio editor. After recording the music on Apple Music, you can edit the recording with ease using this application.
TOP 3. GarageBand | Mac
Garageband is a beginner-friendly audio recorder for Mac. It is able to record sound from system, microphone or external source. It would be a good Apple Music recording and editing application for Mac, especially for beginners who need to do any multi-track recording and minor mixing work.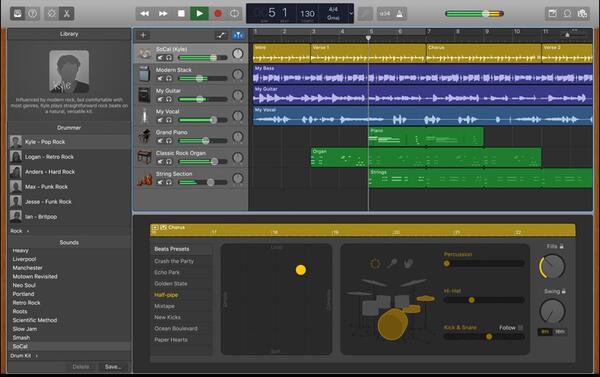 Garageband is equipped with music creation studio with a complete sound library that includes instruments, presets for guitar and voice, as well as an incredible selection of session drummers and percussionists. With it, you can edit audio files and recordings of multiple tracks easily.
TOP 4. QuickTime | Mac
QuickTime is a multimedia application developed by Apple that is capable of handling various formats of digital video, picture, sound, panoramic images, and interactivity. It's basically a pre-installed video player but with more functionality than most because it can act as a video editor and audio recorder on Mac as well.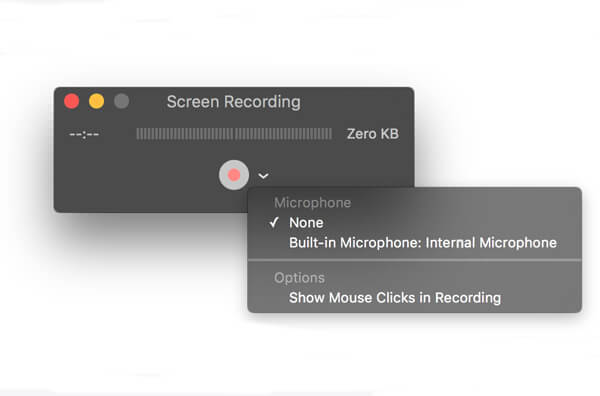 QuickTime can record the online music from Apple Music, games, voice, and even the connected iOS devices with ease. You can adjust the audio quality, export to iTunes, and further edit the audio recording.
TOP 5. Adobe Audition | Mac & Windows
Audition is a multi-track recording studio that offers all the refinement you expect in Adobe products. You can use it to record Apple Music. And it can also record and mix live through your computer microphone, or you can work with recorded tracks. You can create live narration, edit and enhance sound, or mix several tracks dynamically.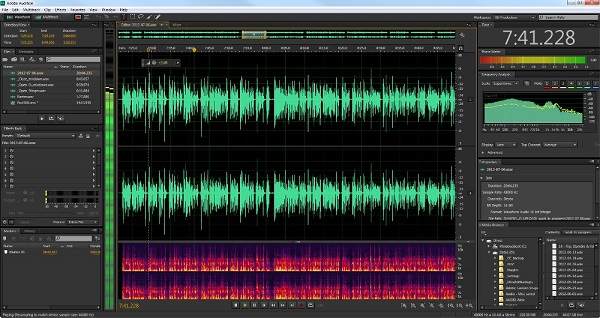 However, Adobe Audition may leave beginners floundering in technical jargon. And the HD voice recorder is expansive if you want to use this audio recorder to capture your voice.
This article introduces top 5 Apple Music recorders for Windows and Mac. You can get the free audio recording software to capture your desired audio files. Vidmore Screen Recorder is the best choice. You can use it to record video calls and live video on Facebook, music, and more for your Windows/Mac/ iPhone/Android. Have better recommendations? Feel free to tell us.