Xbox One ne lira pas de DVD? Voici toutes les méthodes réalisables que vous pouvez faire
Xbox One is a popular home video game console for years. You can not only play games, but also watch DVD movies with Xbox One at home. When you go back home after a hard day, you can boot up Xbox One and enjoy your favorite movies for relaxing. It is quite frustrating when Xbox One won't play DVD. What you can do to make Xbox One read DVD disc? Here is your latest tutorial.

Part 1: Rip DVD to Xbox One Format for Offline Playback (Recommended)
Why Xbox One fails to read DVD? If your DVD disc can be recognized by other DVD players, then it is the Xbox One's fault. You need to test out Xbox One to find out the real cause for DVD not playing in Xbox One. Instead of spending time on those stuff, you can rip DVD to Xbox One with Vidmore DVD Monster to fix Xbox One won't play DVD offline or whatever errors effortlessly.
It does not matter Xbox One can't read or play DVD. You can digitalize DVD content to any Xbox One compatible format in Qualité 1: 1. The program allows users to rip DVD movies to Xbox, Wii, PlayStation, Apple TV, iPhone, iPad, iPod touch, Samsung and many other popular devices. It is supported to choose your favorite audio track and Sous-titre. You can trim, merge, Ajouter un filigrane and adjust video effects within the DVD to Xbox One ripping software too.
Rip DVD to any format compatible with Xbox One, Xbox One S, Xbox One X and Xbox 360.
6x faster DVD to Xbox One ripping speed.
Make 1:1 DVD copy to rip an entire DVD to Xbox One.
Edit and touch up DVD movies before ripping.
Work with Windows 10/8/7Vista/XP.
Étape 1: Free download, install and launch Vidmore DVD Monster. Put your DVD disc into the optical drive on your computer.
Étape 2: Cliquez sur Charger le DVD dans la barre d'outils supérieure. Sélectionner Disque DVD from its drop-down list. Then click Afficher / sélectionner un titre to access the DVD content. You can choose which file to convert the Xbox One format.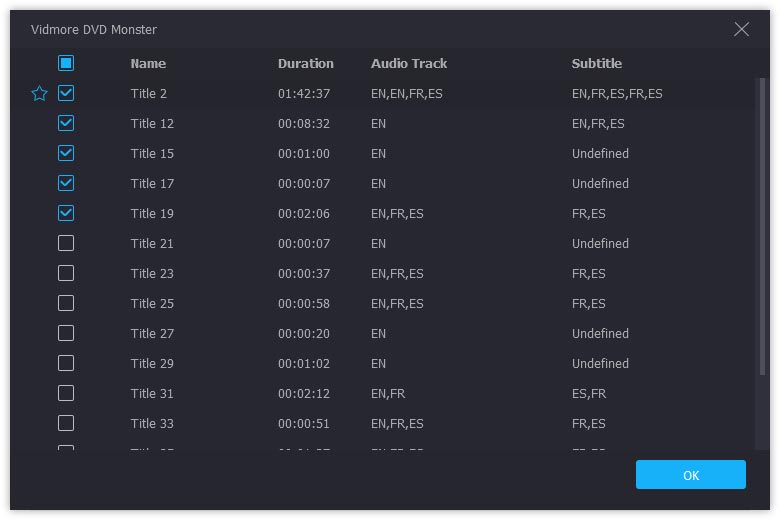 Étape 3: Dépliez le Extraire tout pour list on the top right corner. You can choose the output video format directly. Or you can switch to the Dispositif section to choose from all Xbox One compatible formats.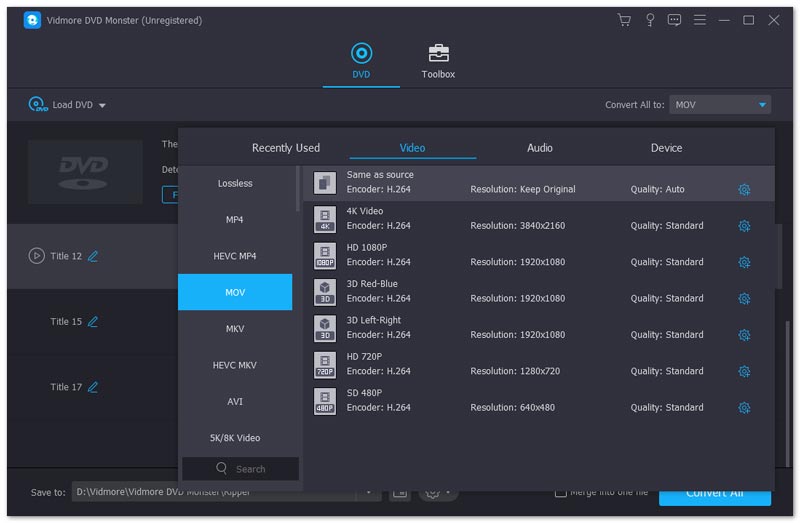 Étape 4: Change the output folder from the Enregistrer dans liste près du bas. Enfin, cliquez sur Extraire tout to rip DVD to Xbox One format. Thus, you can get away from Xbox One not playing DVD error easily.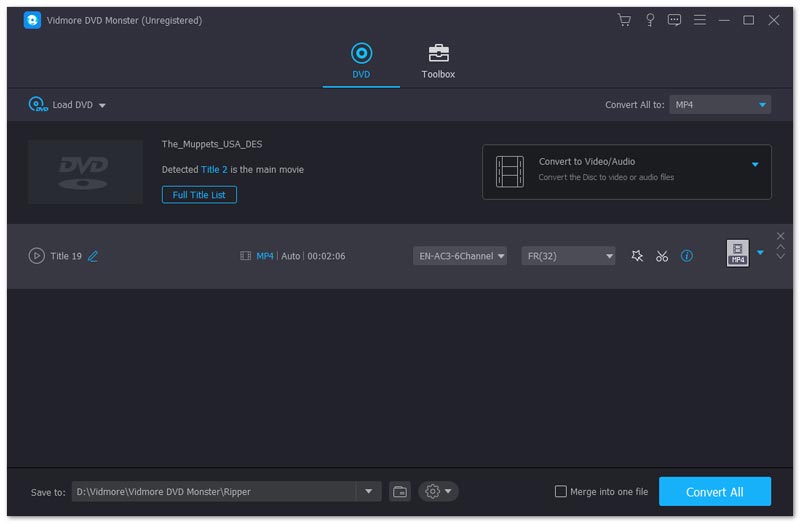 Remarque: You can transfer the ripped DVD movies to Xbox One via NAS server or USB drive. The video files will appear in your console. Later, you can play DVD on Xbox One without Internet and other requirements.
Part 2: Troubleshoot Xbox One Won't Play DVD Error
If you insist on finding out why your Xbox One not playing DVD disc, you can do as the following paragraphs show. What stops Xbox One from reading DVD? Just read and check.
Way 1: Check Parental Controls
You can set parental controls to lock the certain function in Xbox One. Sometimes you just blocked the certain DVD from playing by mistake. So go ahead and check parental controls to fix Xbox error when playing DVD.
Étape 1: Choisissez Family du Paramètres app.
Étape 2: Browse and choose the settings you want to change.
Étape 3: Choisissez Change Settings sous Privacy & Online Safety.
Étape 4: Check if you can play DVD with Xbox One now.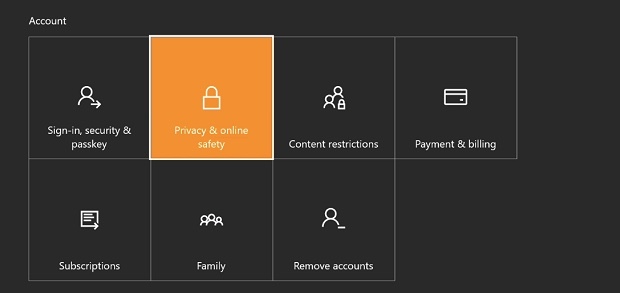 Way 2: Check DVD Region
Generally speaking, make sure your Xbox One and DVD discs are bought from the same country. Otherwise, Xbox One won't play DVD due to region codes. If you have no idea how to change or remove region code, you can run Vidmore DVD Monster to fix Xbox One not playing DVD.
Way 3: Clean DVD Disc
Make sure your DVD is clean and not defective. You can use a soft, clean and slightly damp cloth to clean your disc. Remember to hold the disc by the edges instead of touching the DVD surface. Wait until the disc is dry. Later, you can try for another time to see if Xbox One won't play DVD is fixed or not.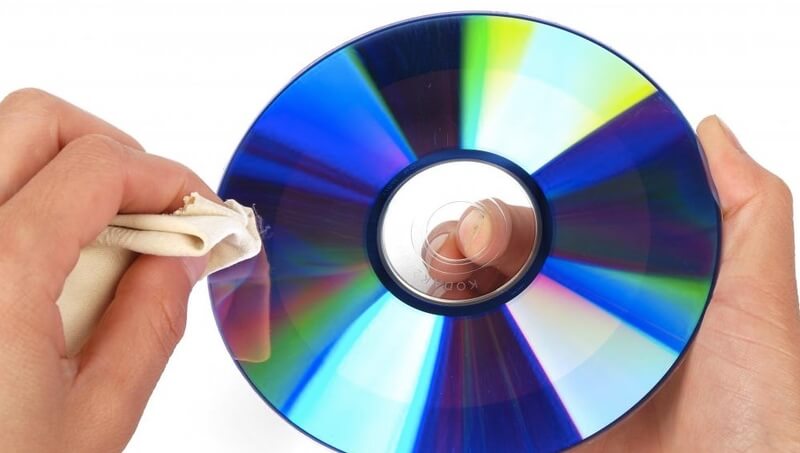 Way 4: Reinstall the Player App
The DVD not playing in Xbox One error can be fixed by reinstalling the player app too. When you receive Xbox One 0x91d70000 error code, you can follow the tutorial below.
Étape 1: Choisissez Accueil, Boutique et Chercher options in order.
Étape 2: Search for Blu-ray to access the Blu-ray Player app.
Étape 3: Free download and install this Player app.
Étape 4: Try to play DVD with Xbox One.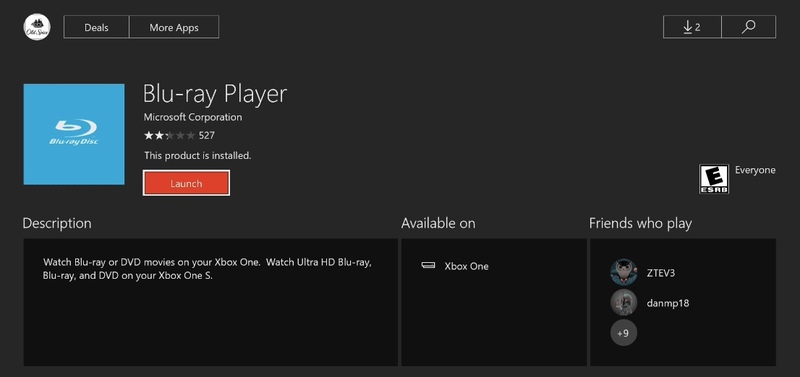 Way 5: Repair Xbox One Disc Drive
If the above Xbox One troubleshooting methods are not working, maybe your Xbox One console needs a repair. During this time, you can fill in the Device service and repair form online. As a result, you can go to the local Microsoft Store, send the not working Xbox One device or create a repair order to get help from professionals.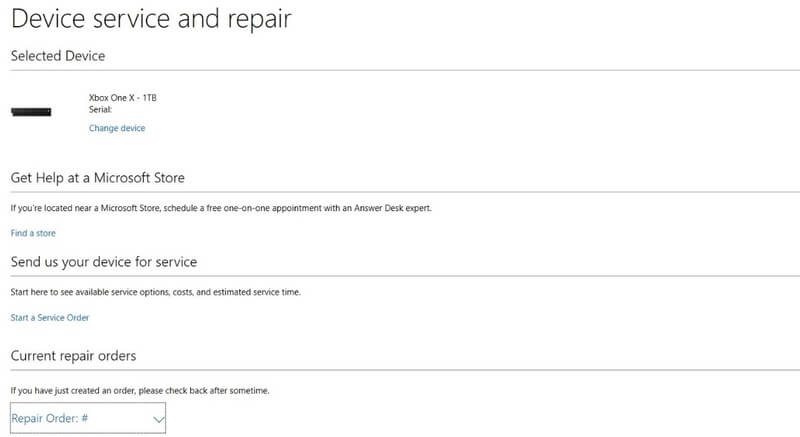 Tu pourrais avoir besoin de: How to fix VLC won't play DVD
This article introduces 6 proven ways to fix Xbox One won't play DVD from these or those reasons. The most effective way is digitalizing DVD to Xbox One with Vidmore DVD Monster. You can remove copy protection and convert DVD content with ease. Both old and new DVD discs are supported. You can free download the program to see if Vidmore DVD Monster can rip your old DVD disc or not.