Meilleur convertisseur Blu-ray vers iOS pour extraire le film de Blu-ray vers iPad et iPhone
When you want to extract a high quality video from Blu-ray for your iPad, iPhone or other iOS device, what should you do? Whether you need to save the Blu-ray movies as backup, or stream them to iOS device, Blu-ray to iPad converter should be the right choice.
Usually the Blu-ray discs have the DRM encryption to protect copyright of Blu-ray contents. It is difficult to convert Blu-ray discs to video formats, no mention about the optimal format for iPad. Vidmore Blu-ray Monster is the best method to convert Blu-ray to iOS compatible formats with ease.

Part 1: What You Need to Rip a Blu-ray Disc to iPad
What should be important when you need to rip a Blu-ray disc to an iPad or iOS compatible format? Just learn more about everything you should prepare for converting as below.
The Blu-ray disc you need to convert. Most of the commercial Blu-ray discs have the DRM protection, especially the one you purchased from Amazon or eBay online.
A Blu-ray drive built-in or connected to your computer. If your laptop does not have a built-in Blu-ray drive, you have to connect to an external drive beforehand.
Enough space on your hard drive to save the converted Blu-ray to iPad videos. A Blu-ray disc can store 30 to 60GB content. Check your internal storage and make sure it has enough empty space.
Blu-ray to iPad converter. When you need to convert Blu-ray to iOS device with the original quality, Vidmore Blu-ray Monster is the complete solution for video converting, DVD & Blu-ray ripping.
Part 2: The Best Method to Rip a Blu-ray to iPad
Why do you choose Vidmore Blu-ray Monster? It is not only a Blu-ray to iPad converter that extracts the movies from any Blu-ray disc, but also converts Blu-ray movies to more than 300 video and audio formats. Moreover, it has some basic video editing features that you can trim the large Blu-ray movie clips to your iPad or iPhone with ease.
Convert and rip any Blu-ray discs for iPad, iPhone and other iOS devices.
Extract the high quality video and audio files from Blu-ray disc with ease.
Support 4K videos, lossless audio and most of the iPad/iPhone models.
Preview the converted Blu-ray movies within the built-in media player.
Basic video editing features to trim, rotate, add watermark/subtitle, etc.
How to Rip Blu-ray to iPad with the Original Quality
Étape 1: Install the Blu-ray to iPad Converter
Insert the Blu-ray disc into your Blu-ray drive on your computer. Download and install the latest Blu-ray ripper, launch the program to select the Éventreur menu. Expand the Charger un Blu-ray menu on the top ribbon and choose the Charger un disque Blu-ray option to load the Blu-ray disc.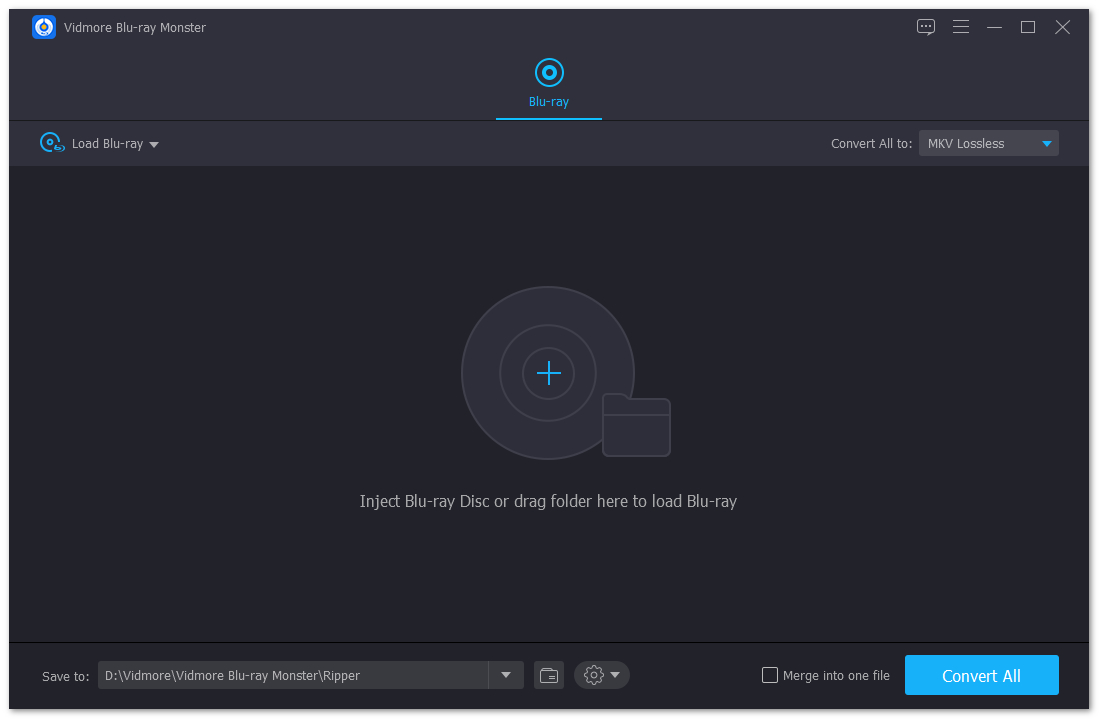 Étape 2: Select the Blu-ray title you want to rip
After loading the Blu-ray disc, you can find all the titles for the Blu-ray. Just click the Afficher / sélectionner un film button to check the titles on Blu-ray disc you want to rip for iPad, or even select the Tout déchirer option. Click the D'accord pour le confirmer et revenir à l'interface principale.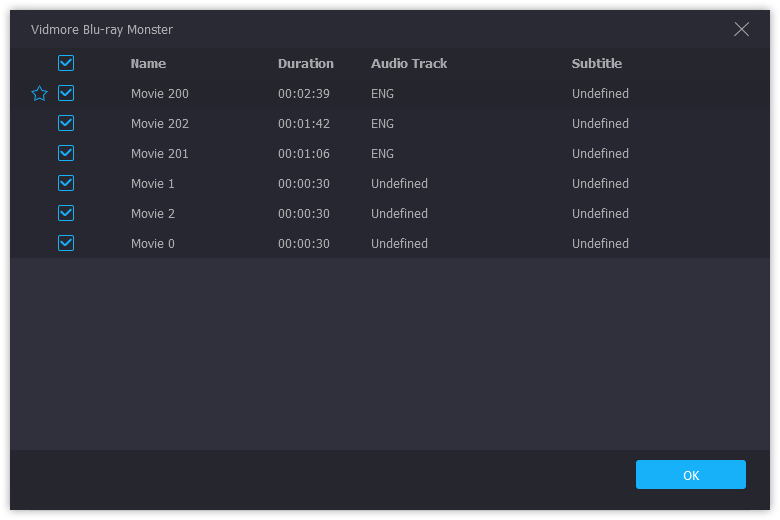 Étape 3: Set iPad or iPhone as output format
By default, it will rip Blu-ray to the lossless MKV format. In order to convert Blu-ray movies to the desired iPad model, you can go to the Dispositif tab on the pop-up dialog. Select the desired iPad model accordingly. Moreover, you can also tweak the different parameters for the output videos.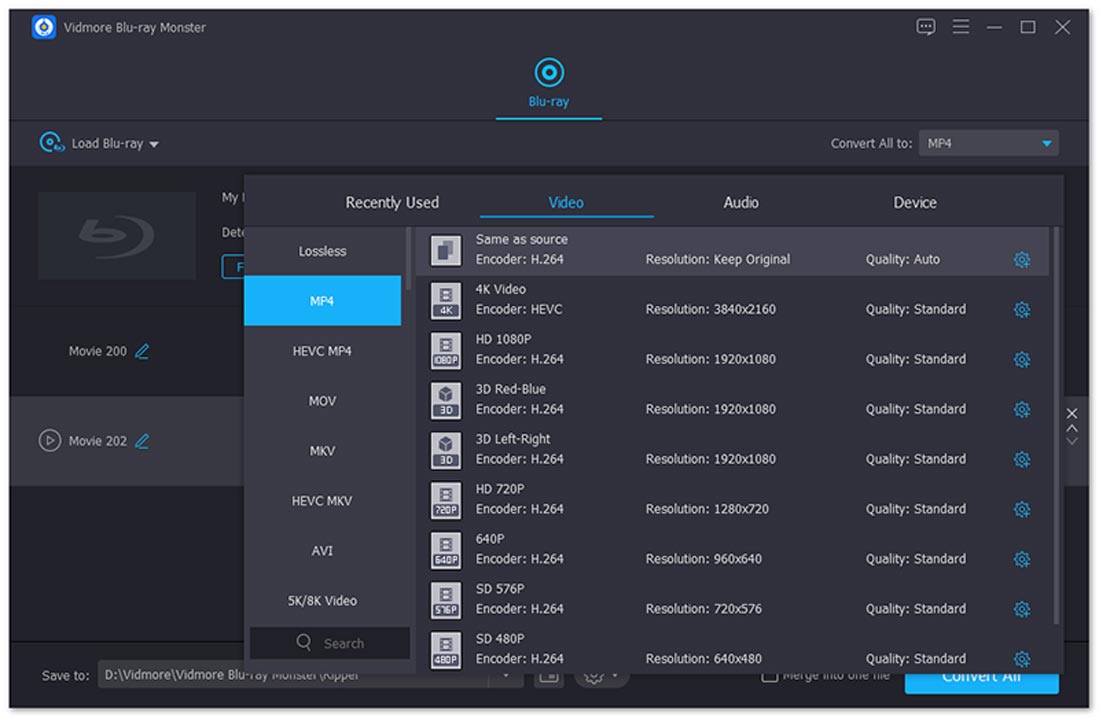 Étape 4: Trim the Blu-ray movies into clips
Usually, the Blu-ray movie is more than 20GB. You have to split the Blu-ray movie into different clips. Click the Couper option next to the main movie to drag both sides of the blue process bar to select the fragment you want. After that, click the sauver button to trim the file.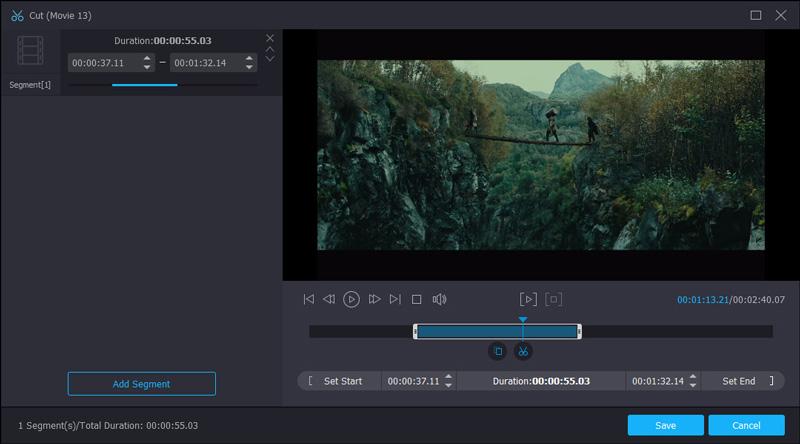 Étape 5: Rip all Blu-ray movies for iPad in batch
Set a specific folder in the Enregistrer dans field and click the Extraire tout button to start ripping Blu-ray to iPad. It takes a period of time to convert the Blu-ray to iPad compatible format. When it is done, you can transfer the movies to your iPad with iTunes or other services.
Conclusion
How to rip Blu-ray to iPad, iPhone and other iOS devices? If you want to stream and play the Blu-ray on iOS device, just check what you should do to convert the Blu-ray discs and use Vidmore Blu-ray Monster to extract the desired movies with ease.