Macでオーディオを使ってスクリーンレコーディングを行う3つの方法(トーク、コンピュータサウンドなど)
If you can't explain something with pure words and pictures, you can record video and audio to express more effectively. Instead of reading an article with thousands of words, people prefer to watch a how-to guide video less than 10 minutes. In most cases, problems can be solved perfectly. So it is recommended to screen record on Mac for tutorials or other cases. Sometimes you can record video or audio playing on your Mac for offline playback, backup or reference.
Many people want to screen record on Mac with audio. Thus, this article mainly talks about how to screen record on a Mac computer with system audio and your voice. You can also close the audio recording function if you want to record your computer's screen without audio. Now, let's see the detailed steps to record Mac screen with sound here.

Part 1: How to Screen Record on Mac with Vidmore Screen Recorder
It is a great help if you can draw on screen while recording. There is no need to edit the recording video file to add drawing tools again. For people who want to screen record on Mac for education, how-to video and other tutorials, Vidmoreスクリーンレコーダー can be a good choice. You can add real-time drawing tools and mouse effects when you are recording screen video on Mac.
Furthermore, you can add a webcam overlay on your screen recording. For instance, you can record both the streaming video and your face and voice over in the same video. The Mac screen recorder software will not crash or freeze. If you are not satisfied with the certain part, you can trim recording file to extract the video clip you like directly. In a word, it is your first choice to record screen video and audio on Mac in one stop.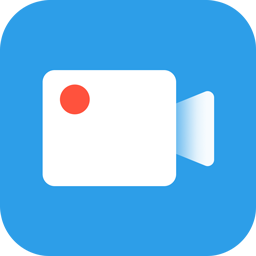 Vidmoreスクリーンレコーダー
Record screen on Mac with full screen or any area you like.
Screen record on Mac with sound from the browser, software, computer or microphone.
Add text, arrow, shape, line and mouse effect while recording on Mac.
No maximum time limit. But you can set a scheduled task to record screen video on Mac for hours.
Set hotkeys to start, pause, resume and stop recording smartly.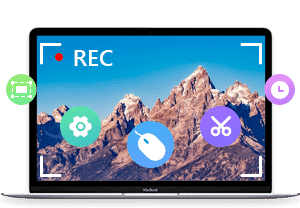 ステップ1: Free download Vidmore Screen Recorder on your computer. To start recording screen on Mac, choose ビデオレコーダー メインインターフェイスで。

ステップ2: Trigger on 表示. Select the region or window you want to record. Then enable システムサウンド または マイクロフォン to set the input audio source.

ステップ3: If you want to change the video recording settings, you can click 設定 to enter into the 環境設定 window. Here you can change the output video format, quality, hotkey and more details.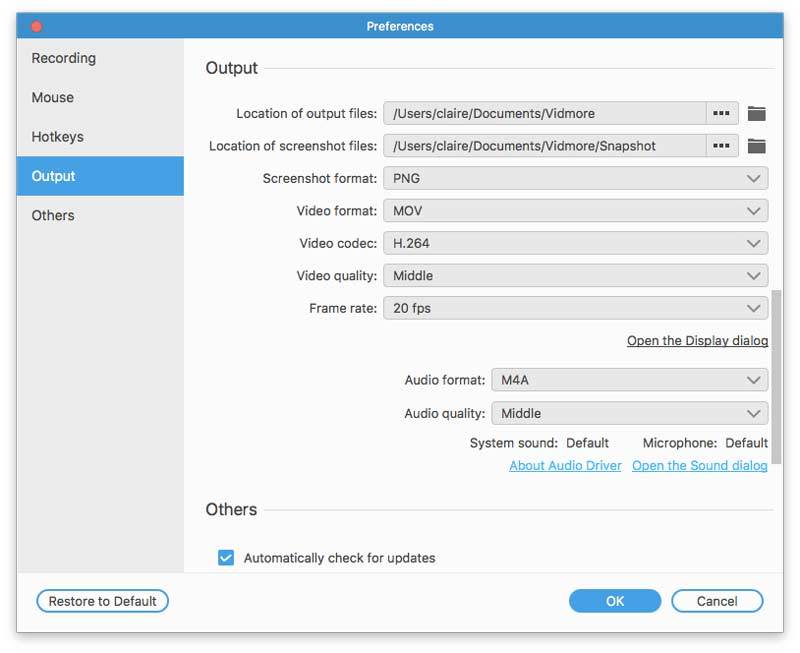 ステップ4:クリック レック to start recording. You can click the スクリーンショット または 編集する icon on the right side. So you can draw on the recording file or take a screenshot.

手順5: When the screen recording process ends, you will be in the プレビュー window. You can set the start and end time to trim this recording file. Later, click 保存する to head to the 記録履歴 window. You can share, delete, play, rename and organize it here.
Part 2: How to Screen Record on Mac with QuickTime Player
QuickTime Player is a pre-installed program for all Mac users. So there is no need to install any third-party screen recorder on your computer. However, MOV is the only output format. Before you screen record on Mac with audio using QuickTime, you need to install Soundflower or other similar plugins to record audio from Mac system. This really matters if you want to screen record on Mac with sound from computer.
ステップ1:MacでQuickTimeを開きます。選ぶ 新しい画面記録 から ファイル ドロップダウンリスト。
ステップ2: There will be a small window pops up. Unfold the down-arrow list. Select 内蔵マイク to record screen and audio at the same time on Mac.
ステップ3: クリック 記録 button to start recording Mac screen with audio.
ステップ4: Once the QuickTime recording finishes, choose 保存する から ファイル list to export.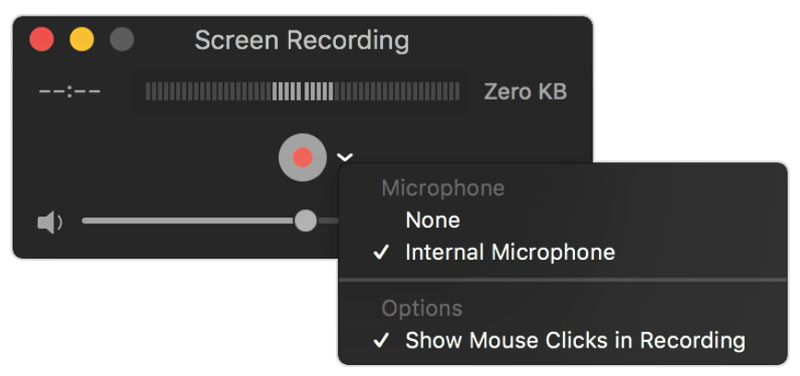 Part 3: How to Screen Record on Mac with macOS Mojave Hotkeys
If you are running macOS Mojave, you can get one more choice for Mac screen recording. By pressing シフト, コマンド そして 5 keys, you can record any screen area on your Mac computer. It is extremely simple and easy to use. The main disadvantage is that you cannot get any editing or output preferences.
ステップ1: 押す シフト, コマンド そして 5 keys simultaneously on the keyboard.
ステップ2: In the onscreen controls, you can select whether to record on Mac with entire screen or the selected portion.
ステップ3:クリック 記録 to start recording screen on macOS Mojave.
ステップ4: You can click 記録を停止 in the menu bar to stop recording on Mac screen.
手順5: The recording video will be saved in desktop as the MOV format by default. You can play, convert and edit it with other programs.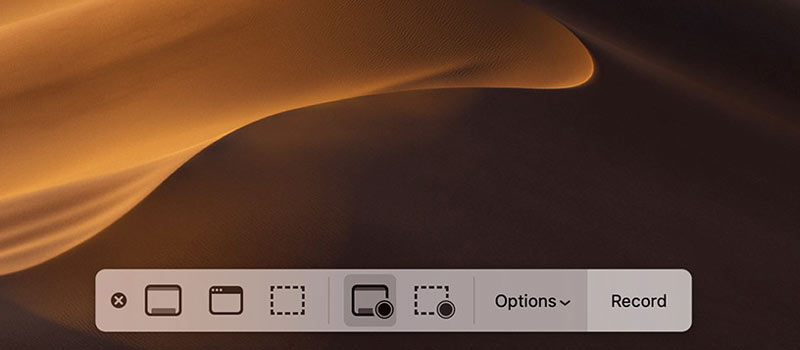 Part 4: FAQs about Screen Recording on Mac
Is there a time limit on screen recording?
No. You can screen record on QuickTime, Mojave hotkeys and Vidmore Screen Recorder as long as possible. But you can set a timer to screen record on Mac smartly. When it reaches the time you set before, the Mac screen recorder will stop recording and export it automatically.
How do I stop my screen recording from lagging?
Close other programs that run in the background. Your computer will be slowed down because of opening too many programs at the same time. If you screen record on gameplay or other live streams on Mac, it is recommended to use Vidmore Screen Recorder. Because you can fully control the entire recording process without choppy or lag.
Will someone be notified if I screen record a Facetime call?
No. Just make sure there is no notification in your Mac screen recorder. In most cases, you can screen record Facetime without them knowing. Even though Facetime calls are private, anyone can record screen video and audio of Facetime and other online calls secretly.
全体として、次のことができます screen record on Mac without background noise with the above 3 methods. All kinds of activities can be recorded on Mac without maximum time limit. So you can record Mac screen video with talk and computer sound. Of course, you can screen record on Mac with music you like. Just play the song and check if you enabled the audio recording function or not. It is also supported to screen record on Mac with your face for YouTube and more. Do you have any other questions? You can feel free to contact us.