15 Best Bandcamp Downloader Applications Still Working in 2020
This article is going to share a top list of 15 best Bandcamp downloaders to help you get your favorite music offline on Windows, macOS, iOS and Android. Bandcamp is a special music streaming platform. Unlike Spotify, you can find a lot of independent artists and small labels on Bandcamp.
Musicians earn a living from their work, though some decided to make tracks available to free download. Each artist has a custom page with various information. When you find a song on Bandcamp with no download option and you want to listen to offline, you will need a Bandcamp downloader.

Part 1: Why You Need a Bandcamp Downloader
Firstly, Bandcamp does not offer the download option on the website. Therefore, you have to find a Bandcamp downloader if you want to get your favorite music for listening to offline on your computer.
The Bandcamp app does display the download option if an artist set it. There is a 30-day limitation. It means that you can only listen to the song for 30 days and then have to download it again. Moreover, Bandcamp encrypted all songs, so you can only listen to the downloaded music within the app. That makes Bandcamp downloaders a necessary tool.
Part 2: Top 9 Bandcamp Downloaders on Desktop
Top 1: Vidmore Screen Recorder
As mentioned previously, Bandcamp has encrypted the music on the platform. Is there any way to download any music from Bandcamp? Vidmore Screen Recorder is the answer.
Get any songs from Bandcamp to computer for listening to offline.
Remove encryption and other restriction while recording.
Support a wide range of output format, like MP3, M4A, etc.
Enhance audio quality automatically using advanced technology.
Available to both Windows 10/8/7 and Mac OS X.
Needless to say, it is the best option to download your favorite music from Bandcamp on desktop.
How to Download Music or Album from Bandcamp
Step 1: Install the best Bandcamp downloader
When you find a song that you want to download from Bandcamp, install the best Bandcamp downloader to your computer. Then launch the software and select Audio Recorder to move on.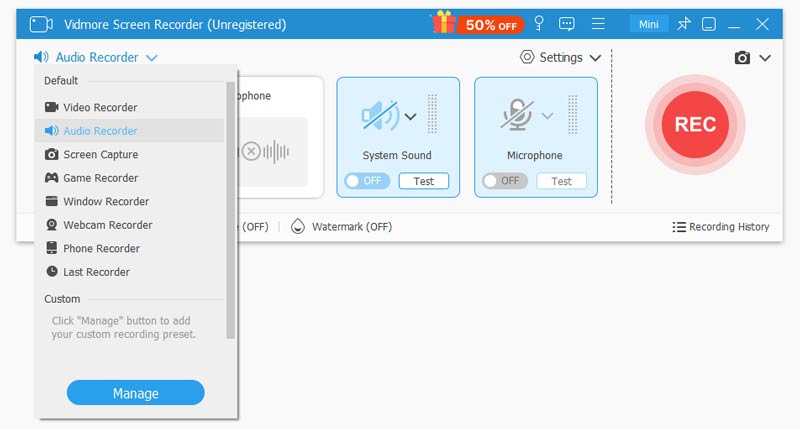 Step 2: Record music from Bandcamp
Turn on the System Sound option and disable Microphone. The latter option will capture your voice through microphone. Then adjust the volume based on your situation. Hit the Gear icon to activate the Preferences dialog. Go to the Output tab and set the output format. You can customize other options, like hotkeys. Play the desired Bandcamp music or album in your browser and click the REC button to start recording.

Step 3: Save Bandcamp music
Wait for the music playback to finish and hit the Stop icon. Listen to the music in the preview window and click the Save button if you are satisfied. The Clip tool can help you remove unwanted parts.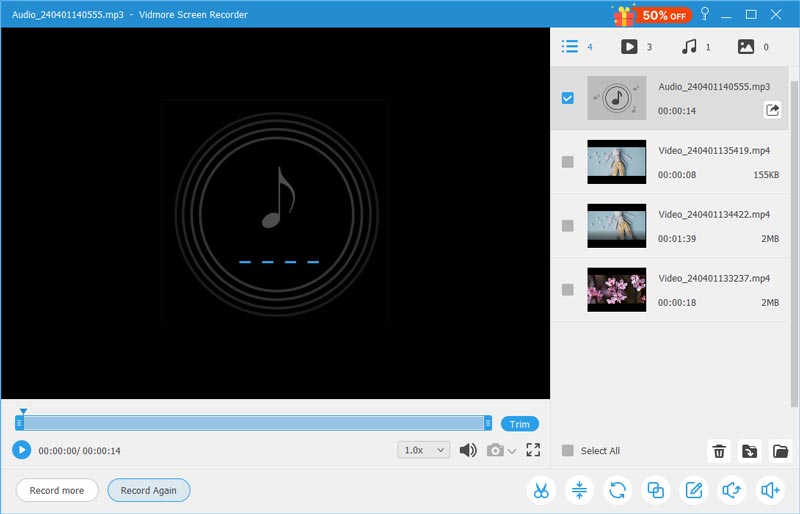 Top 2: Leawo Music Recorder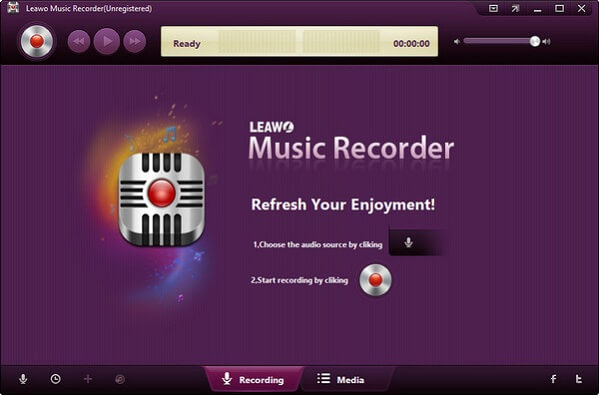 Leawo Music Recorder is a Bandcamp downloader available to a wide range of songs on the platform. Though the interface seems simple, it can get what you want efficiently. It costs $29.99 lifetime for a single license.
Pros
Download Bandcamp music as audio track.
Save music in MP3, AAC, M4A, and other popular audio formats.
Detect and add tags automatically.
Cons
It lacks some features, like audio editing.
It is not available to macOS.
Top 3: Audacity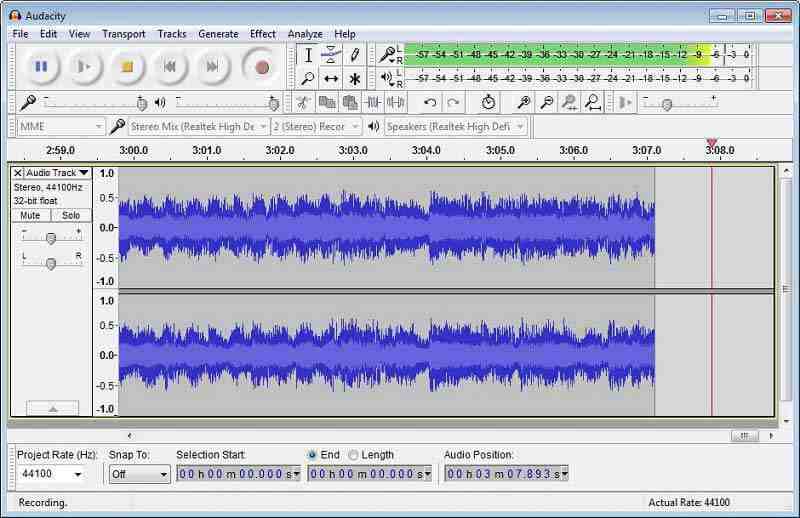 Audacity is an open-source Bandcamp music to MP3 recording program. In another word, everyone can use it to get music from Bandcamp for free. It put the music recording to audio track, so you can edit it later.
Pros
Free of charge.
Offer lots of audio editing features, sound effect and more.
Support multitrack and batch processing.
Cons
It cannot keep the original audio quality.
The interface is messy.
Top 4: VLC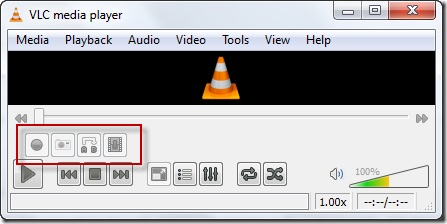 VLC is also an open-source solution. Unlike Audacity, VLC is a media player with extensive features. It is able play music streaming through URL and you can download it with the record option.
Pros
Free to use without any limit.
Support a wide array of websites, like Bandcamp.
Save the downloaded songs as MP3.
Cons
The features are hidden in menu bar.
The output quality is poor.
Top 5: QuickTime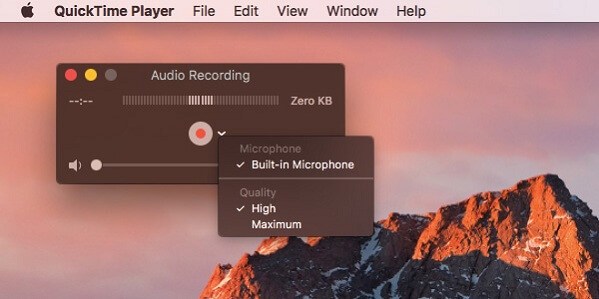 QuickTime is the native media player on Mac. It is not only free to use, but also integrates extensive functionalities, such as the Bandcamp downloader. So, it is a good starting point for beginners.
Pros
Record music on Bandcamp, YouTube, etc.
Offer several basic custom options.
Save the music recording for iMovie or other Mac apps.
Cons
It only support Apple audio format.
The audio recorder is too simple for advanced users.
Top 6: 4K Video Downloader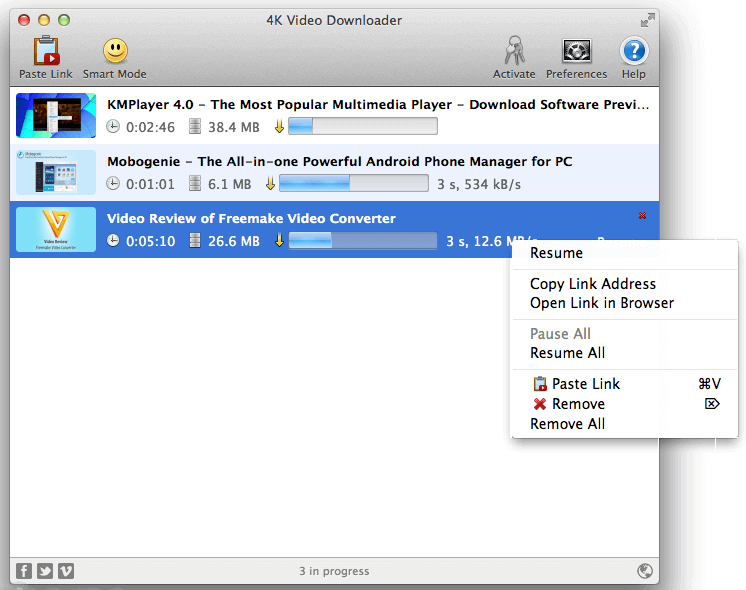 As its name indicated, 4K Video Downloader can help you download high quality videos and music files from various websites including Bandcamp. The license is $15 for personal use and $75 for business.
Pros
Download music from Bandcamp in high quality.
Available for Windows, macOS and Linux.
Support batch download.
Transfer music to iTunes directly.
Cons
The audio output formats are limited.
It sometimes has the parsing errors
Top 7: Elmedia Player PRO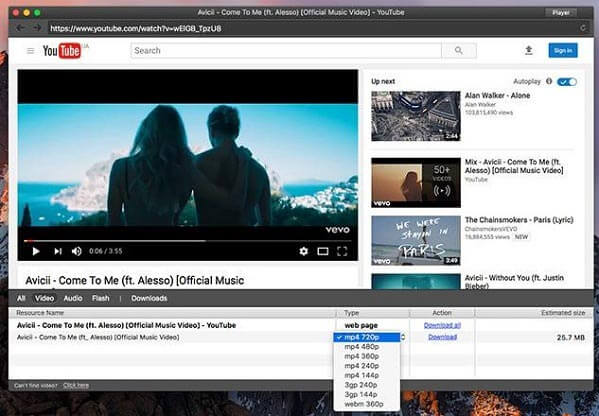 Though Elmedia Player PRO is a professional media player, it can extract multimedia files from websites and download them to your computer. Of course, you can use it to download music from Bandcamp. Its price starts at $14.96.
Pros
Play online music on Bandcamp via URL.
Detect music files from web pages.
Save your favorite songs to computer directly.
Cons
It consumes major CPU of your device.
Top 8: Bandcamp MP3-128 saver
Bandcamp MP3-128 saver (https://chrome.google.com/webstore/detail/bandcamp-mp3-128-saver/jnalfhlkbaacohhpckimokkehikeongl) is the Bandcamp downloader extension for Chrome. Once you install the extension to your Chrome browser, it will detect the music files on Bandcamp page immediately.
Pros
Available to most songs on Bandcamp.
Download online music in 128kbps.
Free of charge and easy to use.
Cons
It must work with Chrome browser.
There is no custom option.
Top 9: Media Stealer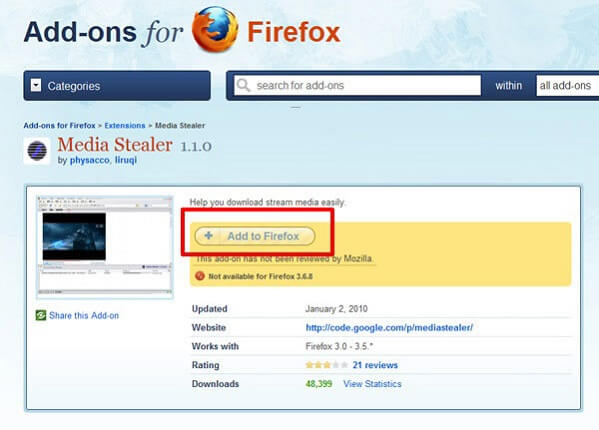 Media Stealer (http://legacycollector.org/firefox-addons/11963/index.html) is the best Bandcamp downloader add-on for Firefox. If you do not like to install independent software on your machine, it is a good option to get your favorite songs offline.
Pros
Download songs from Bandcamp for free.
Add the download option for online music.
Lightweight and work smoothly.
Cons
You cannot select audio quality.
It only support Firefox.
Part 3: Top 3 Bandcamp Downloaders Online
Top 1: Bandcamp To MP3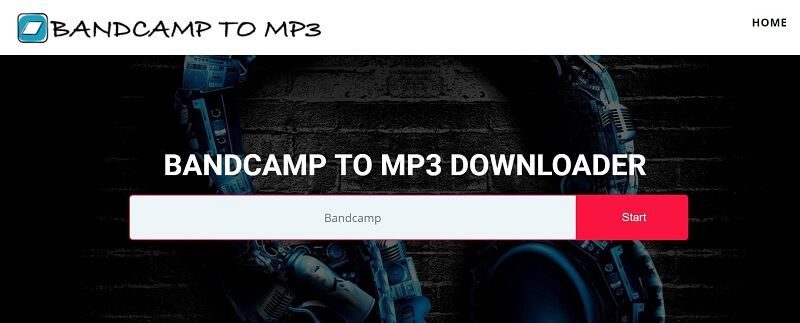 Bandcamp To MP3 (https://bandcamptomp3.com/) is a web app to help you download music from Bandcamp. It can extract media files from web pages and get what you want without installing any software on your computer.
Pros
Download Bandcamp music without any restriction.
Save online music in high quality MP3 files.
Work well in most major browsers.
Cons
It is not available to protected songs.
It does not support batch download.
Top 2: TUBENINJA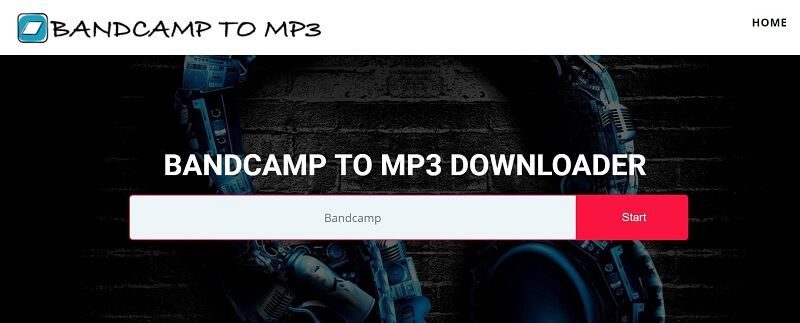 TUBENINJA (https://www.tubeninja.net/how-to-download/bandcamp) is another way to download music from Bandcamp online. In addition to Bandcamp, the web app is working for a wide range of music streaming platforms, like YouTube and more.
Pros
Play and pre-listen to the desired song.
One-click to get the music through URL.
Support several output formats.
Cons
It may be failed when downloading music.
Top 3: VID Downloader

It is well-known that web-based Bandcamp downloaders are not stable, so you'd better master more than one tool, such as VID Downloader (https://videodownloadsite.com/bandcamp-song-downloader). It supports various platforms, including Bandcamp.
Pros
Get Bandcamp songs for personal use.
Download online music for mobile devices.
Available to both Windows and macOS.
Cons
Downloading copyright content is restricted.
The music quality may be damaged.
Part 4: 3 Best Apps to Download Music from Bandcamp
Top 1: Videoder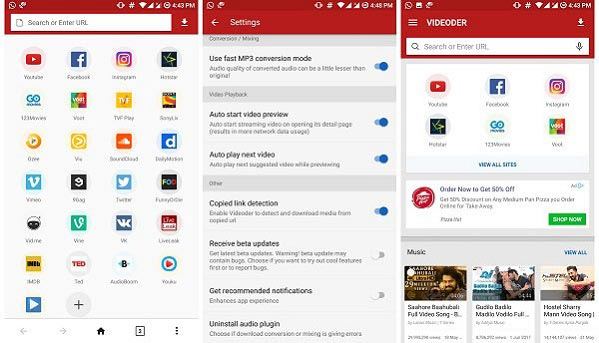 Videoder is the best way to download music from Bandcamp to Android without a computer. Unfortunately, this app has been removed from Play Store, so you have to install the APK file from the internet.
Pros
Download Bandcamp songs to Android directly.
Available to most devices running Android 4.0 or above.
Keep the original quality of online music.
Cons
You have to view annoying ads or upgrade to pro version.
Top 2: TubeMate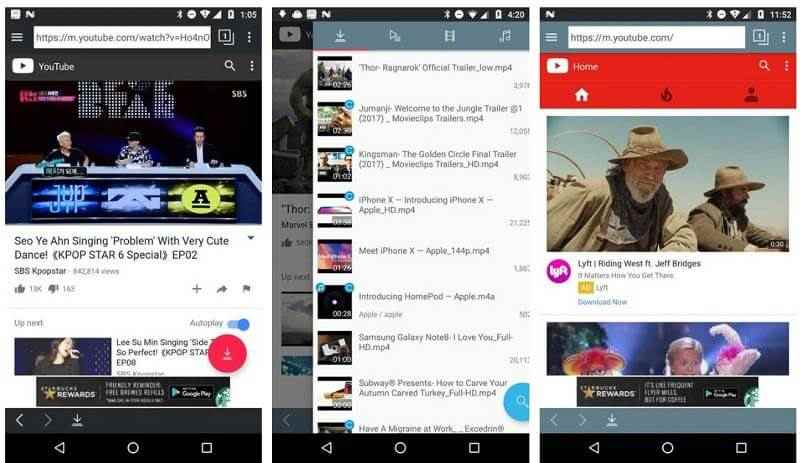 TubeMate is another Bandcamp downloader app for Android devices. Similar to Videoder, this app is not available in Google Play Store. The good news is that you can get it from APKpure (https://apkpure.com/tubemate-video-downloader/devian.tubemate.v3) for free.
Pros
Compatible with Android 4.0.3 and later.
Offer multiple download options.
Convert music files to MP3 directly.
Cons
The installation requires some technical knowledge.
There is no option to remove ads.
Top 3: Documents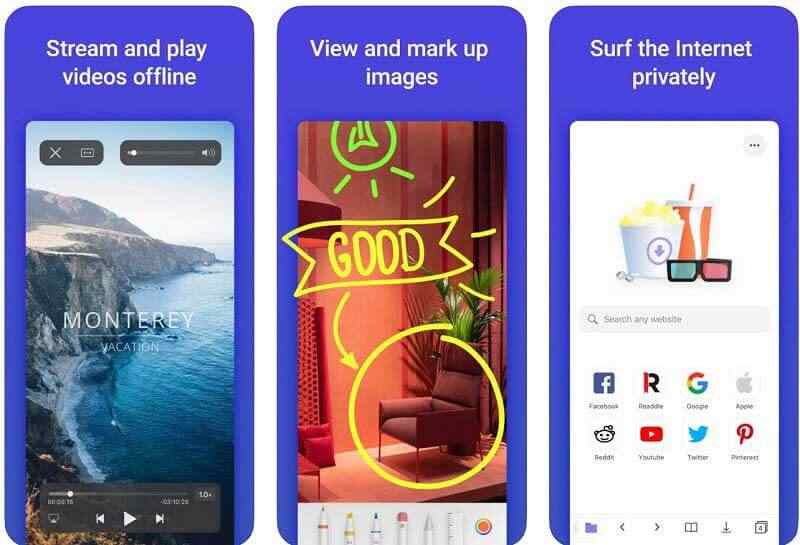 Documents (https://apps.apple.com/us/app/documents-by-readdle/id364901807) is a unique app for iPhone users to download music from Bandcamp. It has a built-in browser to play online music and videos. You can access the online Bandcamp downloader app and get what you want.
Pros
Free to download in App Store.
Store downloaded Bandcamp music on iPhone.
Play online and offline songs with gestures.
Cons
It must work with a web downloader app.
It is only available to the latest iOS devices.
Part 5: FAQs of Bandcamp Downloader
How do I download music from Bandcamp to my iPhone?
Bandcamp app for iOS offers the watch offline option for some music. If it is not available, you have to look for a third-party tool. Apple always performs the serious copyright regulations, so it is difficult to download music from Bandcamp to iPhone. The alternative solution is to visit an online Bandcamp downloader with the browser in Documents app, and get the desired songs.
Can you put Bandcamp songs to iTunes?
You can download a song from Bandcamp with the best downloader programs shared above. Then add the music file to iTunes library.
Can I download my own music from Bandcamp?
According to Bandcamp, it does not offer a shortcut for artists to download their own music. However, you can temporarily make your album private, set the price to zero, and download it. Alternatively, you can simply redeem a code yourself if you have download codes generated for the release.
Conclusion
This review has discussed top 15 best Bandcamp downloader applications to help you get your favorite songs in various situations. To mobile-first, for example, the downloader apps are the easiest option to get what you want from Bandcamp. We suggest you do it on computer with Vidmore Screen Recorder. It is not only easy to use, but also able to produce the best audio quality. If you have better suggestions, please write them down below this post and we will reply it as soon as possible.