Latest 5+ Internet Radio Recorder Software for Windows and Mac
If you want to listen to Internet radio stations offline, you need to use an Internet radio recorder to record audio streams. Thus, you can get access to the recorded Internet radio station without the internet connection. For people who have no experience of audio recording, this article recommends some excellent Internet radio recorder apps for your phone and computer. You can record and download Internet radio station to MP3 and other formats for offline listening.

Part 1: Record Any Internet Audio Station on Your Computer
It is Vidmore Screen Recorder that can help you record Internet audio, online broadcast and online music from any site. The Internet audio recorder software is capable to grab and record the original audio track from any Internet audio station. Moreover, you can set a schedule to record music from Internet radio with the fixed start and stop time smartly. If you want to extract the certain audio clip from the Internet radio recording, you can also use the built-in audio/video trimmer. Here is the brief introduction of the radio recorder software.
Record Internet radio and other streaming audio without time limit.
Create a scheduled recording with the flexible start and end time.
Trim the radio recording and extract any import part.
Adjust the output audio quality up to lossless based on your need.
Save the Internet radio recording as MP3, M4A, AAC, WMA, or CAF.
Compatible with Windows 10/8.1/8/7 and Mac OS X 10.10 or above.
Step 1: Free download Vidmore Screen Recorder. Launch the Internet radio recording software after the installation. Choose Audio Recorder to use the software to record Internet radio stream.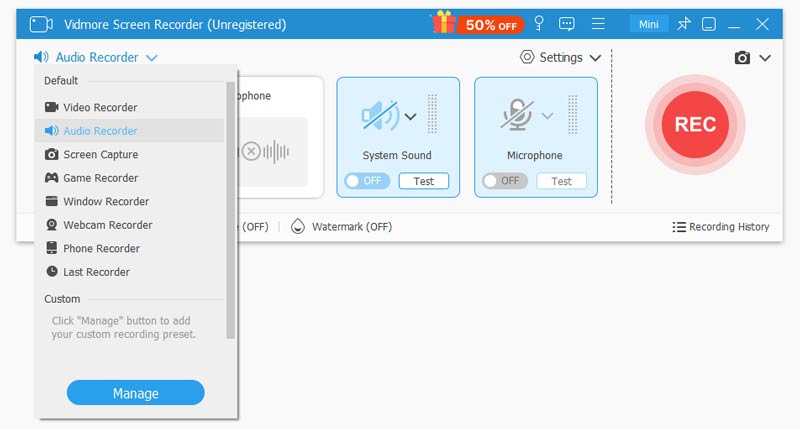 Step 2: Enable System Sound and disable Microphone options. As a result, you can record audio from Internet radio station without background noise.

Step 3: Click REC to start recording the streaming Internet radio. You can play the radio program or station for further recording.

Step 4: Pause, resume and stop recording from an Internet radio station freely. In the Preview window, you can pre-listen the radio recording file. It is also supported to cut out the unwanted part within the Internet radio recorder software. You can also adjust the volume to make the audio louder or lower.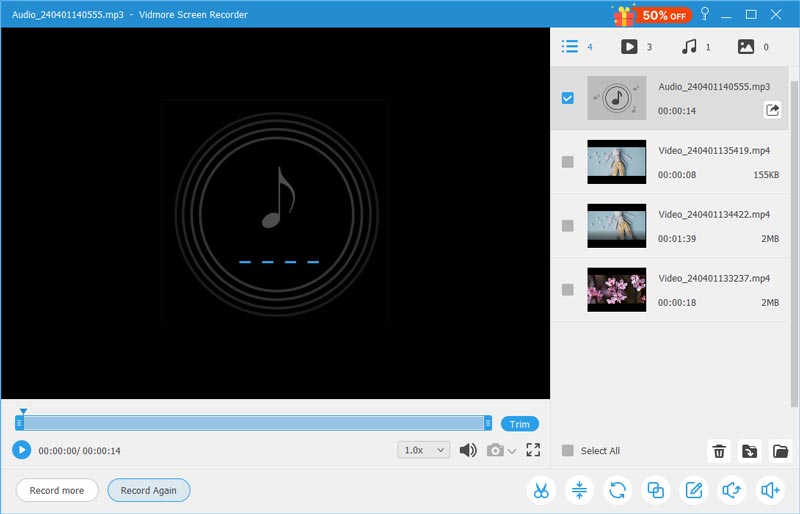 Step 5: Click Save to download your Internet radio streaming recording file. You can head to Recording History to share, delete, rename, play and manage any file.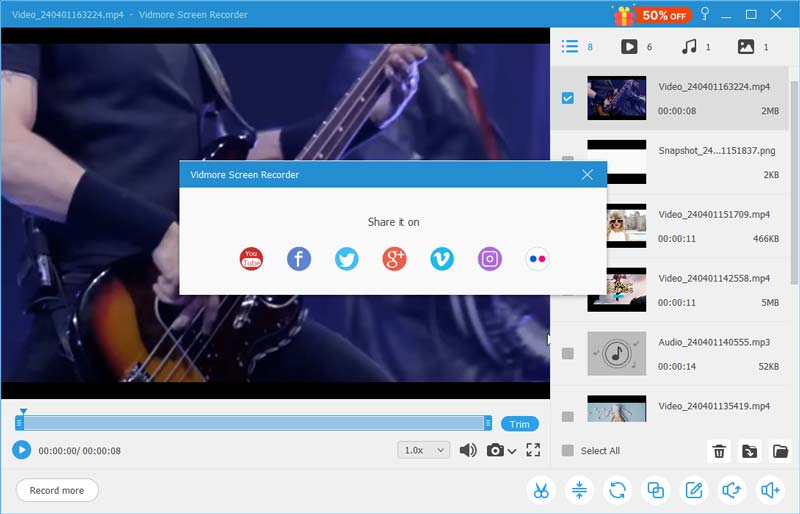 Part 2: Top 5 Free Internet Radio Recorders
Some Internet audio player also provides the recording feature. Thus, you can play and record online radio stations within the Internet audio player and recorder software. Here're 5 Internet radio recorder freeware you can try.
Free radio recording software
Pros
Cons
Nexus Radio
1. Record Internet radio station while playing in real time.
2. It is the free software to record Internet radio station as MP3 format.
1. There is no Internet radio recorder for Mac version.
2. Not all online radio stations are available all the time.
RadioSure
1. RadioSure is a neat Internet radio recorder app with over 20000 radio stations.
2. You can run RadioSure from the USB drive.
1. The search function in RadioSure need to be improved.
2. Outdated interface.
Radio Record
1.Radio Record is the first dance radio station in Russia.
2. Play and record broadcasting radio on iPhone and Android.
1. Some broadcasts in the Internet radio recorder app are unavailable.
2. You may suffer from playback error.
RadioCatch
1. Play and record web radio stations and free online music.
2. Save the Internet radio recording as MP3, WMA, WAV or OGG format.
1. RadioCatch cannot record broadcasting radio on Windows 10.
2. There is no RadioCatch web radio recorder for Mac version yet.
StreamWriter
1. Record music broadcasted by Internet radio stations for free on Windows.
2. Skip short songs or ads automatically.
1. The Windows Internet radio software may disconnect the Internet occasionally.
2. Not support to record online radio on Windows 10.
Don't miss: Top 7 Free Screen Recorders No Watermark
All in all, you can use the above Internet radio recorder software to record radio streams on your phone or computer. Many Internet radio players allow users to record the broadcasting radio and music. But if you want to record any web radio station and online music without limits, it is recommended to use Vidmore Screen Recorder. Because you can record any streaming audio on Windows and Mac with the best quality.