How to Record Audio from YouTube
YouTube is one of the best online video sharing sites in which we can easily find various interesting and significant videos. And it is also regarded as a popular audio-sharing site. More and more people prefer to use YouTube to search for hot songs and music videos. As a music fan, you might want to know whether it is possible to enjoy the streaming music offline. The answer is yes. The best solution is to directly grab the specific audio from YouTube and play them on all devices even without network. Here, we will show you how to record audio from YouTube on PC, Mac, iPhone, or Android for better playback.

Part 1. Best Solution to Record Audio from YouTube on Windows/Mac
Features:
Record the audio from YouTube with the original quality.
Capture sound from microphone, system sound, various audio applications, etc.
Adjust the volume, audio output and other parameters for the audio file.
Hotkeys to start/stop, pause, resume, and manage the recording process.
Pre-listen to the recorded audio files before exporting them to a computer.
Set up the task schedule to record the audio files with a better control.
How to Capture YouTube Audio with Vidmore Screen Recorder
Step 1. Free download, install and run this YouTube audio recording software on your computer. In the main interface, click Audio Recorder to enter the audio recording interface.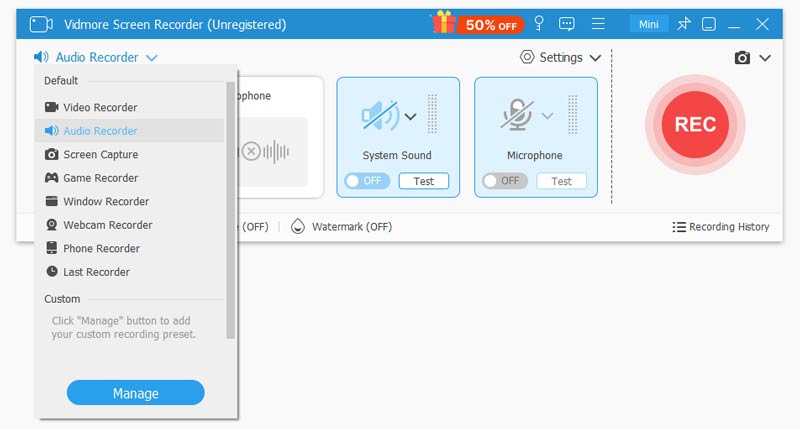 Step 2. Select the audio output as System Sound or Microphone according to your need.
For recording audio from YouTube, you just need to toggle on System Sound and off Microphone.
If you want to record your own voice, you need to turn on Microphone.

Step 3. Click REC to start recording the music on your computer. The default preference will check Show countdown before recording. When you click the REC button, there will be three-second countdown appearing on your screen.

Step 4. Click the Stop button to listen to the recorded audio and click Save to export it to your computer.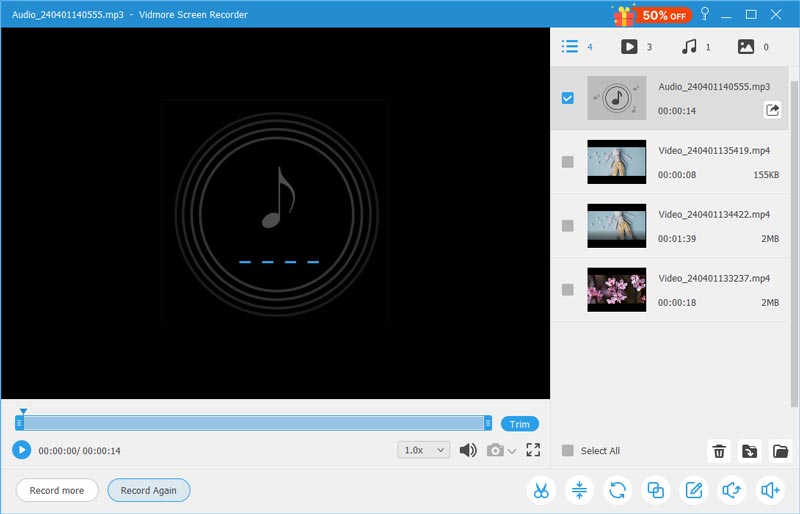 Part 2. How to Record YouTube Audio with Audacity
Audacity is a free and multi-track audio recorder to record, edit and convert audio with high sound quality on your computer. This free audio recorder allows you to capture any sound on your computer and then save it in AC3, M4A/M4R (AAC), WMA or other formats according to your need. It also comes with some basic editing functions like cut, copy, splice and mix sounds together. This part will show you how to capture YouTube audio with Audacity.
Step 1: First, you'll need to download Audacity on your computer. You can download the software for free from its official website: http://audacity.sourceforge.net/.
Step 2: After installing, launch Audacity and start by setting the program to record audio right from your computer. To do this, go to the menu bar, select Edit and then click on the preferences section.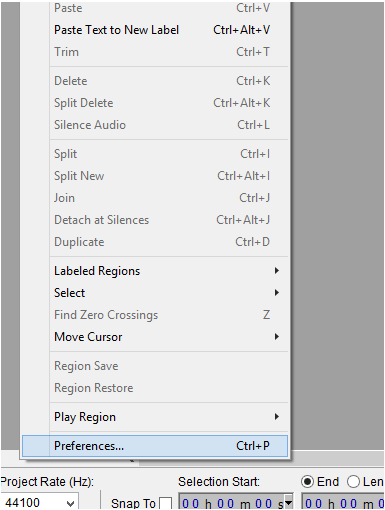 Step 3: This will open a new window with a number of options for making your sound settings. First, go to the Devices on the top of the table of options. In the preference options for devices, look for the recording section.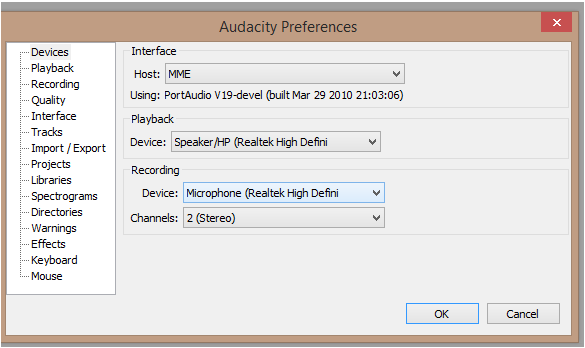 Step 4: Under the recording section, you'll find options for setting the interface, playback and recording. Here, you need to set your device for recording audio by going to devices and from the drop down menu, select the option stereo mix. Don't forget to set the channel to stereo by selecting the option 2 (stereo) from the second drop down menu. Then, save the changes and close the window by clicking on OK.
Step 5: Now open the YouTube video you want to record the audio from. Here you can start the recording process by clicking the record button on Audacity, which is a red dot at the top of the window. Once you begin recording, back to the YouTube video and click on the play button. After recording the segment of the sound you want, click on the Stop button (brown square) in Audacity.

Step 6: Click the File option on the menu bar and then choose the Save Project As from the drop-down list.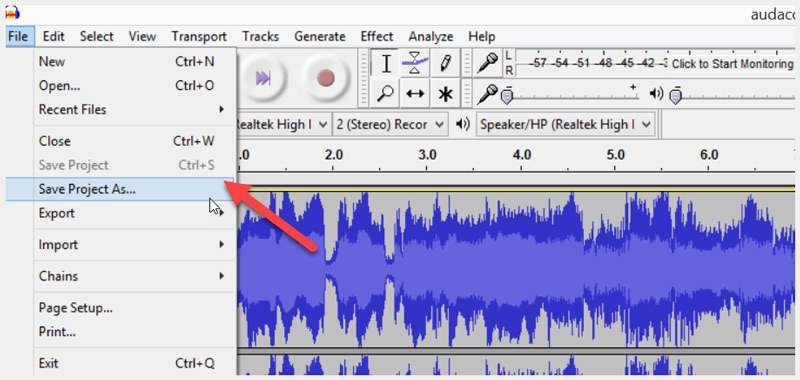 You can also click Export and then select your preferred output audio format like MP3, WAV, or OGG.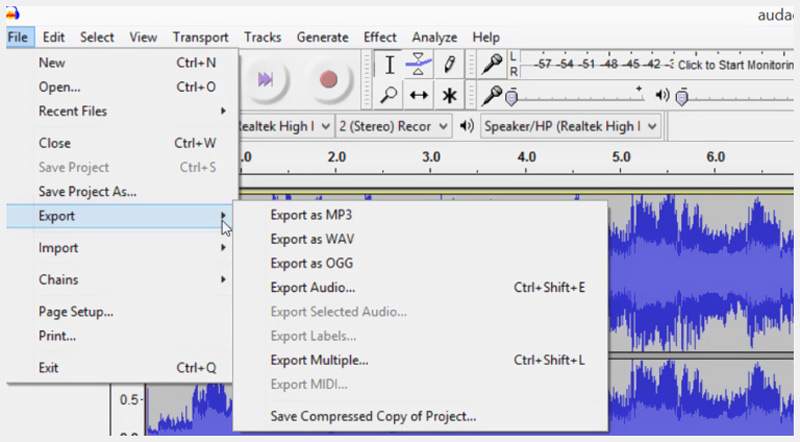 Now you can play your YouTube audio recording on any multimedia platform.
Here you may like: Top 5 Apple Music Recorders of 2020
Part 3. How to Capture YouTube Audio on iPhone/Android
1. Capture YouTube Audio on iPhone
To grab music from YouTube to iPhone, the built-in Voice Memos app can be a great choice. But note that the audio quality is not as good as the original quality. For better audio quality, you can resort to a professional YouTube audio recorder to help you do that.
Step 1: Go to iPhone home screen, find and open the Voice Memos app.
Step 2: Start playing the YouTube video on computer. At the same time, you should tap on the red REC button on your iPhone to start recording.
Step 3: When you want to stop recording YouTube audio, press Stop on your iPhone.
Step 4: Then, tap the Done button to save the audio recording file.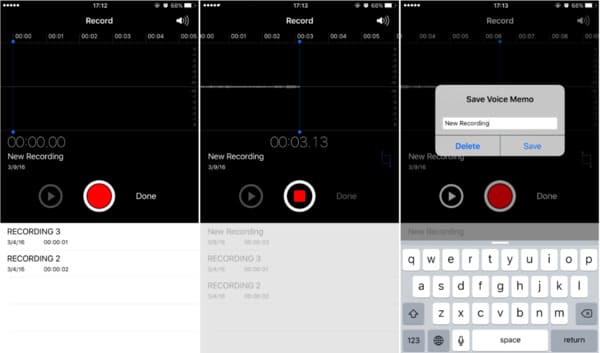 2. Capture YouTube Audio on Android
To capture YouTube music on the Android device, you will need to find a YouTube audio recorder app for Android. Here, you can use Hi-Q MP3 Voice Recorder which enables you to record audio from YouTube on Android easily.
Step 1: Open the Google Play app, then find and download this audio recorder for free.
Step 2: Play the YouTube video from which you want to record audio on your computer or other digital devices. Meanwhile, tap on the red REC button to grab YouTube audio.
Step 3: When you finishing recording, press the Stop button.
Step 4: Save this recording file to your phone and set the export formats as MP3 or other formats.
In this article, we have mainly talked about how to record audio from YouTube. As a free audio recorder and editor, Audacity can help you capture YouTube audio on your Windows or Mac with high quality. However, it is not friendly for beginners. For capturing audio on iPhone or Android phone, it is easy to operate with some audio recorder apps. But you need to note that the audio quality will not as good as you expect. If you want to keep the original audio quality, you can try the recommended Screen Recorder mentioned in the first part to help you capture the audio from YouTube with original quality. And it is also capable of recording any part of your screen, record HD YouTube video, and take screenshots any time you like.