How to Easily Screen Record Netflix Movies and TV Shows (All Platforms Including Windows/Mac/iOS/Android)
Netflix is an Internet subscription service company, which provides subscription service streaming movies and TV shows over the Internet and sending DVDs by mail. Due to some extraordinary features, it has become a favorite source of enjoyment for people around the world. But after some time, your subscription expires. What if you want to watch the TV shows and movies even after your subscription has expired? The third-party sources that allow you to record Netflix content to watch it offline is necessary. It is becoming more and more important about How to choose the right Screen Recorder service to record Netflix streaming movie and TV shows. This article selects the top-ranked Screen Recorders and tells you the right way for using on Window and Mac PC, and also iPhone/iPad/Android device. Considering the copyright terms, the recorded video content is only for personal use. Therefore, using the program is totally legal only for personal needs and without rights of sharing the material to third parties.

Part 1. The easiest way to record Netflix video with Vidmore Screen Recorder on Windows & Mac
Vidmore Screen Recorder is a powerful and fast streaming video recorder for you to capture and record Netflix videos, movies and TV shows with HD video quality. With the Vidmore Screen Recorder you can record and watch any Netflix video offline on any device without spending internet traffic and without disrupting Netflix limitations. It has the totally new, nice and user-friendly interface and much more excellent functions.
Record any Netflix streaming video like TV show and movie, capture all on-screen activities and make video tutorials in high quality.
Customize recording area, make the audio setting, preview video recording before saving your videos.
Edit and mark videos with a text box, arrow, highlight and more.
Make the setting you prefer in advance, and you are able to record videos using these setting next time.
How to record Netflix videos on PC with Vidmore Screen Recorder
Step 1: Download and install the Netflix Screen Recorder
Download and install the latest version of Vidmore Screen Recorder. After that, launch it to record videos. Before you start your recording, you'd better test your software to make sure everything work well for you.

Step 2: Enter Video Recorder interface to set the profile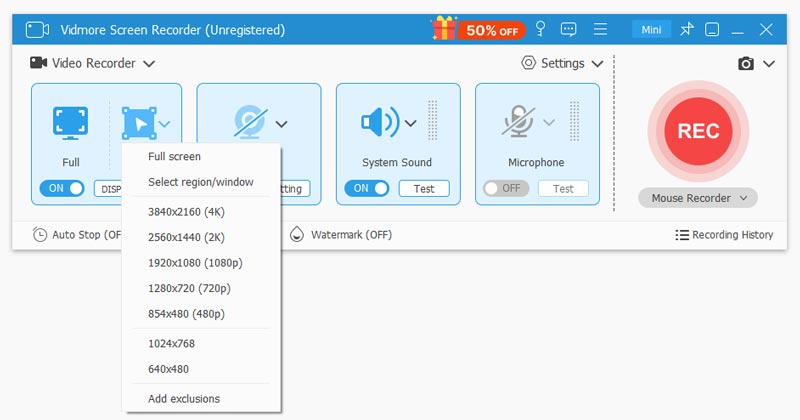 Step 3: Set the system sound and microphone.
Step 4: Start to record Netflix streaming movie or TV show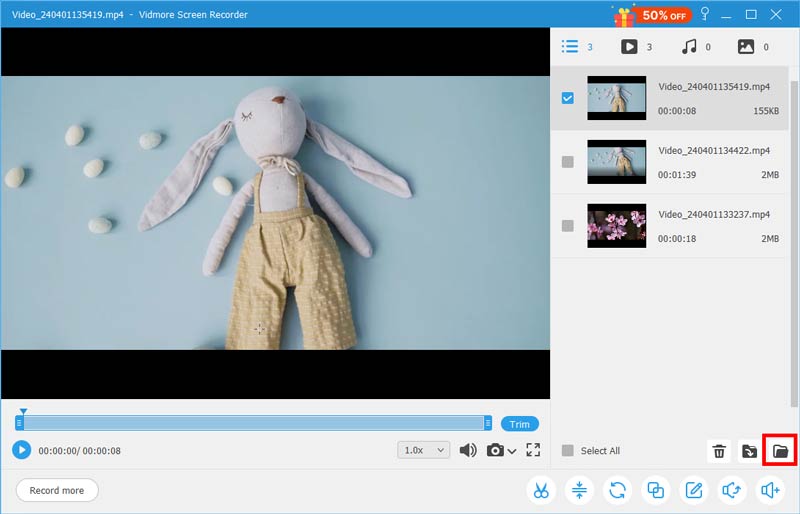 In order to get the higher quality of videos, there are some tips you should notice when recording your videos on Netflix. Check your computer to make sure the software can perform normally. If you want a better quality recorded video, you'd better close some applications you needn't. If those unnecessary applications make some noise, you will not hear the voice from online video clearly.
Part 2. Complete way to record Netflix video streams with PlayOn for Windows/iOS/Android users
Section 1. Record Netflix video with PlayOn Desktop on Windows PC
PlayOn Desktop is a streaming video recorder which helps you record any streaming video from Netflix on Windows 10/8/7. Netflix videos are recorded and saved as MP4 files to the hard drive on your PC computer. It helps you discover new streaming content & manage your own videos and streaming favorites.
Step 1. Download and install PlayOn Desktop on Windows PC.
Step 2. Click Channels tab at the top and then click into the Netflix channel.
Step 3. Then enter your Netflix email and password. After that, Hit Apply and OK to close out.
Step 4. Find the Netflix show or movie you want to record and hit the Record button to start recording Netflix.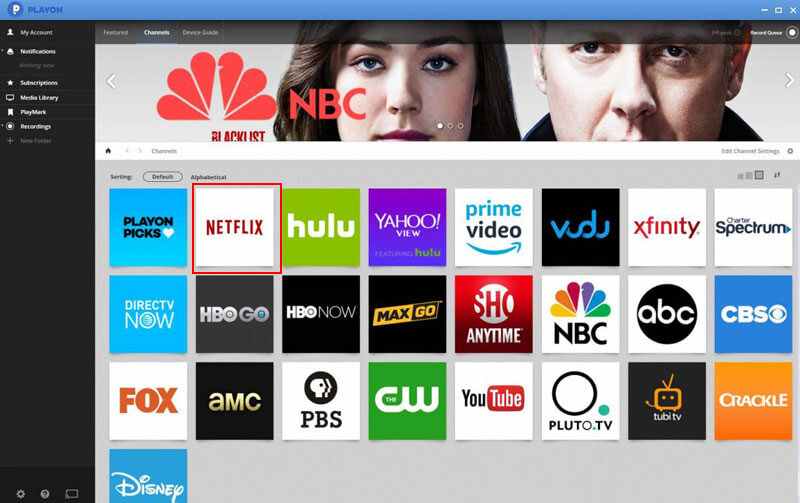 Section 2. Record Netflix video with the PlayOn Cloud on iPhone/iPad/Android
PlayOn Cloud App lets you record and download Netflix streaming shows and movies to watch offline for iOS and Android tablet/phone. Also, it record other videos from Hulu, Amazon Video, HBO, and so much more with just the click of a button. When you select a video in the PlayOn Cloud app, it start a stream on a virtual PC in the cloud and record that stream like a DVR records cable TV. Once that recording is complete, it output MP4 file for you to enjoy.
Part 3. How to capture Netflix TV shows and movies with Audials Movie 2020 on Windows PC
Audials Movie 2020 is multimedia application for Windows PC to record and watch Netflix video in 1080p full HD. To name just a few core features: record music, movies, series, TV content from numerous Internet sources that include popular services such as Spotify, Amazon Music, Deezer, Netflix, Amazon Video, Hulu, and more. How to capture Netflix TV shows and movies with Audials Movie 2020 on Windows PC? It offers a quick-start button and in-place instructions to guide you through the necessary steps to record a video from Netflix. Here is the step-by-step guide for you.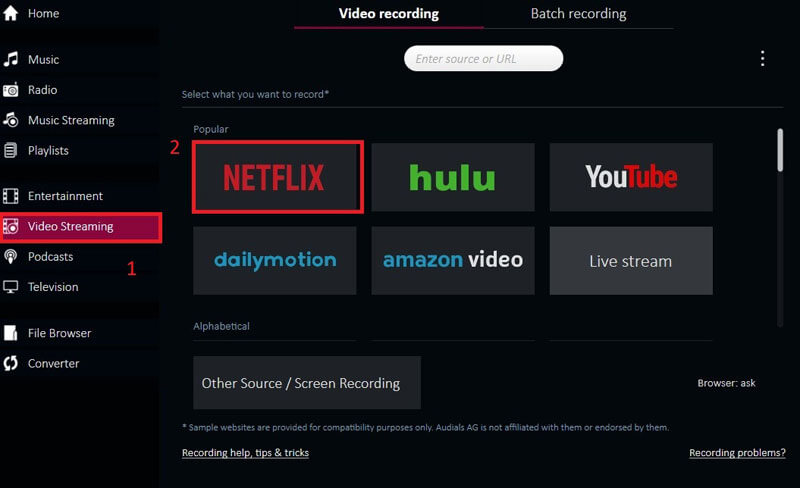 Step 1. Download and install Audials Movie 2020 on your computer.
Step 2. Launch the application and open interface, and then click Video Streaming column.
Step 3. Select Netflix button and follow the instructions given by the recording tool displays.Audials detects and records each video that your video site plays back. All detected videos are listed in the Video Streaming view and, depending on the recording tool and your settings, automatically saved on your computer and listed in the Player after a while.
Part 4. How to record Netflix streaming video with Bandicam on Windows 10/8/7
Bandicam is a screen recorder application for Windows 10/8/7 users. This program allows you to capture a high-quality video from your screen, game, and device such as webcam, Xbox/Playstation, smartphone, etc. Its screen recording function can save files as AVI and MP4 while its game recording function can record various 2D/3D games in high resolution, up to 4K UHD videos. With Bandicam, you can easily record Netflix video streams on Windows. How to record the videos and movies on Netflix? Here is the quick guide for you to learn about.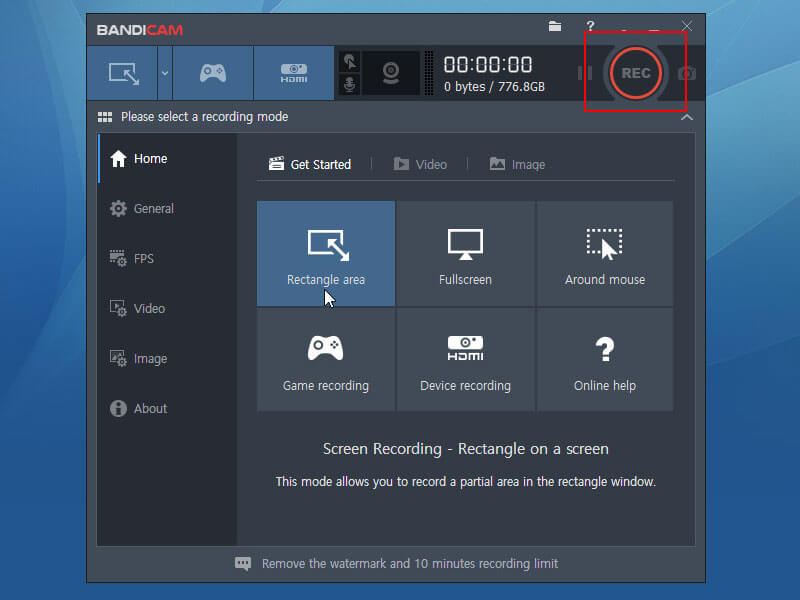 Step 1. Download, install and launch Bandicam on your computer.
Step 2. Open Netflix and log in on Firefox browser.
Step 3. Choose the Screen Recording Mode, here you can select Fullscreen or Rectangle area if you wish.
Step 4. Click Rec button to start the Netflix video recording.
Once done, click the Stop button then it will be saved automatically into the output folder.
Part 5. Download Netflix streaming video with built-in download feature for iPhone/iPad/Android users
As Netflix has the built-in download feature, you can download Netflix movie and TV shows on iPhone/iPad/Android. But there's no offline support for desktop users and not every movie/TV show is available for downloading offline (content from Disney for example). To use this feature, you should make sure the Wi-Fi network connect great. How to Download a Movie or TV Episode on Netflix for iPhone/iPad/Android?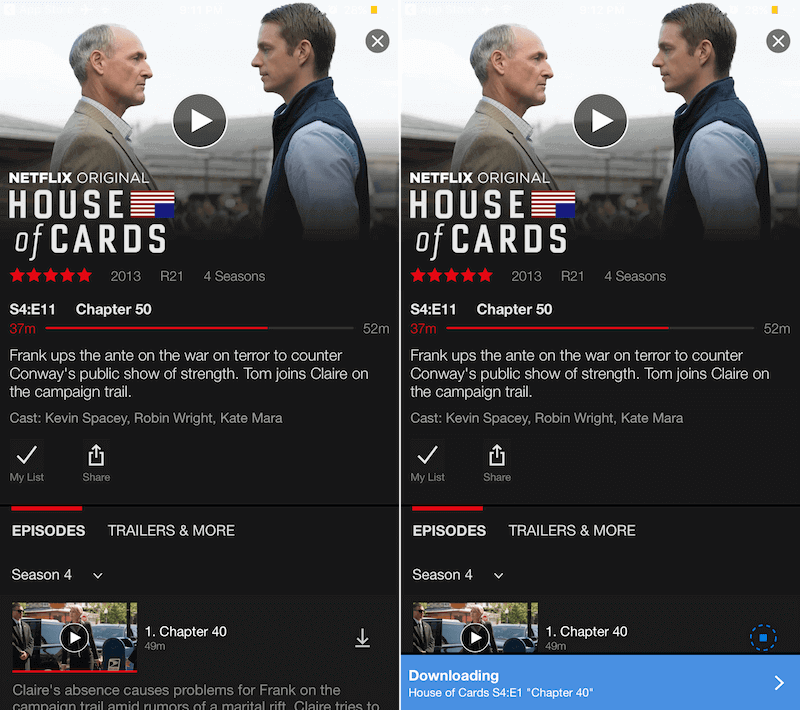 Step 1: Open the Netflix app and tap on the Menu button in the upper-left corner.
Step 2: Tap on Available for Download.
Step 3: Swipe around, find something you want to download from the list of shows. Then tap on the movie or the show.
Step 4: Click Download button next to the movie preview or the episode preview to start the downloading.
Conclusion:
When looking for a way of how to record Netflix streaming video, there are some features that are essential. We think an easy-to-use UI is necessary so you can get recording without any fuss, while the ability to edit a video like is also important. For advanced editing features, you can view this article: Best Way to Brighten a Video. Does this article make Netflix video recording more valuable or useful for you? Share with us in the comments below.