Thank You!
Your Feedback has been submitted successfully.
Support Converting All Popular Image Formats
Vidmore Free Image Converter Online is a great web-based application that is available for any operating system. This photo converter does best in transforming your images to various popular formats such as JPG, PNG and GIF for free. Unlike other picture format converters, it doesn't limit what picture format you upload, letting you change any type of pictures, including JPG, JPEG, PNG, HEIC, GIF, BMP, TIF, etc.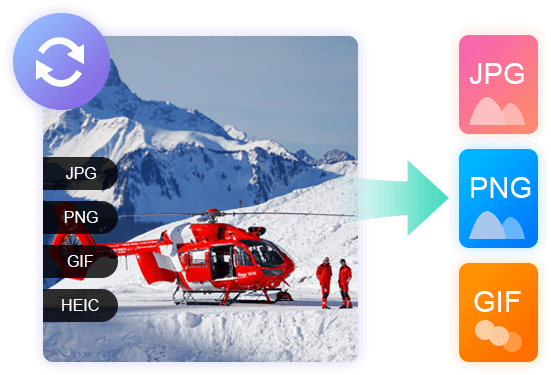 | | |
| --- | --- |
| Input Sources | JPG, JPEG, PNG, GIF, BMP, TIF, TIFF, SVG, ICO, WEBP, EPS, PCX, PSD, PXR, TGA, etc. |
| Output Formats | JPG, PNG and GIF |
PACK UP
Convert Image Files In a Snap
Without any professional knowledge and skills, you can change format of pictures to whichever format you prefer in only a matter of seconds. You will not spot any difference between the original and the converted one. Vidmore Free Image Converter Online could even run in batch process for changing image format with high-performance algorithms. Once the conversion is complete, just download your newly created Image files.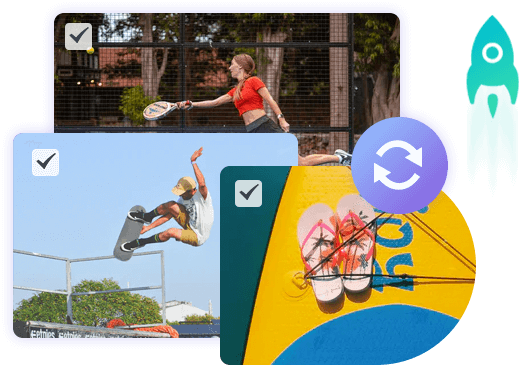 Secure Handling of Your Image Files
With this free web-based image converter, you don't need to worry about the privacy disclosure or data theft issues. The image uploaded to this website is transmitted using a secure connection, and we won't collect or use the data. Once you get the converted images, they will be deleted after a few hours and no one can access them. No email or signup is required. It's all fully secure.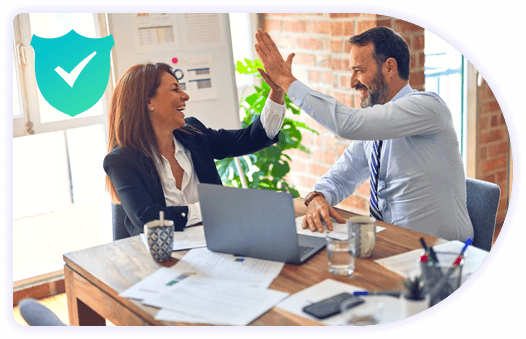 Batch Convert Image Files to JPG/PNG/GIF in 3 Steps
Step 1: Choose output format

Step 2: Upload and convert image files

Step 3: Download JPG/PNG/GIF files
Why Customers Love Our Free Image Converter Online


This picture converter tool is pretty simple and handy. There are three options for changing the format of the picture. Nice, keep going.

I like the instant image file converter tool. It makes it easy to transform my PNG files to JPG files in bulk. More importantly, many available output options

The quality and speed of the image conversion are amazing! I've tried some other ones and haven't found anything better than your tool.

This is my go-to image to JPG converter when I need to convert my large PNG files, it's quite convenient to use. And I can even convert my PNG files in batch. Quite simple and efficient!

It is probably the best pic converter I have ever met. Easy to use and provides popular formats to choose from. It does all I want and I really like it.
Frequently Asked Questions
Have you encountered some issues? We make a collection of FAQs of Vidmore Free Image Converter Online for your reference.
Why choose Vidmore Free Image Converter Online for the conversion of your image files?

Vidmore Free Image Converter Online offers an easy-to-use image conversion that requires no software installation and no registration. The service is totally free, and available for any operating system (Windows, macOS, and Linux). And it is fully secure, your image file will be removed from our server permanently. Moreover, the conversion speed is fast even for large image files.

Can I use the picture converter on Windows PC?

Vidmore Free Image Converter Online is browser-based and works on all platforms. It doesn't matter if you use Mac, Windows or Linux.

Is PNG to JPG conversion free?

This image format converter is 100% free with no fees or registration. An internet connection is enough to change the image format.

How to convert PNG to JPG?

You can find the steps below to convert image:
1. To start with, select your desired output format.
2. Upload your file from your computer to our image converter.
3. Wait a few seconds for the conversion to finish, then download your converted image file separately or collectively.