Brush Size:

Guide

1. Polygonal: Click the left mouse button to identify a point at a time.

2. Lasso: Long press the left mouse button to lasso the watermark area.

3. Brush: Long press the left mouse button to select precisely.

4. Eraser: Erase unnecessary parts from the selected area.

5. Click the Remove button to start effacing the unwanted watermark.

Remove

Watermark Remover
Please long press on the image to save it
Back
Current status will not be saved. Are you sure go back to Home?
Due to the change in size of your browser window, we need to initialize display settings to avoid a messy webpage.
Remove Watermark Online from Images with AI Technology
Vidmore Free Watermark Remover Online is a web-based tool. It enables you to remove text, images, logos, etc. from your images without leaving a trace. With the powerful AI technology, this online watermark remover locates the watermark accurately and remove it perfectly. In addition, multiple popular image formats are supported like JPG/JPEG/PNG/BMP/TIFF, etc. Just simply upload your images to have a try.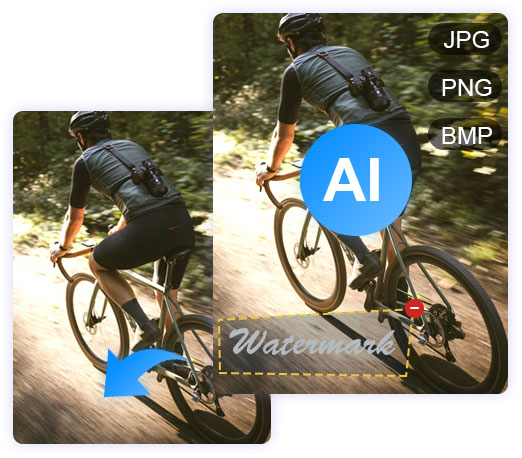 Remove All Kinds of Watermarks from Photos
This online watermark remover can literally erase anything from your photos. Logos, stickers, camera date stamp and more are no questions. You can use it as a TikTok screenshot watermark remover. Vidmore Free Watermark Remover Online is the best choice to remove anything unwanted from your photos. Moreso, it doesn't require professional skills to achieve. Just select the area you want to remove and you'll get the perfect photo.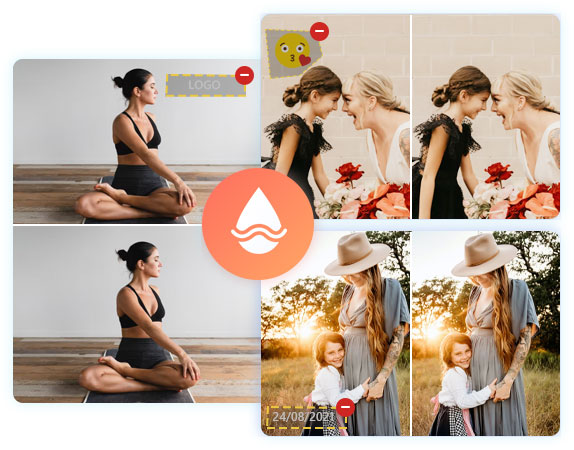 Get Multiple Watermarks off Pictures in Batch
Don't know how to deal with the many watermarks on your photo? No worries. This online watermark remover deletes watermarks like a pro. You can get off all the watermarks just by circling the areas and submit them. During the process, you can preview the output result. Export the processed images if you're satisfied and undo it if not. All watermarks or unwanted objects will disappear after the removal.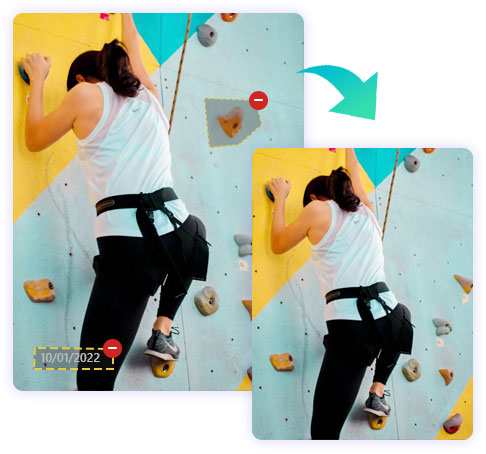 Remove Watermark Easily in 3 Steps
Step 1: Upload images

Step 2: Remove watermarks

Step 3: Download processed images
Why Customers Love Our Free Watermark Remover Online


Vidmore Free Watermark Remover Online is a professional tool. It really surprises me as an online watermark remover. The output image is perfect without any trace. It deserves a try!

This is just amazing! All the annoying watermarks disappear in one click! I cannot tell you how much I love this online watermark remover. You should try it yourself and you'll thank me!

This watermark eraser is simple to use. Without any complicated operations, I can get my photos in 3 steps. It's user-friendly for people who have little computer knowledge like me.

Thanks to this powerful watermark remover, I can get the clean photo without losing the image quality. Anyway, you can come and experience it yourself.

The AI technology applied by this online watermark remover helps a lot. It makes my operations more simplified and all things are done automatically without a hassle.
Frequently Asked Questions
Want to know more about Vidmore Free Watermark Remover Online or the watermark removing technology? Check the frequently asked questions and find your solutions here.
How to erase a watermark from the edge of the image?

With Vidmore Free Watermark Remover Online, you can just select the area where the watermark is and submit it. You'll get the perfect output photo.

How to remove watermark from image online without cropping it?

Most online watermark removers apply the AI technology to make remove watermark from the original photo, instead of cropping it directy. Use Vidmore Free Watermark Remover Online to remove watermarks with ease.

Can I use this Watermark Remover Online on a commercial basis?

Yes. This excellent online watermark remover doesn't apply limitations to the work you upload. As long as the work you upload is copyright-free, you're allowed to use this tool on a commercial basis.

Are online watermark removers safe?

With Vidmore Free Watermark Remover Online, you can rest in mind that your uploaded photos are 100% safe. They'll not be leaked or damaged. You can get the watermark-free images in a few clicks.

How do I identify the watermark on my photos?

Most watermarks will appear at the top-left corner or the bottom-right corner. They are really easily noticed in most cases.