ラジオJavan音楽ダウンロードに最適なオーディオキャプチャ
Radio Javan is an internet radio station that allows you to listen to music, news, radio, interviews, sports, etc. in the languages of Iranian and Persian. It has been the largest Persian entertainment contributor by providing the top wonderful Persian and Iranian music online. If you like listening to Persian and Iranian music, there is no doubt that you are able to enjoy the hottest music in this program. But if you want to listen to the music offline, especially online streaming music, there is no download option for you. Instead, you need to use an audio downloader to capture the music from Radio Javan. In this article, we are going to show you the best Radio Javan downloader to help you get music from Radio Javan.

What Is Radio Javan?
Radio Javan is a popular radio station for Iranians leaving abroad who want to keep an eye on their country's events, journalists who report from this area that wants to receive news updates, any other person that loves Persian music and sports. It is the first internet radio to offer the Iranian language programming in which people can enjoy the top Persian and Iranian music online.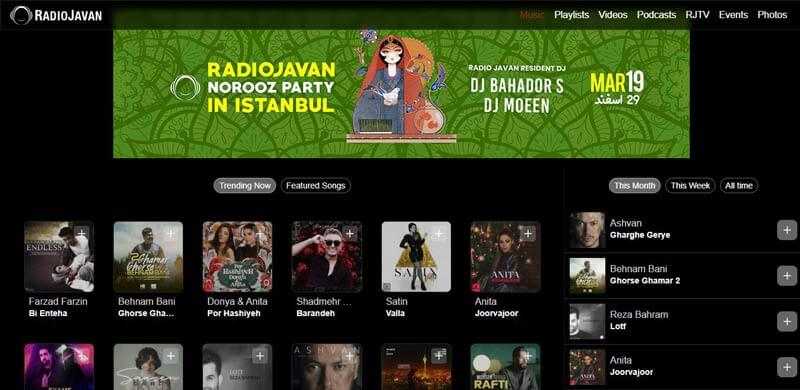 Radio Javan has the largest and best collection of Persian and Iran music for streaming. Here, you can find the latest hits, favorite artists, and classics just for you. But the problem is that you can't download the music you like in this program. For enjoying the music offline, the best way is to find a Radio Javan audio downloader. Keep reading and you will find the best audio capture for Radio Javan.
Download Radio Javan Music with an Audio Capture:
For getting the music from Radio Javan for offline listening, here you could use Vidmoreスクリーンレコーダー for Windows or Mac to make it. This software is a full-featured tool that can record any audio or music from Radio Javan, and download them for you with high audio quality. After finishing recoding Radio Javan music, you can save it to your computer or export it into MP3, AAC, or other popular audio formats for better playback on any devices. What's more, you are also capable of capturing Radio Javan video and taking snapshots with high quality. Moreover, there are multiple editing features to edit and enhance the recording files.
Vidmore Screen Recorder – Best Radio Javan Downloader
Record the music from Radio Javan with high quality.
マイクからのサウンド、システムサウンド、さまざまなオーディオアプリケーションなどをキャプチャします。
ボリュームを調整し、ソースを選択して、出力パラメーターを微調整します。
記録プロセスを開始/停止、一時停止、再開、および管理するためのホットキー。
コンピューターにエクスポートする前に、録音したオーディオファイルを事前に聴きます。
タスク名、開始時間と終了時間、および期間を設定して、スケジュールされたオーディオ録音を行います。
Steps to Record Radio Javan with Vidmore Screen Recorder
ステップ1。 Free download, install and run this Radio Javan music recording software on your computer. In the main interface, click 録音機 オーディオ録音インターフェイスに入ります。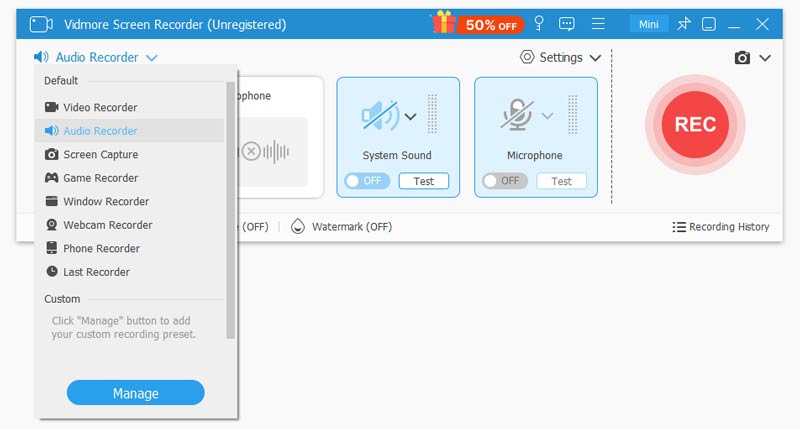 ステップ2。 Select the audio output as System Sound for recording your favorite music from Radio Javan by toggling on システムサウンド and off Microphone.
自分の声を録音したい場合は、マイクをオンにする必要があります。

ステップ3。 Then, back to Radio Javan and find the music that you want to download. Click レック コンピューターで音楽の録音を開始し、すぐに音楽を再生します。デフォルトの設定はチェックします 記録する前にカウントダウンを表示する。 RECボタンをクリックすると、画面に3秒のカウントダウンが表示されます。

ステップ4。 When the music stops playing, you can click the Stop button to listen to the recorded audio and click 保存する それをコンピューターにエクスポートします。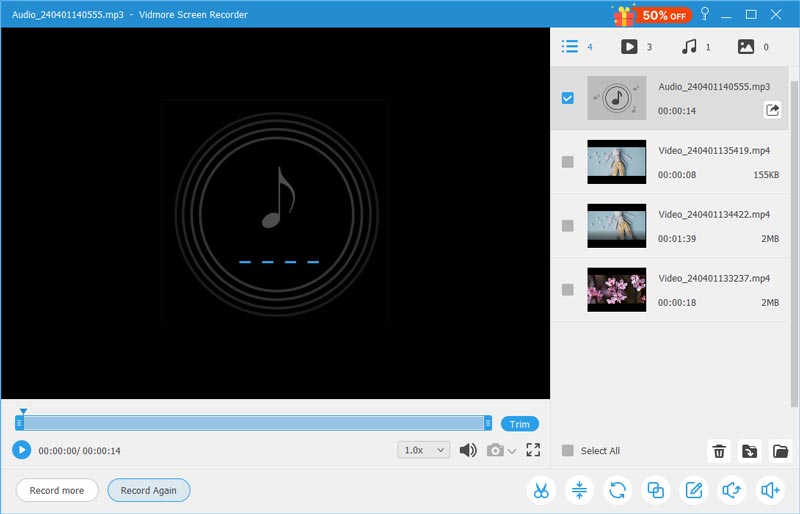 ここであなたは好きかもしれません: Groovesharkダウンローダー– Groovesharkから元の品質で音楽をダウンロードするための最良の方法
FAQs of Radio Javan Downloader
1. Is there any similar software like Radio Javan?
As for the alternatives to Radio Javan, you can try Spotify, Last.fm, SoundCloud, Google Play Music, Deezer, Pandora, Apple Music and more for listening to music.
2. Can I download Radio Javan application to my iPhone?
Yes. Radio Javan is available for all iOS, Android, Mac, and Windows users. You can download the suitable version from its official website based on your need.
3. How do I record the video from Radio Javan?
In order to recording Radio Javan video, you can use Vidmore Screen Recorder we mentioned above, a versatile recording tool, to capture any (HD) video you like on your computer. Besides that, you can also use this video recorder software to record computer screen, exciting gameplay, webcam videos, online lectures, audio from YouTube, or just save a screenshot.