How to Record Your Skype Calls with the Best Skype Call Recorders
Nowadays, it has been never easier to record Skype video or audio calls. First of all, Skype has packaged a recording feature for the desktop, mobile and web platforms. Even if you do not like the built-in recording feature, there are oceans of call recording software on market available to Skype.
However, it is hard to find the proper Skype call recorder for average people to save important meetings or personal conversations. That is why this article share a complete guide to introduce the Skype recording feature and the best Skype call recorders for Windows, Mac, online, iPhone and Android.

Part 1: Record Skype Calls with Built-in Feature
The built-in recording feature is a simple way to record Skype calls. It works in Skype program on Windows, macOS, Linux, iOS and Android. In Skype for the web, this feature is only available in Google Chrome and Microsoft Edge.
Step 1: Make a video call in Skype. Once connected, click the Plus icon at the bottom right corner and select Start recording to initiate it. Then you and the other participants will get a message said you are recording the call.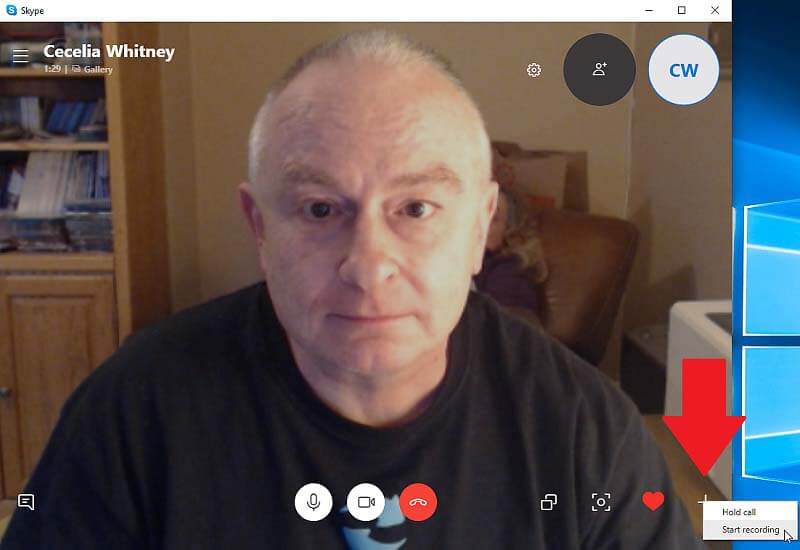 Step 2: When you are done with the call, hit the Plus icon again, and select Stop recording. Alternatively, end the call and the recording will stop automatically.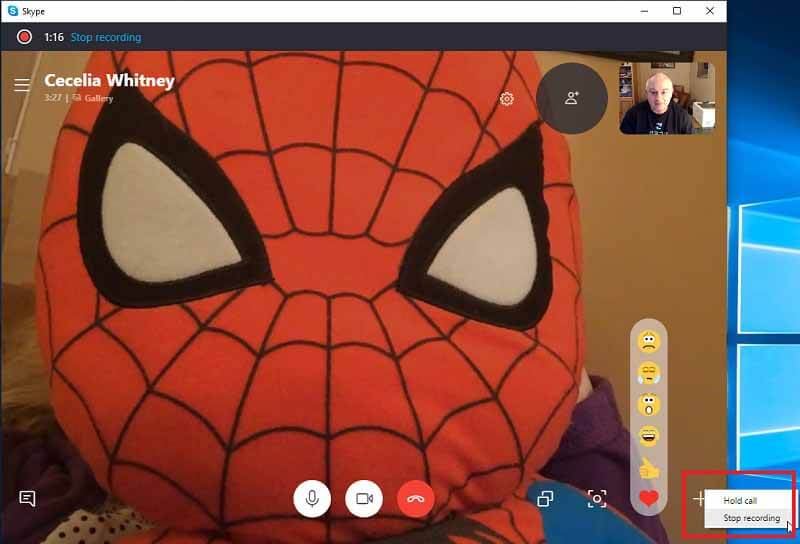 Step 3: After that, you can find the recording stored in the chat window. Click the Play icon to open it in a media player window. Now, the call recording is stored in Skype and you can access it within 30 days.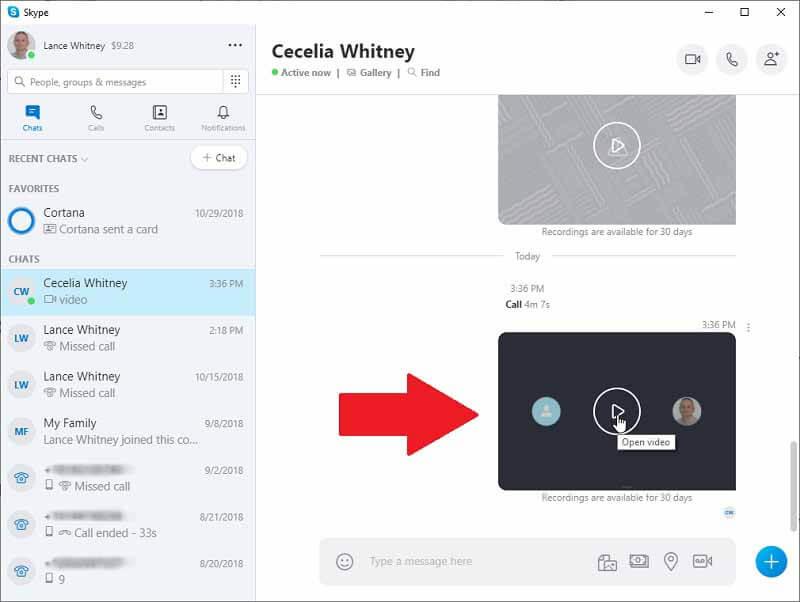 Step 4: To get the Skype call recording, hit the three-dot icon above it and choose Save to Downloads. Then it will go to your Downloads folder. Or select Save as, and set a specific folder to save it as a MP4 file.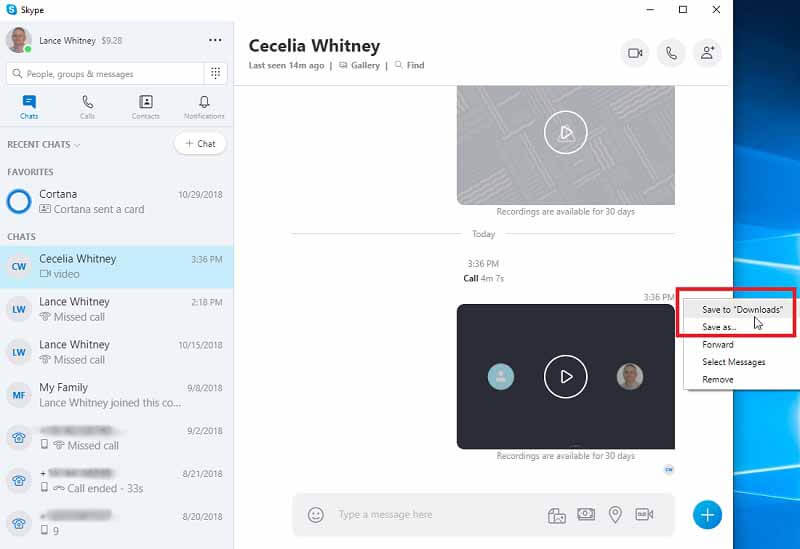 Part 2: The Easiest Way to Record Skype Call on PC
The built-in recording feature in Skype has several downsides. First of all, you cannot record Skype calls secretly since a message will pop up to everyone's screen once you start recording. If you forgot to download the recording, it would disappear a month later. From this point, we recommend Vidmore Screen Recorder.
Record Skype video and audio calls on your desktop secretly.
Optimize video quality automatically while recording Skype.
Add your face and voice through webcam and microphone.
Preview the call recordings before saving them to your hard drive.
Export Skype call recordings in popular video and audio formats.
In a word, Screen Recorder is the best option to capture your Skype video and audio calls on Windows and Mac OS X. We use Windows 10 as the example to show you how it works.
How to Record Skype Call Secretly on PC
Step 1: Install the best Skype call recorder
Before making Skype call, download the best call recorder for Skype and install it to your computer. Then launch it and select Video Recorder to open the Skype video recorder window. If you need a Skype audio recorder, select Audio Recorder instead.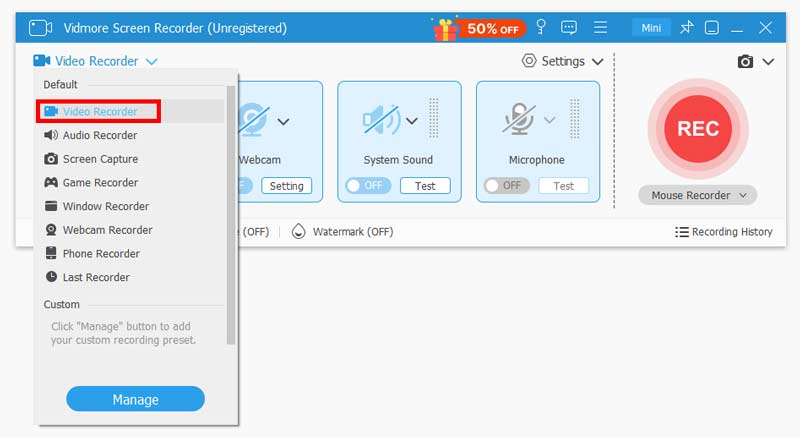 Step 2: Record your Skype call secretly
Firstly, turn on the Display section and set the recording area. Select Custom option, then pick Select region/window, and choose the Skype window. Enable the Webcam section, permit it to access your webcam. Next, turn on System Sound and Microphone, and adjust the volume.

Click the Settings button with a gear icon at the top right side to open the Preferences dialog. Go to the Output tab from the left-hand column, set the video format, quality and other options based on your preference. Plus, you can customize options related to hotkeys and more on the dialog. Click OK button to confirm it.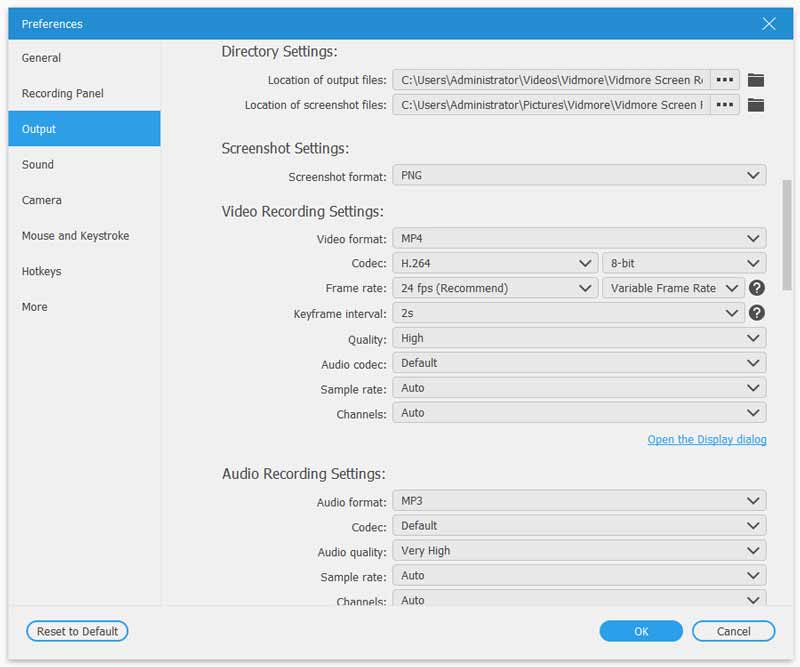 Now start the video call or meeting and click the REC button to begin recording it. During the process, you can draw on the recording or add text with the Pen tool.
Step 3: Preview and save the call recording
Whenever you want to end the Skype call recording, click the Stop button and open the Preview window. Hit the Play icon to view the call recording. Use the Clip tool to remove unwanted clips. Or make snapshots for important frames with the Camera icon. If you are satisfied with the recording, click the Save button. When prompted, set a destination folder and save it as your setting.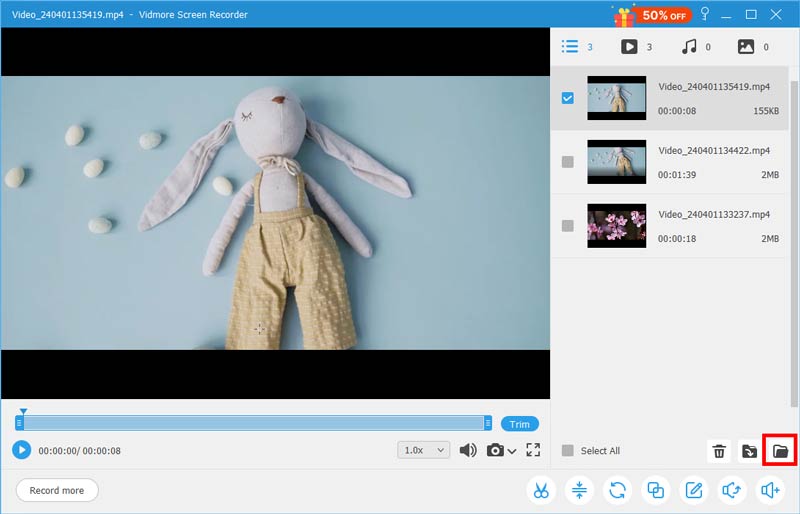 Part 3: How to Record Skype Call on Mac
It is well-known that the native media Player on Mac, QuickTime, has the capacity to record screen. However, you may need a dedicated Skype call recorder for your Mac computer, such as Ecamm Call Recorder for Skype. It costs $29.95 with a free trial for seven days. You can either buy the full version from the developer's website or try the free trial. Bear in mind that it is not a standalone call recorder for Skype, but an add-on for Skype program.
Step 1: Get the call recorder, run the installer and select Install. If prompted, enter your password and Skype will open with the call recorder as a small window.
Step 2: Firstly, you must configure the Skype call recorder. Click Settings icon or hit Skype, Preferences and Recording. Next, set Audio Encoding, Video Quality, and other options under QuickTime Options. If you prefer to save all Skype calls, check the box next to Record Calls Automatically. By default, call recordings will be saved in your Movies folder, but you can change it in the Save Recordings To field.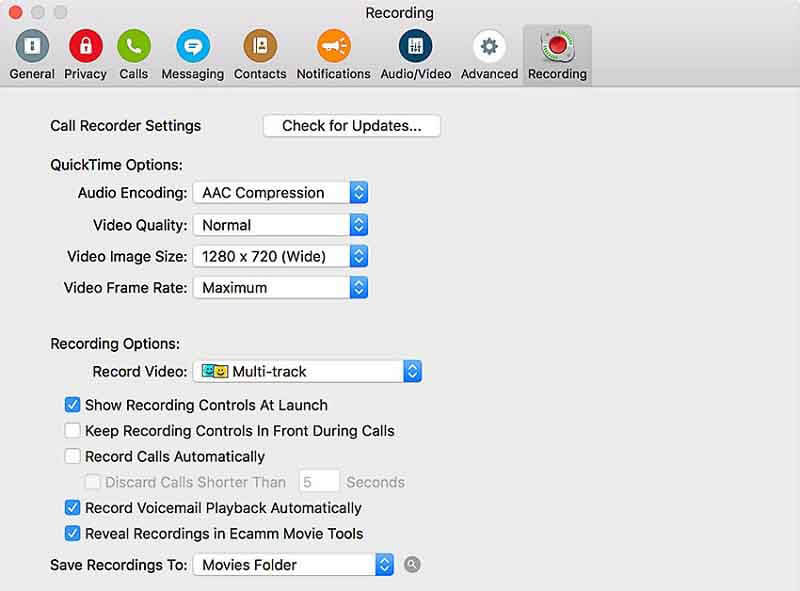 Step 3: After configuring, open Skype application and make a video call as usual. Once press the red record symbol in Call Recorder dialog, the chat will be record secretly.
Step 4: Wait for the recording to finish and click the Stop icon on the dialog to save it. If you have bought the full version of the Skype call recorder, you can get the Movie Tools as well. Hit the magnifying glass icon to open it. Here you can arrange the call recordings in split screen, picture in picture or other mode. Unfortunately, it does not provide advanced video editing tools.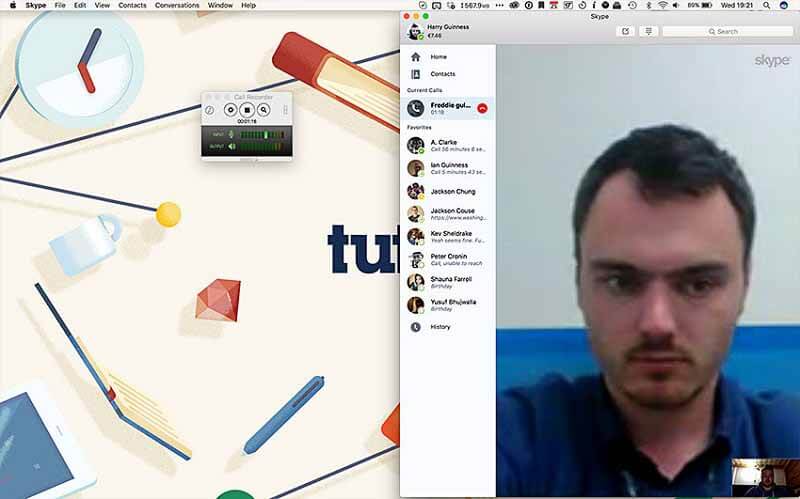 Part 4: Record Skype Call in Browser
Though the built-in recording feature can help you record Skype call in your browser, it is only available to Chrome and Edge. Not to mention the notification message makes confident recording impossible. Therefore, you need a web-based call recorder for Skype, such as Screencastify. It is a call recorder extension for Firefox, Chrome and more.
Step 1: Open your browser, such as Firefox, click the Menu button at the upper right corner. Select Add-ons, and choose Get Add-ons. Search for Screencastify, and hit the Add to Firefox button to get it. For Chrome, you can install it from Chrome Web Store directly.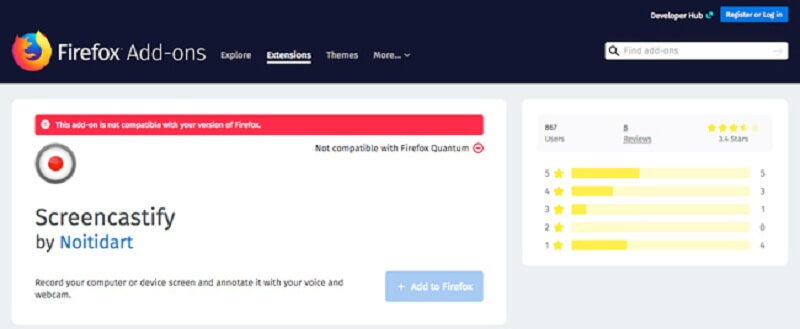 Step 2: Access Skype in your browser and click the call recorder for Skype.
Step 3: Go to the Browser Tab, turn on Microphone and Embed Webcam. Click Show more options, enable Tab Audio, and set other options.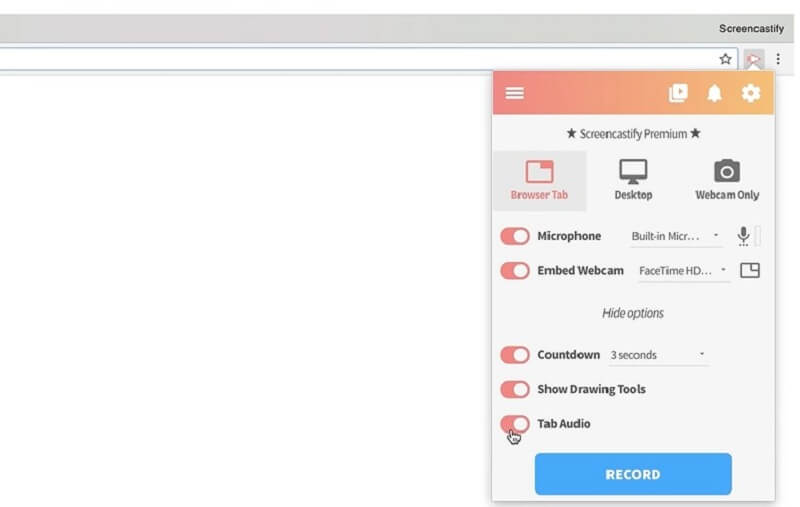 Step 4: Create a Skype call and click the RECORD button to start recording it. When it is done, hit the Skype call recorder icon and click Stop icon. Then save the recording to your hard drive.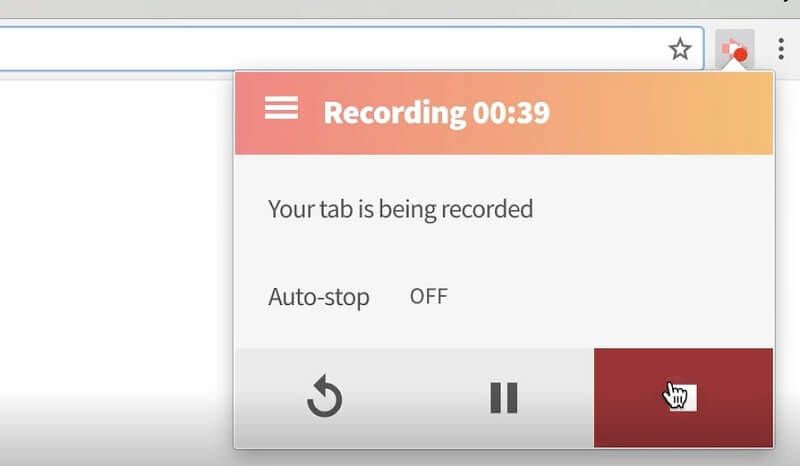 Part 5: Record Skype Video or Audio Call on iPhone and Android
If you are looking for a third-party way to record Skype call on iPhone or Android, try the guide below. They can help you make confident call recording without notifying others.
How to Record Skype Audio Call on iPhone
There are limited options to record Skype video calls on iOS devices besides the built-in recording feature in Skype app. When it comes to Skype audio recorder, QuickVoice(http://itunes.apple.com/us/app/quickvoice-recorder/id284675296?mt=8) is worth to try.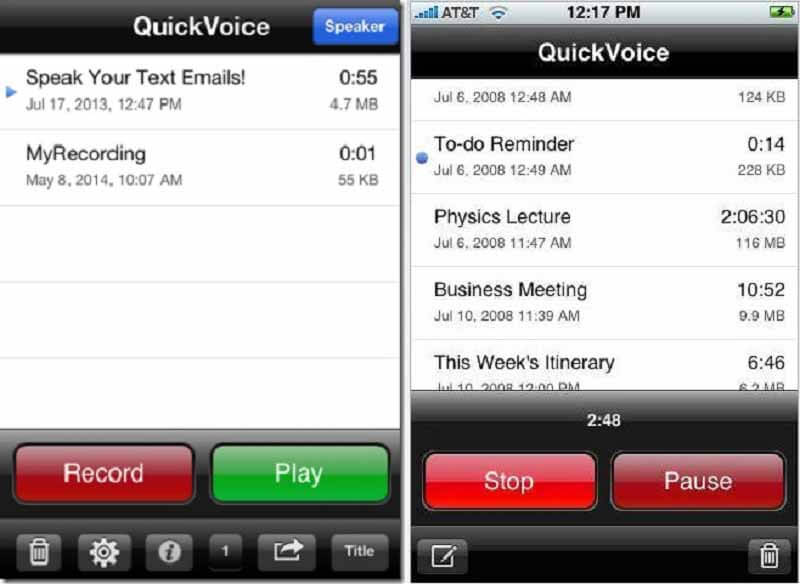 Step 1: Get the free Skype audio recorder from App Store for free. It does not have restriction on how long to record, but you cannot export it out of your iPhone if the audio file exceeds 5MB.
Step 2: Make a Skype audio call on your iPhone and open the recorder app. Tap the Record button to start recording it. Then tap the Note icon at the bottom left corner to make a note for the call.
Step 3: Once the call is complete, tap the Stop button to save the recording.
Note: Do not use headphones while recording Skype calls on your iPhone; otherwise, you will only record your own voice.
How to Record Skype Call on Android Phone
Apparently, you have more options to record Skype video and audio calls on Android devices, like DU Screen Recorder(https://play.google.com/store/apps/details?id=com.duapps.recorder), AZ Screen Recorder(https://play.google.com/store/apps/details?id=com.hecorat.screenrecorder.free&hl=en_US), Mobizen Screen Recorder(https://play.google.com/store/apps/details?id=com.rsupport.mvagent&hl=en_US), etc. We use the first one as example to show you the procedure.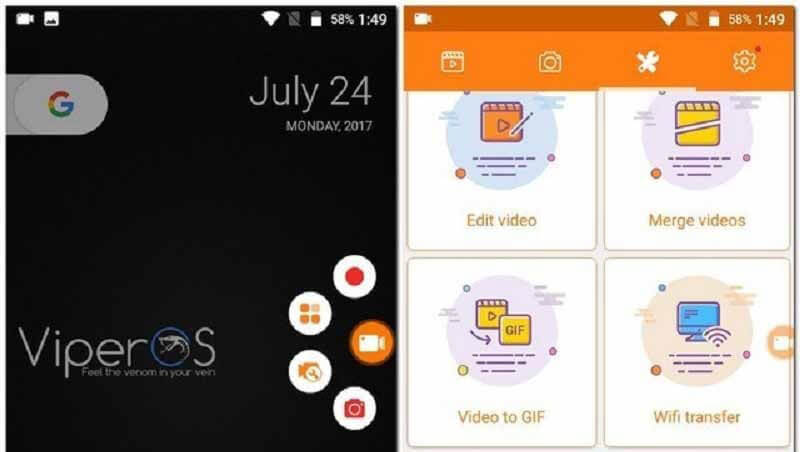 Step 1: After installing the call recorder for Skype, you will see a floating button on your screen. Tap it and select Settings to open the settings screen. Set output directory and other options.
Step 2: Switch to Skype app, and make a video or audio call. Then tap the floating button and select Start recording.
Step 3: Swipe downward from the top of the screen when the call is done. Then you will see the Skype call recorder bar in the notification screen. Tap Stop icon to stop recording and save it according to your setting.
Part 6: FAQs of Skype Call Recorder
Is there free way to record Skype calls?
The built-in recording feature in Skype application is the free way to save your video calls and conferences. The shortcoming is that you cannot make a recording secretly as Skype will notify all participants once you click the Start recording button.
Can't get Skype for business to record calls?
According to Skype, one on one or regular telephone calls made in Skype for Business cannot be recorded. Instead you have to use the Meet Now feature to run a simple online conference and record the call. Then the recording features in Skype for Business will become available including publish the recording.
What is the best tool to record Skype calls?
The answer is different depending on your need. For public recording of Skype calls, the built-in feature is a good option. However, if you want to record the calls confidently, you must use a third-party tool, such as Vidmore Screen Recorder.
Conclusion
This guide has shared top 6 approaches to record Skype calls on Windows, Mac, iOS and Android. Sometimes, you need to save the online meetings or video chats for business or personal reasons. These approaches can meet your need in various situations. Vidmore Screen Recorder, for example, is the best way to capture Skype video or audio calls secretly on computer. If you encounter other troubles related to Skype call recording, please let us know and we will reply your message as soon as possible.