ライブストリームまたは音声を使用してiPhoneで独自の着信音を録音する方法
If you are tired of default ringtones, you can create a unique ringtone by yourself. For instance, you can record audio from online streaming video and audio platforms as iPhone ringtone. It is also a good idea to record iPhone ringtone with the voice from someone you like. Whatever, if you want to record your own ringtone, you just come to the right place. Here are the detailed steps to record a ringtone that can meet your demand perfectly.

Part 1: Record Your Own Ringtone from All Sources
You can record a voice recording and set it as ringtone on your phone directly. Or you can create a ringtone with your favorite audio clip. Here're two different types of creating a custom ringtone you can follow.
Record iPhone Ringtone from Live Streams
If you want to extract the certain audio track from YouTube video, audio CD, DVD, movies and many other sources, you can run Vidmoreスクリーンレコーダー to record and download the original audio track. The software is capable to record sound from browser, software, microphone and more without limits.
The maximum length of iPhone ringtone ups to 40 seconds. If you record a ringtone longer than 40 seconds, you can use the built-in audio/ビデオトリマー to cut out the unwanted part. Moreover, you can record a ringtone on Android no more than 30 seconds as well. Here are the main features of Vidmore Screen Recorder for Ringtone making.
Record and download your custom ringtone from system and microphone.
Save the audio recording as MP3, M4A, AAC, WMA or CAF format in different audio quality levels.
Trim the recording file to a specific section for making an iPhone or Android ringtone.
Use hotkeys to start and stop recording a ringtone.
ステップ1: Vidmore Screen Recorderを起動します。選ぶ 録音機 to record your own ringtone.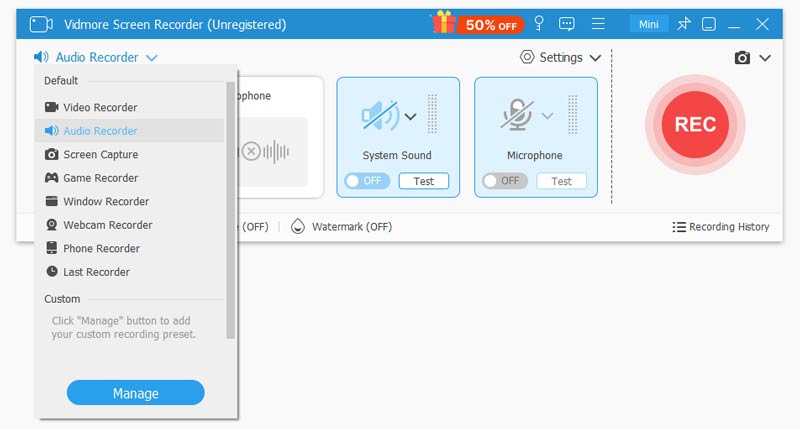 ステップ2: 有効にする システムサウンド to record a ringtone from browser or desktop. If you want to make a voice recording to ringtone on iPhone or Android, you can enable マイクロフォン 代わりに。

ステップ3: クリック レック to start recording audio stream from any online and offline media file.

ステップ4: あなたは プレビュー window pre-listen the ringtone after recording. Set the start and end time to trim the audio recording file. At last, click 保存する to download the ringtone recording.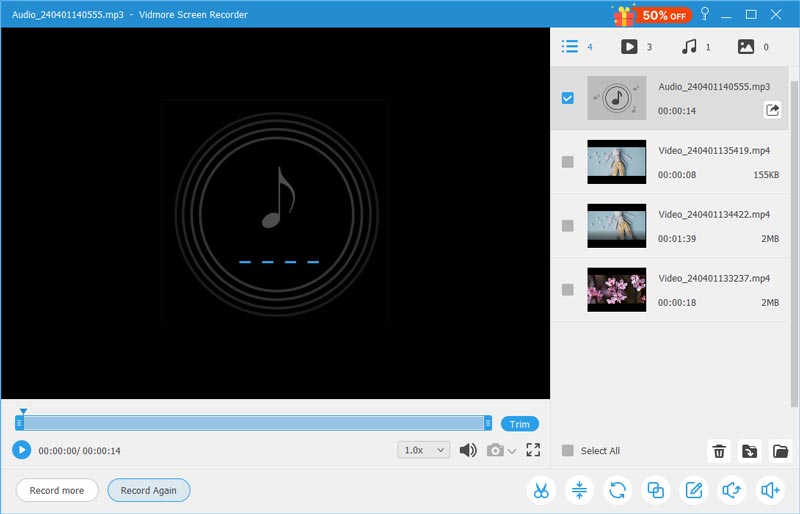 Record Voice Memos on iPhone
You can also record a voice message as iPhone ringtone. There is a built-in iPhone Voice Memos app you can use.
ステップ1: Run Voice Memos app on iPhone.
ステップ2: をタップします 記録 button to record voice from yourself or someone else.
ステップ3: あなたはタップすることができます やめる button to stop recording voice on iPhone.
ステップ4: をタップ できた and set the file name to save your voice recording.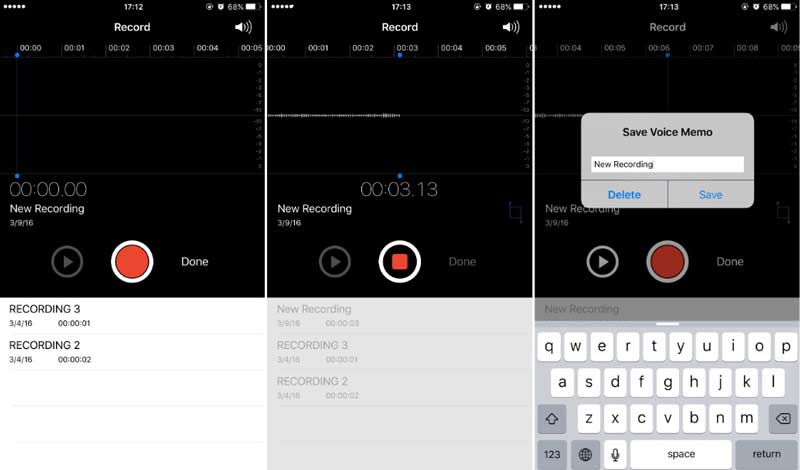 Part 2: Turn Audio Recording to Your iPhone Ringtone
After recording a custom ringtone, you need to add it to your phone. This section will show you the left things you need to do to add a recording as iPhone ringtone.
Convert to iPhone Ringtone Format
For iPhone users, you need to convert the audio recording to M4R format. MAR is the only compatible iPhone ringtone format. During this time, you can use Vidmore Free Online Audio Converter to convert audio to M4R online for free.
ステップ1: Open Vidmore Free Online Audio Converter. Access its launcher with the on-screen instruction.
ステップ2: Browse and add your recording audio into the main interface.
ステップ3: Set M4R as the output audio format below.
ステップ4: クリック 変換 to convert the recording file like MP3からM4R iPhone ringtone format.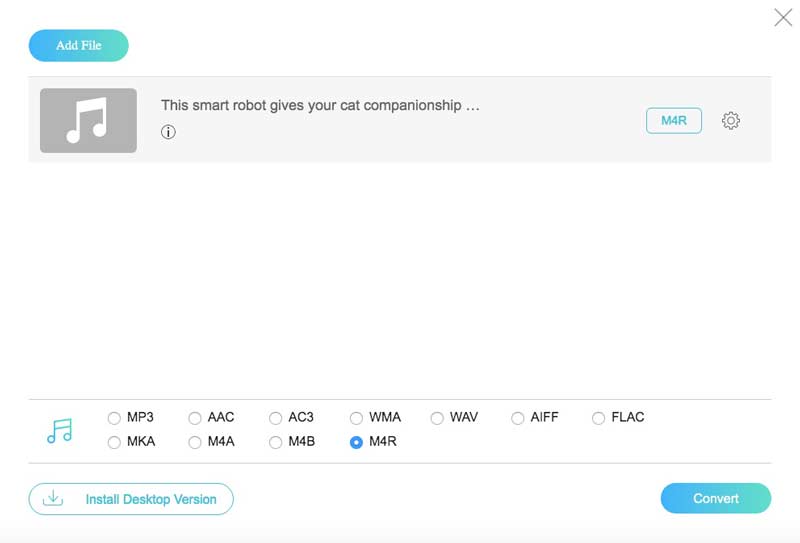 Get iPhone Ringtone with iTunes
This is the final step to create your own ringtone on iPhone. Update iTunes to the latest version before making an iPhone ringtone.
ステップ1: Plug iPhone into the computer. Choose your iPhone's name under デバイス.
ステップ2: Copy and paste the M4R audio recording into the Tones セクション。
ステップ3: 有効にする Manually manage music and videos 下 オプション セクション。
ステップ4: Go back to the Tones section and check the iPhone ringtone you want to add.
ステップ5: クリック 同期 to add M4R ringtone to iPhone with iTunes.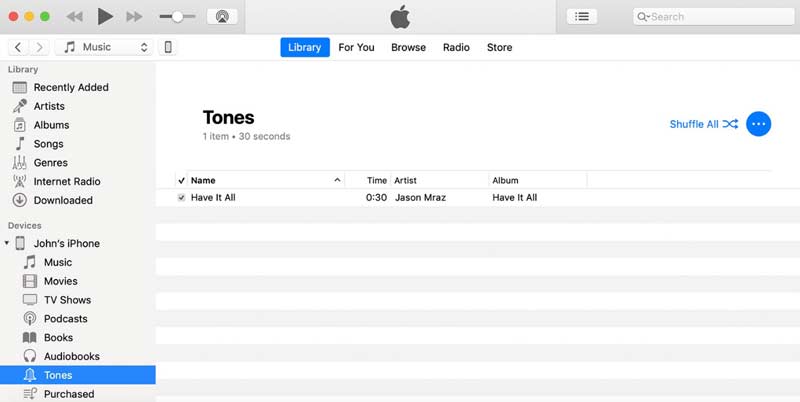 That's all to record your own ringtone on iPhone. You can get the complete tutorial to record an iPhone ringtone with your voice or live audio stream with the above steps. If you encounter any problem while recording a ringtone, you can feel free to contact us.