Top 5 Best OBS Alternatives to Record Computer Screen (2021 Updated)
What is the best OBS alternative? I'm sick of using OBS to record live gameplay, cause recently it didn't capture the webcam from time to time. Is there any stable screen recording software?
With the increasing popularity of live gameplay videos and others, the need for the type of screen recording tools like OBS also get increased. If you are interested, you must be familiar with the Open Broadcaster Software.

As one free video recording software, OBS is quite popular. However, due to some bad using experiences, many OBS users are looking for a great OBS alternative. Are you one of them? Here in this post, we will share 5 best OBS alternatives for screen recording.
NO.1 Best OBS Alternative - Vidmore Screen Recorder
If you are new to this, you need a good tool for that. Besides Open Broadcaster Software, there are also many other OBS alternatives shared on the internet can help you capture screen and sound based on your need.
At the first part, we like to show you the best alternative to OBS, Vidmore Screen Recorder. Comparing with OBS, it can give you a more comfortable video gameplay or other live contents recording experience. What's more, it has the capability to capture screen and audio with exactly the original image and sound quality, even the 4K recording.

Best Alternative to OBS - Screen Recorder
Easily record screen and sound on Windows/Mac with high quality.
Support 4K UHD screen recording up to 3840 x 2160 resolution.
Create a picture-in-picture recording while playing video game.
Record online live videos, 2D/3D gameplay, webcam, video/audio chats, music and more.
Advanced hardware acceleration technology to record with low CPU, GPU and RAM.
Powerful editing features and export captured content in any popular format.
When you have the need to record video or audio on your computer, Vidmore Screen Recorder will definitely the best choice. This OBS alternative can offer you an easier screen and audio recording experience, especially for the video game playing.

Thanks to the hardware acceleration technology, it is able to capture video with low CPU, GPU and RAM. In that case, it guarantees you to have a smooth and stable gaming experience. In addition, it highly supports any popular video and audio formats like MP4, MOV, AVI, FLV, MP3 and more. You can easily record screen and save it in your preferred output format.
NO.2 Best Alternative to OBS - XSplit Broadcaster
XSplit is a great OBS alternative which can help you record your computer screen. Actually, XSplit is a premium software package which carries three tools, XSplit Broadcaster, XSplit Gamecaster and XSplit VCam. The XSplit Broadcaster is the alternative to OBS which mainly designed for gamecasting and screencasting.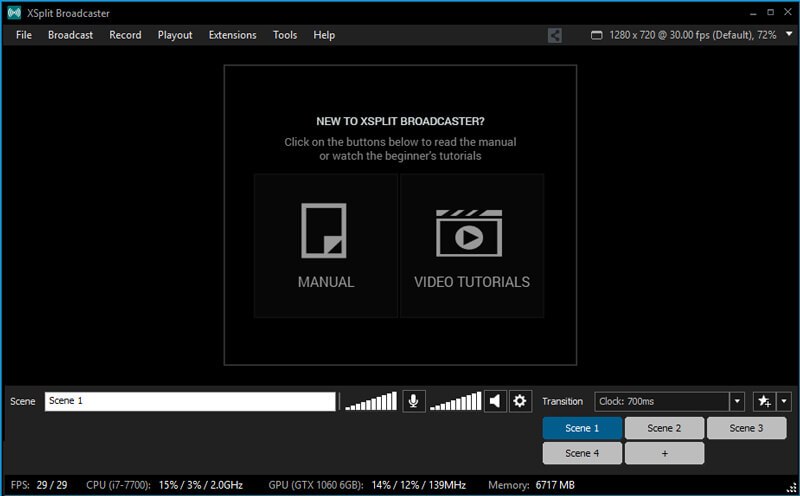 XSplit Broadcaster is a free screen recorder which comes with some limited features. The free version is limited to record 30fps and 60fps. You can pay $5/month for 12 months license and $200 for a lifetime license. This OBS alternative carries an in-game recording feature.
NO.3 Alternative to OBS Studio - Bandicam
Bandicam is one of most popular screen recording software which enables you to capture any activities on your computer. This OBS alternative software doesn't support live. But it can give you a great screencasting experience.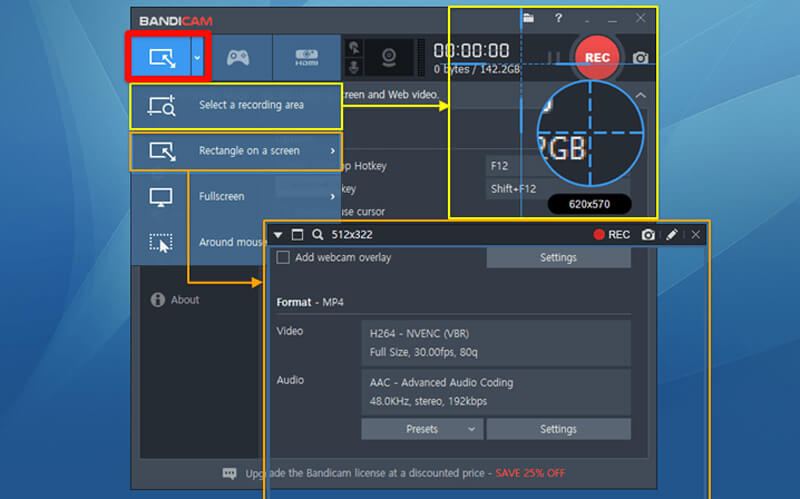 If you are a video gamer, Bandicam can be a great helper to record your computer screen. It has the capability to capture high quality video up to 120 FPS. This alternative to OBS provides you with 3 recording modes, Recording screen, Game recording mode, and Device Recording mode.
NO.4 Free Screen Recorder like OBS - CamStudio
CamStudio is a free screen recorder like Open Broadcaster Software. This open source OBS alternative can capture video and audio simultaneously with industry standard. CamStudio allows you to add screen captions and overlay your webcam video on top of the content you are recording. It is also able to record audio from the microphone.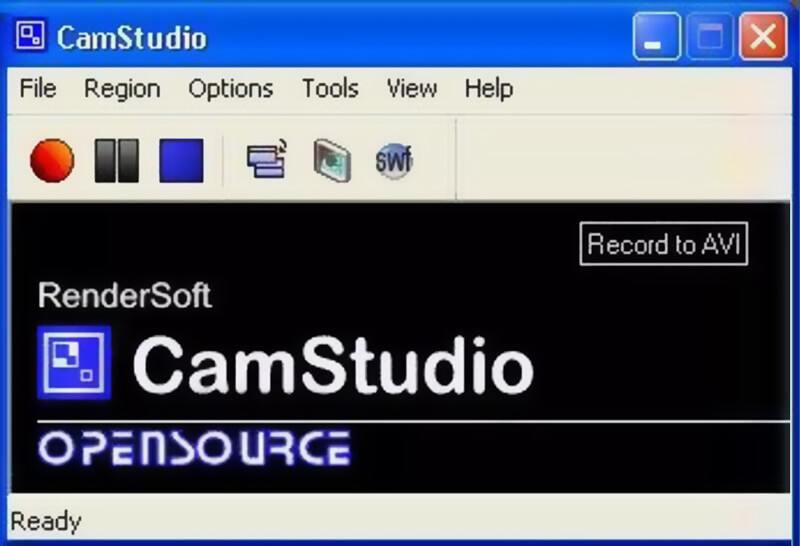 As a free alternative to OBS, CamStudio doesn't carry any editing features. But it does pay attention to the output video quality. It enables you to save the recorded video as AVI or SWF according to your need.
NO.5 Lightstream
Lightstream can be a great option if you are looking for a free service like OBS. This browser is totally free. Moreover, it highly supports any popular related tools like Streamlabs, Muxy, and Streamjar, and more. Even though it is a free alternative to OBS, Lightstream carries many useful features like native support, slick overlays, guest hosting, live chat, and more.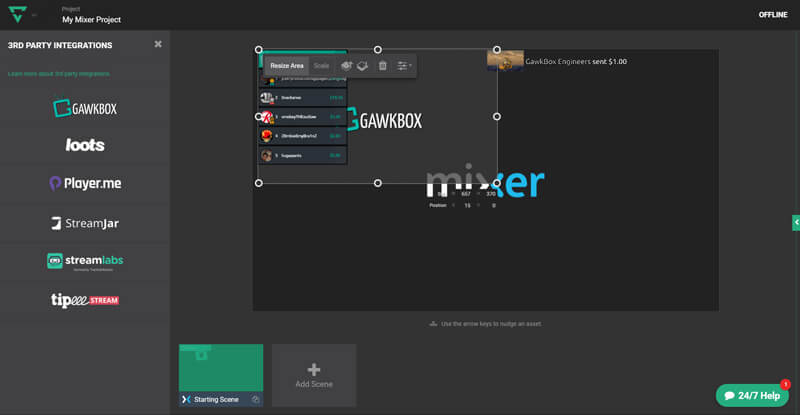 Lightstream has the capability to automatically adjust the bitrate based on your network connection. Another cool feature is that, it can save all your projects, scenes, and assets in its cloud service. So you don't need to rebuild them every time. This OBS alternative also carries some unique features like multi-cam shooting.
Conclusion
OBS Studio is an open source screen recording service. Many new features and plugins will be released by the developer community from time to time. That means it's quite necessary to tinker and update with it. Otherwise, you may have some troubles in using OBS properly. That's why we share 5 best OBS alternatives for you to choose from.
After reading this post, you can get 5 great alternatives to Open Broadcaster Software. Whether you want to record your gameplay, capture video on computer, you can find suitable OBS alternative from this page.