Does Bandicam Work for Mac – Best Bandicam Mac Alternative You Should Know
Bandicam is the versatile screen recording software to record and capture everything you want to on your PC screen. Moreover, it also enables you to record external video devices, such as webcam, Xbox, PS3 and more. Does Bandicam work for your MacBook? It is a pity that the screen recorder is only available for Windows with a high quality.
Is there a Bandicam for Mac alternative to record your gameplay, webcam, or other device? What should be important to choose an alternative program and how to use it? Just learn more details about the best Bandicam for your Mac alternative from the article now.

Part 1: Does Bandicam Work for Mac? Here is the Answer
Bandicam should be an excellent screen recorder for gamers, video tutorial enthusiasts, educational experts and more on your PC. Bandicam is only a desktop screen recorder exclusive to Windows. It is able to record screen and save as video (MP4 and AVI) or image format.
It is pity that Bandicam is not available for macOS. But you can search for some Bandicam alternatives for Mac to record video, capture audio, or even get the webcam files. How to record various 2D/3D games with 4K UHD video or capture up to 48 FPS videos, or allows you to record external video devices with ease? What are the important features for the Bandicam Mac alternatives? Just learn more details as below.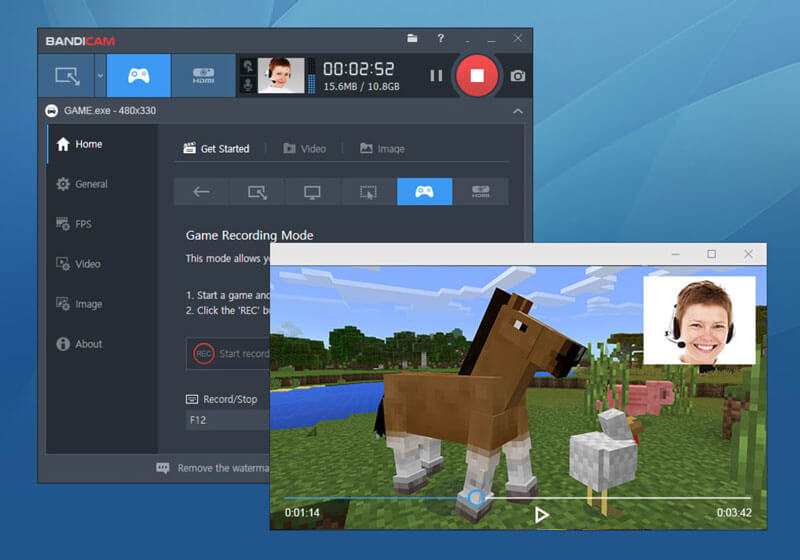 Part 2: How to Choose Bandicam for Mac Alternative
Whether you need to record a 2D/3D game with 4K-vieo qualities, or capture files from external video devices, such as iPhone, Android phone, webcam, or Play station, you can learn more details about how to choose the best Bandicam for Mac alternative.
Hardware acceleration. Bandicam is a professional game recorder that enables you to capture gameplay using DirectX/OpenGL/Vulkan graphics technologies. In order to find a Bandicam for Mac alternative, the advanced hardware acceleration should be an important feature.
Add webcam and microphone overlay. In order to add presentation or commentary, you have to add webcam video of yourself on the video as well as the audio files from the microphone just as Bandicam.
Apply mouse effects and real-time drawing. When you want to focus on the important parts of the screen recording, you can draw, mouse click effect and outline the video or screenshot in real-time.
Manage the recording preferences and mouse effects. Provide different effects for the recording sound, hide float bar, mouse click color, mouse click area, recording boundary and more others.
Part 3: Best Bandicam Mac Alternative to Record Screen for Mac
Vidmore Screen Recorder is an all-in-one Bandicam Mac alternative that you can capture any part of your screen, record HD video and audio, add content from webcam and take screenshots any time you like. Moreover, it has the advanced hardware acceleration algorithms that enable you to record high quality video in different file formats.
Record computer screen and gameplay.
Capture up to 60 FPS video files and the lossless audio files with ease.
Add text, arrow, shape and other real-time drawing and mouse effects.
Hotkeys to manage the recording with hotkeys and output as Bandicam.
Step 1: Download and install the Bandicam for Mac
Once you have installed the Bandicam for Mac, you can launch the program on your MacBook. It has a simple user interface that enables you to record onscreen videos, capture audio files, add webcam videos and even take snapshots directly.

Step 2: Choose the video and audio file formats
In order to get the best video/audio quality, you can go to the Vidmore Screen Recorder menu and choose the Preference options to tweak the output quality. Go to the Output menu from the left column and choose the video format, video quality, frame rate and more.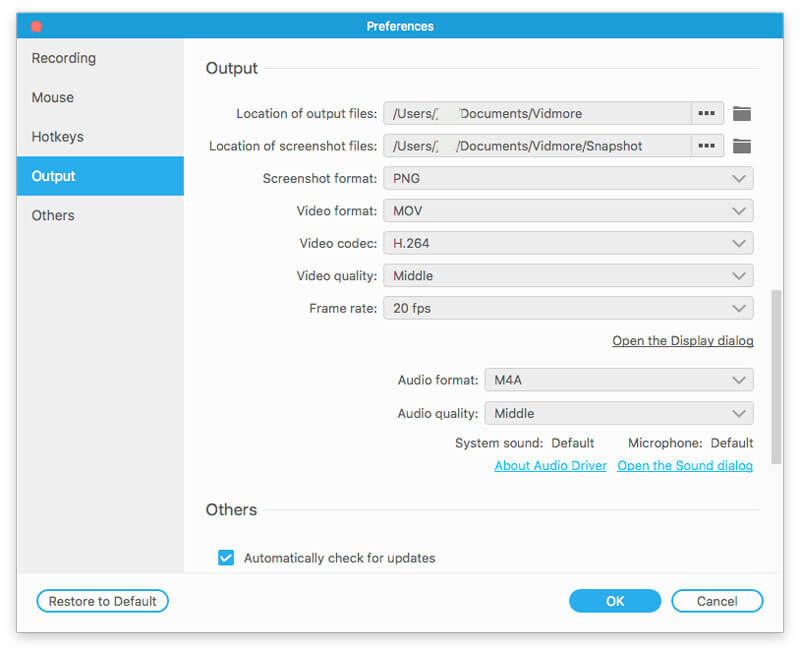 Step 3: Record gameplay video with webcam
Go back to the home interface and enable the Video Recorder menu to adjust the recording area as the Bandicam for Mac. You can also enable the Microphone and System Audio for capturing audio files. The Webcam Recorder enables you to add the webcam videos.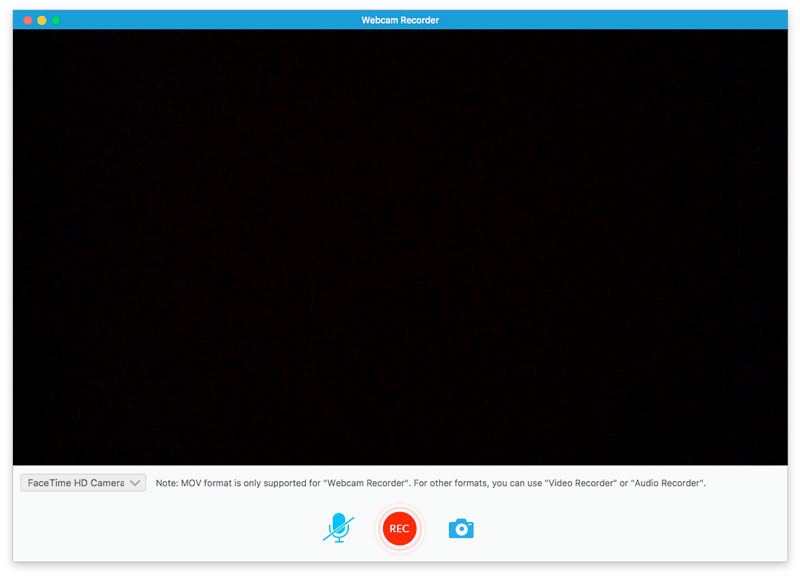 Step 4: Add mouse click and real-time drawing
When you click on the REC button, you can start recording onscreen activities on your MacBook. Here you can add a rectangle, ellipse, callout, arrow, line, etc., into the video for marking. Moreover, you can also select a tool to start to draw on the video with real-time effect.

Step 5: Manage the video recording history
After that, you can click the Recording history option to open the recorded files. In the recording history, you can rename the recording file, play it directly, or share it on social media. You can also further trim or edit the video files according to your requirements.
Note: Vidmore Screen Recorder is not only advanced in video and audio quality, but also has advanced hardware acceleration to record the onscreen activities. Moreover, the Bandicam for Mac also enables you to take some screenshot in GIF for your social media website.
Conclusion
Since Bandicams does not have a Mac version, you have to find a Bandicam for Mac alternative. What should be the most important features when you search for an alternative program? Just learn more details about why you should choose Vidmore Screen Recorder for Mac as the Bandicam for Mac alternative and how to use the program from the article.