How to Find and Change Where Streamlabs OBS Recordings Go
OBS (Open Broadcaster Software) is one of the most popular live streaming and recording software. While streaming live content to YouTube, Twitch, or Mixer, it can record the live streams as videos on your computer. If you do not want to stream the live content, it can let you save the recordings and edit them before streaming.
The question is where streamlabs OBS recordings go?
The answer is what we shall uncover in this post, and show you how to change the location of OBS recordings, so that you can find them quickly next time.

Part 1. Where Does Streamlabs OBS Save Recordings?
Where does streamlabs OBS store recordings?
It is not a difficult question.
By default, OBS will save your stream recordings inside the location where OBS is installed on your computer.
As for Mac users, you can find OBS recordings on Mac by finding its default storage folder in Part 2.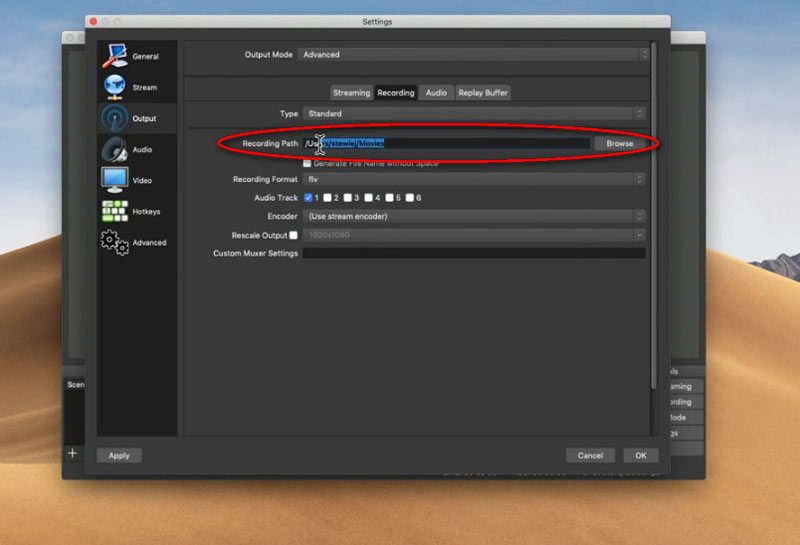 Cannot find the recording videos on the computer?
Your computer may naturally direct OBS to save the files in your videos folder. (C:UsersYour userVideos)
However, it is another story if you have made some settings to change the location to save the streaming recordings for OBS.
You may be interested in: Where Do Screenshots Go on PC?
Part 2. How to Change the Location of OBS Recording
The default location to store OBS recording is decided by the location where you install this software. You should remember that OBS recordings may take up a lot of space on your hard drive. If you install OBS in C drive, then the recordings will pile up your C drive, which will undoubtedly slow down your computer performance.
Moreover, the default location is not easy to remember compared with the location you customized.
Therefore, changing the location of OBS recordings is necessary.
OBS also offers the ease to do it.
The process of changing the OBS recording path can be accomplished in a few simple steps.
Go to the

Settings

and select the

Output

tab.
Find

Recording Path

under the

Recording

section. Then you can see the default location for the recording storage.
Click the

Browse

button and choose a folder/storage location to store your OBS recordings.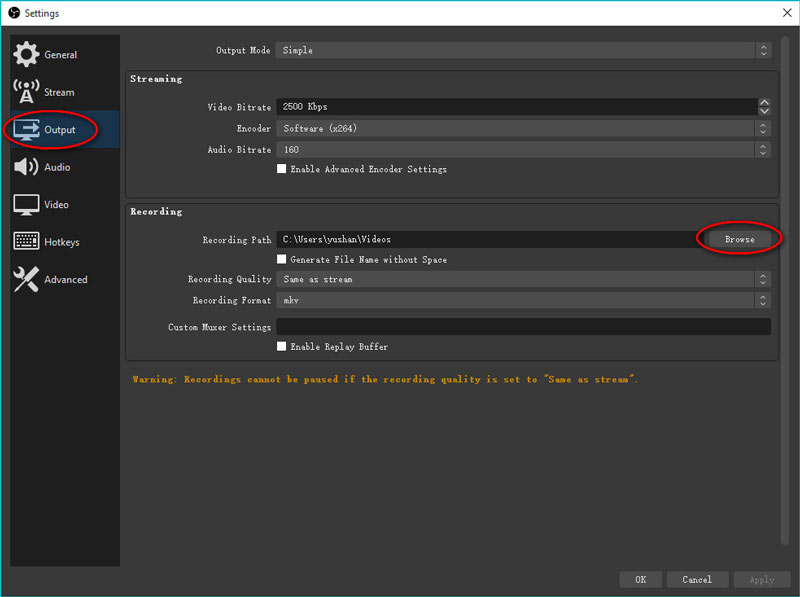 That's done.
Once you have made the settings, you should always know where to find OBS recordings.
Part 3. Troubleshooting and FAQs of OBS Recording
It is easy to find where are the OBS recordings. However, other problems while using OBS to record content you met are not easy to deal with.
1. OBS not saving recordings?
You should see if the settings match where you expect the file to go. Moreover, you can fix the problem by changing the recording storage location to fix the problem.
2. OBS not saving full recording?
Just check the directory you are using to save the OBS recording. If they are full, then no OBS recordings can be saved in full. You can find the OBS recording storage and delete some to free up more space.
3. OBS recording choppy or encoding overloaded?
Lagging recording or encoding lag means your CPU is being pushed to be hard. Apart from following the solutions in this post (How to fix OBS encoding overloaded?), you can turn off Xbox Game Mode on Windows 10 to solve this problem.
4. How to change OBS recording file type?
Similar to changing OBS recording location, you can also change the OBS file type by going to Settings and navigating the Output tab. Then select the recording file type from the drop-down option of Recording Format. You can change the OBS recording file type to FLV, MOV, MKV, TS or M3U8.
5. OBS game capture black screen?
Man reasons may lead to a black screen while you capture the gameplay in OBS, like Windows system block, GPU switch, OBS compatibility, etc. Here are the full solutions to fix OBS game capture black screen.
Part 4. Alternative to OBS Recorder
OBS can be a good option if you are seeking for a free screen recorder. However, once you are looking for a multi-functional video recorder to make your video presentations, an OBS alternative, Vidmore Screen Recorder is recommended.
Vidmore Screen Recorder is one of the best OBS replacements, which you can use to record live streaming videos for offline playback. Moreover, it also lets you record your video show for uploading online. Whether you want to record a gameplay or video tutorial, and more, it can easily complete the task on Windows 10/8/7 and macOS with ease.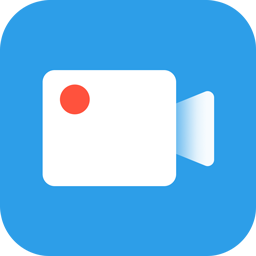 Vidmore Screen Recorder – Best OBS Alternative
Record screen from desktop, browser, programs, and webcam.
Real-time editing while recording screen on a computer.
Web-camera recording captures picture-in-picture video.
Various recording modes capture any region as you wish.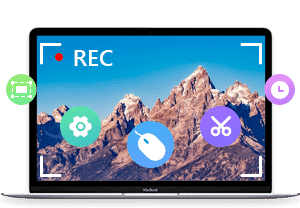 This short tutorial shows you how to use the OBS recorder alternative to start a video recording.
Step 1. Free download this OBS recording software alternative on your computer. Open it immediately after the successful installation. Select Video Recorder.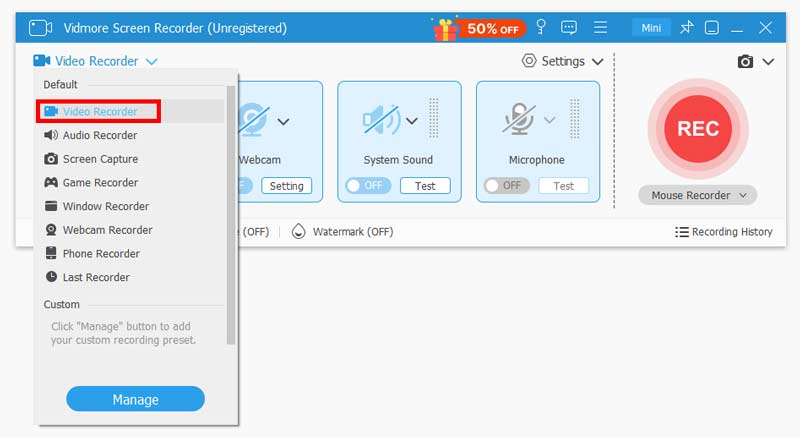 Step 2. Choose the recording area by clicking Custom or Customize under the Video Recorder window.
As for recording audio, you should toggle on/off the System Sound and/or Microphone to record voice from the microphone or computer itself.

The Preferences option from the menu allows you to adjust the parameters of recording hotkeys, output format/quality, mouse clicks, and more.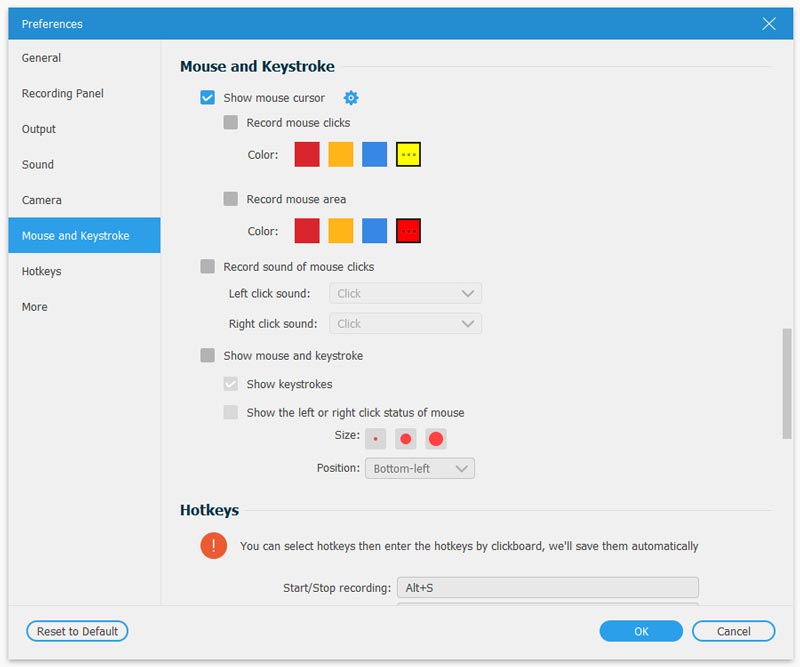 Step 3. After all the settings are made well, just click the REC button to start recording. The floating bar lets you edit the recording in real-time while recording, like add text, draw a shape, take screenshots, etc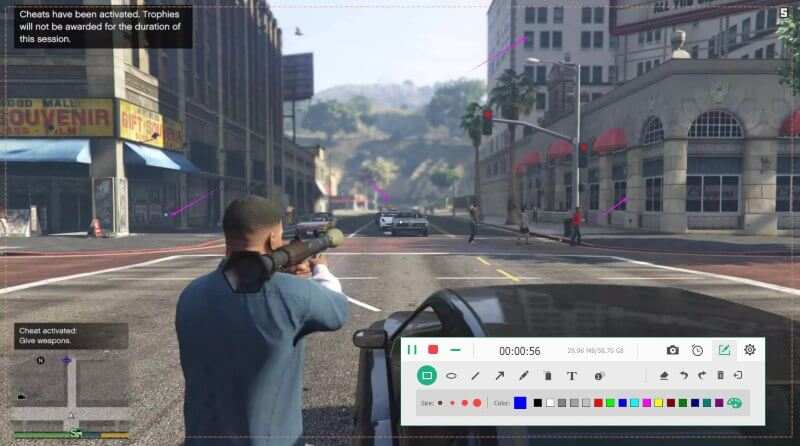 Step 4. To stop recording, just click the stop button and you are going to the preview window, where you can watch the recording and use the clip feature optionally to cut down unwanted parts from the recording file.
Finally, click Save to export the video recording file.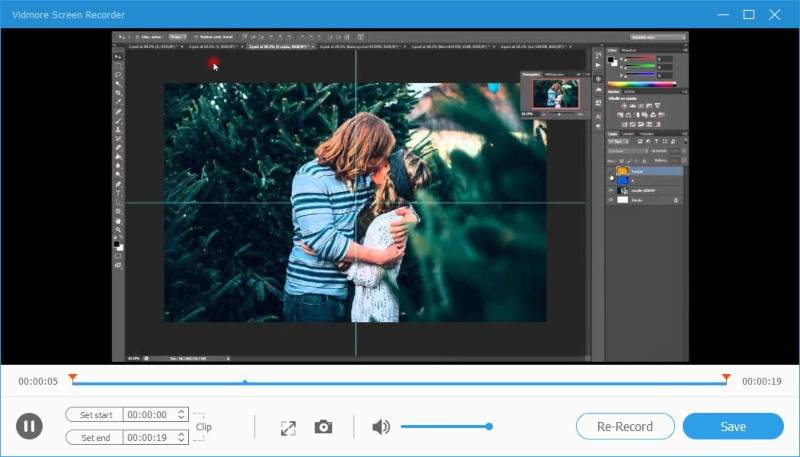 More OBS alternatives are here.
Conclusion
Where are my OBS recordings saved? The question is easy to find an answer. The location is the default location or customzied location you set. This post also lists some OBS recording problems while recording and quick solutions. OBS is not the only video recording software, and you can use the best alternative to OBS here to create a video recording easily.
Have you found your OBS recordings?
Do you have any OBS recording problems?
What is your OBS alternative recommendation?
Any comments will be welcome as below.