How to Efficiently Record Meetings with Audio Using TeamViewer
TeamViewer is an application to connect two or more computers. It lets you control other computers, transfer files and videos, and create online meetings. Since it launched, this app has attracted over 400 million devices. The meeting session recording is a new feature to help you convert it into AVI videos. Some users do not understand how to record sessions in TeamViewer. Therefore, this article will share the how-to and more options to record your meetings.

Part 1: How to Record TeamViewer Session
TeamViewer allows you to record meetings and sessions manually or automatically. However, the workflows are a bit different.
How to Record TeamViewer Session Manually
Step 1: Open TeamViewer and create a remote session.
Step 2: Click and expand the File & Extras menu on the toolbar, and choose Start session recording to begin recording TeamViewer session.

Step 3: Then you will see the recording tab on the toolbar. It shows you the recording length or pause it. Click Stop and save button when you want to stop recording.

Step 4: On the Save-As dialog, select a destination folder and click Save. The recording will be saved in TeamViewer Session format. To convert it to AVI, open TeamViewer software, choose Play or convert recorded session from Extras menu, and click Convert.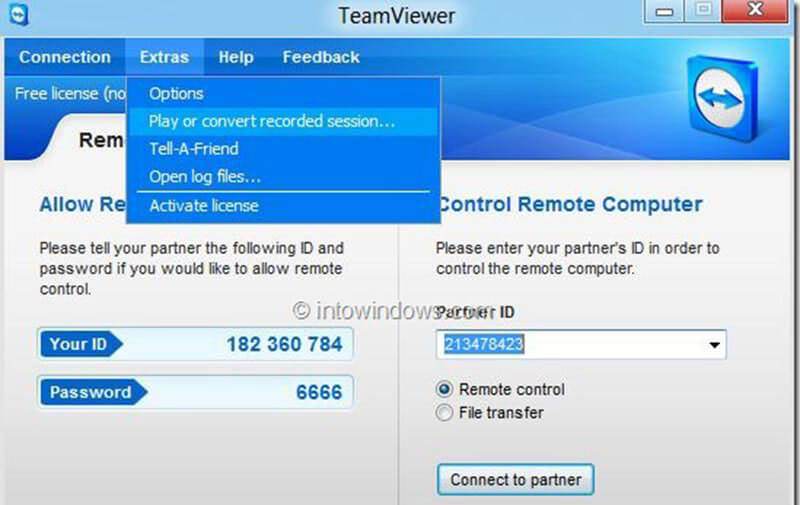 How to Record TeamViewer Session Automatically
Step 1: Open TeamViewer software, go to Extras menu and choose Options.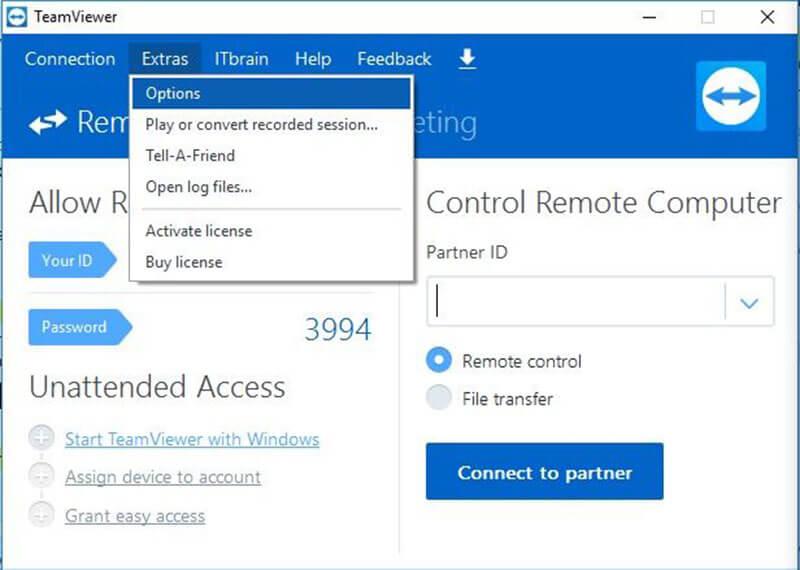 Step 2: Go to Remote control tab from the left side, and check the box next to Auto record remote control sessions under Remote control defaults section.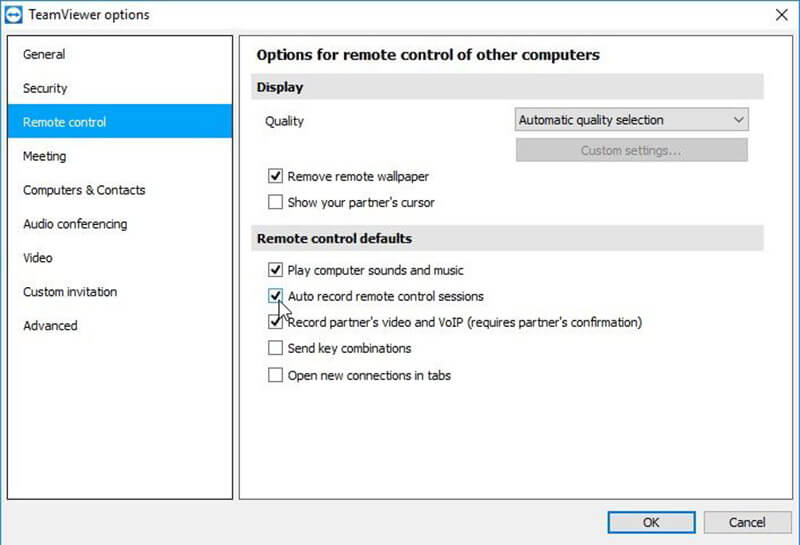 Step 3: Click OK to confirm it. Now, all remote sessions in TeamViewer will be recorded.
Part 2: Best Alternatives to Record TeamViewer Meeting
Option 1: How to Record TeamViewer Meeting on Desktop
Vidmore Screen Recorder is one of the best alternative to the built-in record feature in TeamViewer. It offers the pro-level features in the way that each one can learn easily.
Main Features of the Best Alternative to Session Record in TeamViewer
Record online meetings and sessions in one click.
Capture your reactions via webcam and microphone.
Offer plentiful custom options and presets.
Briefly speaking, it is the best way to record TeamViewer sessions and more meetings.
How to Record TeamViewer Session on Desktop
Step 1: Install Screen Recorder
Run the best alternative software after you install it to your PC. There is another version for Mac. Choose Video Recorder to open the main interface. Click the Gear icon to open the Preferences dialog, choose Output tab, set Video format and other options. Click OK to confirm it.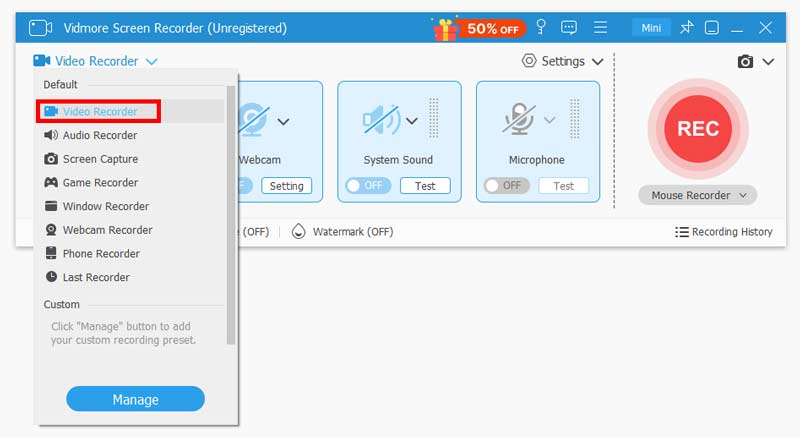 Step 2: Record TeamViewer meeting
If you want to record TeamViewer meeting or online conference, turn on Display and set the recording region based, toggle on System Sound to record meeting with audio. The Webcam and Microphone are used to capture your face and voice, and you can decide whether to enable them or not. Press REC button when the meeting starts. During recording, you can add text and paintings on it in real time.

Tip: To record a meeting automatically, click Take Schedule and set it up according to your situation. Then the recorder will work automatically, when the session begins.
Step 3: Save meeting recording
When you want to stop TeamViewer session recording, click Stop button to enter the preview window. Check the meeting recording with the built-in media player. Cut the unwanted parts with the Clip tool. If you are satisfied with the recording, click Save button to save it to your hard drive.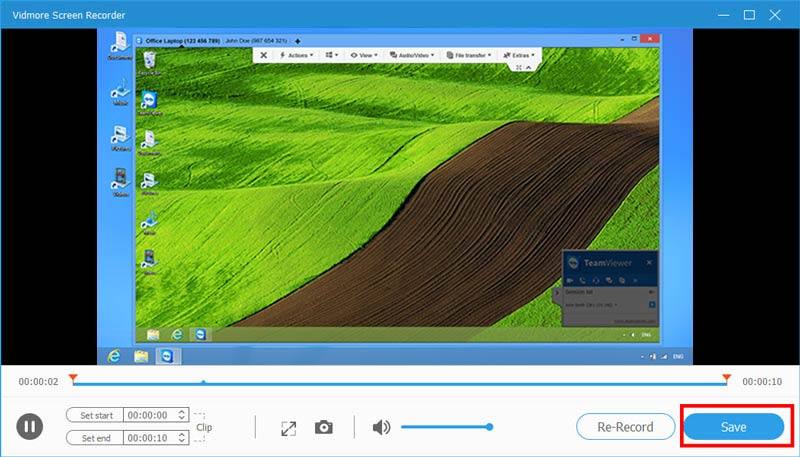 Apart from recording TeamViewer meetings, you can use this screen recorder to record webinars, record a WhatsApp video call with audio, download Viki videos and more.
Option 2: How to Record TeamViewer Meeting Online
Even if you do not like to install meeting recorder software to your computer, you can record TeamViewer session with Vidmore Free Online Screen Recorder.
Basic Features of the Online Alternative to TeamViewer Session Record
Capture TeamViewer session and meetings online.
Totally free of charge.
No watermark or length limit.
How to Record TeamViewer Session Online
Step 1: When you need to record a meeting, visit https://www.vidmore.com/free-online-screen-recorder/ in a browser. Press Launch Free Recorder to download the launcher.

Step 2: Click Monitor icon and select a proper recording area. If you want to add your face to the recording, toggle on Webcam; otherwise, disable it. Then choose the audio source, like System audio and Microphone.

Step 3: Optically, click the Settings button with a gear icon to open the Settings dialog. Here you can set hotkeys, output format, destination and more.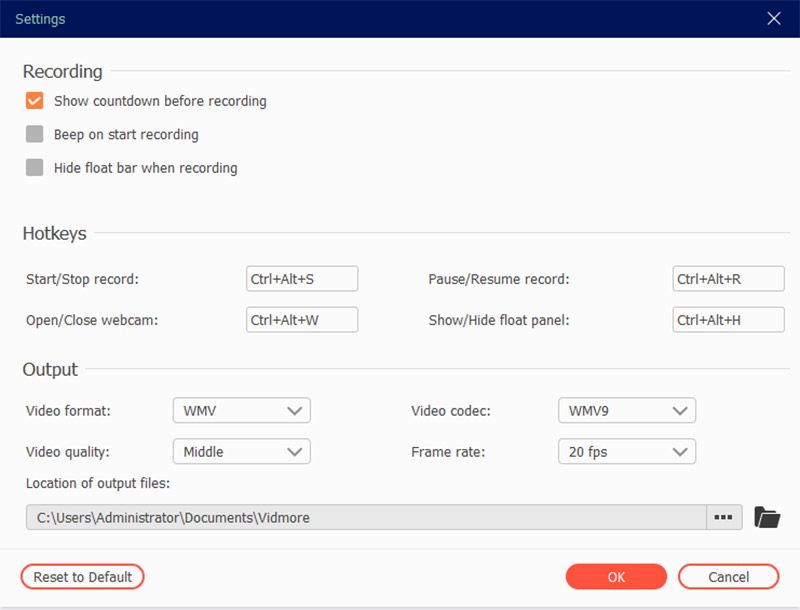 Step 4: Click the REC button to start recording TeamViewer session or more online meetings. To stop the meeting recording, click the Stop button. Then download the recording to your computer.

Part 3: FAQs about TeamViewer Record Meeting
Is TeamViewer safe?
According to TeamViewer, it uses AES 256-bit encryption, which is a recognized high quality standard. Users can enable two-factor authentication, force password reset and whitelist trusted devices to enhance the security.
How do I record a TeamViewer session with audio?
The built-in session recording feature is able to record TeamViewer session with audio. If your recordings are muted, you can try alternative meeting recorders, such as Vidmore Screen Recorder, which supports multiple audio sources.
Where are TeamViewer recordings stored?
Once you click the Stop and save button after recording TeamViewer session, the save-as dialog will pop up. Now, you can choose a specific folder to save the recording. However, it will be saved with ,tvs extension. It can only be opened by TeamViewer software. Or you can convert the recording to AVI video.
Conclusion
This guide has talked about how to record a meeting or session in TeamViewer. The software provides built-in record feature, and you can set it to auto record your sessions. However, you have to convert the recording into AVI format. In addition to the built-in record feature, you can try a powerful meeting recorder application, such as Vidmore Screen Recorder. It is not only easy to use, but also able to record meetings in high quality video files. If you have other problems related to meeting record, please leave a message below this post.