Mobile and Desktop Music Metadata Editors to Add or Edit Music Tags
If you are fond of listening to music, you may have a collection of songs. The fact that you listen to them while driving, doing chores, or just relaxing, you will immediately recognize the artist and the title of the song. That is the case when you are already familiar with a particular song. But what about when it comes to unfamiliar songs? Another problem emerges as audio streams and digital music players have become more sophisticated these days.
Thanks to intuitive and functional programs developed. You can add, create, or edit music tags to your songs. Labels on songs make it convenient for you to recognize some strange songs. With that said, we research programs that will help you edit or label with music tags on your songs. Here, you will learn about the best music tag editors for PC and mobile smartphones.

Part 1. What is a Tag in Music
Tags include information about the audio contained within the music file. They may also be used to give information about other related elements, such as the audio's artist, the song's release date, and more. These are the tags you may view when you look at the album and artist names in your music player.
Part 2. How to Edit Music Tags on PC
Vidmore Video Converter is a jack of all trades, offering a reliable option for editing and adding music tags. The tool is powerful enough to recognize the information provided in your music. It can show a song's title, artist, composer, album, genre, year, track, and comments. In addition, the program enables users to add or delete music thumbnails to recognize a song easily. In this way, you will not have a problem recognizing strange songs.
Apart from that, it supports plenty of formats both for audio and video files. The tool supports MP3, WMA, ASF, M4A, MOV, MP4, and many more. Regardless of the audio file, you wish to edit the tag off, which is possible with this tool's help. On the other hand, you may utilize the program's converter for audio, giving you access to many output formats. Additionally, it accepts almost all input formats. Without further discussion, here is a detailed process of how to edit music tags using the tool's metadata editor.
Step 1: Download the tool and launch it
The foremost thing you should do is get the program by hitting the Free Download button. Simply select the button according to your device's operating system. Then, install and launch the application on your computer. You may circumnavigate the tool to get yourself familiarized with its interface.
Step 2: Load a song to the program
Next, tick the Toolbox among the tabs from the main interface. Then, you will see a collection of tools affiliated with the program. Choose the Media Metadata Editor, and a dialog box will appear. Now, tick the Plus sign button, and your file explorer will appear. Afterward, you may browse through your folders and add your target song.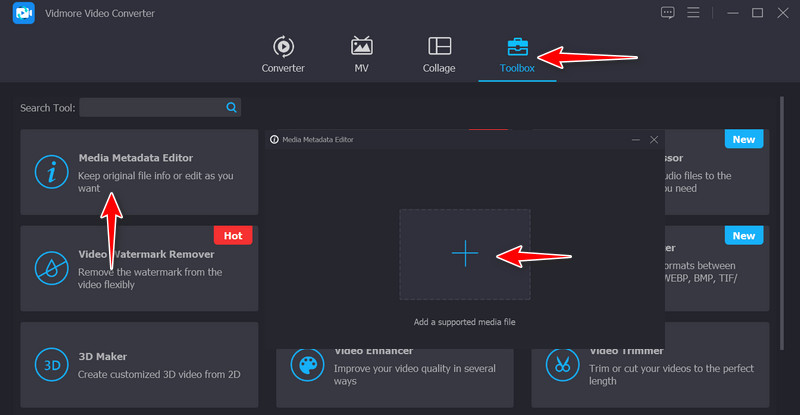 Step 3: Edit the music tag
Next, you will see the information that the song contains. It includes the title, artist, album, composer, etc. You can personalize them by ticking on a specific tag's text field. Then, key in your desired information. After doing so, hit the Save button to update the information about your song.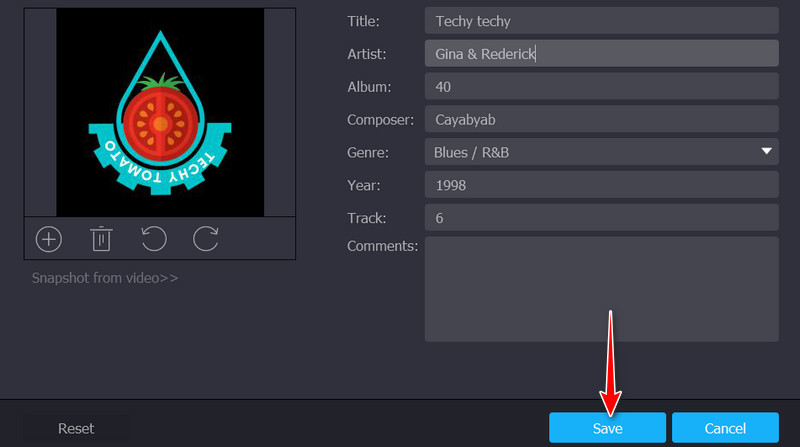 Step 4: Preview the changes
When you click the Save button, it will show you the output file's folder. Also, a dialog box will appear, giving you options on whether to edit again or proceed to check the updates of the song. Right-click on the audio track and hit Properties. Then, go to the Details tab to see the changes. By following this procedure, you can edit music tags on Windows 10 or Mac.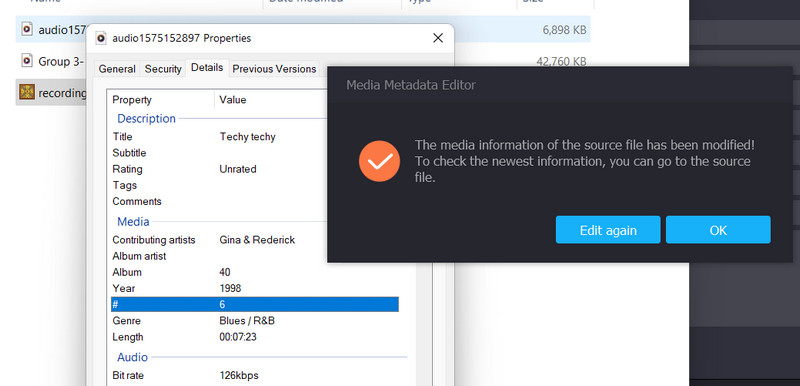 Part 3. How to Edit Music Tags on iPhone
Editing music tags can also be done simply with a mobile program. At your fingertips, you may now update or edit the tags of your songs. But due to a lot of choices, it can take time to decide on the right program to use. Hence, we will introduce an effective and efficient tool for editing music tags on your iPhone. The mobile app is called Evermusic.
This program makes connecting to your favorite digital storage services, where the collection of songs resides, possible. Users may access their songs from storage services, including Google Drive, Dropbox, OneDrive, and many more. The tool comes with a built-in ID3 tags editor, allowing you to edit titles, albums, years, comments, genres, and much more. Learn how to edit music tags on iPhone by following the steps below.
Step 1. First, get the mobile app. Go to the App Store and search for the name of the program. After that, launch the program on your iPhone.
Step 2. Next, connect the app to your chosen cloud service where your songs are located. Simply tap on the Connect a cloud service button. Then, open the folder that contains your audio files.
Step 3. After that, locate the song you wish to edit the music tags of. Once located, tap on its associated menu icon that looks like a three-dot. Then, a list of options will appear.
Step 4. From here, tap Edit audio tags and key in your desired information. Finally, tap Save at the top right corner to update the music tags of the song. That is how easily you edit the music tags on your iPhone.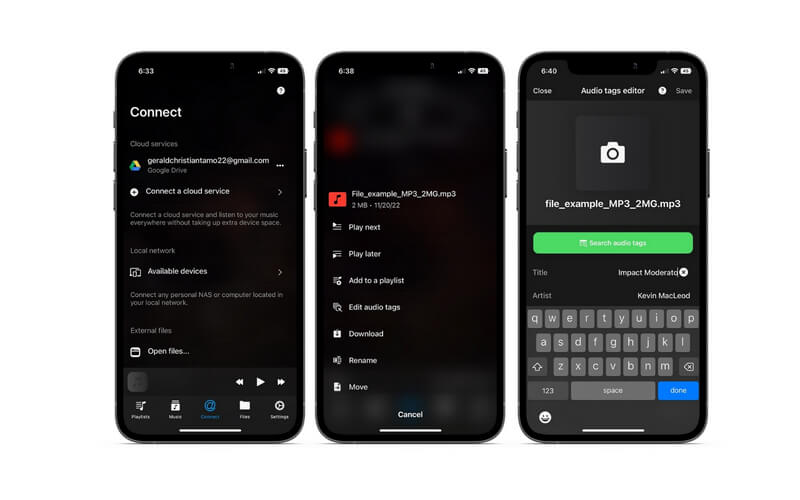 Part 4. FAQs about Editing Tags in Music
How can I edit metadata in Google Play Music?
Google Play Music is indeed a great digital music player that competes with some of the popular music streaming services, like Apple Music and Spotify. However, Google Play Music does not offer the feature of editing music tags, but it is an excellent alternative for Google users.
Can I edit music tags on Instagram?
Instagram users are now allowed to share their stories with music. It is just that you cannot organize the songs according to their tags. Instead, the app will allow you to search for a specific song or browse randomly. Therefore, you may share stories in a musical way.
How to tag music in iTunes?
Tagging multiple songs in iTunes is possible. All you have to do is multiple select songs in iTunes, right-click on the chosen songs, and select the Get Info option. After that, you will see four different tabs. To edit the tags, simply choose Details and edit the tags according to your preferences. Hit OK to save the changes afterward.
Conclusion
You might have loaded a bunch of songs on your flash drive, both songs that you are familiar with and songs that are still strange in your ears. You had better label a music tag that includes metadata of the album, year, genre, title, artist, or cover to help you quickly recognize them. Also, it will help you organize your library and locate your target songs in a much more convenient way.
Thankfully, we have these programs above that are able to help you with your needs. You may edit music tags on a PC using desktop tools or update music tags at your fingertips with a mobile application. It just depends on your needs and preferences. But rest assured they work for the purpose of editing the music tags of your songs.