Get to Know These 5 Metadata Extractor Examples Online and Offline
The use of metadata may make many challenging digital jobs we face easier. However, reading or altering these files is only sometimes straightforward, even for most users. You can read the metadata as quickly and stress-free as possible with the help of a few efficient software applications developed specifically for this purpose. Which kinds of information are concealed inside your digital files? You will be able to find the solution using a metadata extractor. The best methods for gaining access to and exercising control over the information connected to your files are detailed below.

Part 1. 2 Best Metadata Extractors Offline
Quick and easy to use, Vidmore Video Converter is the best example of a metadata extractor on your smartphone. From its name, you can tell that Vidmore Video Converter is a top-notch video-conversion tool. Users may see the video's original metadata. It contains the video's title, artist, process documentation, genre, album title, encoding date, and more. Also, users may edit the video's metadata to categorize better and explain the content.
In addition, this application is not only a typical metadata extractor but also allows you to change the quality of your music by making simple adjustments to the audio parameters. Because of this, the software is even more stunning than before. You can also manually remove any portions of your audio tracks that are not to your liking. This information extractor works to the best of its ability, even with no internet connection. Because it offers a quicker conversion process for both files, receiving the file won't be a problem for you when it comes to the conversion process. You won't have any problems obtaining the file. If you use the ultimate tool, you can have all of this. Suppose you want to know how to extract the information on your file using the program. In that case, you can learn how to do so by following the guidelines we have provided below.
Step 1: You can save the program to your desktop by clicking the icon for the operating system compatible with the version of Windows or Mac that you are currently running. The next step is to double-click the file, which will cause it to be quickly installed on your desktop, and then you can run it to begin extracting the metadata.
Step 2: After launching the tool, you will need to go to the Toolbox area, locate the Media Metadata Editor button, and then click it.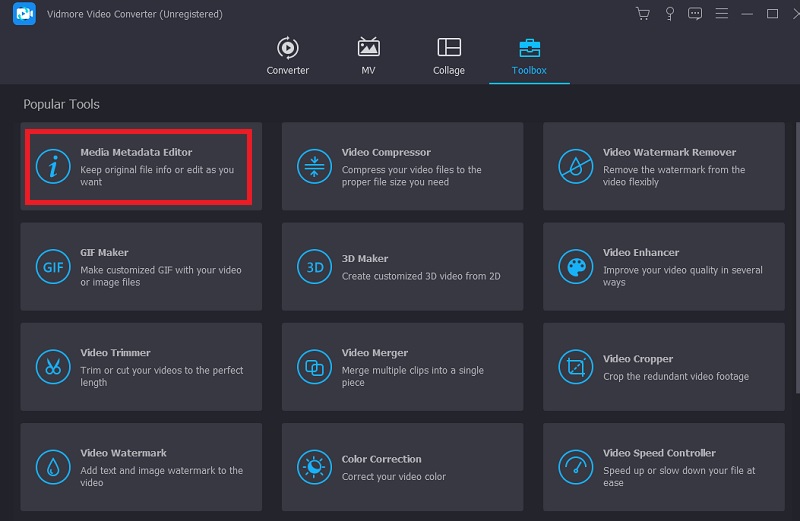 When you do so, a new window will pop up. In this new window, click the Plus sign to continue uploading the media file of your choice. Locate the media file you want to insert in the folder that will show up, and then press the Open button.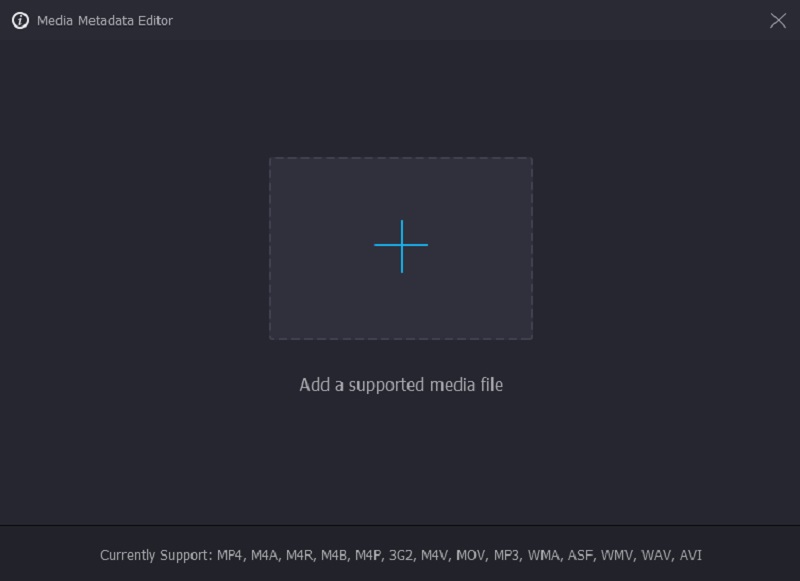 Step 3: You may now extract or delete the information you do not want to include on your file. However, you can also edit the metadata by filling in the text field. This option is available to you this time around. After you've finished updating, click the Save button to apply the changes you've made to the metadata of the file. Isn't it a piece of cake? We already knew this instrument was simple to use, so there's no reason not to give it a go!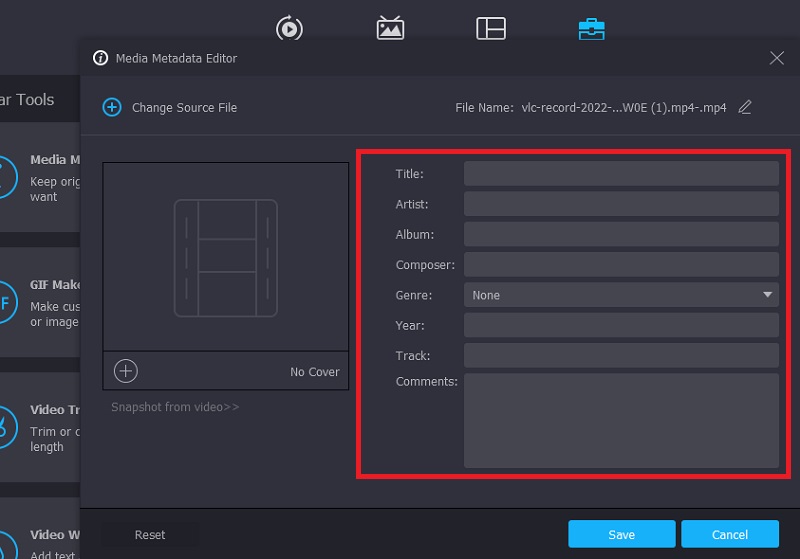 2. ExifTool
ExifTool provides customers with the means to achieve their objectives, even if those objectives require substantial metadata modification inside highly specialized digital files. Because ExifTool can handle both popular and rare file formats, it is a handy application for the relatively small number of people who regularly work with these file types. The software is downloadable for Macs, Windows computers, and other less common operating systems. It is important to note that ExifTool, like many other editing systems, also allows users to access unusual digital file formats to examine or read. It contains various camera file formats from most manufacturers and models. It also performs profitable operations outside of altering metadata, such as automatically backing up photographs and enabling users to insert their keywords.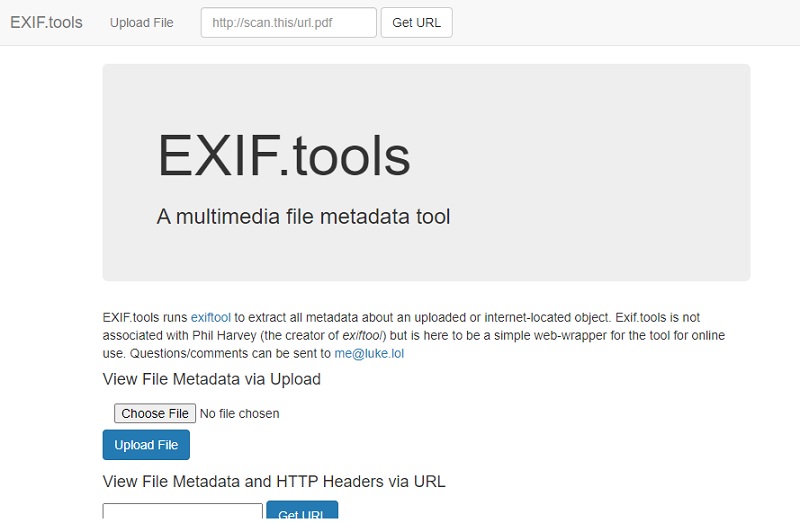 Part 2. Top 2 Metadata Extractors Online
1. Metadata 2Go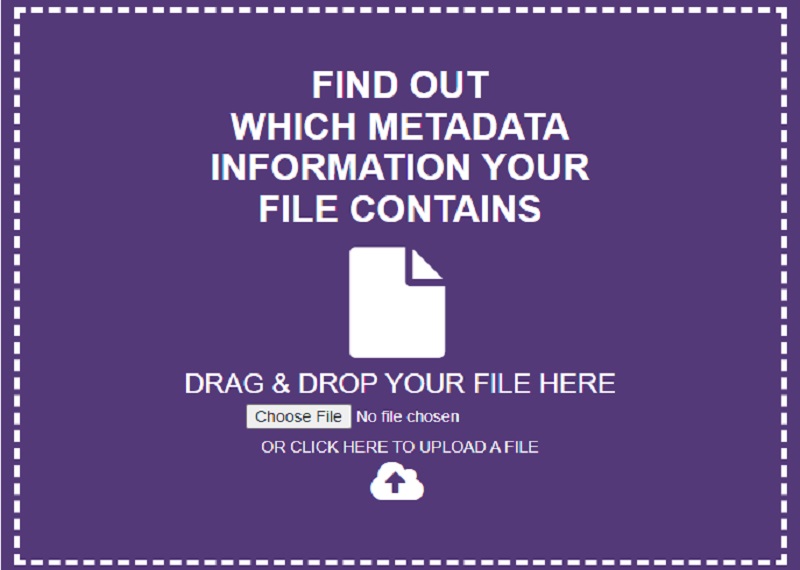 2. Brand Folder – Metadata Extractor
Suppose you are looking for an online metadata extractor that is free to use, Brand Folder. In that case, Metadata Extractor can provide this service for you. After you have extracted the data from your picture or PDF using our online extractor, you can copy it to your clipboard. This extractor is the best option for deleting data at no cost. In addition, the online tool provides you with access to several necessary features for your file. There is a catch to utilizing this tool, even though it is available without charge. First, you may only extract data from a picture or PDF file a maximum of five times each day; after that, you will no longer have access.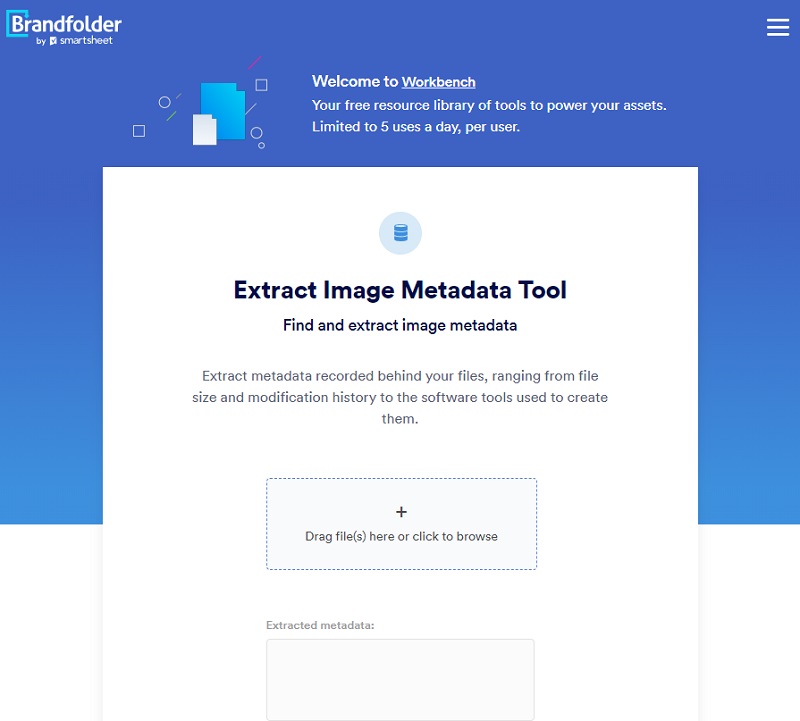 Part 3. FAQs About Metadata Extractor
Why is it essential to use an extractor for metadata?
Users who need a metadata editor say that one of the reasons is that it keeps important files from having errors or missing information. A system that can stop and fix mistakes keeps work running smoothly.
When should I use the metadata extractor?
Suppose the time and effort required to examine files and modify the information inside them would be excessive. In that case, it should not perform the activity. Suppose a person wants to alter the date of a digital photograph. In that case, they likely do not need a complex editing system.
Why is metadata extraction necessary?
We remove the file's metadata because we don't want our privacy to be broken. Metadata has some good points, but remember that it also has some bad points. So, be aware that metadata can give you information about a file. However, it can also be used by someone else to get information about a file.
Conclusions
These metadata extractors examples shown in this article do an excellent job of extracting the metadata from the media file you have available to you. Even after deleting or editing the information, the media file may still be opened and viewed without damage. After studying the many aspects of the tool, we concluded that the Vidmore Video Converter is the most helpful tool for completing this work. You need a few clicks and a few seconds to modify or delete the information of an image, regardless of whether you are an expert.