Compare 7 Useful Music Editor Online and Offline for All Platforms
There is an endless possibility in the music editing realm. There come cropping clip parts, removing annoying noise, merging several songs into one, or splitting them into several parts. What's intriguing is that you could do all this using just music editing software. You don't need to be a DJ or have the skills to tweak music to perfection. On that note, we list down some of the best music editor programs that can help you with your music editing jobs.

Part 1. Best Music Editor Freeware Programs
1. Audacity
Audacity is one of the popular free music editing software. Moreover, it is renowned for being an open-source program or free of charge software that can cater to various platforms including Windows, Mac, and Linux. The power of this tool lies in one of its plugins which is FFmpeg. What FFmpeg does exactly is it expands the functionality such as allowing users to accept a wide range of audio files. Through this tool, you will be able to edit WAV, MP3, FLAC, MP2, and a lot more. So, without further explanation, here's a step-by-step guide on how to use this music editor free of charge.
Step 1. First, visit the website of Audacity to get the installer of the app to your computer. Install the app and launch it after the successful installation.
Step 2. Import the audio file that you wish to edit. Simply go to File > Import > Audio. It will open up the file explorer and allow you to upload your target audio file. For shortcuts, you can press CTRL + O to open a file and add it to the program.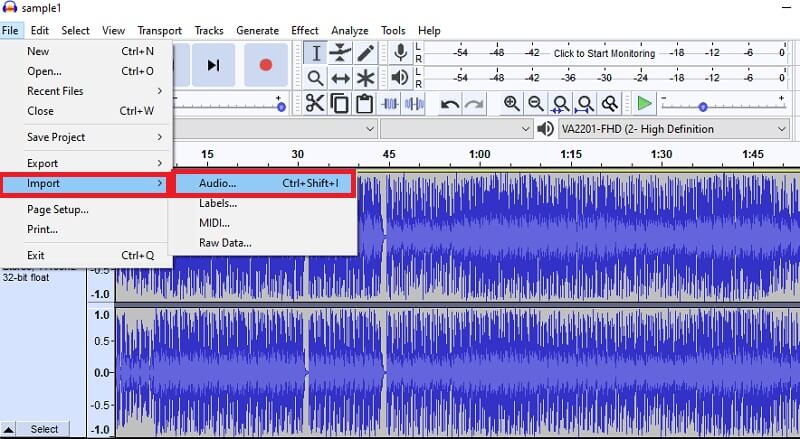 Step 3. Once the file is uploaded, you may access all the editing features provided on its menu bar above the interface. From here, you can cut, trim, adjust volume, represented by icons.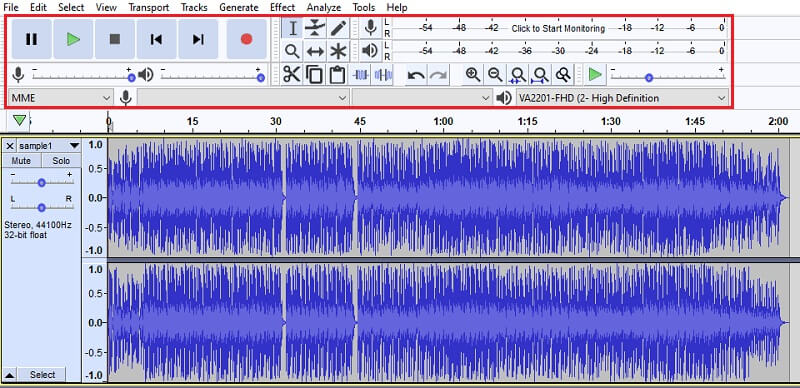 Step 4. To save your work, open the File menu. Point the mouse cursor to the Save Project option and select Save Project from the selection. Then it will save the final version of the file you edited.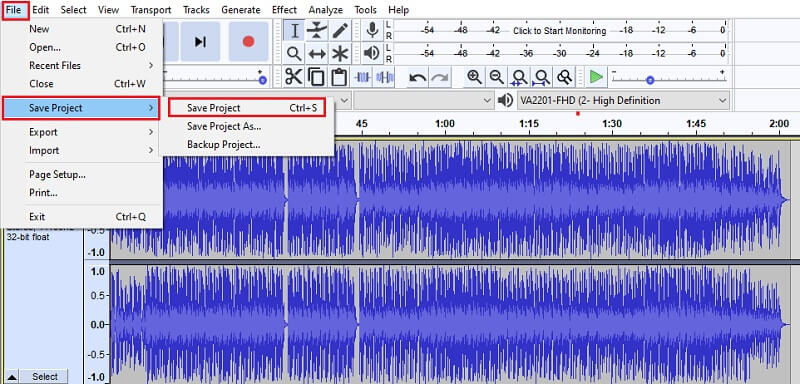 2. Audio Cutter
You can also manipulate your audio files online using one of the best music editors online there is. Using the Audio Cutter by 123apps you will be able to trim which is helpful when omitting a long introduction on a music track. You may also use it to remove unwanted parts or noise in the song. Moreover, this program allows you to upload audio files from your local folder. So, if you are saving your files mostly on your local computer folders, you can easily edit and manipulate them online. By the way, this tool is a web-based app that can serve as a music editor for Mac or Windows PC since it runs on all major browsers. See the steps below to learn how this free audio song editor works.
Step 1. Go to the website of Audio Cutter by typing its name on the address bar of your browser. The main interface should present a button that will allow you to upload an audio file.
Step 2. You have various options to upload. You can import files from Google Drive, Dropbox, via URL aside from uploading from your local folder. Just choose which method is appropriate for your needs.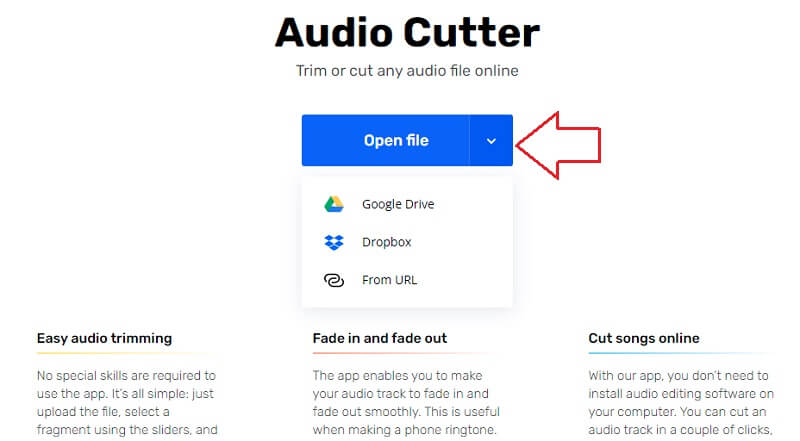 Step 3. You can move the slider to retain only the desired portion of the audio. Then you can add fade in and out effects and access more editing features.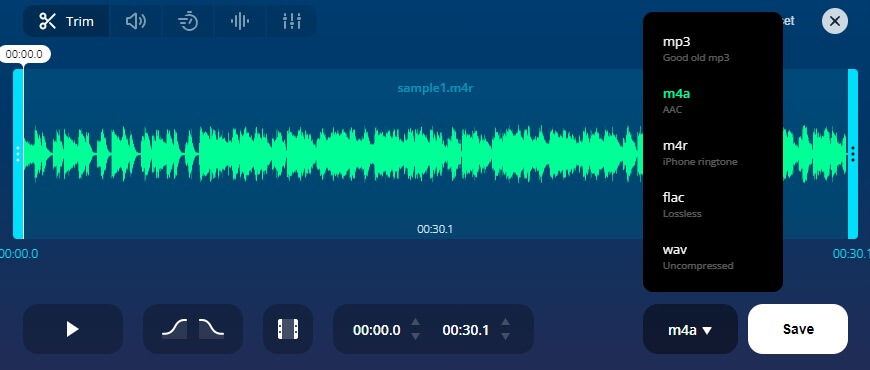 Step 4. Finally, you can click the Save button once you are done with the process of editing. Optionally, you may export the file as FLAC, WAV, or M4R especially if you are creating a ringtone.
3. WavePad
WavePad is also one of the best music editor apps for PC that features a user-friendly interface yet boasts an extensive set of tools for your audio editing jobs. It can run on both Mac and Windows operating systems. However, you might notice some issues when using this tool on Mac like being unable to access the waveform overview. Basically, the app is best to use for Windows PC. Nonetheless, it is capable of removing noise from the audio with the help of its pop filter feature. Furthermore, if you are working on multiple files and you need to undo and redo them in unlimited numbers, Wavepad can serve you well. To start editing audio files using this free music editing software for Windows XP, Vista, or on the latest Windows 10, you may refer to the steps below.
Step 1. Start by downloading the app by getting the installer from its official website. Run the installation setup guide and launch the app afterwards.
Step 2. Once the tool is up and running, open the media file that you want to edit. Now click the Open button from the ribbon of the tool and upload your target file.
Step 3. From there, you can access different editing features like splitting, combining audio, recording, and so much more. After editing the file, you can press the play button to check the edited audio.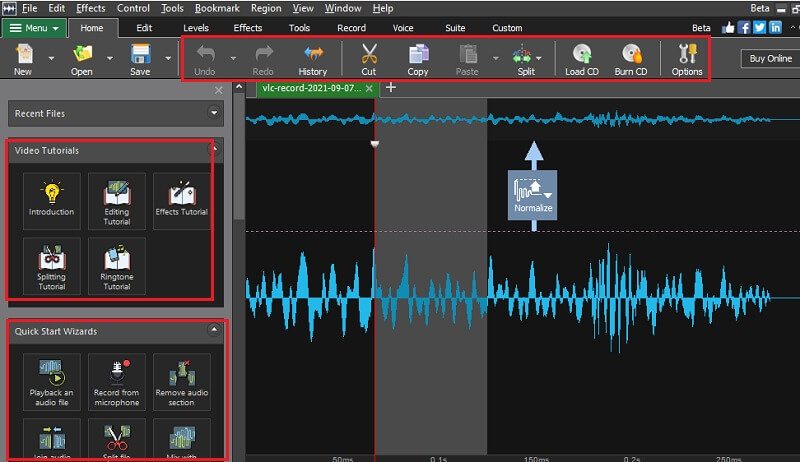 Step 4. If you are through with the changes, simply hit the Save button next to the Open button. Alternatively, you may click its drop-down if you wish to save the file in other terms like uploading to Cloud, burning to CD, etc.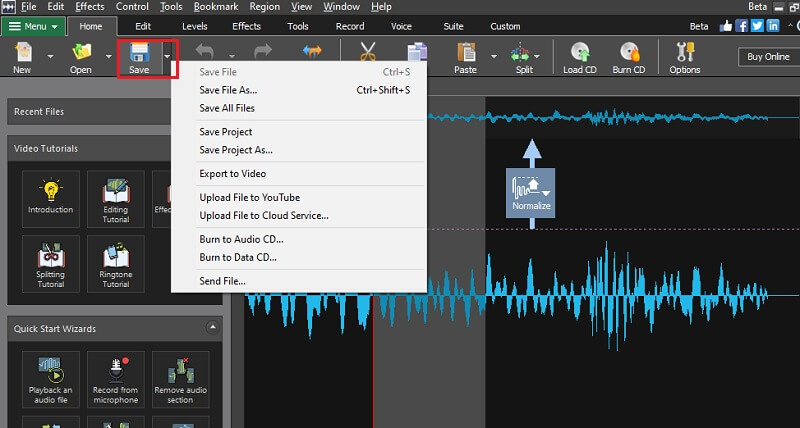 Part 2. Professional Music Editor Windows and Mac
By using Vidmore Video Converter, every user is entitled to edit an audio file or audio from a video. It enables you to adjust the volume of the track according to your requirements. The volume setting is from 0 to 200%. Also, you can adjust the delay of the audio to make the audio sound right by adjusting the correct playback. Besides, this is equipped with the capability to merge several songs or audio clips into a single file effortlessly.
If you want the other way around, you may split the audio into a couple of fragments or cut the beginning of the audio in a single click. On top of that, it can work as a music metadata editor since it can edit track info metadata including artist, album, composer, genre, year released, track and even add comments or change the cover photo. The best part is it is a cross-platform program that enables you to edit music files and access all its features either on your Windows or Mac computers. Following is an instructional guide on how to use this free software for music editing and mixing.
Step 1. Download the Music Editor
You may visit the official website of the tool to get the program. For your convenience, you may get the installer by clicking one of the Free Download buttons below. Just choose which is the appropriate OS download button for your computer. Install and launch the app.
Step 2. Add an audio file
After launching the tool, click on Plus sign button to upload the audio you wish to edit. You can also do this by dragging and dropping the media file.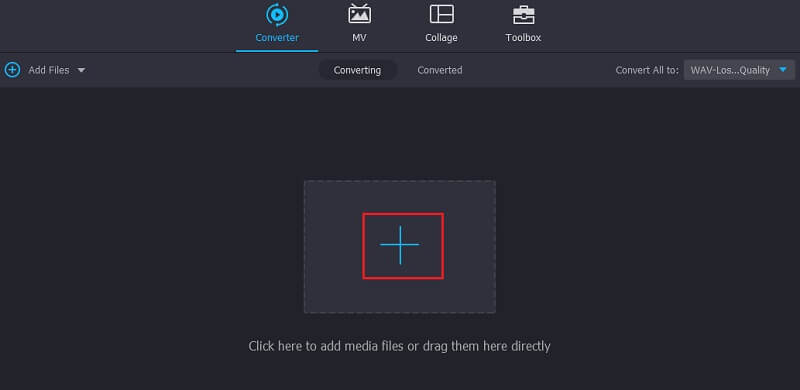 Step 3. Edit media file
Now click the scissors icon that represents the Cut button. From here, you can split the audio into fragments. By clicking the Edit button, you will be able to adjust the volume and volume.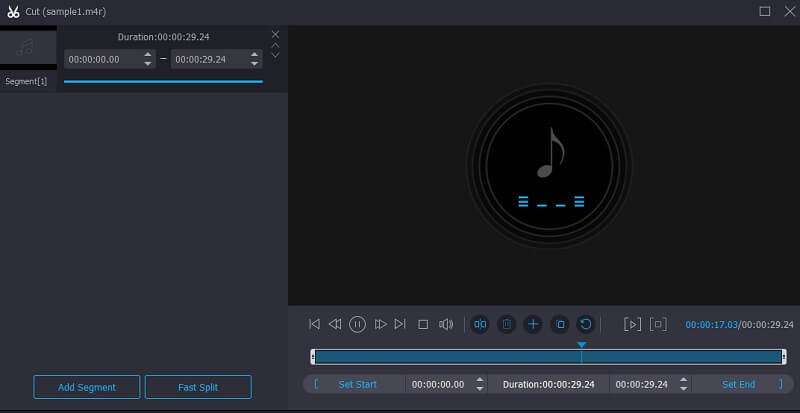 Step 4. Save the audio's final version
Once done, you may want to save all the changes you made. Go back to the Converter tab. Before saving the final version of the file, you may choose to save it to another audio format from the Profile menu. If you are ready, click the Convert All button to start the conversion process and save your work.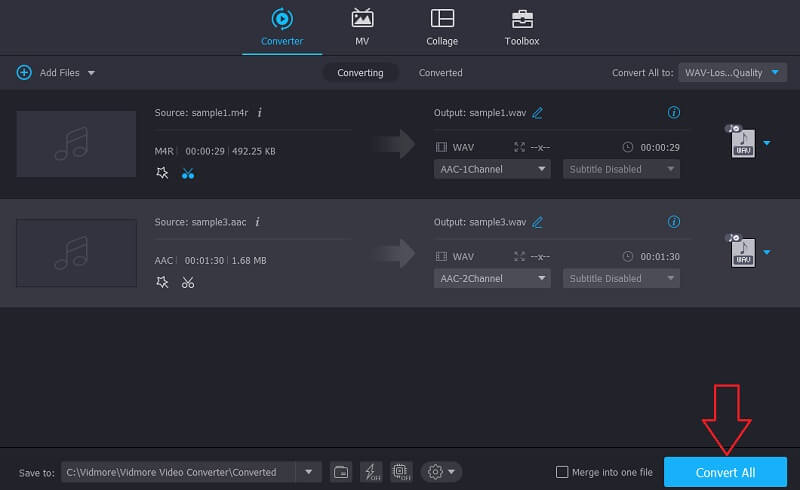 Part 3. Mobile Music Editing Apps
You can also rely on mobile phones when trying to edit or record audio. What's gripping is that there are a lot of mobile programs that offer the same set of audio editing tools as on the desktop. That means you can manipulate audio files at your fingertips. Also, for those who are looking for an Audacity music editor for Android, you may find the tools helpful.
1. Super Sound
Super sound is a great free audio song editor for Android devices. It enables you to precisely and accurately music. Even a milliseconds portion of the audio can be cut with the help of this program. Also, you can perform several cutting operations and save the history of your final work. Apart from that, it comes with a video editor wherein you can add fade-in and fade-out effects to the video, add another audio, or adjust the volume and pitch as you like.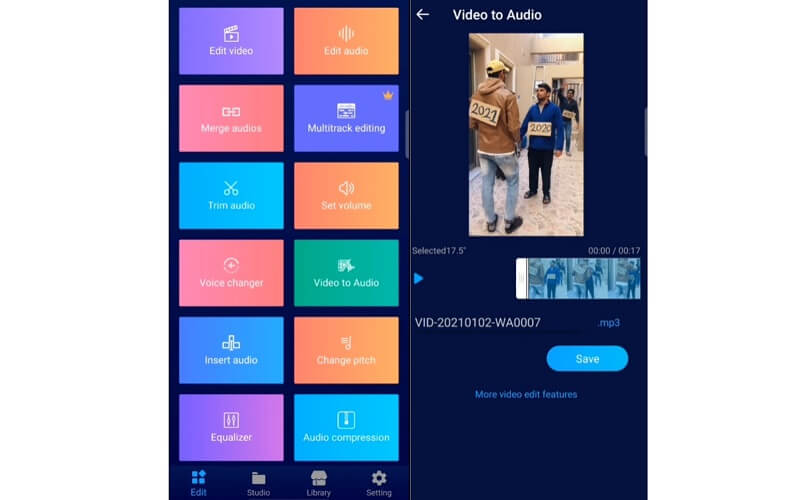 2. AudioLab
AudioLab functions as an audio editor, recorder, and ringtone maker. With it, you can modify the audio by adding silence, deleting portions of the audio, and changing the speed and pitch as well. As for its recording capability, this enables you to record a voice and audio. In addition, you can have the option to adjust the source, channel, sample rate, and format according to your preferences.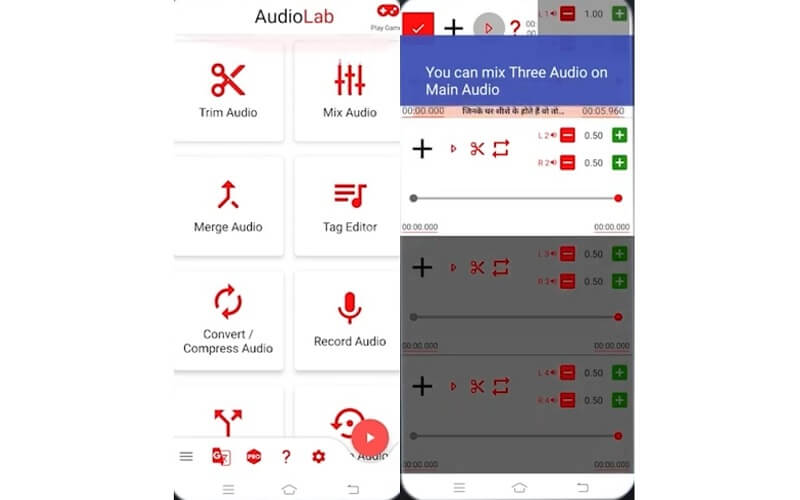 3. Music Editor
Music Editor is an Android and Apple music editor that is equipped with useful editing features for your editing tasks. Besides trimming and cropping part of audio, you may also merge multiple audio files into one file. There is also a converter in case you need to change one audio format to another.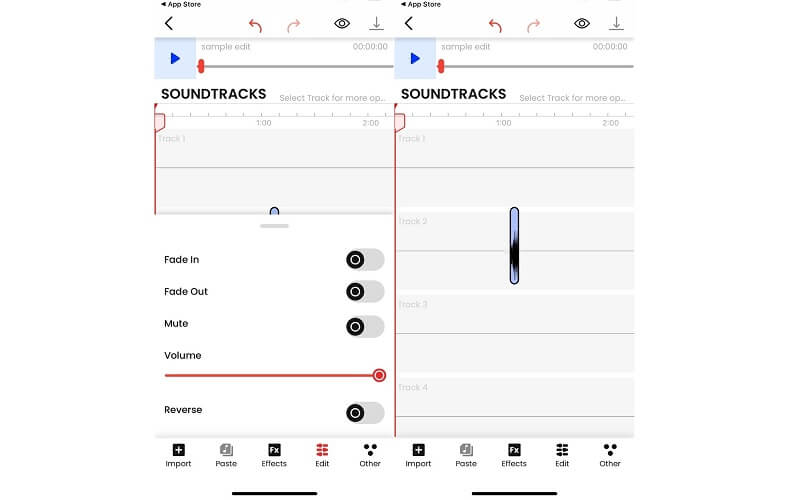 Part 4. FAQs of Music Editor
Best free music editing software for Windows 10?
Audacity is probably the obvious answer for this since it is completely free. However, some users find it quite difficult to maneuver. You may opt for user-friendly music editing software instead like Vidmore.
Is there any MP3 song name editor online?
Yes. One of the best MP3 metadata editors here is Audiomass. You can search it on the web and edit your audio files. After editing, save the file and then change the name of the song according to your desired name.
What is the best music editor for dancers?
It's safe to say that all music editors are good for dancers. It will only depend on what feature the dancer needs. For advanced music editing features, Audacity is probably the app for you.
Conclusion
Whether you need to cut a portion of audio, adjust pitch, playback or speed, these music editor apps are definitely of great help. Moreover, you can choose from desktop and mobile programs depending on your needs.