How to Compress a GIF File and Reduce the Size Of It?
One of the most well-liked ways to show your personality to the people you are talking to on social media is by sending a GIF. It is like a way to express what you feel or think without verbalizing it. There's no doubt why most GIFs are being made today because people are having fun using them. On the contrary, some GIFs are large, resulting in others not being able to send them on SMS or social media sites. But there is an answer for that! You can now send your favorite GIF with the help of this post because it will teach you to compress GIFs online, offline, and on mobile devices.

Part 1. Best GIF Compressor for Windows and Mac
1. Vidmore Video Converter
The ideal tool that will help you compress GIFs is Vidmore Video Converter. It is very versatile software because it can perform a lot of tasks. Aside from compressing GIF files, it can also convert audio and videos. This tool leads when it comes to user-friendliness. Due to the primary and simple dashboard, you won't have to possess many software skills because even a beginner can fully grasp it. Aside from that, it also won when it comes to the file format it supports, whether it can be audio or video.
Vidmore Video Converter is supported by Windows or Mac devices. And it works best even without an internet connection. Lastly, this tool helps in compressing GIFs without quality loss. To thoroughly assist you in compressing GIF files and make them compatible with sending a message to your friends and loved ones, you can take the steps below as a guide.
Step 1: Download and Install the GIF Compressor
Before you compress your GIF file, it is vital to complete the download process of the tool. To do this, you need to download Vidmore Video Converter from its main page. And after that, allow the tool to have access to your devices. Once the installation is through, you may start adding the GIF to the interface.
Step 2: Upload GIF Clip
You may now upload the GIF file on the tool's main interface. Do it by clicking the Add Files on the left part of the interface. But if you want a quicker approach, tap the Plus icon in the middle.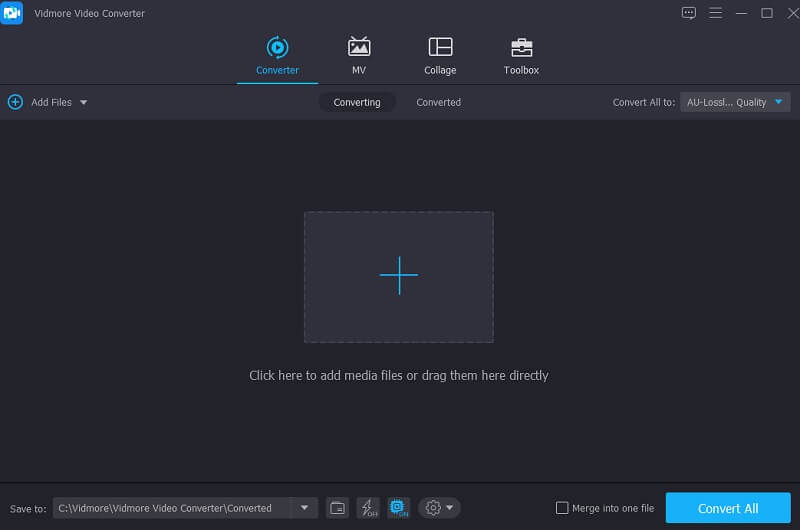 Step 3: Compress GIF File
After putting the GIF file on the main interface, proceed to the dropdown Profile, click the Video panel and look for the GIF on the search bar.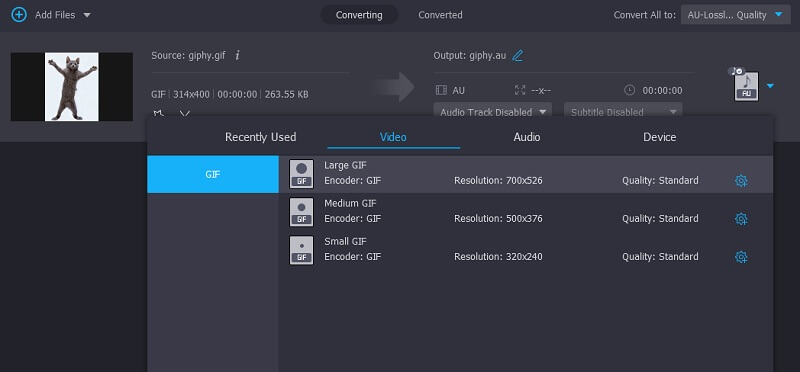 To reduce the size of your GIF, you need to set a lower resolution. With that, choose the Small GIF from the option.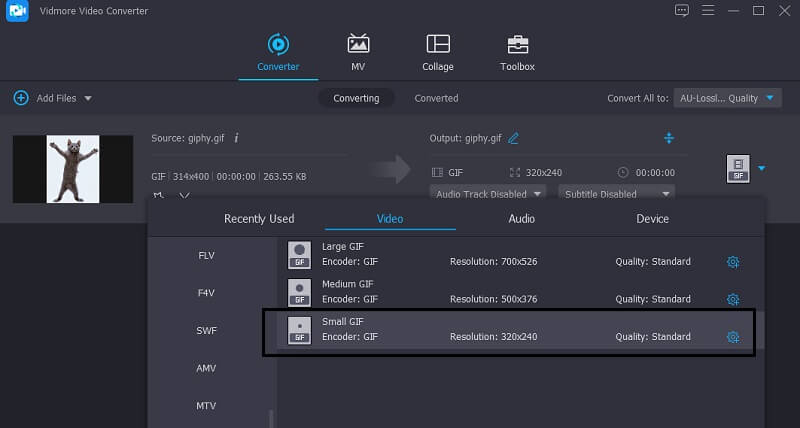 Step 4: Convert GIF to Compress It
Lastly, to compress your GIF, you need to convert it. To complete the task, tap the Convert button on the lower part. And that's it!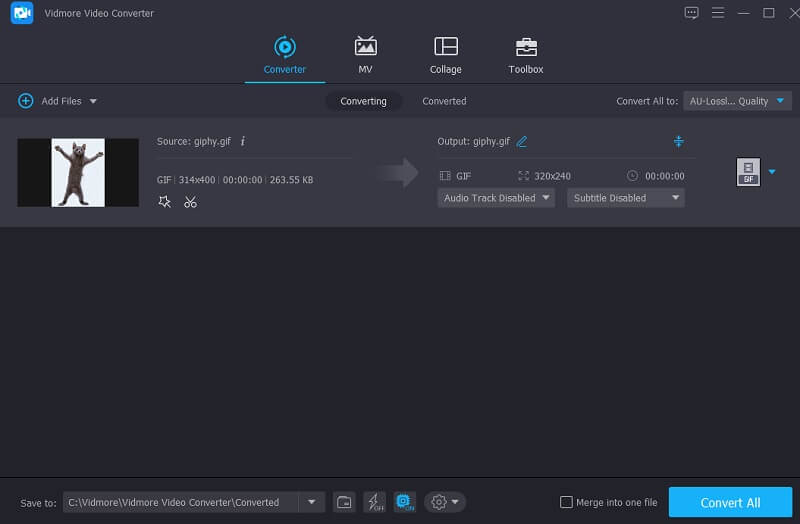 2. Vidmore Free Image Compressor
If you want to compress your image, you may still do it online, but your device can't afford it. And of the program that you can count on is the Vidmore Free Image Compressor. It is an internet-based compressor that you can access for free without a subscription. Vidmore Free Image Compressor allows users to compress their GIF files without limitations. Aside from that, it also compresses without too much quality loss. That is why compressing GIF files using this tool makes everything convenient. Lastly, it works best, yet users will not have a hard time navigating it.
Step 1: Go on your browser and find the Vidmore Free Image Compressor. After arriving on the main page, click the Plus sign in the middle of the screen and add the GIF you want to compress.
Step 2: After choosing the GIF from your folder, the online compressor will immediately review it. It will show you the amount that has been compressed on your file.
Step 3: To make the changes effective, you may now download it by choosing the Download All button below the files.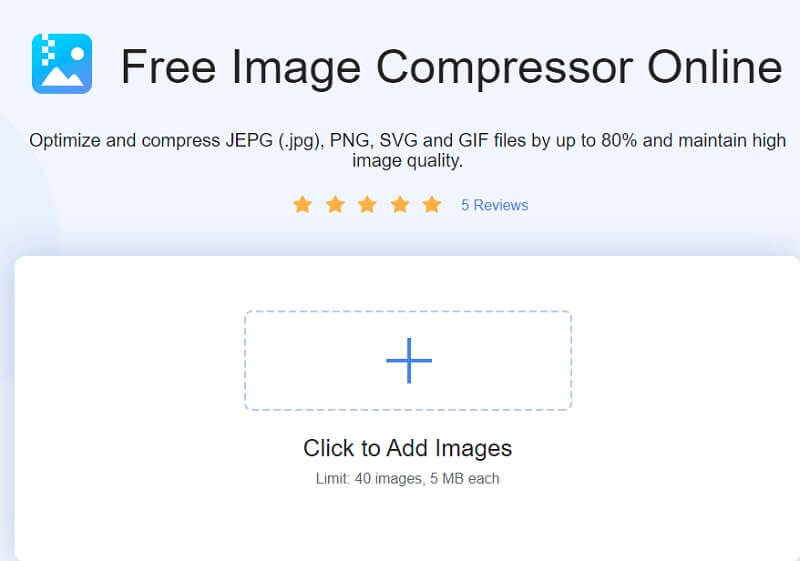 3. Light Image Resizer
One of the simple programs that will help you compress your GIF file is the Light Image Resizer. This software allows users to resize files or multiple images in just a snap. The only thing it requires you to do is drag the images on the main window. Light Image Resizer supports some effects and filters. It also enables users to own their images and GIFs by adding a watermark to them.
Step 1: Download and install the Light Image Resizer on your page and allow it to operate. Once the GIF compressor runs, you may now choose the files you want to compress. After that, choose the resolution that you want for your GIF with the help of the given options available.
Step 2: Next thing to do you need to alter the mode you want to use to help you retain the aspect ratio. You may also include watermarks, effects, and filters on your GIF.
Step 3: You can now compress the file and save it.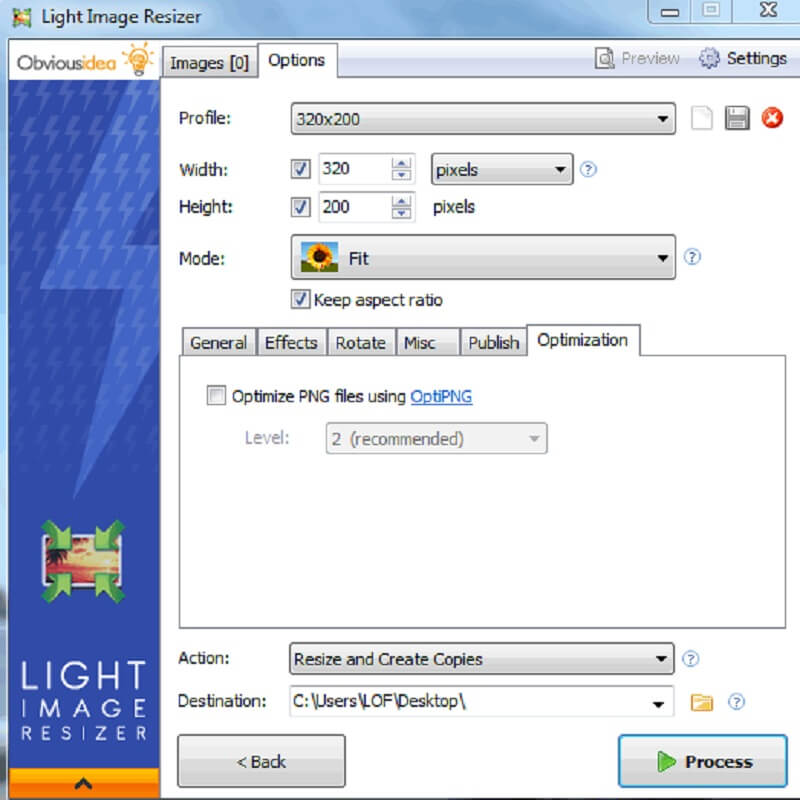 4. GIF Reducer
GIF Reducer is another way to compress the size of your GIF online. It is a professional tool that is programmed to reduce the size of your file in any browser. Unlike the other GIF compressor, you can access it for free. Aside from that, it has a user-friendly dashboard that helps users have total control of their GIFs without having a lot of expertise. On the contrary, the limit of files that you can compress in this tool is 2MB.
Step 1: To see the main interface of the tool, you must search the GIF Reducer on your search engine.
Step 2: Once you see the main interface, it will give you options on whether you want to paste a URL or click the URL or click the Choose File button to upload your file.
Step 3: If you are decided to compress your GIF file, you may now tap the Reduce It button below to proceed with the compression.

5. Picasion
If you want to take control of the size and quality of your GIF file, you may consider using Picasion. It is an online tool that has a very straightforward interface. What makes this convenient for every user is its ability to adopt different languages according to the people using it. Aside from that, this tool supports many audio and video formats. But you may find the ads a bit disturbing.
Step 1: Once you go to the tool's main window, you will see the editing tools that are displayed. To add the GIF file to the interface, tap the Choose File button and upload the image from your folder.
Step 2: After you upload the GIF, you have access to modify the Size, Quality, Effect, and Rotation of your file. Just do what you want your file to be done.
Step 3: Lastly, click the Resize Image button on the lower part to make the compression official.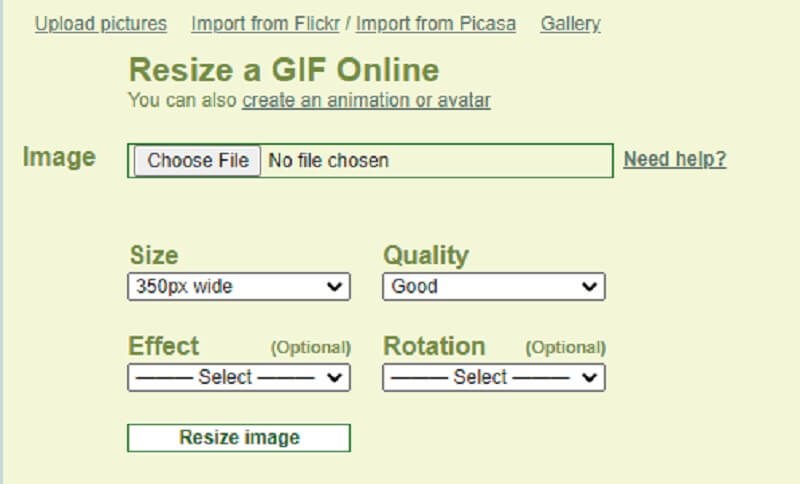 Part 2. Best GIF Compressor Apps for iOS and Android
1. GIF Maker – GIF Editor from Kayak Studio
If you are looking for a jam-packed GIF compressor and editor for Android devices, GIF Mini is for you! You can find this app on PlayStore. GIF Mini has a lot of purposes. Aside from compressing a GIF file, it can also remove the background and remove unwanted portions of your file. It only requires you to move the slider to the left to reduce the resolution.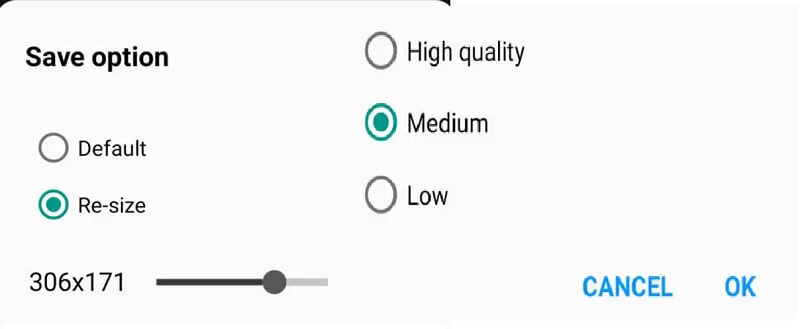 2. GIF Mini
THE GIF Mini is another GIF compressor you can use on your mobile device. This app contains a straightforward dashboard that helps users navigate the file without difficulty. Additionally, GIF Mini supports basic editing such as cropping and removing some frames. With the help of the slider on the scale panel, it will compress your file without having any difficulty.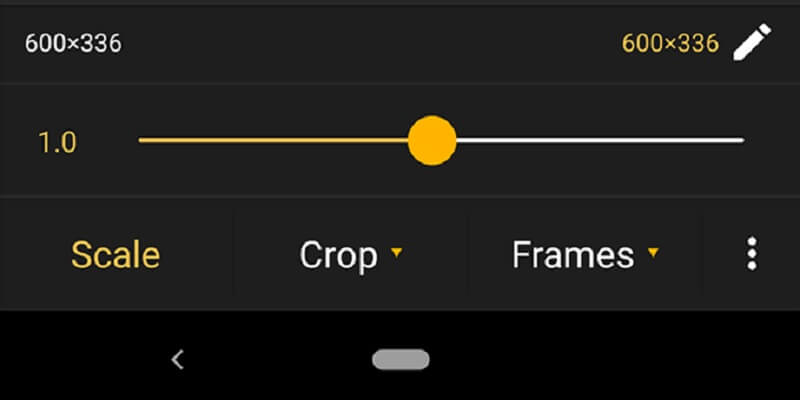 Part 3. FAQs About Compressing a GIF
What is the meaning of GIFs?
GIF is also known as Graphics Interchange Format. It is simply a highly compressed picture file designed to facilitate sharing photos between computers swiftly and efficiently.
What is the main disadvantage of compressing a GIF?
One of the most significant shortcomings of the GIF format is its inability to support color palettes larger than 256. When applied to a picture that previously included hundreds of various colors, this might result in unappealing visuals.
Why is a GIF file so big?
It has a big file size because a GIF picture consists of several frames. The duration is multiplied by the number of frames. Thus, a single GIF file containing two seconds of video might include twenty or more pictures.
Conclusions
Now that you are aware how to compress a GIF file with the help of online and offline tools above. Sending a GIF to your loved ones is now easier because you will not be limited to the file size! And for a better experience, you may use the Vidmore Video Converter to send a GIF with good quality.