Best Ways to Compress WMV Files on Windows, Mac, Online
We like to compact videos for a multitude of uses in our everyday lives. Since WMV is such a common and commonly used video format, many users are interested in learning how to compress WMV. It is true that size does matter; media files are some of the biggest files on a computer. They take up space on your hard drive, slow down your CPU, and become too large to move to other machines. It may also be difficult to transmit them over the Internet. Hence, how you compress your video and what form you compress it to make a difference. This article will provide you significant ways on how to reduce WMV file sizes using video compressors.

Part 1. Why Do We Need to Compress WMV Files
WMV (Windows Media Video) delivers excellent consistency while maintaining incredibly limited file sizes. It's one of the most common video email options, online video, and long-term computer storage. It is a compressed video format intended for use with Windows Media Player and other Windows programs. However, people are still looking for an available WMV compressor since all websites have a file size limit for sharing. With that being said, to be able to share on numerous online platforms, users need to compress WMV files whether they choose to post them on YouTube, Facebook, Instagram, or submit it through email to make the file even smaller.
Part 2. How to Compress WMV Files on Windows and Mac
Using Vidmore Video Converter, users have complete control over the video output. This app will keep your videos in their original condition, even though they are in 1080p HD or 4K Ultra HD. This professional video compression keeps the image quality high while reducing the file size. It is the most comprehensive and efficient multi-format video converter which is capable of converting video files to 200+ formats and platforms in a matter of seconds without losing video quality. Vidmore Video Converter includes a built-in lightweight video editing that makes it simple to edit your own custom images and it has an intuitive interface that can satisfy all of your video editing needs. Listed below are the steps to follow in compressing WMV files using this application.
Step 1: Download and Install the application
To begin, click the Free Download button below to download the application on your desktop.
Then, follow the setup instructions until the program is successfully installed. Once done, open the software to get used to its interface.
Step 2: Add a Video to Convert
Next, look at the tab on the upper part of the interface and click the Toolbox. Then, hit the Video Compressor, and then click the + icon to add a file you want to compress.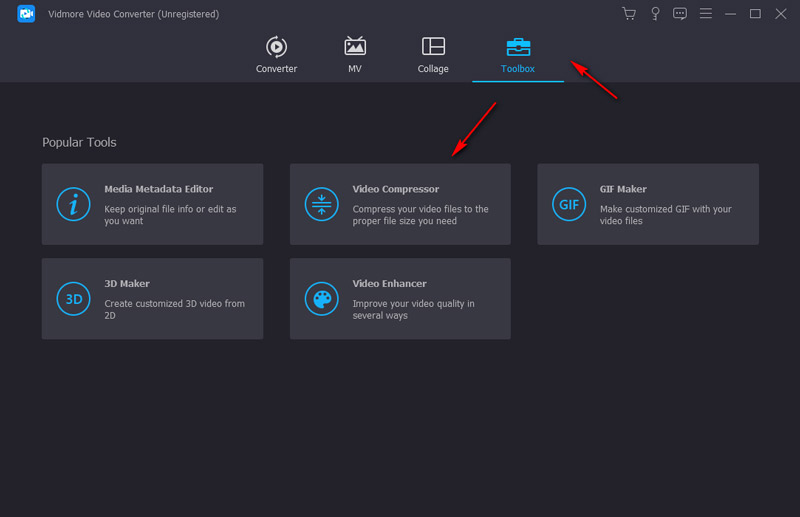 Step 3: Compress the file
Once done adding a file, adjust the size of the WMV file to make it smaller. You can also watch a preview of their video by hitting the Preview button. After that, click the Compress button to start compressing the video.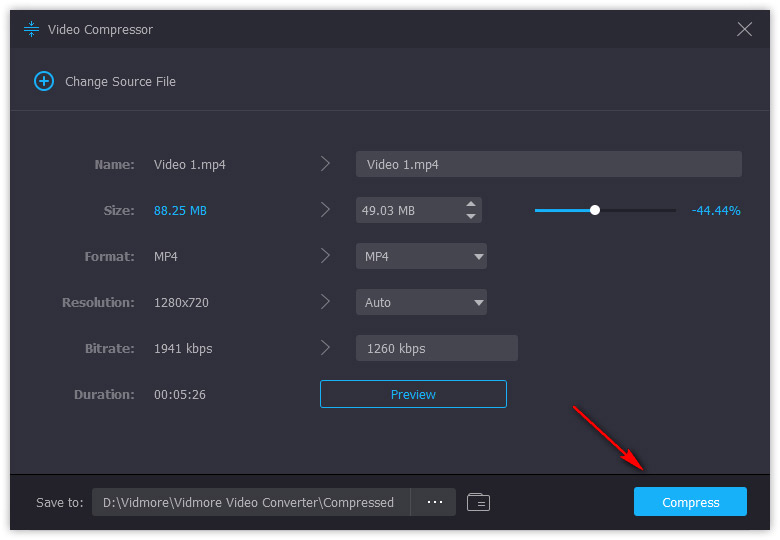 Step 4: Watch the compressed the video
Next, click the OK button to finish converting the video. Once done, go to your files and find the Vidmore folder to watch the compressed WMV file.

Part 3. How to Make a WMV File Smaller Online
Vidmore Free Online Video Compressor is a user-friendly, completely free web program that runs on both Windows and Mac OS. This website will transform videos to 1080p HD, 720p HD, and SD without losing quality in all modern browsers. This free video compressor comes with predefined settings for various formats, allowing you to process your video files quickly. You may also change the file size, resolution, bitrate, video/audio quality, among other things. Basically, this online video converter allows you to transform and configure your video and audio files quickly and for free.
Step 1: Open the Vidmore Free Online Video Compressor
Go to Vidmore Free Online Video Compressor by clicking the provided link. After that, add a WMV file to make its size smaller.

Step 2: Tweak the output settings
After adding the file, you can adjust the video size by dragging the slider from the Size option. Then, you can decide the output format, resolution, and bitrate for your video.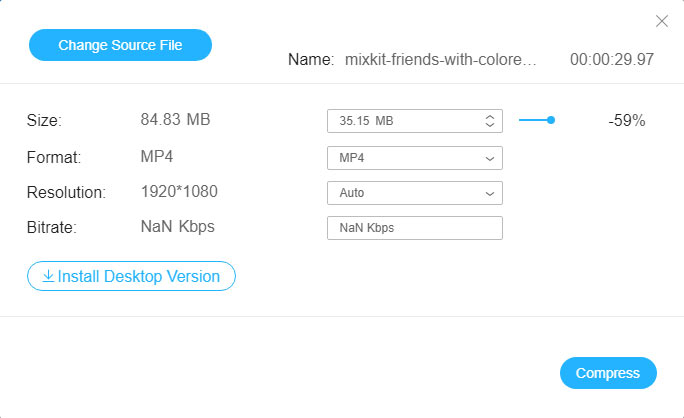 Step 3: Play the smaller video file
Finally, click the Compress button and select the destination for your output file. Once the compression is completed, you can play and share it on different media platforms such as Facebook, Instagram, and more.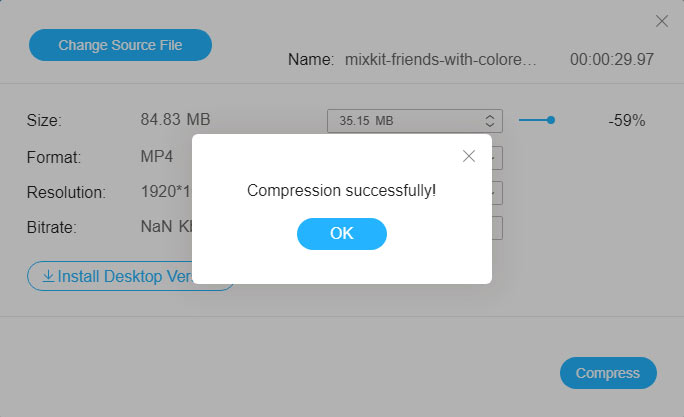 FURTHER READING
· Download Best 10 Free WMV Player for Mac and Windows
· 5 Best WMV to DVD Converters to Burn WMV to DVD
Part 4. FAQs of Compressing WMV
1. How can a WMV file be compressed without losing its quality?
There are several methods for compressing a WMV file without lowering the video output to the bare minimum. You can get some video compression software and use it to resize any long video as desired. One of these is Vidmore Video Converter, a video compression program that can be a reliable tool to use. With this tool, users can adjust the resolution of the video based on their choice.
2. What happens when a WMV file is compressed?
The first thing that happens is that it gets smaller. However, the more compact a video is, the less clear it is able to maintain, and the video is usually degraded. Compression is a compromise between file size and quality. However, if you compress WMV files with a high bitrate program, the output can still be very great.
3. What is the best video compressor for WMV files?
There are various ways to compact video files, and there are numerous resources available to do so. Users can compress videos by lowering the bit rates or change the encoder to a more advanced one. To compress WMV videos, you can rely upon the application and the online tool used above for these are quite easy to operate and practical.