Get Easiest Way to Compress Your MKV Files
Before we tackle MKV compression, let us go back and see a little history of MKV. MKV, also known as Matroska Video file, was originated and developed by Russian developer Lasse Kärkkäinen in 2002. This intuitive multimedia container file format can incorporate audio, video, and even subtitles in a single file; thus, it got its name from the Russian word nesting dolls, Matryoshka. MKV is a universal format for storing multimedia content, like movies and TV series. Additionally, Matroska or MKV has a similar concept to other media files like AVI, MP4, ASF, etc. Still, it is entirely open in the specification. Due to its widespread popularity and reliable function, MKV is commonly used nowadays. Yet, there are scenarios that we need to compress MKV files into smaller files. One of these scenarios is transferring MKV files using Gmail, which has a 25MB size limit. Due to these circumstances, the internet provided practical tools to compress MKV files. Read through below the following procedure to fully compress MKV files.

Part 1. How to Compress MKV Files without Reducing Time Duration
Best For: It is a picture-perfect tool for file conversion and compressor with its wide range feature that enables users to convert and compress video files such as MKV, AVI, MP4, and many more.
Price: $19.95 1month/1PC
When talking about how to compress MKV files without losing quality, Vidmore Video Converter is a reliable and efficient tool to use. With its well-organized navigation and functional features, even novice users can easily take control and maneuver this software. Additionally, it can convert and compress video files compatible and capable of playing on different devices such as iPhone, iPad, Samsung, Sony PlayStation, TV, and more. Furthermore, you are able to fully control the video quality while using this software. It can preserve your videos' original quality, including 1080p HD and 4K Ultra HD while compressing a video. Moreover, after polishing your movies, videos, and stunning creations, you can post them on your preferred sites such as Facebook, YouTube, and Vimeo.
Below are the stress-free steps on how to compress MKV files.
Step 1: Install and Download Vidmore
The first thing to do, in order for us to compress MKV files, we need to have an excellent tool. In this case, we will be using Vidmore Video Converter. Click the download button below or go to Vidmore Video Converter official video. Wait for the system to run and install the software.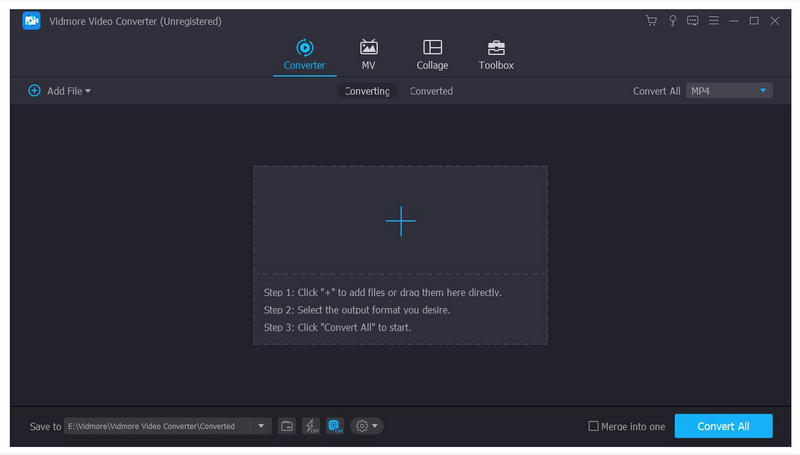 Step 2: Get the MKV file
After installation, the software's interface will pop up, ready for use. Prepare your MKV file for compression. Locate the file, then go to Toolbox feature, click the Video Compressor, and a pop-up window will appear. Click the + icon to add the media file. Wait until the system generates and analyzes the video. Within a few seconds, the MKV file will automatically be imported into Vidmore's system.

Step 3: Compress MKV Files Using Vidmore
Once a video is selected, it is ready for compressing. A window will appear, and it will let you modify the file size according to your preferred output. Additionally, you can adjust the output location by clicking the folder located at the bottom part of the window. Then, once all is settled and done, click the Compress button and wait until the process gets completed.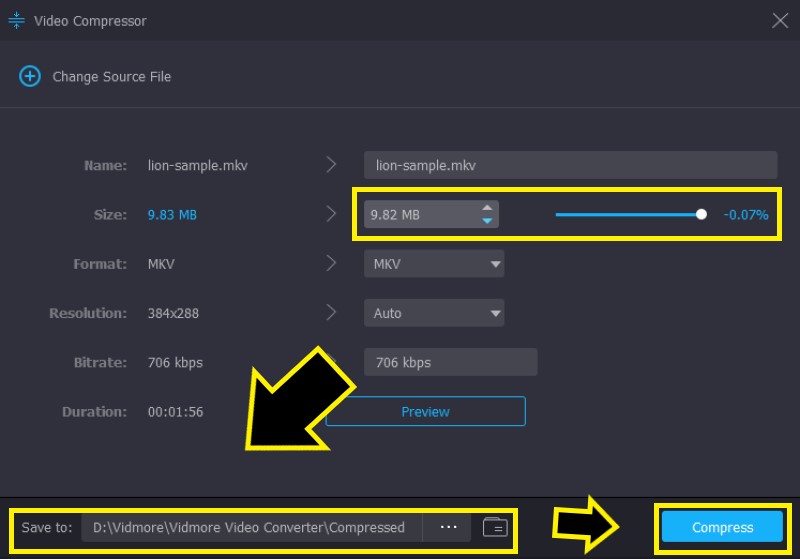 Step 4: Play and Share Compress MKV file
Finally, once the compressing process has been completed. Locate your compressed MKV videos. Preview and play the video. This video can be shared on different video-sharing platforms such as YouTube, Facebook, etc. To compress MKV files again, just follow the steps mentioned above.

Part 2. How to Shrink MKV Files with HandBrake for Free
Best For: HandBrake can be optimized for your device, or choose a universal profile for standard or high-quality conversions.
Price: Free
HandBrake is an open-source and free video compressor and conversion software. With its highly comprehensive and understandable navigation, even newbies and non-professional video editors can utilize this tool. Additionally, it can process most common multimedia formats such as MKV and MP4, and any DVD or Blu-ray that do not have copy protection linked on their file. Furthermore, it has a batch scan and the queuing process that enables users to convert and compress video files at ease. Also, it supports different subtitle formats such as VobSub, Closed Captions CEA-608, SSA, and SRT. Moreover, it has video filters that users can utilize like Denoise, Detelecine, Deblock, Grayscale, Cropping, and Scaling. Below are the simplified way and steps on how to compress MKV files using HandBrake.
First, you need to download HandBrake by simply going to its website. Download the installer and let the system run the software.
On its interface, simply drop the MKV file and wait for the system to analyze it.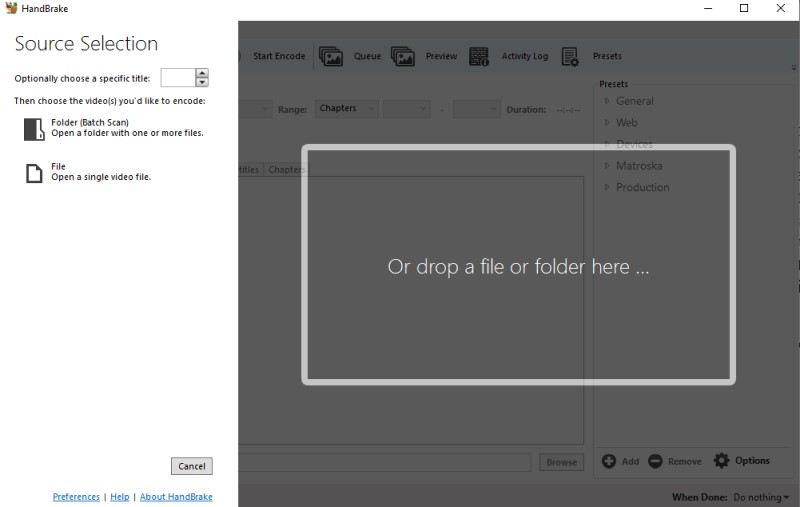 Then, once the video has been imported to the software, click the

Start Encode

button to further compress the MKV video.
Once done, locate your video and play the compressed MKV file.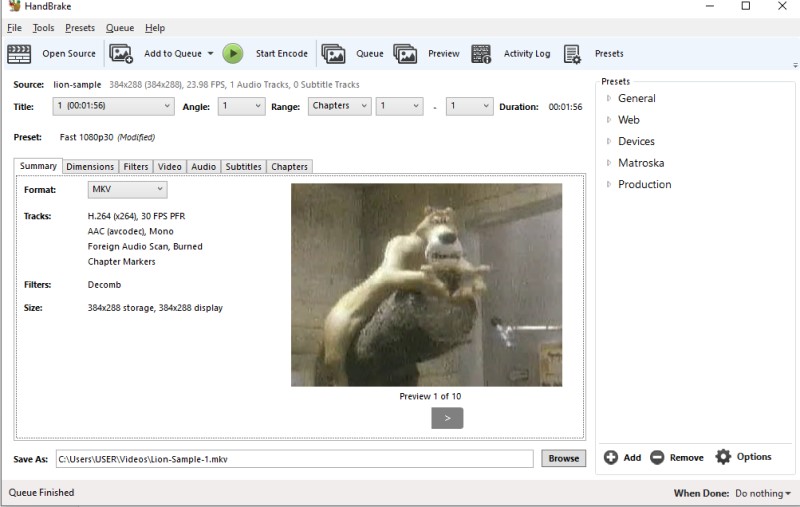 Part 3. How to Reduce MKV File Size Online
In this method, we will be using an online web-based tool to compress MKV file. The tool that we need is Vidmore Free Online Video Compressor. This simple yet powerful web-based application can do a lot more than you can ever think of. It supports all popular and common video and audio formats, including MKV, MP4 AVI, MP3, AAC, and many more. It can also convert any videos from any video-sharing platforms like YouTube, Facebook, etc., to 1080p offline video. It is perfect for all web browsers and doesn't need to install any third-party software. The best thing here is, you can convert and compress videos with no cost and at ease. Moreover, this tool doesn't allow users to sign up or register, and it has no conversion limitation. To have further knowledge on how to compress MKV files online, see the walk-through below this brief introduction.
Step 1: Visit the Vidmore Free Online Video Compressor
First, you need to access the online tool by simply entering its website, Vidmore Free Online Video Compressor. On its interface, no sign-up nor registration is needed.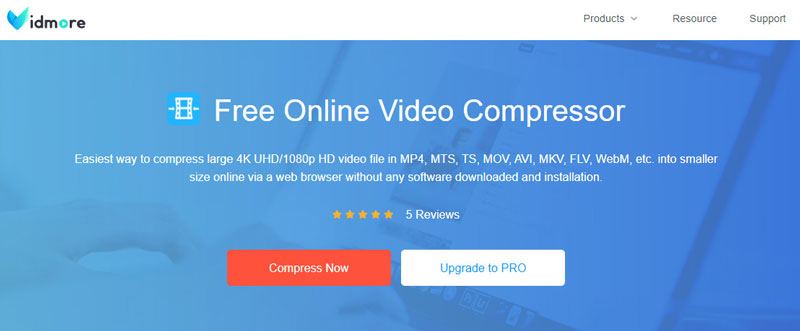 Step 2: Import MKV Files
Next, prepare the MKV files to be imported on the web-based tool by clicking the Compress Now located at the center part of the website. The system will automatically access your device's location to locate all video files. Once selected, click the Open button, and a pop-up window will appear.
Step 3: Compress MKV Files
Then, drag the slider to set the compression rate. You can also output the MKV file to MP4, MOV, MKV, AVI, M4V, FLV, WMV, VOB, MPG, 3GP, YouTube or Facebook. Also you can set the resolution to a lower level to make the MKV smaller. Then click the Compress button to reduce the MKV file size to a smaller size.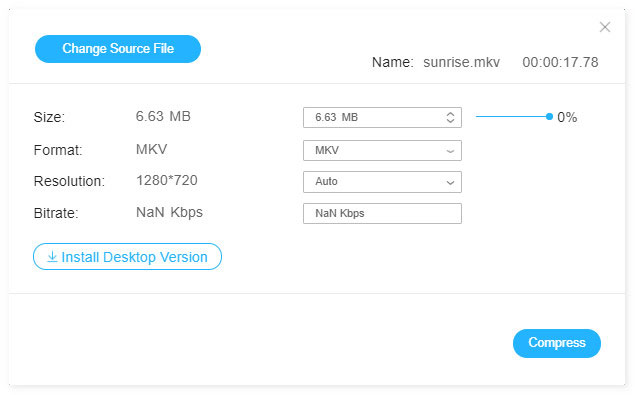 Step 4: Play MKV file
Finally, once the process has been finished, locate the file according to the folder you've selected to save it. Play the video or share it with your friends through Gmail, Facebook messenger, etc.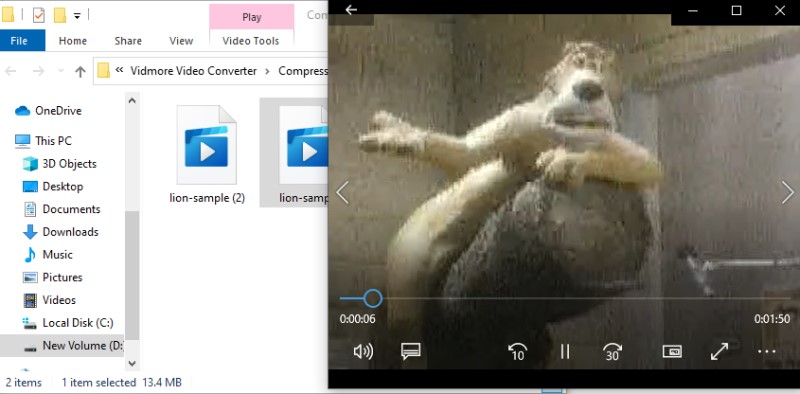 Part 4. FAQs of Compressing MKV
1. What is an MKV file?
MKV is a file container or format that can store video, audio, and even subtitle format in one container. Due to this distinctive feature, its name Matroska was derived from Russia's famous nesting doll, Matryoshka. It is universally used on TV series and movie files due to its extensive format, which is playable on any device.
2. Why do we need to compress MKV files?
We compress MKV files since it has almost three media formats (Audio, Video, and subtitle) combined in one file. These files are much larger compared to other media files. MKV files that have been compressed are easily stored and shareable to different devices.
3. What is the best MKV file compressor?
When it comes to software Vidmore Video Converter is much suitable for this task. Due to its comprehensive and easy-to-understand features, beginners and new learners can easily maneuver this tool. And also, it is much stable and safe to use compared to other video compressor tools. However, it is certainly that Vidmore Free Online Video Converter is an excellent tool for us when it comes to online web-based tools. Users can definitely use this tool on MKV file conversion at ease with its free access and no registration service.
Conclusion
After reading this article, you can get simple ways to compress MKV files free and online. Both free and online methods have limitations. If you want to output a video file with nearly lossless video quality, Vidmore Video Converter is the best choice and worth a try. Without a time duration limit, you can adjust the video compression size, format, resolution, and even preview the compressed MKV file in advance.