How to Remove Watermark from Movavi Video and Photo Editor for Free
When a file is exported from software or an app with a free trial, it always has a watermark. So it makes sense that it comes with a watermark when exporting an edited video from Movavi Video Editor. Watermarks are also on the Movavi photo editor and screen recorder. It's because it's a paid tool for editing, and users can subscribe for a year or life. You can edit your videos without a watermark if you have a subscription. Suppose you exported your video with a watermark from this software. In that case, you could get rid of it by using a watermark remover online or offline. Take a look at ways how to remove Movavi trial watermarks for free.

Part 1. How to Remove Movavi Video Watermark for Free
1. Vidmore Video Converter
When removing any types of watermarks from movies, Vidmore Video Converter is the tool that excels beyond all others. It is a multi-purpose program that removes watermarks and lets you create new ones anywhere you like. The user interface of the Vidmore Video Converter is clean and intuitive, and it just offers a few customization choices for your convenience. It is simple enough that even beginners could use it. Including or removing a watermark from any video or picture will take just a few seconds of your time.
The most exciting aspect is that you may utilize Vidmore Video Converter to remove any watermarks, even if there are a number of them. In addition, it is compatible with computers running both Windows and Mac operating systems. FIn conclusion, there is no need to be concerned about the quality of the video in any way, as it will export without degrading in any way. Following the instructions below in Vidmore Video Converter will assist you in removing movavi watermarks from your videos.
Step 1: You may download the Vidmore Video Converter and install it on your Mac or Windows computer; the installation process should take a few minutes. After you have finished downloading the program, you need to activate it so that it can operate on your device.
Step 2: Move on to the next part, titled Toolbox. Locate the Video Watermark Remover button, then click on it after finding it.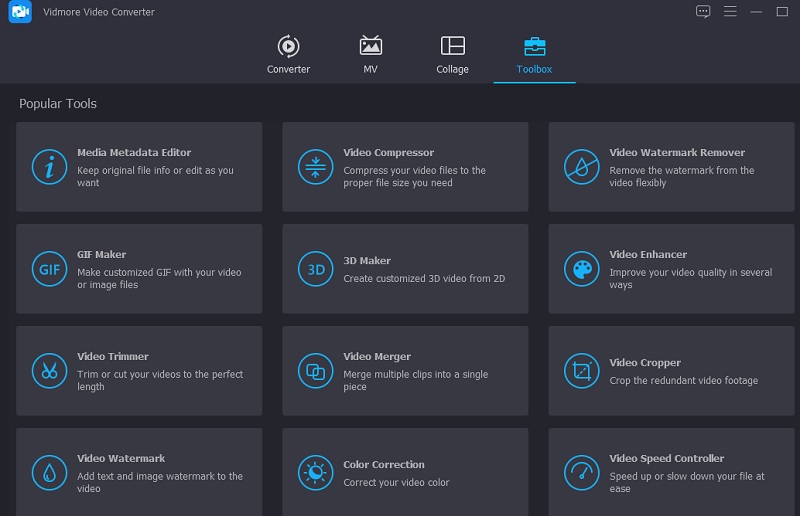 After obtaining the movie you were looking for, you may now upload it by hitting the Plus button. After that, please choose the file you want to open, go to the directory where you want to store it, and click the Open button.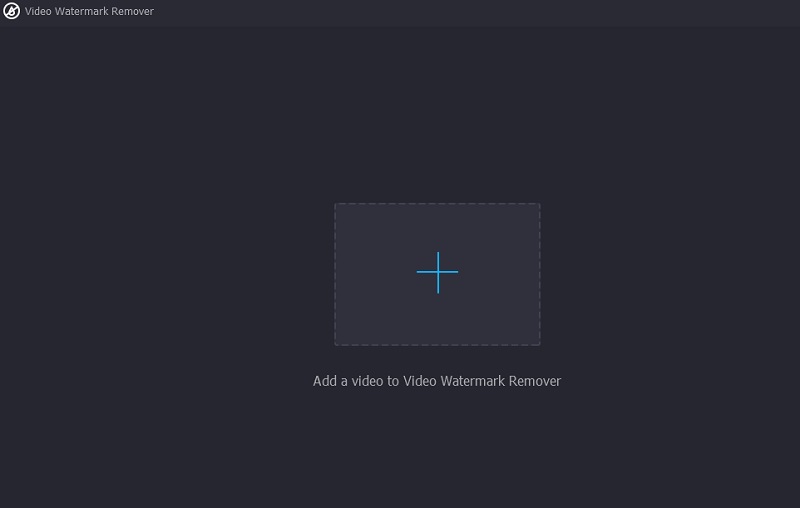 Step 3: To remove the watermark, use the new window that just popped up and click the option labeled Add Watermark Removing Area. It will bring about the subsequent stage of the procedure. After that, drag and maintain holding down the box to hide the watermark; alternatively, you may increase or shrink it following your needs and cover it up before releasing the file.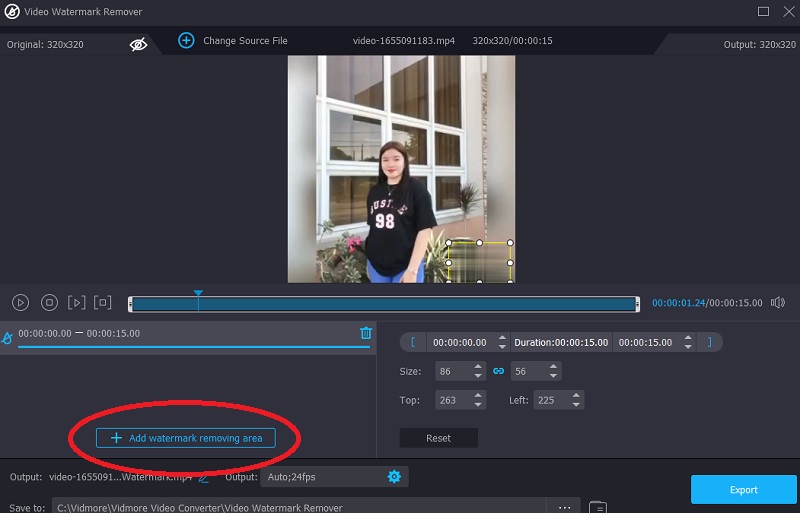 Step 4: Click the Export button after you have positioned the selection box over the watermark to remove the watermark from the clips you will upload. Because the procedure moves so quickly, there is no need for you to wait.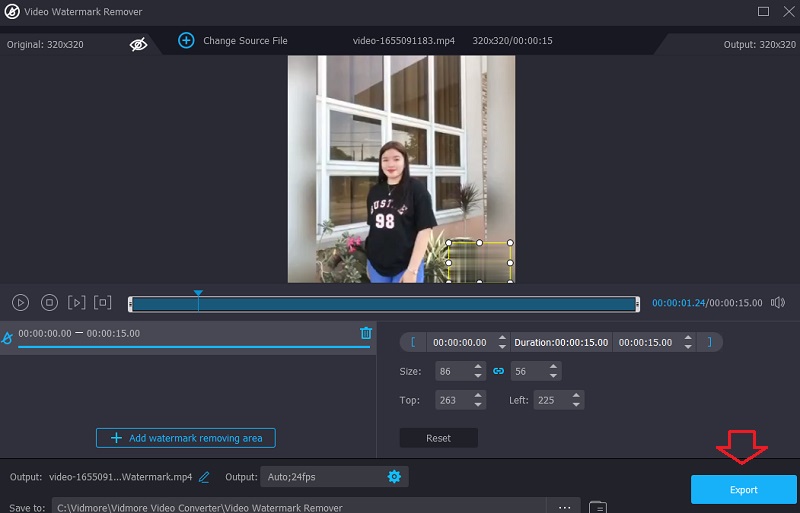 2. Apowersoft Online Video Watermark Remover
There is also the choice of using internet resources to get rid of watermarks. It is effortless to use, and in addition, it will save you much time. You may eliminate the watermark in a matter of minutes by using a website that is accessible online. You may encounter issues when trying to export the video from many of the available online services since their results are less than ideal.
With Apowersoft, you won't have to worry about joint problems, and you'll be able to export your movie without hassle. It can make your job easier while also delivering high-quality results. The following is a list of actions to remove the Movavi trial watermark using Apowersoft Online Video Watermark Remover.
Step 1: Launch your online browser and go to the website; alternatively, you may move further by clicking on the above link. It will present you with a user interface. Select the video you want to import after clicking the Remove Watermark From Video button. The video will start uploading when a few minutes have passed.
Step 2: Drag the box labeled modifications over the watermark after completing the upload. When you click the Erase button, it will remove the watermark once a few moments have passed.
Step 3: After completing the deletion, pick the destination you want the file to be exported to by clicking the Download Files button.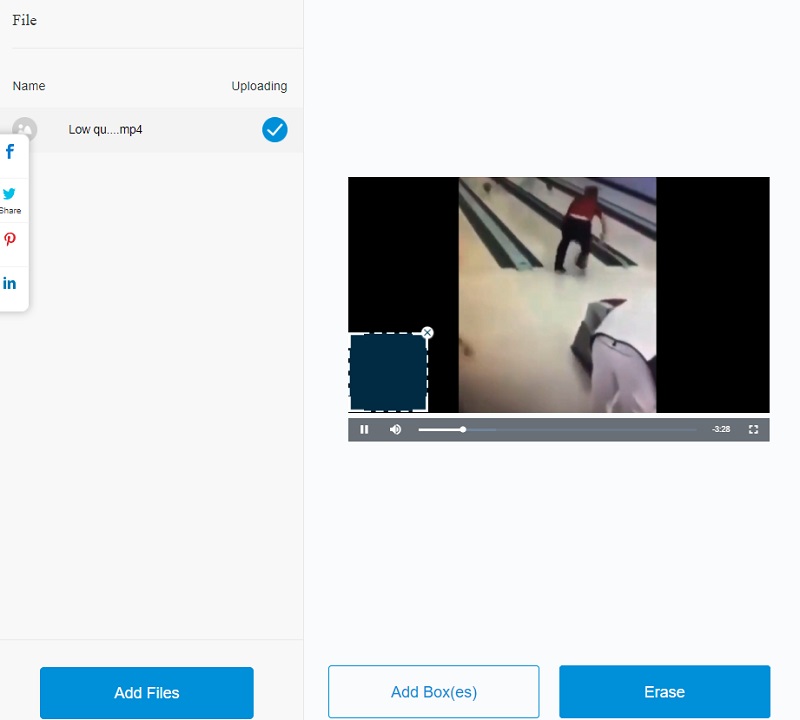 Part 2. How to Remove Movavi Photo Watermark for Free
There is still a method to get rid of the watermark if it was added to your picture when you uploaded it to Movavi. Free Watermark Remover Online is the epitome of a helpful tool that can assist you in achieving your goals. It is a picture that has removed its watermark and is available for viewing online. This software is driven by artificial intelligence, enabling it to erase the watermark rapidly. In addition, all that is required is a collection of brushes to complete the task.
The online version of Free Watermark Remover is entirely free to use. It does not need a membership of any kind. Because the dashboard is straightforward, navigating the interface will be much simpler for users. In addition to this benefit, consumers will find it much more straightforward. Follow the steps that are given in this article to conduct your experiment with it.
Step 1: Try Searching Online for a Free Watermark Remover. To upload a photo, go to the web interface, click the Upload Image button, the folder containing the picture, and the Open button.

Step 2: Clicking the Lasso button will allow you to trace the watermark, which you may do if you wish to remove it. In addition, check to verify whether the watermark is completely encapsulated inside the confines of the tracing you have created. Use the button labeled Remove to get rid of the watermark that is now on your photo.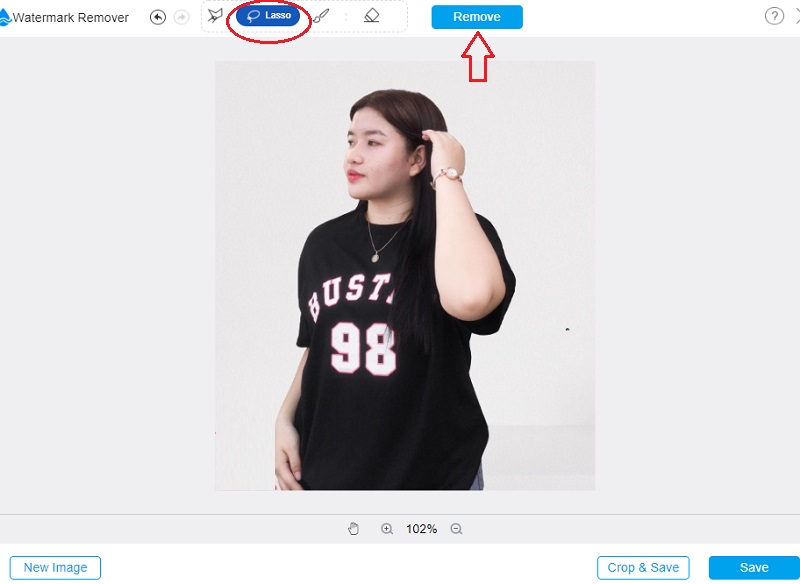 Step 3: When you have finished removing the watermark from the photo, you can opt to save the image.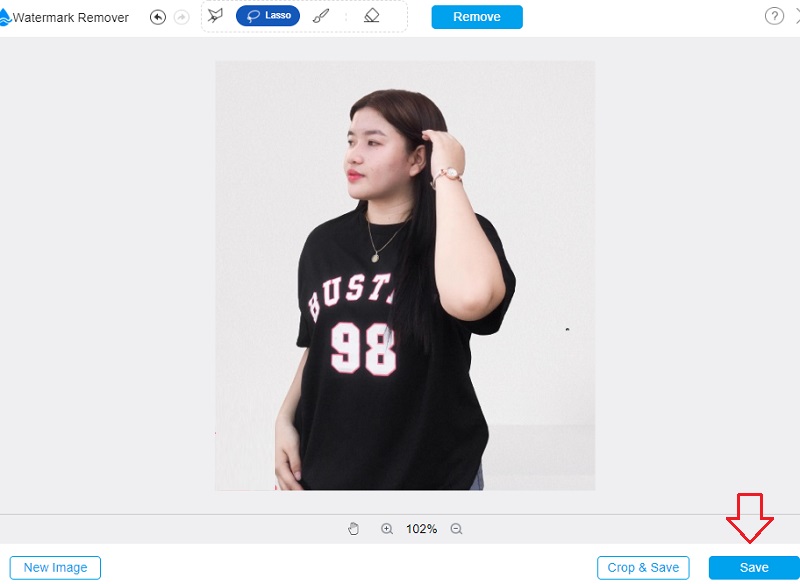 Part 3. FAQs About Removing Watermark from Movavi Editor
What is the price of the Movavi Video Editor?
You have the option to subscribe to one of Movavi's three different packages. There are two options: one lasts for one year, while the other lasts for an unlimited amount. You can subscribe based on your needs. The prices for the bundles are in the middle of the spectrum, and they are pretty simple to get. The beginning price for packages is $39.95, and before you subscribe, you may read a description of each plan and pick the one that best suits your needs from among those described.
Is Movavi a decent video editor?
The video editor offered by Movavi is legitimate and, more than competitive products, deserves your financial investment. It features an interface that is straightforward and uncomplicated to use. It comes pre-loaded with an extensive library of effects, music, pictures, and text, among other things. In addition to having quite a reasonable pricing, it is simple to use, even for those who are just starting.
Is it possible to use Movavi on my mobile device?
Movavi is widely regarded as one of the top editors available for Android devices. There is also an iOS version available. Movavi Clips is one of the programs that have the most straightforward user interface. Downloading it is entirely free, and it comes with all of the tools that are required for video editing.
Conclusions
There are much easier ways how to remove the Movavi watermark for free. Suppose you don't want to spend the money on one. In that case, you may get rid of the watermark using a program like Vidmore Video Converter, which is highly recommended. Removing the watermark or the video subtitles will take very little time. Various programs are available online, such as Free Watermark Remover Online, which you may use to remove watermarks from photographs. At this point, you have the decision on which approach that will work best for you.