Create a Catchy Video Using Movavi Video Split Screen
There is a lot of creative editing that is being created by elite editors nowadays. And one of these is making a split screen video. You may be wondering how to make a split screen video and also the apps that you can use to make your videos more appealing to those who will see it. Basically, a split screen is putting more than one shot into the frame, so if you want to apply that kind of edit in your videos, you can count the Movavi app.
With that, find ways on how to make a split screen video in Movavi as you read this post below.

Part 1. Movavi Video Editor Review
To help you in making a creative and appealing video, Movavi app is the perfect tool for you! Through this app, you can be an instant film and movie maker. It doesn't matter if you are a beginner or a professional editor because Movavi offers a user-friendly interface. It was created for everyone who is not used to a video editing app yet they wanted to make their recorded moments look professionally made. When it comes to interface, features, ability and performance, Movavi is a good fit.
If you are desiring to be a content creator and you want to make a content just like reaction video, gaming videos or even tutorial, then this program is here to extend a hand. You can literally count on this tool even for your everyday use. Just like in editing your recorded footage of your wedding, Christmas vacation and also your small achievements. Generally speaking, it can be used by anyone!
Movavi software was built for Microsoft and Mac and it was created with a tutorial or a manual for you to navigate the tool easily. Aside from that, it also offers just like the chroma key, PIP, key framing, subtitles and even allows you to record from the tool itself with the use of your camera or webcam.
The drawbacks of this software is whenever the file size is a bit heavy, the conversion process tends to be slow. And it supports limited format and control on some of the effects.
Part 2. How to Make Split Screen in Movavi
If you want the Movavi app to help you in making a split screen video and post it on your social media accounts, you better read and follow the steps given below as we will give the exact guide to successfully make a split screen video.
Step 1: First, you need to download and install the Movavi app and launch it on your device. Then, open it and click the Create a project in full feature mode and hit the Add Media Files and select the video clips that you want and it will reflect on the Timeline. After that, put one of the video clips on the Overlay Track then double click it to enable the editing mode.
Step 2: Then, click the dropdown arrow on the upper part of the screen and click the Side by Side menu on the list of options that will appear. Then click the Apply tab once you have chosen the position of your video clips.
Step 3: If you are happy with the outcome, just simply click the Export button and choose the format that you require for your video then click the Start tab and wait for your video to be exported.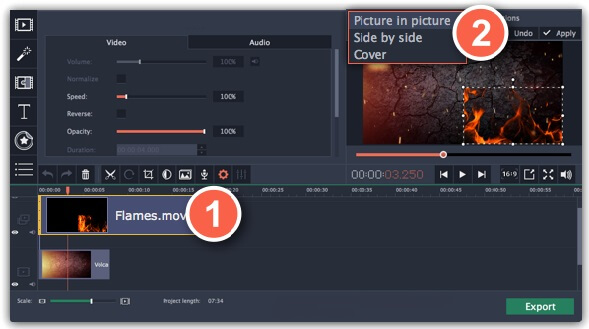 Part 3. Best Alternative to Movavi Video Editor to Split Screen
If you found the recent software a bit complicated to navigate, we have an alternative tool for you and that is the Vidmore Video Converter. This software works on your audio and video professionally, yet it offers a very user-friendly interface. You don't need to have a manual or a tutorial module as you can navigate this app without a hassle. And speaking of compatibility, it is also built for both Mac and Windows devices.
And if you are someone who wants to make a split screen video in just a few clicks, you better choose this application. Due to its friendly interface, it helps people save their time. An addition to that, it has a 50x fast conversion speed on audio and video. And if you found this tool amazing, just follow the simple guide below.
Step 1: Download the Alternative App
First, download and install the Vidmore Video Converter by clicking one of the given download buttons below. Once the app is installed, run it on your program.
Step 2: Add Your Video Footages
Once the software is running, begin making a split screen by clicking the Collage tab on the upper part of the screen and once you are directed to the Collage page, choose the layout by clicking one of the Templates available. After that, hit the Plus icon to select the videos that you want to make a split screen.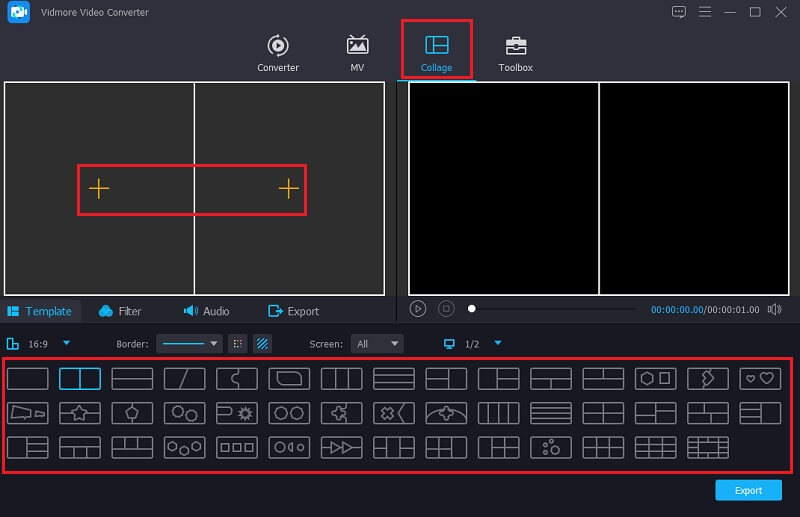 Step 3: Edit Your Video Footages
If you already created a split screen, you can cut, trim and rotate your videos by locating the Mouse on the clip that you want to edit. Simply choose from the editing tool being offered to you. And you can also make an additional flavour in your videos by clicking the Filter tab and choosing one of the effects being offered.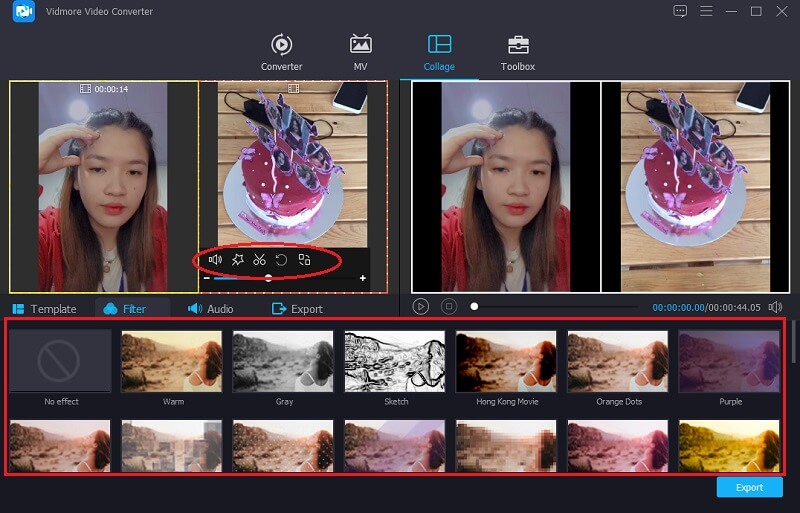 If you want to add background music on your split screen video, just click the Audio tab and simply tap the Plus sign. Choose the audio that you want to apply and adjust the volume. Then you can also navigate the Fade in and Fade out of your chosen audio tracks.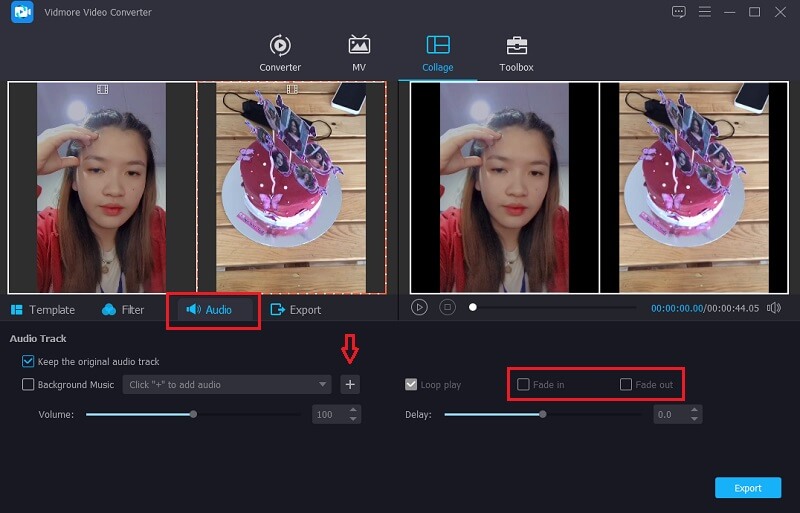 Step 4: Export the Split Screen Video
Lastly, if you are satisfied with the results of your split screen video, you can now click the Export tab. And once you are directed to the next page, you can decide the Resolution and Format. Click the Start Export and get your split screen video in just a seconds!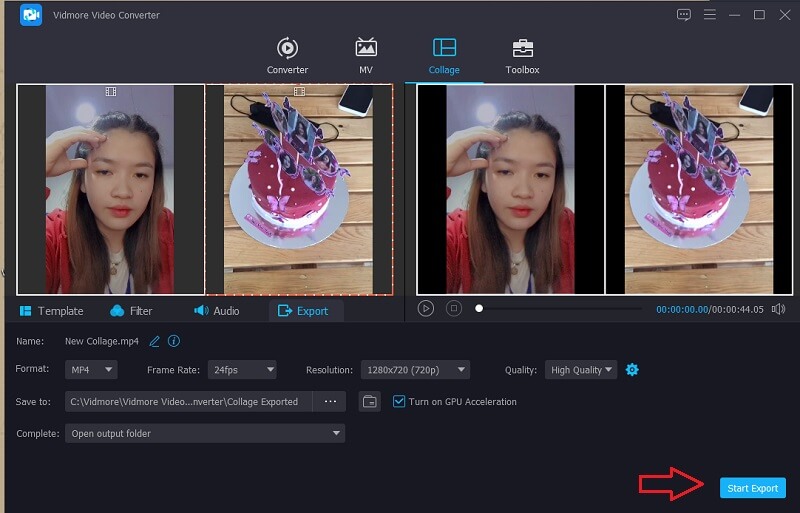 Part 4. FAQs about Movavi Video Editor
1. Can I download a Movavi app on my mobile device?
Movavi app can be downloaded for free on your Android device. It helps you to make amazing videos with the comfort of your phone.
2. Can I acquire Movavi for free?
No, you can acquire the free trial version but for the Premium account, you need to pay to enjoy the app fully.
3. Is the Movavi video editor worth my money?
As people have experienced in using the Movavi app, it is definitely worth buying because it has advanced built-in effects, audio, transitions and many more.
Conclusion
And that's it! Now that you have knowledge on how to make split screen videos in movavi, you can now make your videos more attractive. In addition to that, you can also easily make a split screen video using the alternative tool above. Which one do you prefer?