Best Video Compressor Apps for Android and iOS Mobile Devices
You might be keeping movies and videos on your phone for watching in your spare time or uploading them on social media sites. You wish to shrink the video file sizes because your device does not have enough space to save them. In addition, due to large file sizes, you need to compress them for easy transmission over the internet, specifically on social media sites.
Videos with large media sizes can be a headache to people who want to store videos on their devices or send them on video-sharing sites. Generally speaking, you can shrink video file size in several ways. That includes cutting unnecessary video clips, altering resolution, bitrate, frame rate, and converting to flash video files. Regardless, we sorted out some of the excellent video compressor apps for Android and iOS to help you reduce media size using your mobile device.

Part 1. Top 6 Video Compressors for iOS and Android
1. Video Compress
Supported Operating System: Android
First, on the list, we have Video Compress. As the name implies, it is an application that enables users to shrink media file size using the compressor function of the tool. This free compressor app features various compression qualities, including high quality, low quality, and custom quality. Moreover, the compression rate ranges from 20% to 90%, depending on indicated media size, so you can choose what is best for your requirements.
Pros:
It can compress video files from your phone's album.
Different compression qualities are available.
It offers other functions, such as converting, rotation, extracting, etc.
Cons:
Loaded with pesky ads.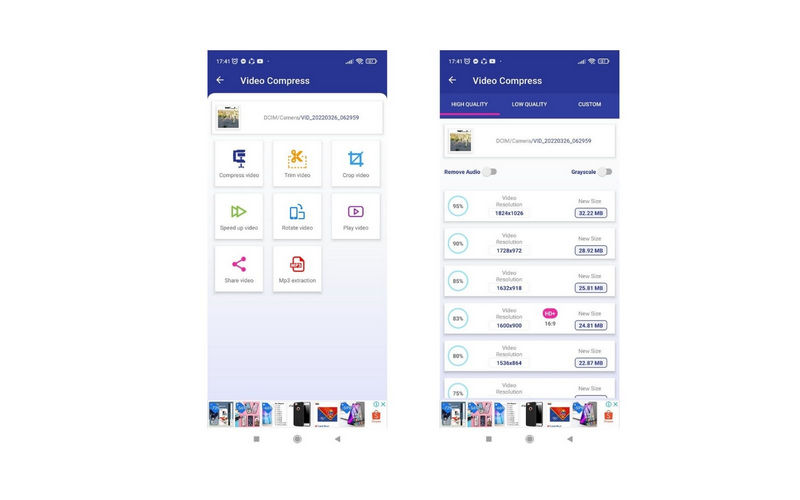 2. Smart Video Compressor and resizer
Supported Operating System: Android
This mobile program is one of the best video compressor apps for Android systems. The program comes with an advanced video compressor allowing you to set the video quality, choose compression speed, and alter video dimensions. Furthermore, it supports Android versions running 4.2 and later versions.
Pros:
Set video quality and change video dimensions.
It allows cutting parts of a video.
Simple and clean user interface.
Cons:
It slows down the process with the ads that keep popping up.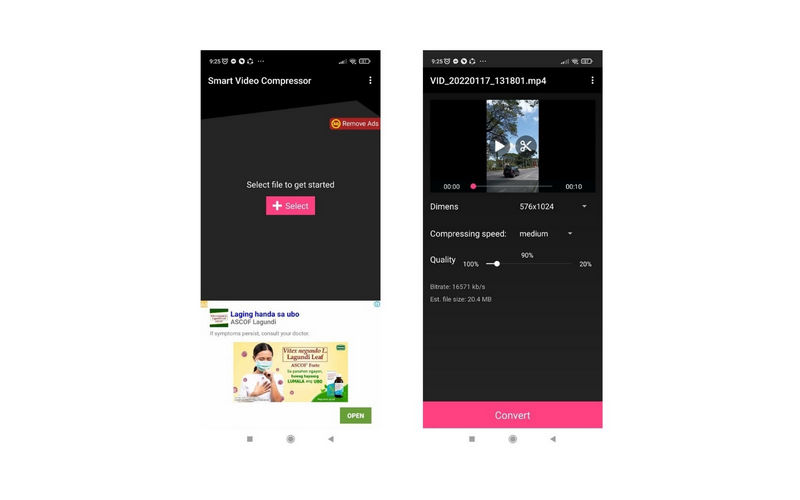 3. Video to MP3 Converter, Video Compressor - VidCompact
Supported Operating System: Android
Already by the name, you could realize that this video compress app for Android joins the functionality for both compression and conversion of video clips. Besides video compression, you can also take advantage of its trimmer and cutter. Over and above, users may convert their video files to MP3 audio. Indeed, it is the best video compressor app for Android without losing quality.
Pros:
Compress video files while keeping the quality.
It comes with an audio converter.
Compress audio files directly from your phone.
Cons:
The converted videos look pixelated.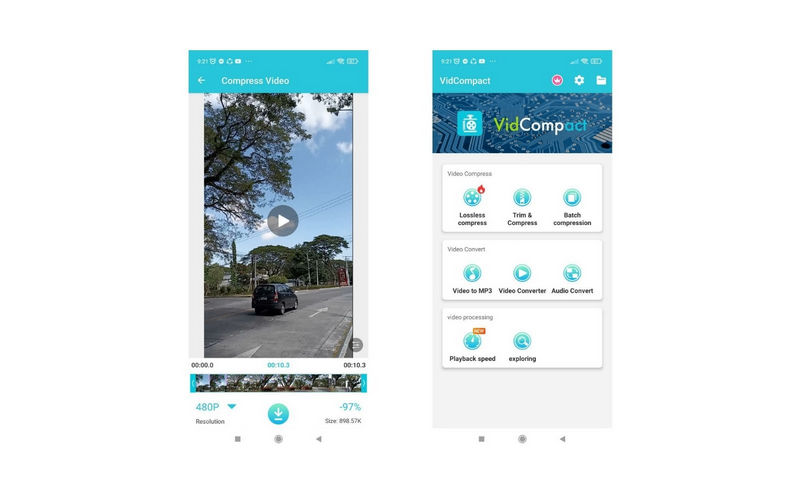 4. Videoshop
Supported Operating System: iPhone and Android
Meanwhile, if you are searching for the best video compressor app for iPhone, look no further than Videoshop. You can rely on this tool to resize and compress video files with slight loss of quality. As you explore the program, you will discover some great features. That includes adding sound and music effects, reversing videos, inserting voiceover, texts, etc. On top of that, you can share videos on social media sites, such as Twitter and Instagram.
Pros:
Play videos in reverse.
Downsize videos with rescaling functions.
Layer a video over another.
Cons:
It limits the features in its free version.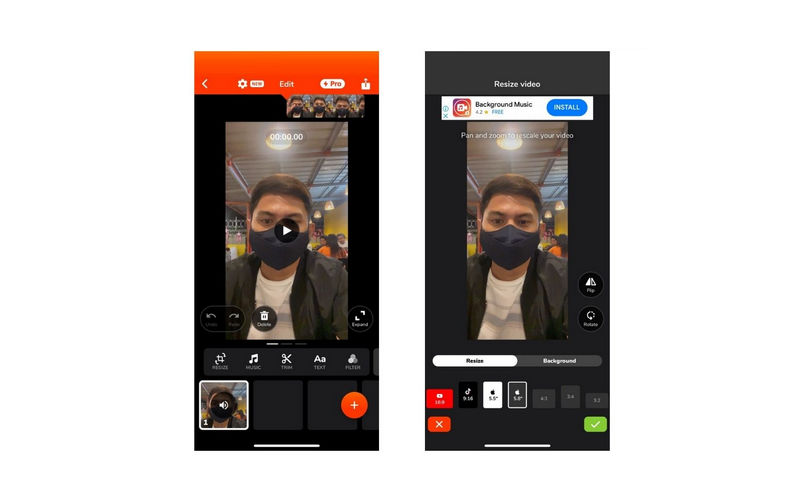 5. Video Compress - Shrink Vids
Supported Operating System: iPhone
Regarding usability and efficiency, Video Compress - Shrink Vids proved to be the best video compressor app for iPhone. Altering the compression strength, enabling users to configure the resolution and bitrate is possible with this app. Moreover, users can preview the before and after results to check if the tool effectively reduces the media size.
Pros:
Upload processed videos straight to social media sites.
Preview of before and after results.
Set the video bitrate and resolution.
Cons:
Sometimes it fails to save the processed videos on the phone album.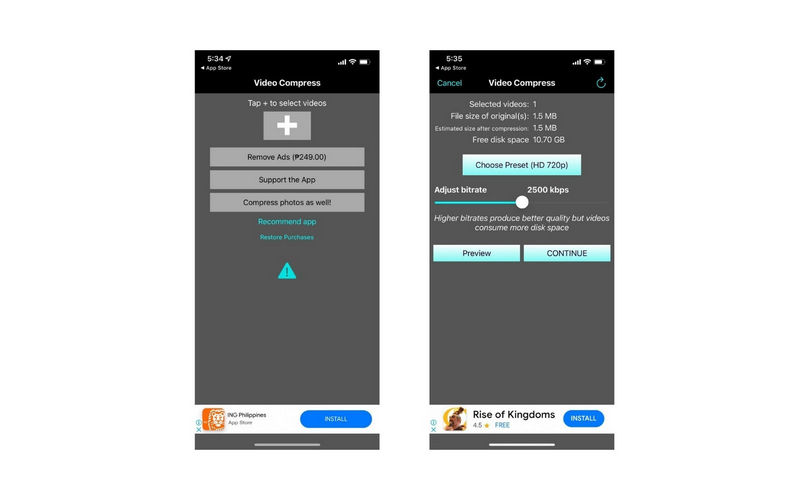 6. Video Shrinker
Supported Operating System: iPhone
Now, if you are looking for the best video compress app without losing quality, consider the Video Shrinker. This tool is beneficial when you like to store HD and 4K videos because they can be easily compressed using this mobile program. With it, you can set the size, frame rate, and quality of the resulting file that affect the overall media size of the video. Furthermore, you may determine the compression speed yourself.
Pros:
Sliders are provided for easy customization of parameters.
Smart enough to identify the heaviest video files.
Export video files to HEVC (H.265) format.
Cons:
It cannot preserve the original file like location, date, and time.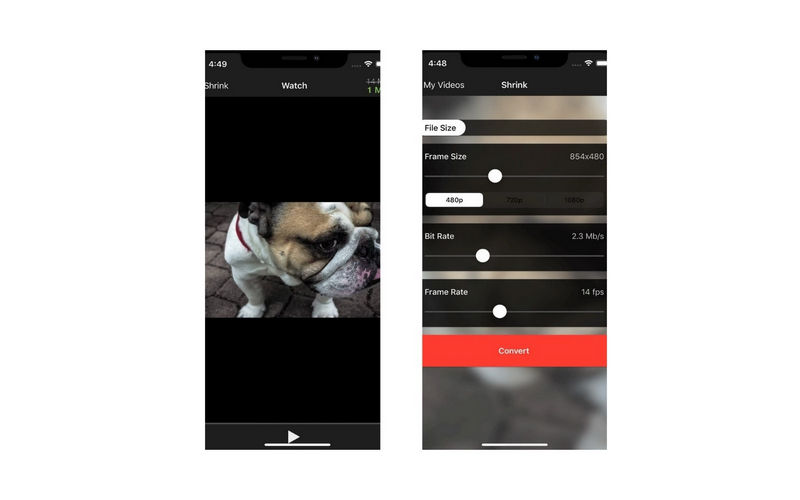 Part 2. Recommendation: Best Video Compressor for Windows and Mac
No questions were asked about the abilities of mobile apps. Almost everything you can do on a desktop computer is possible on mobile devices. However, there are cases where these apps cannot give the same result as the desktop programs offer. Hence, we prepared a desktop program you consider using.
Vidmore Video Converter is a desktop application designed to compress and convert files. It can handle large videos and all video formats on your computer device. Even 8K and 4K videos can be compressed using this tool. There is no requirement on the number of files and media sizes. Another key thing to remember, it facilitates video cutting, customizes video resolution and bitrate, and converts video files. Learn how this best video compressor app for desktop works.
Step 1. Install the Vidmore Video Converter
To start, acquire this tool by clicking one of the Free Download buttons beneath. Next, make sure to get the right installer for your computer OS and install it afterward. Run the program once the installation is done.
Step 2. Add a video file
After launching the program, go to the Toolbox tab, which is one of the major tabs of the program. Next, navigate to the Video Compressor and click the Plus icon to upload a video.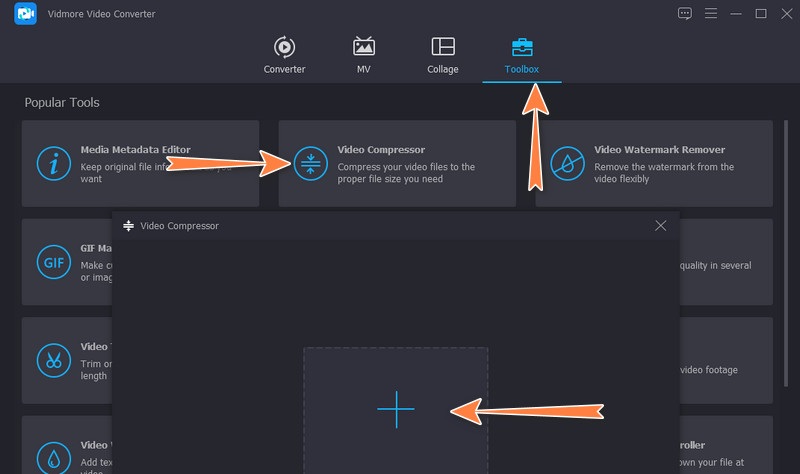 Step 3. Compress the video clip
After uploading a video, adjust the parameters, such as the compression rate, using the slider. Alternatively, you can change the video size, format, and resolution to reduce the media size of the video. When you are satisfied with the settings, click the Compress button to initialize the process.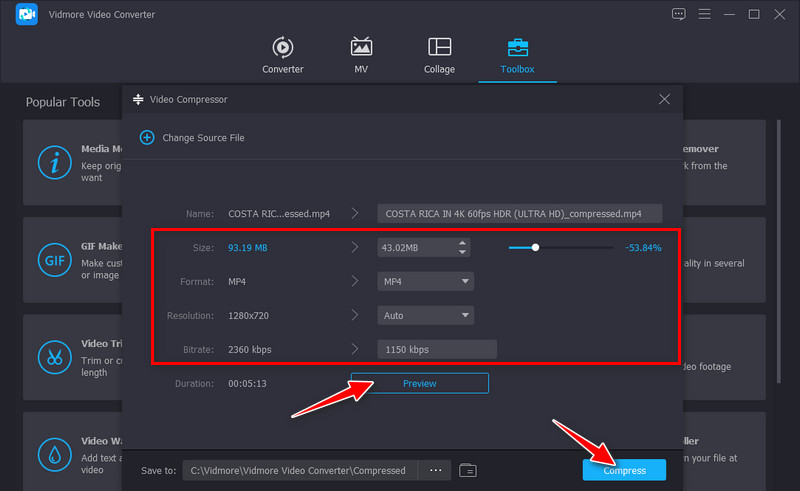 Part 3. FAQs on Video Compressors Apps
Why can't I play some videos on my phone?
This issue may be associated with RAM problems. For basic troubleshooting, close all the running apps to give enough RAM for the video you want to play.
Can I optimize an MP4 video on a mobile device?
Besides compressing video files, you may also optimize an MP4 file using your mobile device. After compressing a file, select MP4 as the output format. You need to find an app that supports both compression and conversion functionalities.
How to reduce the large video to a small file size on Mac?
When compressing a video on Mac, you can use a native app, QuickTime. Select a resolution from the export option of the app. The available resolutions include 4K, 1080p, 720p, 480p, and Audio Only. Next, select the most appropriate resolution according to your needs.
Conclusion
This post offers some of the great video compressor apps for Android and iOS devices. With little to no quality, your video will be compressed easily in no time. However, if you need to reduce video size with original quality preserved, you should go with Vidmore Video Converter. Additionally, it can cut videos precisely and accurately. Indeed, this operation will allow you to shrink media size without losing any video quality.