Free Audio Editor Apps for Android and iPhone You Didn't Know Exist
Are you having a problem in editing your recorded audios because you are lacking in full blown equipment? Put your mind at ease because we already have a solution to your problem! In this post we will share the most useful audio editor app for android and iPhone. In that case, you can be a DJ, composer and an artist in your own way!
You may be asking, how to use an audio editor app with only using a mobile device? Is it possible? Yes it is. Take a look at all the ready to download applications below.

Part 1. Audio Editor App for Android
Android devices have a lot of powerful features that will help you in your task. However the only thing that it doesn't contain is the way to edit your recorded audios. But the good thing is there are a lot of online audio editor apps that you can install on your android device without experiencing any hassle. No need to have that high-end device before you can be an artist on your own. To know the apps that we are referring to, take a look at the list of tools below.
1. Voice PRO - HQ Audio Editor
If you want to remove the background noise of your recorded audio, Voice Pro is ready to rescue. This app allows you to merge, trim, adjust, cut or even add effects to your audio files. Aside from that, you can choose from over 100 file formats programmed on the tool. And what makes it even more amazing is you can still do other tasks in your mobile phone without stopping the editing operation in this app, this is possible by pressing the home button. The only drawback here is it requires your device to be in the firmware version 4.4 and up and it requires a subscription to access more of its features.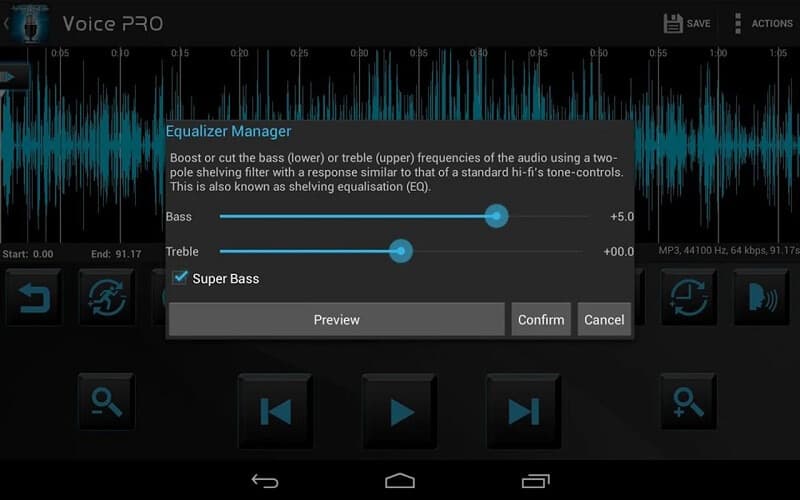 2. Audio Evolution Mobile Studio
Another useful android device's tool is Audio Evolution Mobile Studio. This application has advanced audio editing features because it allows you to create music, mix and edit audios. It was like a real desktop because it has virtual instruments, virtual analog synthesizer, mixer automation and many more. And due to its powerful features, it was chosen as one of the audio editor applications. This tool offers a free trial for potential buyers of the app but it will stop after a while because it requires a subscription. Therefore to fully use its resources, you need to avail their subscription.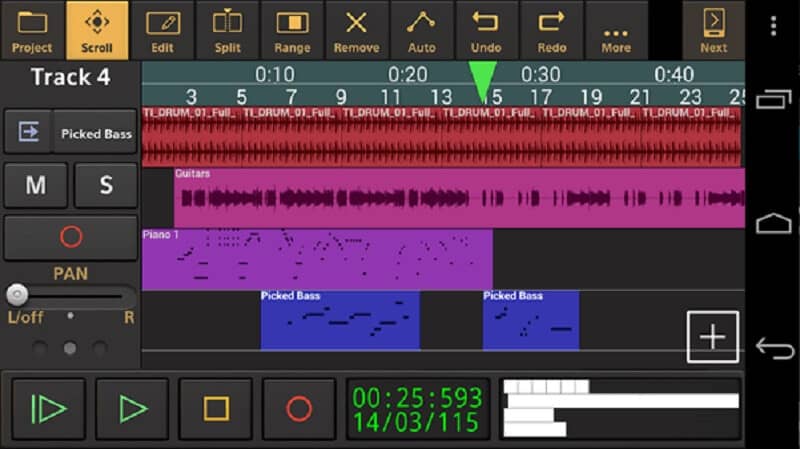 3. FL Studio Mobile
FL Studio Mobile is also one of the worthy applications that you can acquire due to its availability on both android and Apple devices. Some of its powerful features are its high-quality synthesizers, drum pads and virtual piano keyboard. Aside from that, you can take control of your recorded audio or tracks with the use of different effects like chorus, limiter, delays, auto ducker and many more. And in order for you to fully navigate it, you need to access the Bluetooth Low Energy connectivity because of the MIDI keyboards.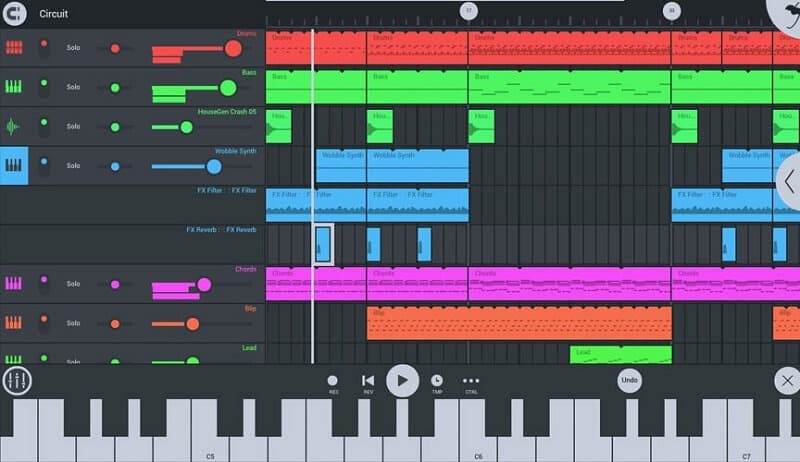 Part 2. Audio Editor App for iPad/iPhone
Since we already discussed the most convenient apps for Android in the above post, of course we will not let those iPhone users be left behind. Given the fact that this kind of device somehow has more technicalities than Android that is why it is hard to find an audio editor application that will be compatible on this device. But worry no more, we have listed the recommended audio editor for iPhone or iPad. Take a look at the information below.
1. GarageBand
If you want to learn how to play instruments but you don't have the money to pay for an instrument lesson, you can consider using Garageband. It will serve like a personal tutor to you. Isn't great that you are learning yet not paying a single penny! This app makes it easy for users to create music with the help of the keyboards, guitars, drums, strings and it allows you to make beats on your own. The only case in this app is it has large project files which consumes more storage. But if you have a large amount of storage, everything would be okay then.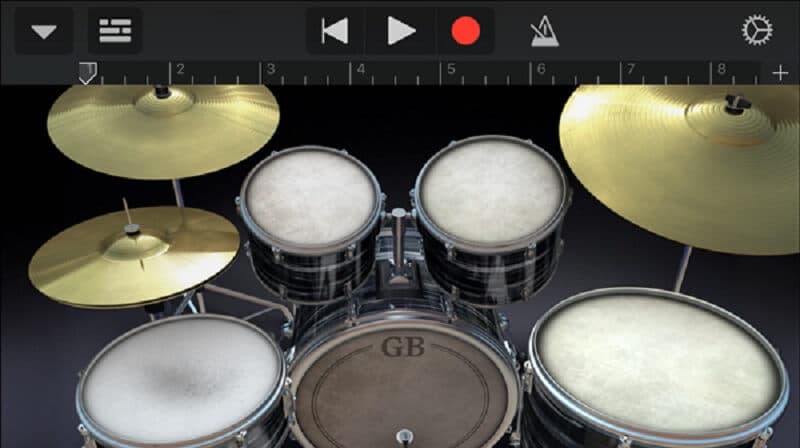 2. Hokusai
Another amazing free audio editing application for iPhone is Hokusai. You can record or import a track on this tool and make it sound like you are a professional music composer. Some of these features are cutting, putting filters, special effects and even copy and paste a track. Hokusai app has also useful features which allows you to fade in and out your audios, normalize volume levels, and some basic synthesis. This app can edit your track side by side without making your tracks messy. And when you are done you can share your composition on social media. The only cons in this app is you need to purchase in order for you to have more access to the features.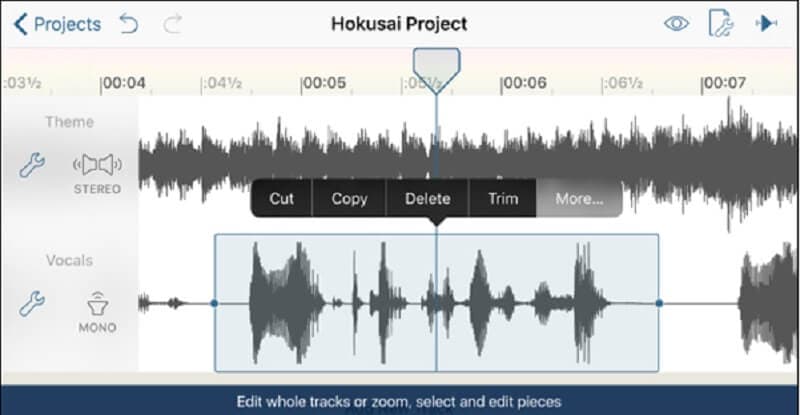 3. FilmoraGo
Filmora Video Editor is a multi-purpose application that was programmed for Mac and Windows. It was not only built for editing your recorded video but the audio as well. It offers different sound effects and editing features which allow users to customize their files by themselves. Some of its powerful features are audio mixer, denoise, equalizer, fade in and out, speed pitch adjustments. Aside from that, you can add your own voice record or a new track coming from the Audio Library. The only drawback of this app is it offers a video conversion without a watermark only if you paid for its subscription.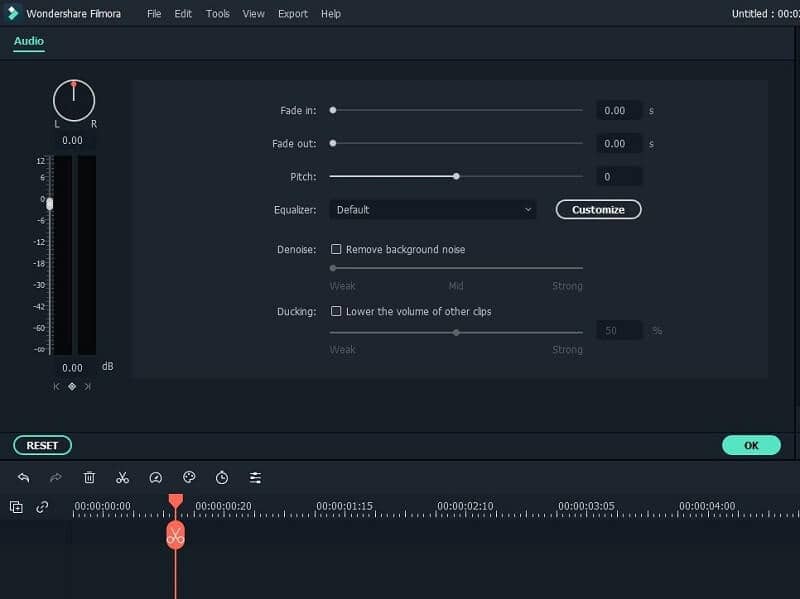 Part 3. FAQs on Audio Editor App
What is the audio and video editing app for Mac or Windows?
If you are looking for an audio and video editing app, you can try using Vidmore Video Converter. It was built for Mac and Windows and it offers a free trial before you decide to purchase it.
How to access more instruments on GarageBand?
If you want to access more instruments, loops and sound packs on GarageBands, you can download Sound Library on the App Store. It offers a lot of instruments to make your audio files more wonderful.
Can I use the Audacity audio editor app on iPhone or Android?
Unfortunately, Audacity is not available on iPhone or android but you can consider using the applications provided above with the same functionality.
Conclusion
Since we discussed the best audio video editor app for android and iPhone, you will not need to buy a high-class audio editing desktop to make your audio files in a good shape. Because through the help of this application, you can be an instant music composer or a professional DJ! Now, have you decided what app you will use?