7 Best Rotate Video Apps for iOS, Android, Mac, and Windows PC
Wrong video orientation has remained a problem for most individuals especially for those who have low skill levels when it comes to recording videos. This is due to the wrong handling of the recording device that is why the video results are sometimes inverted or upside down. It can be very frustrating and time-consuming to reshoot the video. Therefore, in this post, we listed some of the best videos rotate apps that you can use for the orientation that needs correction.

Part 1. The Best Video Rotate App for Windows and Mac
If you are looking for an app with a complete set of editing features for videos, then Vidmore Video Converter should be your ultimate solution. This program offers various useful and necessary tools including rotating video clips, flipping horizontally and vertically, cropping, trimming, and splitting in an intuitive interface. Aside from that, it offers you an opportunity to add a watermark to your videos either text or image to make them personalized. Also, there's a real-time preview screen that enables users to instantly see the changes before even rendering the final version of the video. Basically, if you are into making a significant change with your videos either enhancing or major modification, Vidmore is indeed a solid video rotation app. Get a better understanding by having a hands-on experience of the tool using the steps given below.
Step 1. Get the installer
You can get the installer of the program by going to its official page. Once you reach the page, simply click the Download button to download the app. Or, you may click on the Free Download buttons above for a quick download. Install and run the program afterward.
Step 2. Upload a video file
This time, click the Plus sign from the Converter tab to upload a video. For your convenience, you can drag and drop your target video from your local to the interface of the tool. This will also allow you to import the video you need to rotate.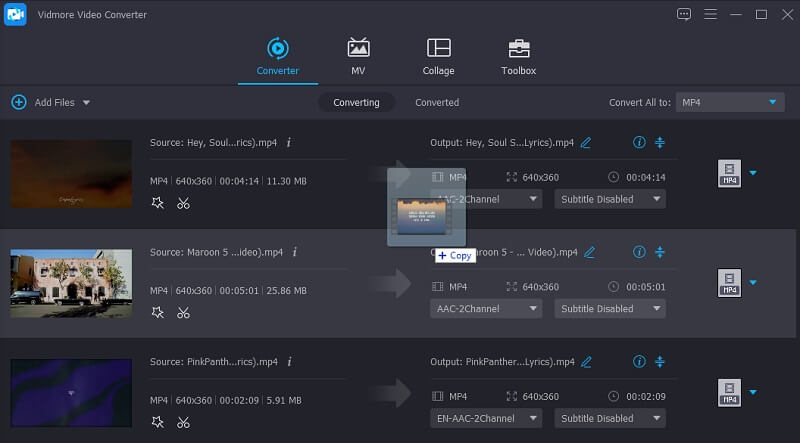 Step 3. Rotate the video clip
To use this video rotate app for Windows and Mac, click the Edit icon where you will be presented with a variety of editing tools. You can head straight to the rotation task by clicking the Rotate buttons at the bottom of the interface.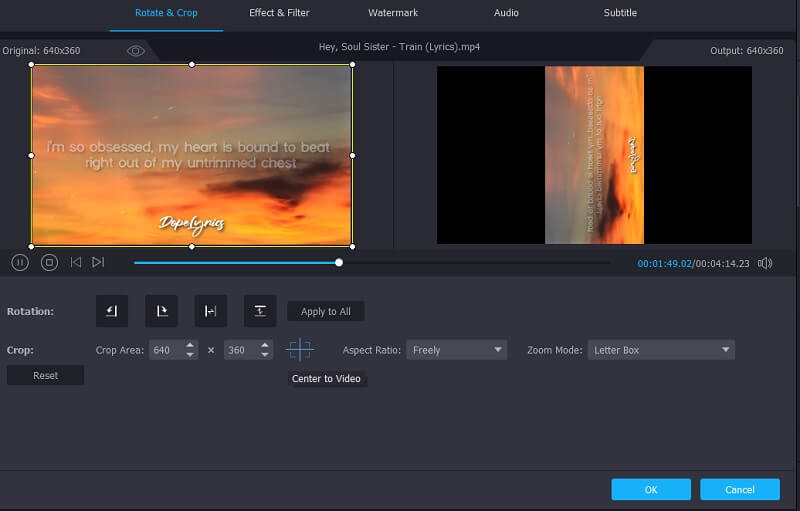 Prior to this, you may access some other features like cropping, adding effects, or watermarks according to your liking. Now preview the changes and hit the OK button once satisfied.
Step 4. Export the rotated video clip
Resume to the Converter tab and then unfold the Profile menu to select an output format. After that, choose a file destination and hit the Convert All button. The final version of the video shall appear in one of your computer file folders.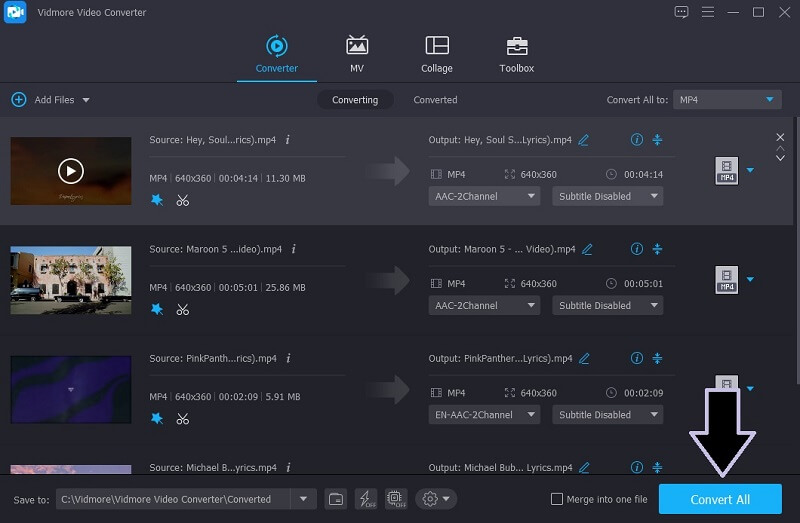 Part 2. Best Apps to Rotate Video on iPhone
It's a good thing that you can easily rotate videos from Mac and Windows computers yet it is also great to have mobile apps that can rotate videos clips. Through these, you will be able to correct the orientation of your smartphone recorded videos at your fingertips. Thus, here we have a few recommended rotate video apps for iOS devices.
1. iMovie
iMovie is a popular video editor that is dedicated to Mac, iPhones, and iPad. This app offers features like rotation, split, merge videos with several available transitions to choose from. Aside from that, it also provides effects and themes that will help you enhance the appearance and come up with an eye-catching video. As we all know, advanced features come with a price. This is especially true for iMovie because you need to upgrade to its Pro version in order to access more advanced tools. Nevertheless, if your sole purpose is to learn how to rotate a video in the iMovie app, then there's no need for an upgrade.
2. RFV
Another yet best app to rotate video on iPhone is RFV. The tool is capable of rotating video by 90 degrees either clockwise and counterclockwise. In addition, it comes with the ability to flip videos vertically and horizontally. By using RFV, you can rotate and flip videos allowing you to quickly fix wrong video orientation. It is also worth mentioning that the buttons can be easily identified which contributes to the fast processing of issues regarding orientation.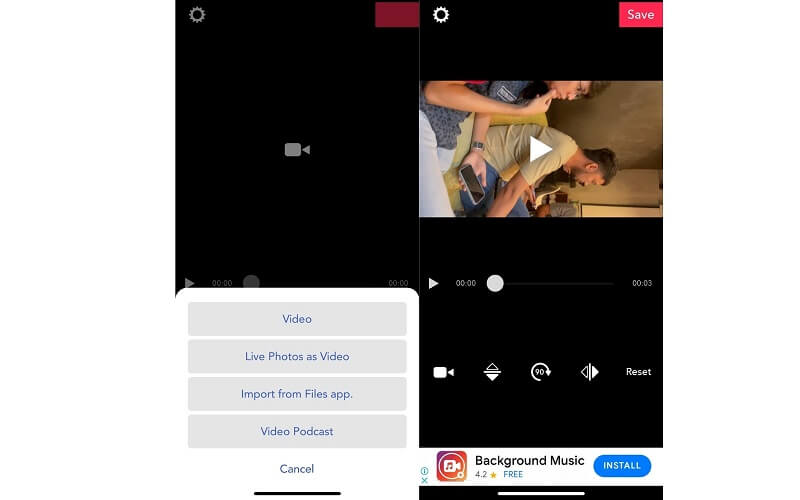 3. Video Crop-Trim & Cut Videos
Video Crop also qualifies as the best app to rotate video on iPhone. Likewise, it can efficiently and effectively flip and rotate videos with support to other necessary tools for editing. This includes cropping, trimming, and cutting a video as the title suggests. Moreover, it provides users control over the music where you can mute video sound, add a music overlay, and effects like fade in and out. Just by knowing this, we can say that Video Crop is indeed an excellent option for users who are looking for a rotating video app for iOS. Just take note that you need to pay for its rotation function and is only limited to trim and cut functions.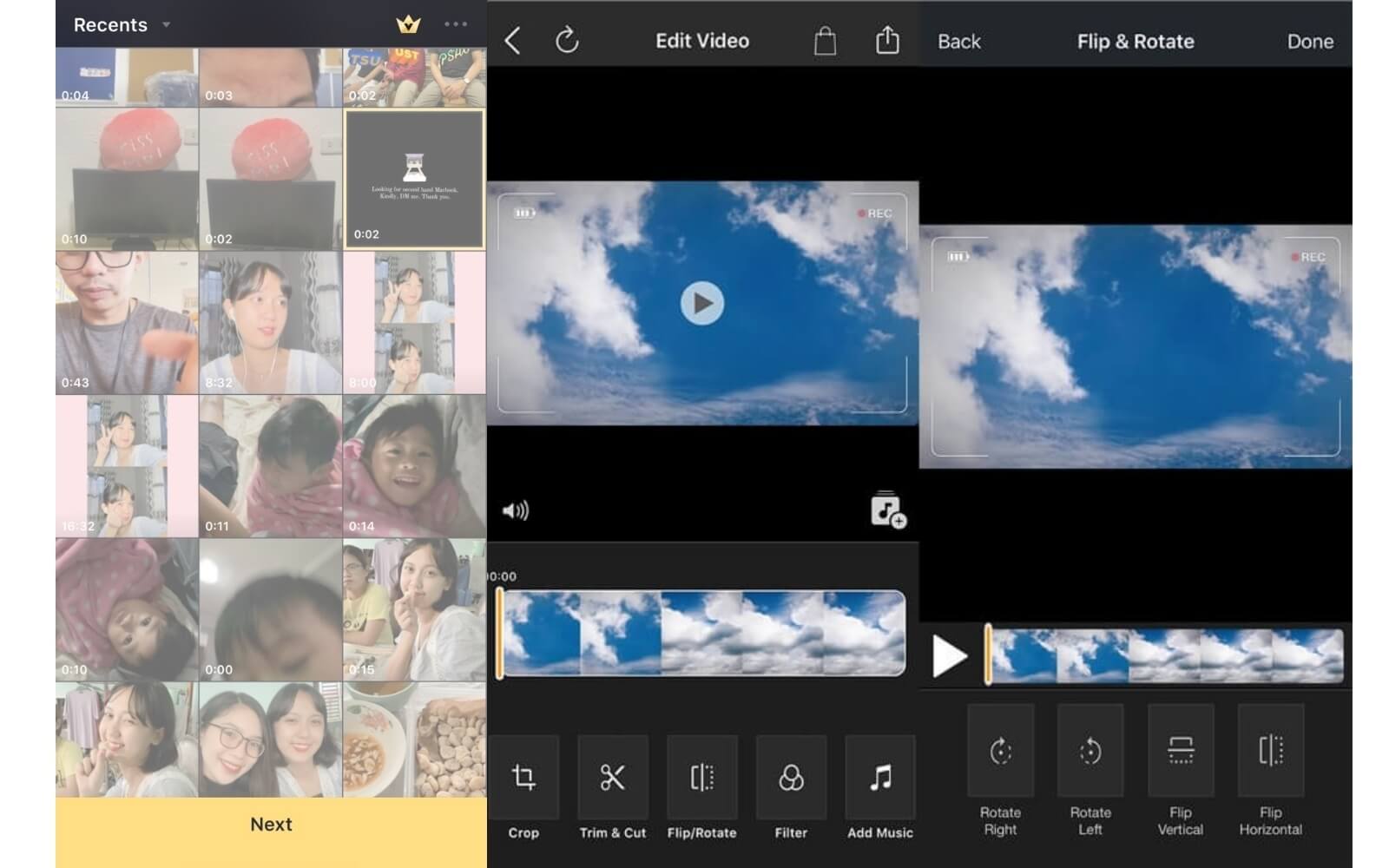 Part 3. Best Apps to Rotate Video on Android
For Android users who are also in need of an Android app to rotate videos, here we will geek out on some of the best options there are. Rest assured that these applications truly work to turn videos from any angle upside down and sideways. Henceforth, find which among these tools fit your work routine the best.
1. AndroVid Video Editor
AndroVid Video Editor is a free video editor that can help you rotate videos and resize them by using the crop function. This program facilitates 90 and 180 degrees rotation to carry out upside down and the sideway video turns and achieve proper video orientation. Unlike other similar programs, you don't need to encode angles in order to adjust the direction of the video. With that, meaning you can achieve your video rotation task with just a few simple taps. It's also worth mentioning that this tool is equipped with a video playback control. Otherwise speaking, you can decide whether to increase the speed or slow down the playback.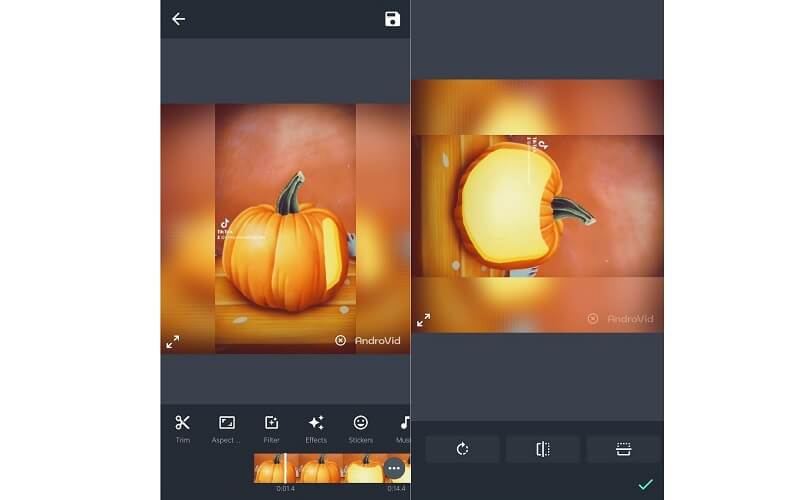 2. Viva Video
You'll never come up short with options for Android apps to rotate videos as our next is also free software to video makers and editors. It is tagged as one of the best video editors due to the edit functions it provides. Here you can access features like cutting videos, merging, cropping, adding transition, video effects, and so much more. The best part is you have the freedom to save and upload your own creations to social media platforms like TikTok and YouTube.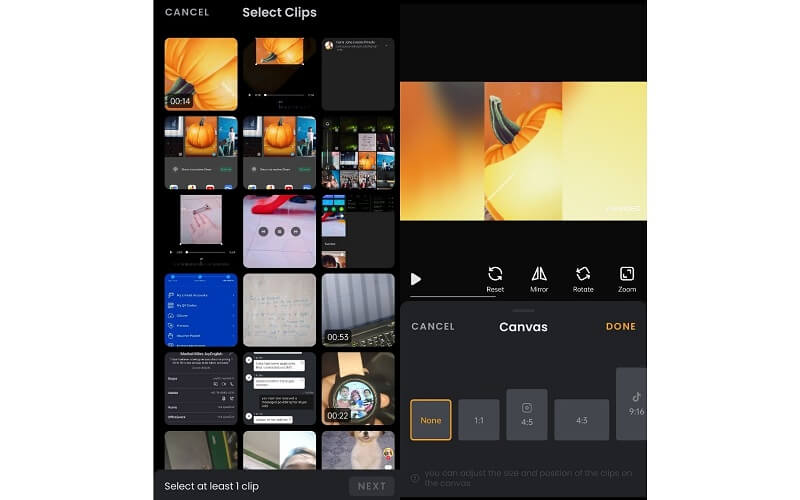 3. VideoFlip-Video Rotate and Flip
With VideoFlip, you don't need to worry about wrong video orientation anymore. It will help you change the playback orientation of your videos to 90, 180, and 270 degrees while the quality is unchanged. What makes it a very convenient program is that it automatically gathers up and saves the video from your phone in one folder. In this manner, you don't need to browse through your files that compromise your time in finding a specific video. What is more, you can use the search bar to quickly lookup a video that you wish to rotate. Without a doubt, VideoFlip is also one of your go-to Android apps to rotate video.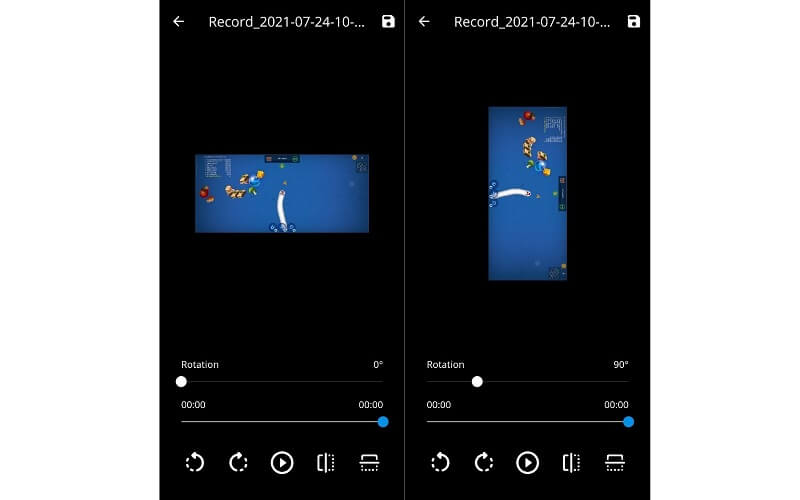 Part 4. FAQs of Rotating Videos
Is there an app to rotate video online for free?
Yes, there is. A highly recommended program online that will help you rotate videos is Ezgif. It's just that, there's a limitation when it comes to the video file size that you can upload. Nonetheless, it works perfectly for rotating and flipping videos online.
How can you rotate video with batch processing?
Apparently, the mobile apps that we provide in this article do not support rotating videos with batch processing features. However, if you need to rotate multiple videos all at once, you should opt for Vidmore Video Converter. Make sure to follow the same procedure as above and if you see the Apply to all button in the editing interface of the tool, click it and it shall be applied to the rest of the uploaded videos.
How can I mirror video?
By flipping the video either horizontally or vertically, you will be able to generate a mirroring effect of your videos.
Conclusion
When you need to rotate videos on your Windows PC, Mac, Android, or iOS, video rotating apps can do the work for you. To help you save time, we handpicked the best video rotate apps for the mentioned platforms. Among mentioned tools, it is common sense that Vidmore Video Converter is a more functional program since you can access all the necessary actions for editing videos. Moreover, it allows you to perform a batch operation to rotate videos, add filters, and a lot more.