Hack How to Play DVD Movies on Your Nintendo Wii Console
This guide answers the question whether Nintendo Wii can play DVDs. Due to relatively low price, Wii sales have not lost momentum since it released in 2006. However, this game console has always left a bit to be desired for hardcore gamers, such as lack of DVD movie playback.
For some reason, Nintendo decided not to include the DVD playback feature into the Wii, but it does not mean you can watch DVD with your game console. This article shares two ways to do it and you can pick up the right way based on your situation.

Part 1: Can Wii Play DVD?
As mentioned previously, Wii was designed as a home game console. According to the Wii page of Nintendo, neither the Wii console, nor the new Wii U will play optical discs. Firstly, Nintendo believes that game players already own the devices that have the capacity to play DVDs. The patents related to DVD playback is another reason. Don't worry! You can still play your favorite DVD movies on your Wii console following the methods below.
Part 2: Play Any DVD on Wii
Wii is a video game console. It means that it can play videos. So, you can rip your DVDs into friendly video format and play DVD movies on your Wii. The biggest benefit of this method is to do what you want on Wii without extra hardware. From this point, we recommend Vidmore DVD Monster.
Rip any DVDs into digital videos for playback on Wii.
Support a wide range of video output formats including AVI, MOV, MP4, etc.
Optimize video and audio quality automatically and manually during the process.
Preview DVD movies for ripping specific clips or entire disc.
Offer extensive video editing tools, such as rotate, crop, split, trim and more.
In a word, it is the easiest way to play DVD movies on Nintendo Wii or Wii U game console.
How to Play a DVD on Nintendo Wii
Step 1: Install the best DVD ripper
When you want to play a DVD on your Wii game console, download the best DVD ripping software and install it on your computer. Then put your DVD into the ROM drive of the computer. Launch the software, hit the Load DVD menu and select Load DVD Disc to your disc to start scanning the optical disc.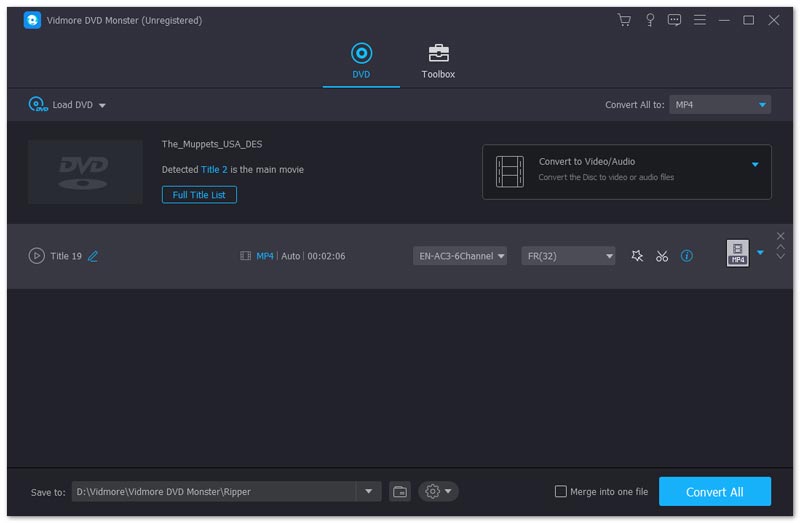 Step 2: Preview and edit DVD movies
After DVD scanning, select the desired titles or all titles to added them to the media library panel. Then you can preview them with the built-in media player. Pick up your favorite audio and subtitle tracks from the Audio Track and Subtitle bars.
In order to load the movie quickly on Wii, you'd better split it into clips. Click the Cut icon under the movie to open the Cut window, and then reset the Start and End points to shorten it. Click Save button to confirm it.
If you want to edit a DVD movie, click the Edit icon next to the Cut icon to open the Video Editor window. Here you can rotate, clip and watermark the video, adjust contrast, saturation, brightness and more, change audio and subtitle tracks.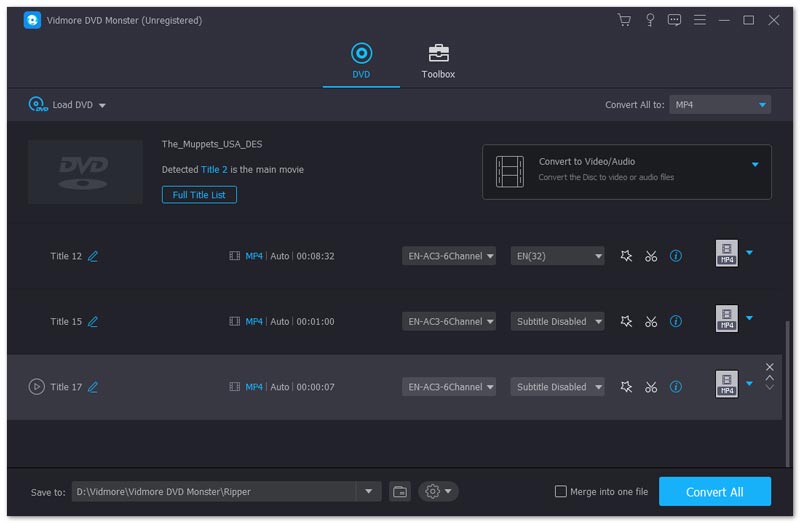 Step 3: Rip DVD to Wii friendly video format
When video editing is done, go back to the main interface, expand the Rip All to drop-down list. Head to the <spanDevice tab, scroll down to select Game from the left side and choose Wii. Then the best DVD ripping software will set the parameters automatically. Hit the Settings button at the bottom labelled a gear icon to open the Preference dialog. Set the Output Folder field to store the video output. Finally, click the Rip All button at the bottom right corner to start ripping DVD for playing on Wii.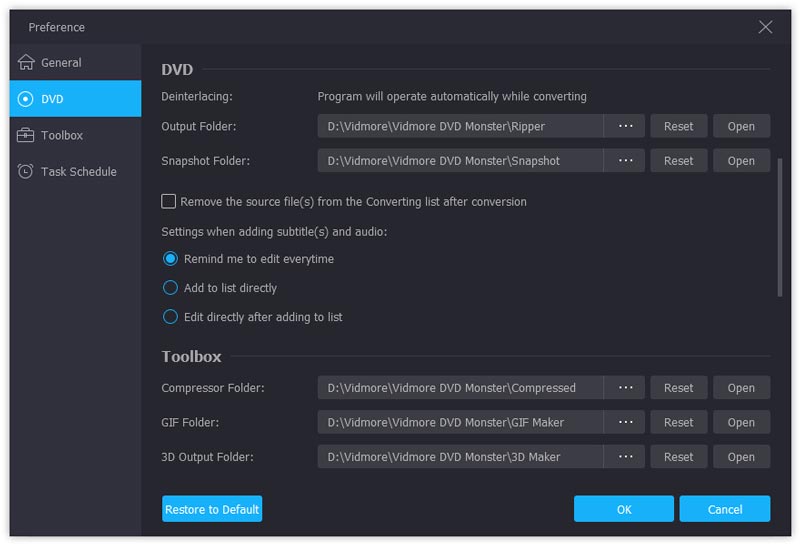 Note: When the process of backing up DVD to hard drive finishes, transfer the DVD videos to Wii with a SD card. If you want to play DVD movies on Wii U, you can stream the videos from your computer directly.
Part 3: Play DVD on Wii with Homebrew
Another way to play DVD on Wii is to build a DVD compatible environment with Homebrew channel, which was released by Team Twiizers.
Requirements
The Nintendo Wii with system version 3.2
A SD card formatted FAT/FAT32
A SD card reader
DVDX
The Legend of Zelda: Twilight Princess for Wii
The Twilight Hack
Homebrew Channel
A DVD player
This method is a bit complicated, so we share a step-by-step guide below.
How to Play DVD on Wii with Homebrew
Step 1: Get Homebrew Channel
Firstly, connect the SD card to your computer, copy and paste the private directory of the Twilight Hack from your hard drive to the card. Move the Homebrew Channel named boot.dol to the SD card too.
Then disconnect the SD card from your computer and insert it to your Wii. Delete the Zelda file from Wii File Manager if you have the game on your console.
There are two versions of Zelda and they work for different hack. Zelda- RVL-RZDE-0A-0 is compatible with TwilightHack0, while RVL-RZDE-0A-2 works with TwilightHack2. Make sure to copy the right version.
Next, insert Zelda game disk into Wii, start the game, and Twilight Hack will save it. Start the game and walk backward until the Homebrew Channel starts installing. Now all you need to do is to wait for the installation to complete.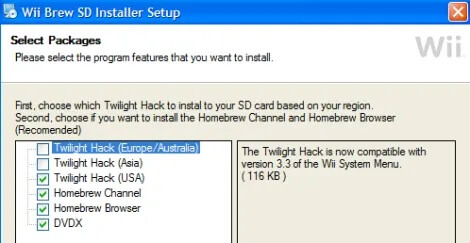 Step 2: Install DVD player
Pull out your SD card from Wii and insert it to your computer. Delete the files copied in the first step, and create a folder titled apps. Move the DVDX and DVD player directories, such as MPlayer, into the apps folder.
Next, insert the card into your Wii. Turn on your console and start the Homebrew Channel. Run DDX installer in the apps folder on SD card and wait for it to finish.

Step 3: Play DVD on Wii
Put a video DVD into your Wii, go back to the Homebrew Channel, and start the DVD player. For MPlayer, press DVD-Video from the menu, select a title and hit Play DVD to start. Now, you can control the DVD playback on Wii with MPlayer Wii menu.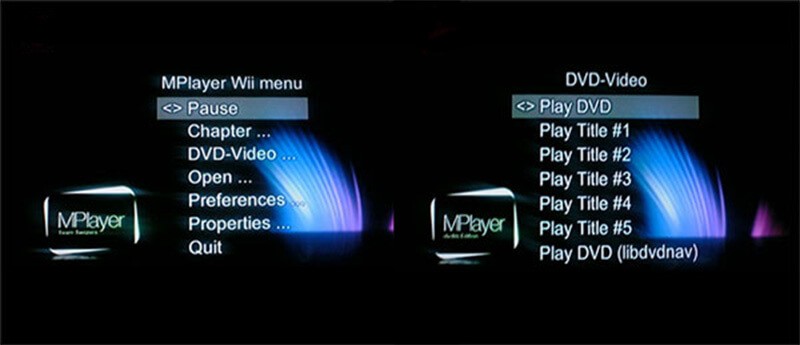 Note: This way does not require you to rip DVD into digital videos since Homebrew Channel can turn your game console into a DVD player. However, there are some risks and limitations. First of all, only a few DVD players can work on Wii and they usually have some bugs. According to our test, DVD menus miss when playing on Wii and not all movies on optical discs can be played. Moreover, if anything goes wrong, your disc or Wii console may be damaged.
Conclusion
Nintendo Wii is still one of the most popular game consoles on market. However, the absence of DVD playback feature is the biggest downside. Based on our sharing above, you should get two ways to play DVD on Wii. We suggest you to rip DVD with Vidmore DVD Monster. It allows you to play any DVD movies with your game console. If you encounter any problems when watching DVDs in Wii, leave a message in the comment area below this article and we will reply it as soon as possible.