Best Beatport Downloader – Get Music Tracks from Beatport for Free
Beatport provide some professional tracks for DJ. The online streaming site has a huge catalog, access curated selections from artists and labels, and create your own instantly ready playlists. It is a pity that you cannot download Beatport music directly without subscription.
You might only playback the middle part of the music file only without any subscription. Even if you subscribe the Beatport Link Pro with US$39.99 per month, you can only download 50 tracks. What should be the recommended Beatport downloader to extract the audio files from Beatport with ease? Just learn more details from the article now.

Part 1: Best Method to Download Beatport Music for Free
What should be the economic method to download music from Beatport? Just as mentioned above, even if you subscribe the service, you can download a limited number of music files. When you are able to stream the whole music file online, Vidmore Screen Recorder is able to download the Beatport music with the original quality. Moreover, you can also set up the recording preset, schedule recording and length accordingly.
Record music streaming files from Beatport with the original audio quality.
Save the recorded Beatport music to MP3, M4A, WMA and other formats.
Set up a recording preset for recording Beatport music in a batch process.
Customize the schedule recording, starting time, ending time and duration.
Step 1: Download and install the Beatport downloader, you can launch the program on your computer. Go to the More menu and choose the Manage option to tweak the different parameters to make a desired recording preset for Beatport.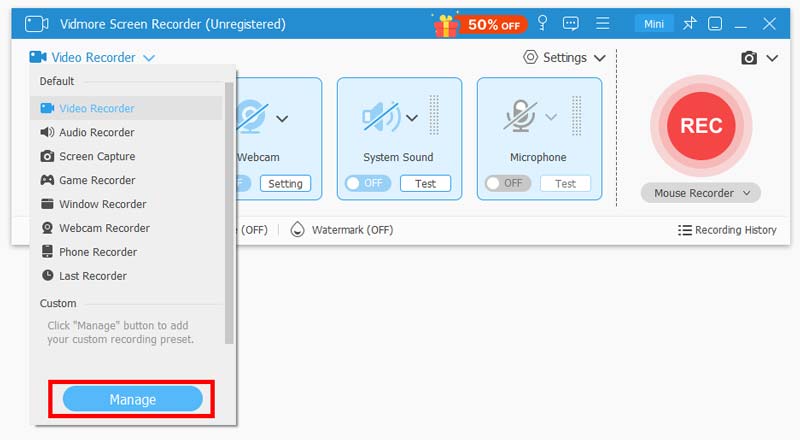 Step 2: Customize the preset settings, such as the name of the task, system audio volume, audio format, audio quality and more other parameters. Click the Save button and choose the Apply option to save the changes and apply the settings with ease.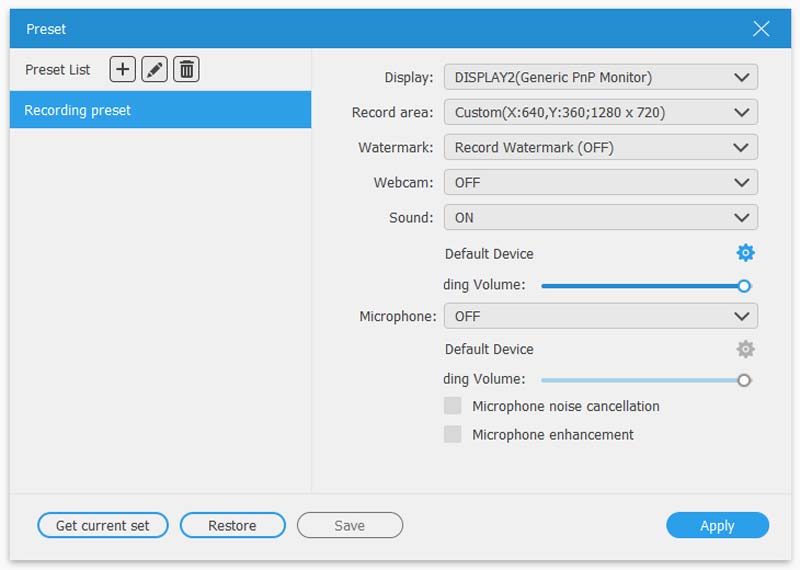 Step 3: Go back to the main interface and choose the Audio Recorder menu. Then you can enable the System Sound option only to record the playback Beatport music. You should also disable the Microphone option to avoid adding any noise to the music.

Step 4: Click the REC button to download Beatport music. It is recommended to start the recording before you playback the music. When you get the whole music file, you can click the Stop button to preview the recorded music from Beatport on your computer.

Step 5: Once you have saved the Beatport music, you can use the clip feature during previewing the audio recording to cut unwanted parts from the file. You can also share the files to smartphone via social media application or others within clicks.
Part 2: Top 20 Music for Beatport You Should Download
When you subscribe the Beatport Link Service, what are the recommended music you should download? Here are 20 best music files for reference that you can download Beatport music from the chart.
| | | |
| --- | --- | --- |
| Beatport Tracks | Artist | Duration |
| More Life (Extended Mix) | Torren Foot | 05:40 |
| Midnight (Original Mix) | HOSH, 1979, Jalja | 07:14 |
| Move Your Body (Extended Mix) | Marshall Jefferson, Solardo | 06:13 |
| Never Leave You (Uh Oooh, Uh Oooh) feat. Octahvia (Original Mix) | Moreno Pezzolato | 05:58 |
| Hold Me To The Light (Tale Of Us Remix) | KAS:ST, Be No Rain | 06:38 |
| Pour The Milk (Extended Mix) | Robbie Doherty, Keees | 05:34 |
| Headnoise (Get Hype) feat. Dope Earth Alien (Extended Mix) | Martin Ikin | 05:46 |
| Jolean (Extended Mix) | Claude VonStroke, Green Velvet, Get Real | 06:47 |
| Don't Go (Original Mix) | Block & Crown, Martina Budde | 04:11 |
| Don't Call Me Baby (Mousse T. Remix) | Madison Avenue | 06:26 |
| The Shaman's Chant (Extended Mix) | Riaz Dhanani, C.O.Z | 06:28 |
| Managing the Moments (Original Mix) | UMEK | 07:37 |
| I Believe (The Cube Guys Remix [David Penn Re-Edit]) | Happy Clappers | 06:26 |
| Free Your Body (Original Mix) | Chris Lake, Solardo | 06:02 |
| Omnia (Original Mix) | Mha Iri, Andrea Signore | 07:40 |
| Get Ur Freak On (Kevin McKay Extended Remix) | Nader Razdar | 06:38 |
| Destination Mars feat. Josh Wink (Original Mix) | Maceo Plex | 07:01 |
| Joys (Purple Disco Machine Extended Remix) | Roberto Surace | 06:37 |
| Plastic Dreams (Nicole Moudaber Renaissance Remix) | Jaydee | 09:07 |
| Lose Control (Extended Mix) | Meduza, Becky Hill, Goodboys | 05:13 |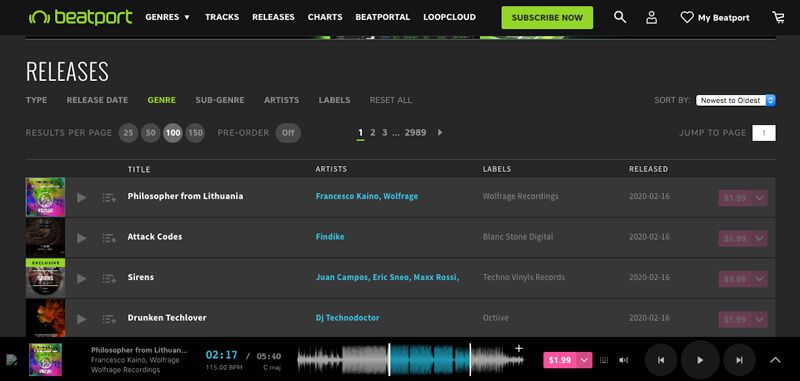 Conclusion
What should be the most economical method to download Beatport music files to your computer? Even if you subscribe the Beatport service, you are only able to download limited music files. In order to get all the music with ease, you should choose Vidmore Screen Recorder as a companion to download more music files from Beatport.