Top 8 MP3 Recorders for Windows/Mac/Android/iPhone/Online
Searching for a free MP3 recorder to capture sound played on your computer or portable iOS/Android device?
Fortunately, there are a large number of MP3 audio recording tools, including some free ones available on the market. So what is the best MP3 recorder for Windows 10/8/7 PC or Mac? Which MP3 audio recorder app you should use on your iPhone, iPad or Android phone?

We make a list of top 8 MP3 audio recorders for Windows, Mac and Android/iOS device. You can get the basic information and key features of each MP3 recorder and then pick your preferred one to capture sound to MP3.
Top 3 MP3 Recorders for Windows PC and Mac
Considering that most users are looking for the way to capture computer sound to MP3, here at the first part, we like to share 3 powerful MP3 recording tools for Windows and Mac. Relatively speaking, computer software can carry more functions and give you a more comfortable usage experience.
Best MP3 Recorder for Windows/Mac - Screen Recorder
Screen Recorder is an all-featured video and audio recording program which can help you capture any audio on your computer and save it as an MP3 file with high quality. It can work as a professional MP3 recorder to record audio from system audio and microphone.

This MP3 recorder has the capability to record audio calls, online meetings, lectures, music and more. It enables you to record/download your favorite songs without limitation. It is compatible with Windows 10/8/7/XP/Vista PC and Mac.
Record any audio track on computer with high sound quality.
Capture sound to any popular format like MP3, M4A, AAC, WMA and more.
Select audio source from computer system audio, microphone/speaker or both.
Record online music/videos, 2D/3D gameplay, video/audio chats and meetings.
Powerful editing features to edit the captured MP3 file and adjust sound effect.
This first recommended MP3 recorder provides you with a simple way to capture any sound played on your computer and save it as an high-quality MP3 file. What's more, it also carries the video recording and screenshot features. It is able to capture the exactly original screen up to 4K UHD and 1080p HD. You should free download it and give it a try.
Free MP3 Recorder for Windows/Mac - Audacity

As a powerful audio recording tool, there are many useful recording and editing functions designed on Audacity. After the MP3 audio recording, you can rely on it to trim, copy, splice and do other operations with ease. But one thing you should concern is that, Audacity is not an easy-to-use audio recorder, especially for new users. If you don't know where to start, you can check the post, how to record computer audio with Audacity.
Free MP3 Recorder for Windows - Aktiv MP3 Recorder
Aktiv MP3 Recorder is a free music recorder which can save any sound played on your Windows PC in popular audio format like MP3, WMA, OGG, VOX, AIFF, and more. As an MP3 recorder, it has the capability to capture sound sources with high quality.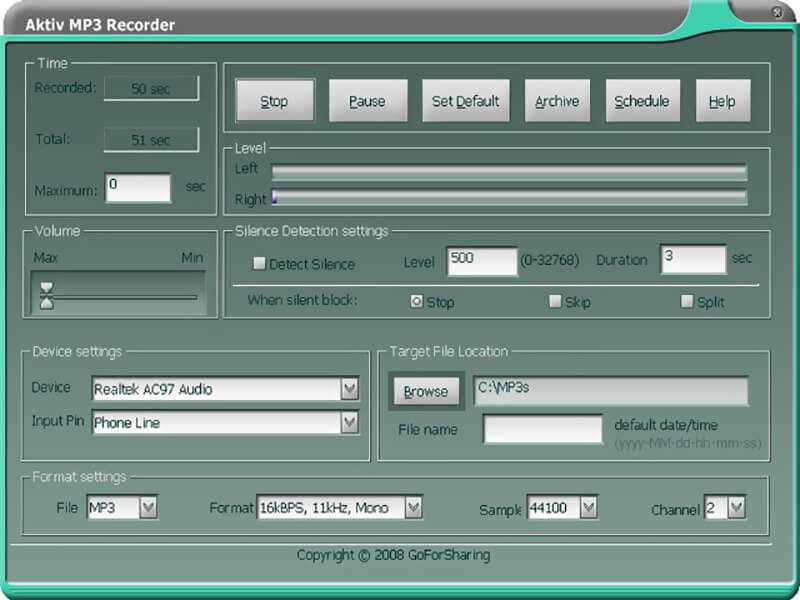 Aktiv MP3 Recorder enables you to choose the volume level and set a maximum recording time in secosnds. It is also designed with a recording schedule feature for you to automatically record various audio contents to listen to later. This free MP3 recorder only supports Windows system.
Top 3 Free Online MP3 Recorders to Capture Computer Audio
When you search for a free MP3 recorder on the internet, you can get lots of online software results. However, many of them will output a low-quality recording. In case you don't know which one you should choose, we recommend 4 great free online MP3 recorders for you to select from.
123Apps Online Voice Recorder
123Apps Online Voice Recorder is one of the most popular online audio recording tools which can help you record your computer sound and save it as an MP3 file. It offers a straight-forward way to start the audio recording on your computer. You don't need to download any extra installer or extension.

This free MP3 recorder is able to capture your voice through a microphone. Besides the basic audio recording function, 123Apps Online Voice Recorder enables you to edit the captured audio file. For instance, it enables you to trim your recording and remove the useless parts.
Apeaksoft Free Online Audio Recorder
Apeaksoft Free Online Audio Recorder is one famous MP3 audio recording software which allows you to record your computer audio to MP3. It has the capability to capture sound from both system audio card and your microphone. This free online MP3 recorder only works on Windows 10/8/7 computer.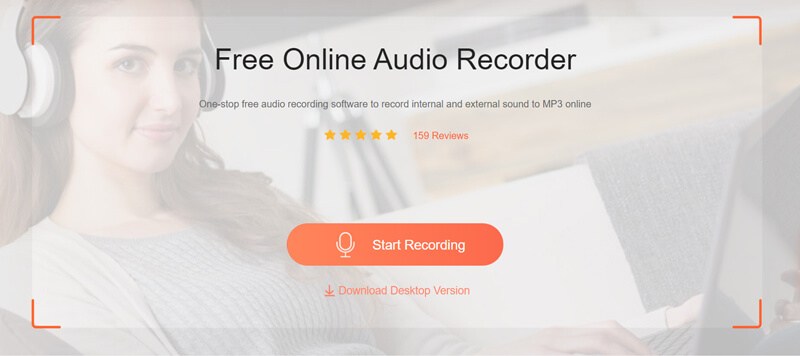 It enables you to record audio while keeping the original high sound quality. After recording, you can play the audio recording and check the music quality with its built-in player. Click the Start Recording button will first install a small-size launcher for the audio recording.
Record MP3 Online
Record MP3 Online is a free voice recording site where you can record all types of audio tracks and save them in MP3 format. It is one kind Mac QuickTime recording way to capture your computer sound. It will extract sound from the microphone.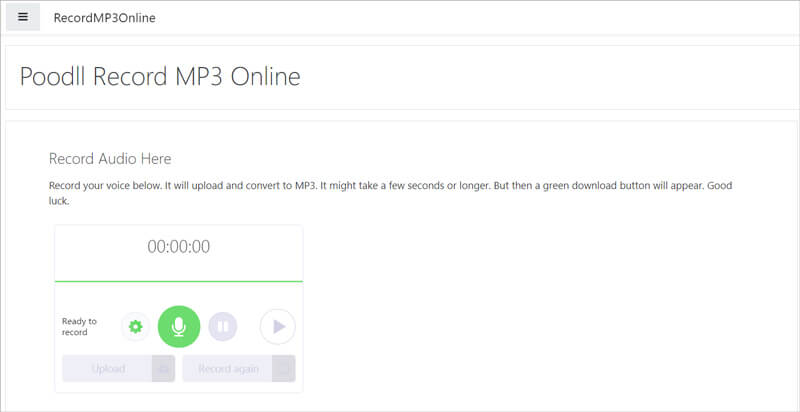 One simple click on REC button will open your computer microphone and start the voice recording. When the voice recording is over, you are allowed to upload the recorded audio and convert it to MP3. The captured audio will be stored on its platform for 30 days.
Top 2 MP3 Capture Apps for iPhone/iPad/Android
You can rely on computer software to record online music, live, lectures, meeting, background audio and more. But when it comes to recording audio on portable device like iPhone, iPad or Android phone, MP3 recorder is mainly used for the voice recording. You can get 2 easy-to-use voice recorder apps in this part.
MP3 recorder for Android - Smart Voice Recorder
Smart Voice Recorder is one very popular audio recording app for Android users. You can free install it on your Android phone from Google Play Store. This audio recorder is mainly designed for high-quality and long-time voice recording.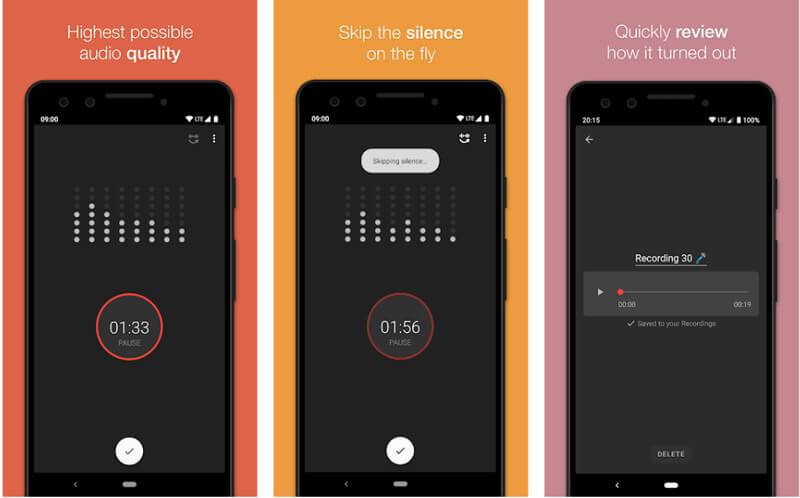 Smart Voice Recorder can offer you a simple voice recording experience. You can get full control of the audio recording. This MP3 recorder also supports Wave/PCM encoding with adjustable sample rate.
Default voice recorder for iPhone - Voice Memo
Voice Memo is the built-in voice recording app in iOS. You can directly use it to capture your voice on iPhone, iPad and iPod. It gives you a convenient way to record audio with high quality. More importantly, this audio recorder can provides you a really stable voice recording experience.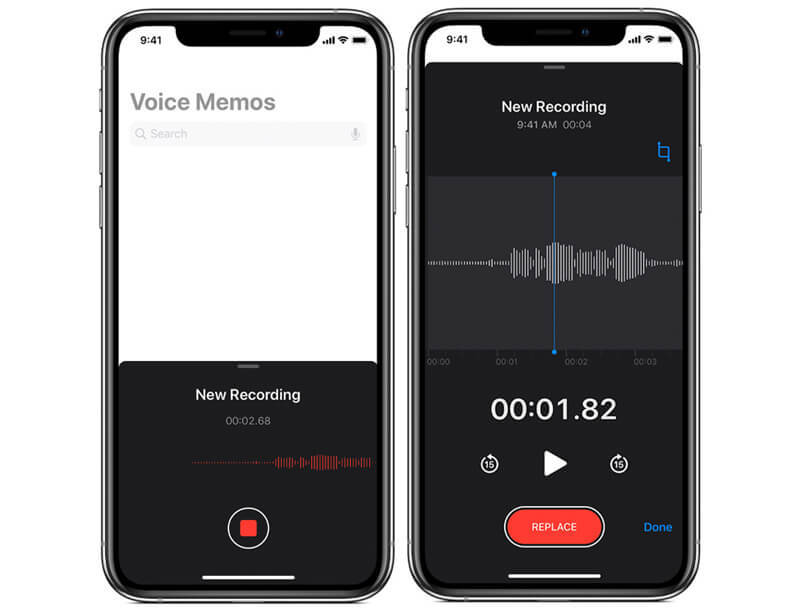 Voice Memo doesn't have any recording time limit. What's more, you are given basic editing features to custom the captured audio. You can trim the recording and only save the necessary part. Voice Memo also carries a share feature for you to directly share the recorded audio through email or social apps.
Conclusion
We have talked about MP3 recorder in this post. Whether you want to capture audio on your Windows 10/8/7 PC, Mac or iOS/Android device, you can find right MP3 recorder here. If you have any other MP3 audio recorder recommendations, you can share them in the comment part with other readers.