Top 5 Slo Mo Video Recorder - Shoot Slow-Motion Video At Once
Slow motion is a cool effect in film-making whereby time seems to be slowed down. Slo mo videos can be shot by high-speed cameras and then play the footage at a normal rate like 30 fps. The playback speed can also be slowed down in post production. Shooting such a video with this kind of cold effect does increase the characteristics of your videos. In this article, we shall introduce you the top 5 slow motion video recorder for iPhone and Android.

Part 1. Top 5 Slo Mo Video Recorder for iPhone/Android
Top 1. SloPro
Price: Free
Platform: iOS & Android
SloPro is a video recording app for iOS and Android to shoot, edit and share videos in smooth slow motion without hassle. You can create clips of any length and apply different speeds, including hyper-slow, very slow, slow, fast, very fast, and hyper-fast. You can choose the video from the gallery or record the video directly. There are a variety of editing options, and you can choose the slow motion speed of the video.
Pros:
It supports shooting video at a frame rate of 1,000 fps.
Equipped with editing features to edit while shooting.
You can share the video to Facebook, Instagram or YouTube.
Cons:
Watermark will be added to the exported video in the free version. (Find screen recorder without watermark)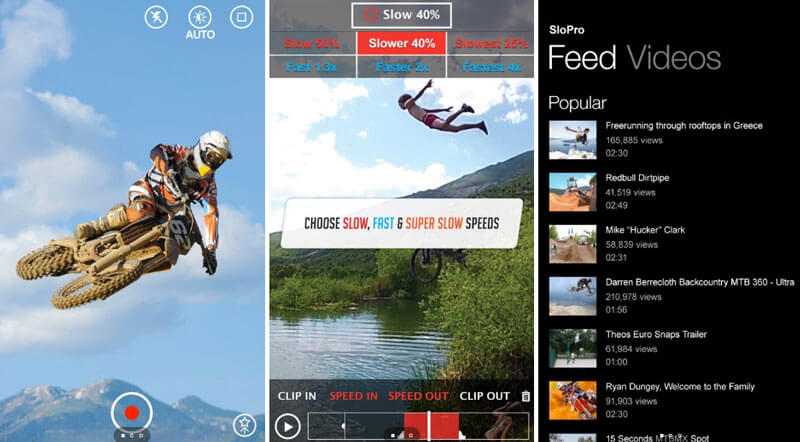 Top 2. Video Speed
Price: Free
Platform: Android
Video Speed is a Slow Motion and Fast Motion Video Editor for Android. You can create slow motion & fast motion playback speed editing into your videos. You can slow your video as slow as 1/4x or fast your video up to 4x. It supports outputting videos in MP4, WMV, 3GP, AVI, MPG, M4V, MOV, etc.
Pros:
The user interface is simple and intuitive.
Select the video from gallery or record video from camera.
It supports a wide range of video file formats.
Cons:
No video or audio editing tools.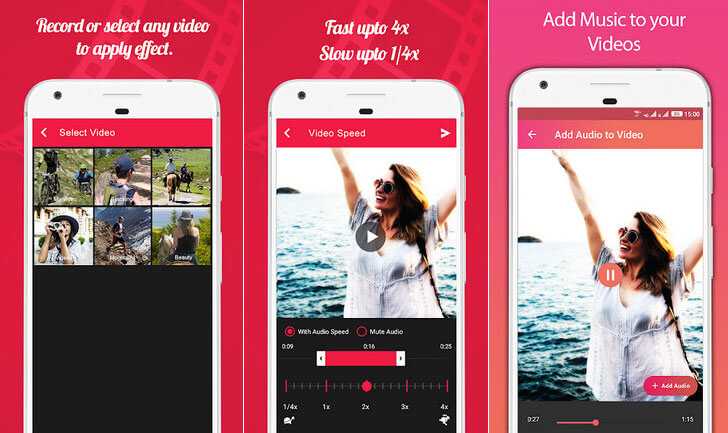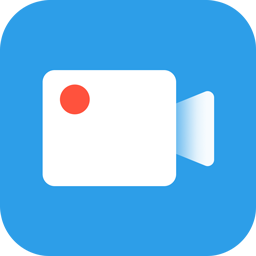 Vidmore Screen Recorder
Record audio source from system sound or microphone audio.
Adjust video output format, codec, quality as well as frame rate.
Set a scheduled task to video or audio automatically.
Add text, arrow, shape, line and mouse effect during the recording.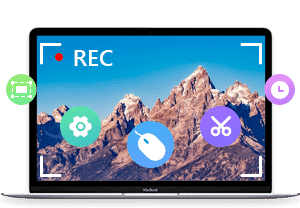 Top 3. Slow Motion Video FX Editor
Price: Free
Platform: Android
Slow Motion Video FX Editor is a fully featured app that helps you create slow videos or fast videos. For making slow motion videos, you can just click the Start Slow Motion button on the home page to start editing. You can also record live videos with speed control options, and share the edited video to Instagram, YouTube, Facebook, Twitter or other channels.
Pros:
It is easy to use with the simple and intuitive interface.
You can adjust the video speed from the curve graph.
It provides a slower voice effect to make your tone go down.
Cons:
The quality was as poor as the free version.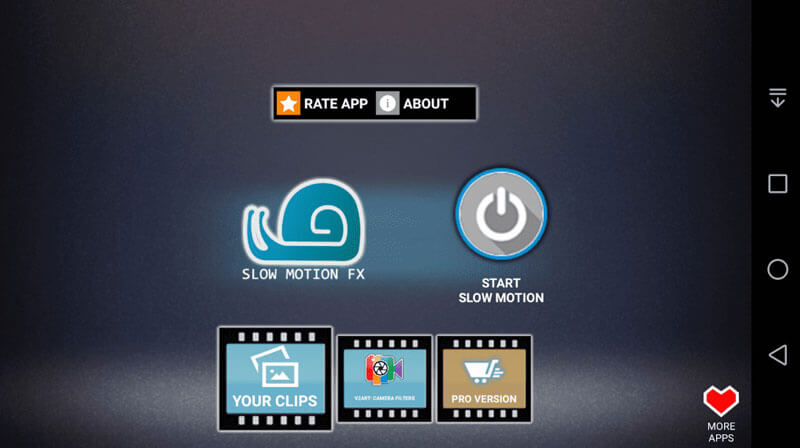 Top 4. Videoshop
Price: Free, but offers in-app purchases
Platform: iPhone, iPad and Android
Videoshop is the fast and easy app to personalize your videos and share with your friends. It allows you to trim videos, adjust color, add annimated titles, record voice overs and more. The amazing part of Videoshop is that you can apply the slow-motion effect to any part of the video clip. After that, you can share the slow motion video on Instagram, Snapchat, Facebook, YouTube, email and more.
Pros:
Add music to your video from Videoshop or personal library.
Merge multiple video clips into one, and cut unwanted parts.
Adjust display like brightness, contrast, saturation, etc.
Cons:
It doesn't support 4K resolution, only supports 720p resolution.
Limited video editing tools in the free version of Videoshop.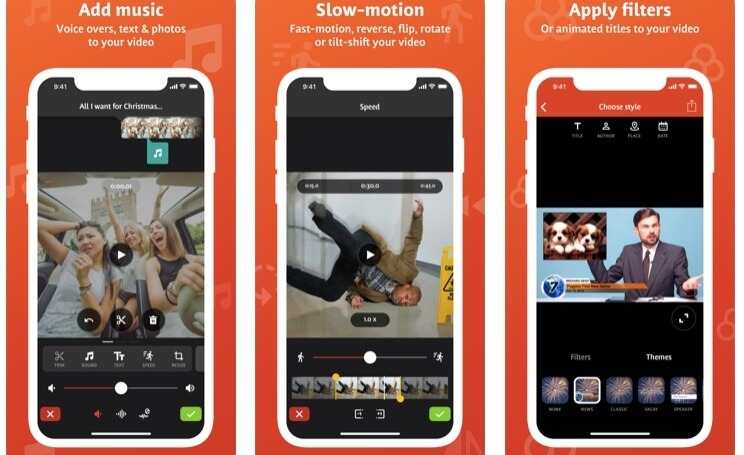 Top 5. SlowCam
Price: $2
Platform: iOS & Android
SlowCam is a simple-to-use app to record amazing slow motion videos in real time. Just tap the Slow Motion button to capture video at 60/120 FPS for ultra slow motion capture. Once a slow motion video is captured, it will be saved to the Camera Roll at 30 frames per second. After that, you can save and export the slow motion video to Instagram, Facebook or Twitter.
Pros:
It produces good quality slow motion video even on older iPhones.
Users can save video in 30 fps format which saved disk space.
Support of 120 FPS (iPhone 5s), 60 FPS (iPhone 5/5C, iPad mini), 30 FPS (others).
Cons:
The slow motion effect is not clear on iPhone 4/4s.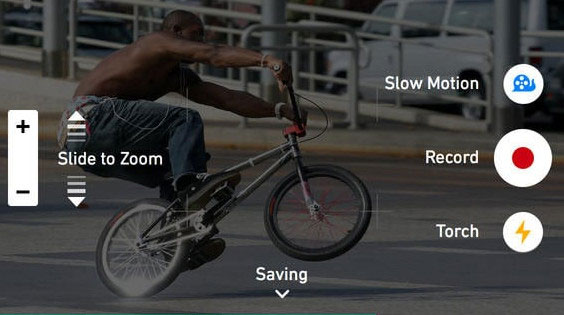 Part 2. FAQs of Slo Mo Video Recorder
1. Can you slow down a video on iPhone?
Yes. You can use Apple's free iMovie to slow down a video on iPhone. Create a new movie project in iMovie, and tap the video clip you want to slow down. Click the timer icon and drag the speed slider toward left, and then the video will be slowed down on your iPhone.
2. How do you record a fast motion video on Instagram?
Open Instagram app on your phone and tap on the Camera icon to enter the Reels video mode. Before recording, you can choose the Speed option to set the speed. For capturing slow motion videos, you can choose 0.3x or 0.5x slower speed.
3. Can you turn a slow motion video to normal?
Yes. Open the Photos app on iPhone and locate to the slow motion video. Tap Edit on the top right and shrink the slow motion portion of the timeline with the sliders. You can eliminate all slow motion from the video and tap Done to turn the slow motion video to normal.
Conclusion
In this article, we mainly introduced the top 5 slow motion video recorder app for iPhone and Android. Hope you can find the best slo mo video recorder. If you have any better suggestions, please don't hesitate to leave us a comment.