7 Best Free Screen Recorders No Watermark (2020 New Post)
To capture whatever you are doing on your desktop, you need a screen recorder. When it comes to screen capturing software, free recorder will always be your first choice. However, most free screen recorders have many disadvantages like poor features, low output quality, and limitations of capturing file size and time. What's worse, they will add watermarks to the produced videos.
Here comes the question, is there any free screen recorder with no watermark?

When you search for free screen recorder no watermark on the internet, you can easily access lots of video audio recording tools. With so many options, you may feel difficult to quickly find a tool that best suits all your requirements. Surely you don't want to download and try them one by one for screencasting. Considering your need, we make a list of 7 great free screen recorders without watermark. You can get basic information and key features of each recorder and then choose your preferred one to capture computer screen.
Best Screen Recorder No Watermark
Record screen and sound on Windows 10/8/7 PC and Mac with high quality.
Support 4K UHD video recording up to 3840 x 2160 resolution with no watermark.
Capture video with full screen, window or selected area without any file size or time limits.
Capture online live videos, 2D/3D gameplay, webcam, video/audio chats, music and more.
Create a picture-in-picture recording while playing video game.
Advanced hardware acceleration technology to record videos with low CPU, GPU and RAM.
Powerful recording/editing features and output captured content in any popular format.
NO.1 Free Screen Recorder No Watermark - ShareX
ShareX is a very popular free screen recorder with no watermark. This open source screen capture has the capability to record any activities on your computer with high quality. It enables you to capture screen with full screen, specific window or customized region. Moreover, it carries fast screen recording function with unlimited features. ShareX is designed with an "Automated Capture" feature to give a great recording experience.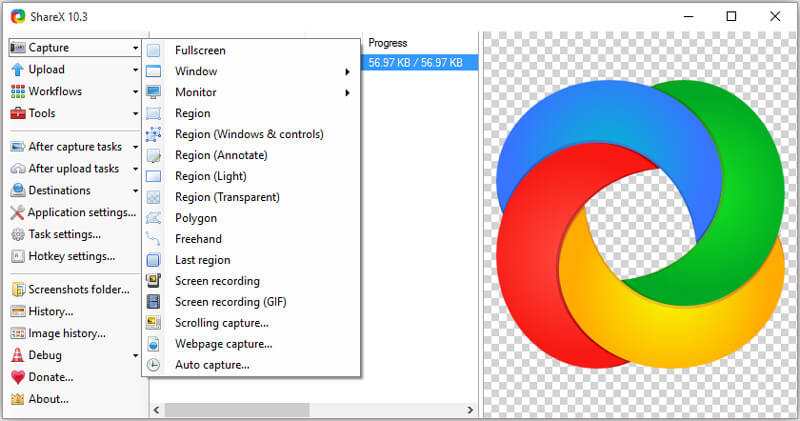 Besides the video recording, this all-featured screen recorder offers many useful settings to custom the captured file. You get easy controls of the effects, drawings and region. As it mentioned above, this free screen recorder won't put any watermark on your recording. There are also no file size and time limits. You can choose to record screen as MP4 or GIF files according to your need. It also provides you with a convenient share feature to directly upload your recordings to YouTube or other platforms.
NO.2 Free Screen Recorder No Watermark for Windows 10 - Game DVR
Game DVR can be the best free screen recorder with no watermark if you are using a Windows 10 PC. Game DVR is one feature of Windows Game Bar. It is mainly designed to capture video games. Actually, it also can help you record other activities on your computer screen. This free screen recorder won't place any watermark onto your recording.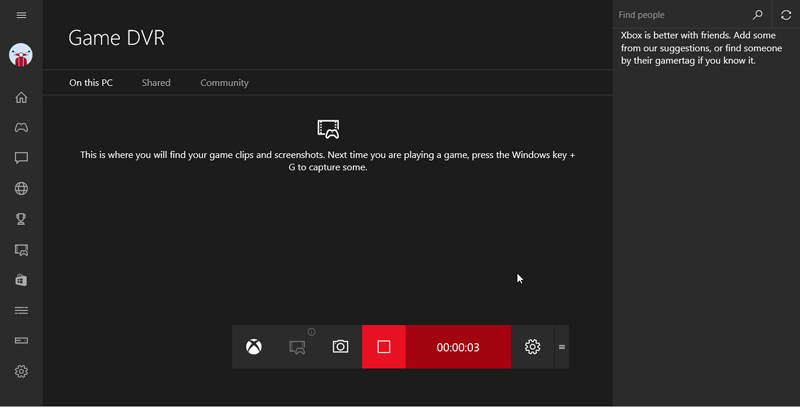 This free screen recorder is pre-installed with Windows 10 system. On your Windows 10 computer, you can easily open it and start capturing by pressing the Win + G on keyboard. Game DVR is totally free and won't add any watermark. But one thing you should concern is that, Game DVR can only record the screen activity of an active program. You can't use it to capture a selected region, record webcam or add annotations. What's more, Game DVR is not compatible with Windows 8 and Windows 7.
NO.3 Free Screen Recorder with No Watermark - OBS
OBS (Open Broadcaster Software) is one of most popular free screen recorder which can help you capture your computer screen without watermark and time limit. As the open source video recording software, it is compatible with Windows 10/8/7, Mac and Linux. OBS is mainly designed for live streaming and screen recording. It enables you to create live videos with window captures, images, text, and webcam contents.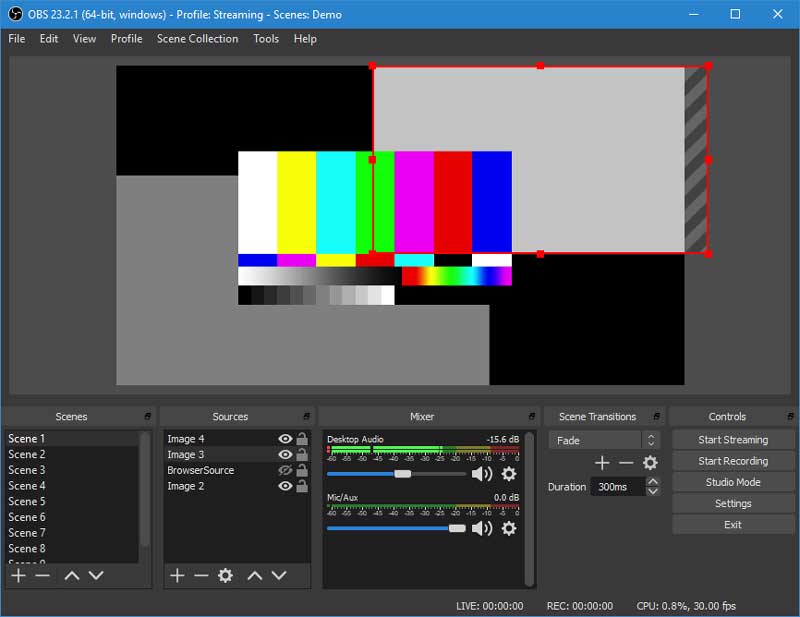 This free screen recorder has the capability to record high quality videos up to 1080p and 60 FPS. In addition, it allows you to capture audio from system sound card and microphone/speaker. With so many features gathered on OBS, you may feel difficult to use it at the beginning. One more thing, your computer may run slow, especially when you do the recording while playing game.
NO.4 Free Screen Recorder without Watermark - Free Cam
Free Cam is another popular free video recorder which can capture videos on your computer with no watermark. It allows you to record the entire screen or selected region based on your need. Free Cam can record mic and system sounds. One cool feature is that, it has the capability to remove noise and adjust volume. However, it doesn't carry the webcam grabbing function.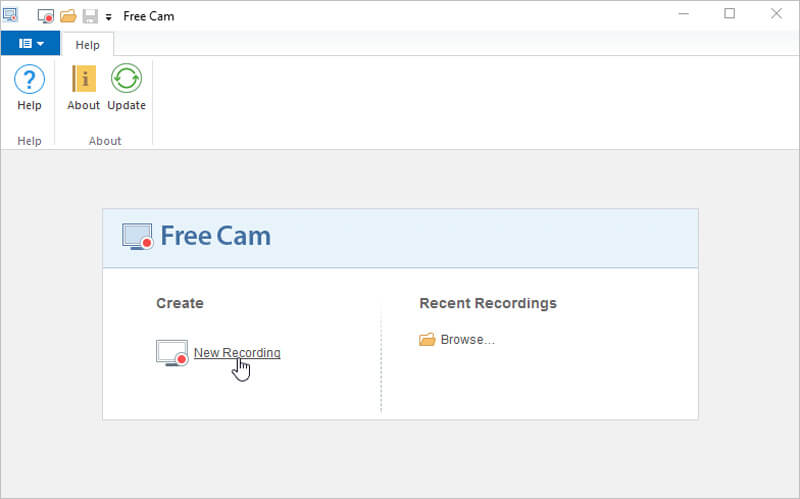 This free video recorder allows you to capture a 760p video smoothly. What's more, you can easily record a voice with your microphone. While the screen capturing, you are able to highlight your mouse cursor and turn on mouse click sounds to emphasize important details and steps. It's quite convenient and useful. The recorded video will be exported as WMV file. If you want to improve the recording quality to 1080p, or save recording in MP4 format, you need to upgrade to the Pro version. Free Cam also has a share feature to help you directly upload recording to YouTube.
NO.5 Free Screen Recorder No Watermark - TinyTake
TinyTake is an easy-to-use free screen recorder which can help you capture videos on computer without watermark. It enables you to record video from the webcam. You can choose the type of screen capture you would like to make your video recordings. Moreover, it carries a useful screenshot feature for you to easily capture an image of the whole screen or just a region.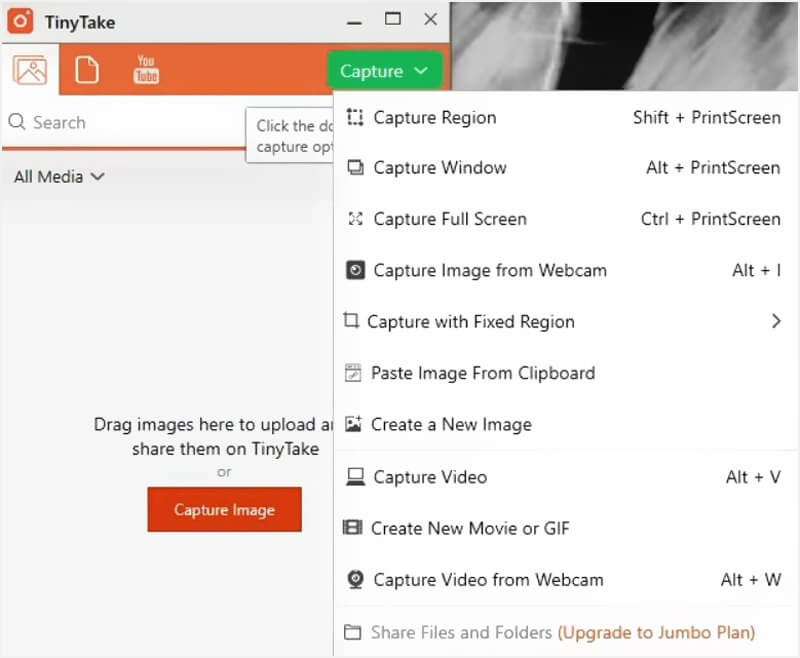 mark up your screenshot with a text box, arrow, highlight and more. It also has a convenient share feature. You can choose to save your captured video on local hard drive, copy to clipboard, or share it through email. There is one time limit on TinyTake. You can only capture a video less than 120 minutes.
NO.6 Free Screen Recorder Online No Watermark - Screencast-O-Matic
Screencast-O-Matic is a famous web-based free screen recorder. It is able to capture computer screen and webcam at the same time. This free screen recorder enables you to record video with entire screen or selected area according to your need. It also offers a simple way to upload your captured video to YouTube.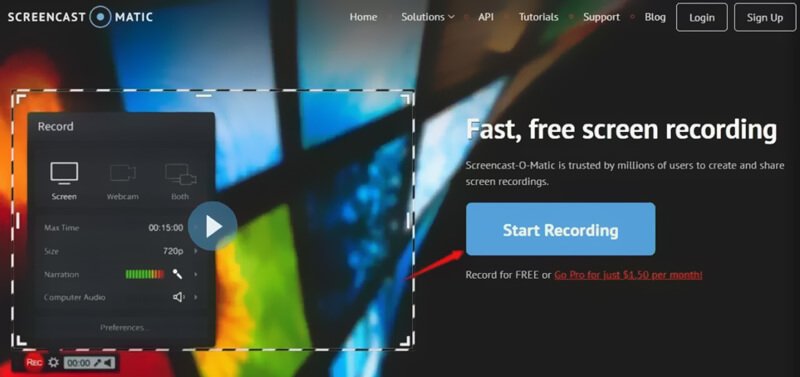 Besides the free version, Screencast-O-Matic also provides you with paid Windows and Mac version. Compared with free online recorder, paid versions are designed with more functions. The free screen recorder won't add watermark to the output video. But it is limited to 15-minute screen recording. What's worse, it doesn't capture audio from system sound.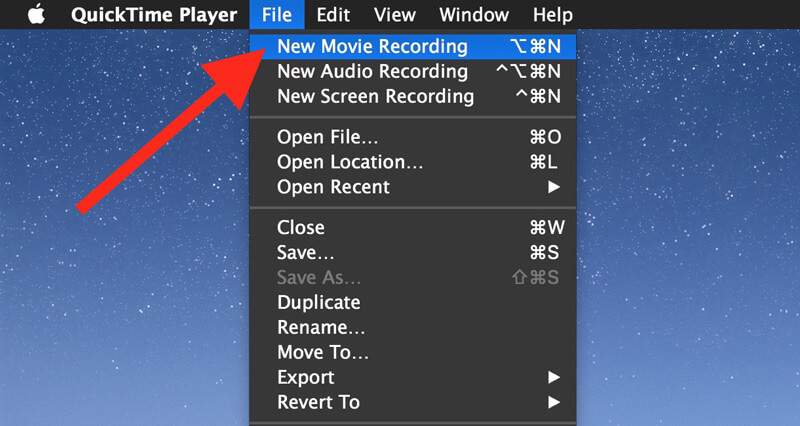 There are some basic editing functions like trim, split, flip and more designed in QuickTime Player. After the capturing, you can edit and custom your video. You can choose to export the recording as MOV or MP4 file as you like. One thing you should know is that, QuickTime Player can't record from the system sound. It only captures audio from microphone.
Conclusion
We mainly talked about free screen recorder no watermark in this post. Surely, you don't want the annoying watermarks. We make a list of top 7 free video recorders for you to choose from. You can get the basic information of each recording software and then pick your preferred one to create your recordings.
In fact, you can directly choose the QuickTime Player if you are a Mac user. If you have the need to capture screen on Windows 10/8/7 PC, you can select one from other 6 recommendations. The recommended Screen Recorder also offers you a free trial. You can free download it and get a better recording experience.