Android MP4 Player - 5 Excellent Software to Play HD MP4 Files
MP4 is a popular video format that is supported to play on a wide range of devices. However, when you watch an MP4 movie on Android, the default media player may offer a blurred image. In that case, a professional Android MP4 player seems a better choice that can provide you higher quality image and more fancy functions.
Struggle with how to choose the best MP4 player for your Android device? Lucky for you to see this post! Here are the top 5 MP4 players on Android. Just read carefully and select one according to your requirements.

Part 1: Top 5 MP4 Player Apps for Android
Top 1: VLC for Android - Free MP4 Player App for Android
VLC for Android is a free and open-source MP4 player for Android users. It supports all video formats like MP4, MKV, etc. When you play your favorite movie in this app, you can adjust both the audio track and the subtitle as you wish.
Play most local video/audio files, network streams, etc.
Provide a media library for audio/video files.
Support controlling the volume, brightness, and seeking.
Completely free with no ads, no in-app-purchases, no spying.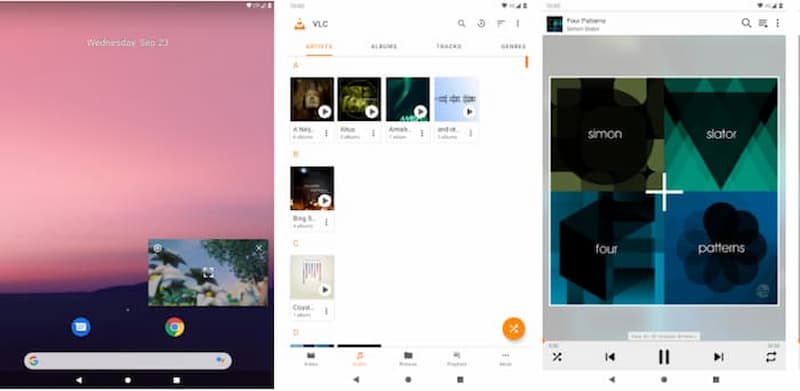 Top 2: MX Player - Full-Featured MP4 Player for Android
As a powerful MP4 player for Android, MX Player has many advanced functions, such as hardware acceleration. Moreover, it is the first Android video player that supports multi-core decoding. And the multi-core device's performance is up to 70% better than single-core devices.
Provide a fast file transfer function without mobile data usage.
Zoom in and out by pinching and swiping across the screen.
Scroll forward/backward to move to the next/previous text.
Support kids-lock function to avoid unnecessary trouble.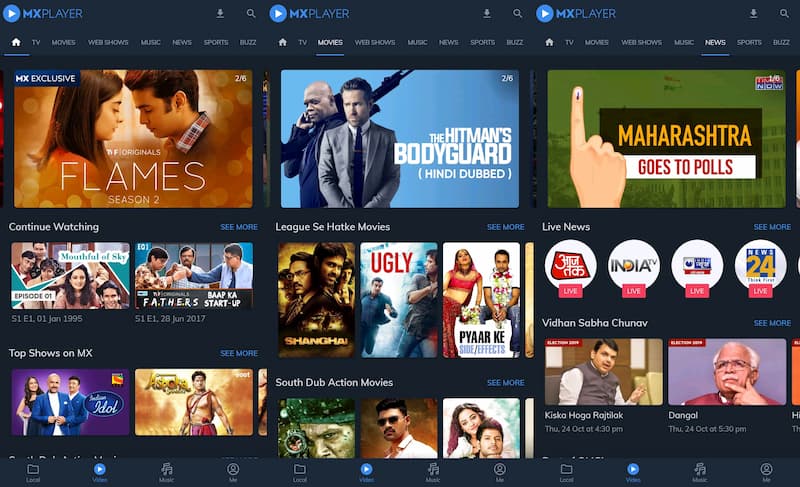 Top 3: BSPlayer - Power-saving MP4 Player for Android
BSPlayer is the top hardware accelerated video player for Android. This feature enables you to play your MP4 file on Android with lesser battery consumption. Moreover, it also allows you to play your favorite videos and MP3 directly from the network shared drives/folders via Wi-Fi.
Support background playback in a pop-up window.
Provide multiple audio streams and subtitles.
Multi-core HW decoding support to improve playback speed.
Lock screen to prevent accidental change of videos.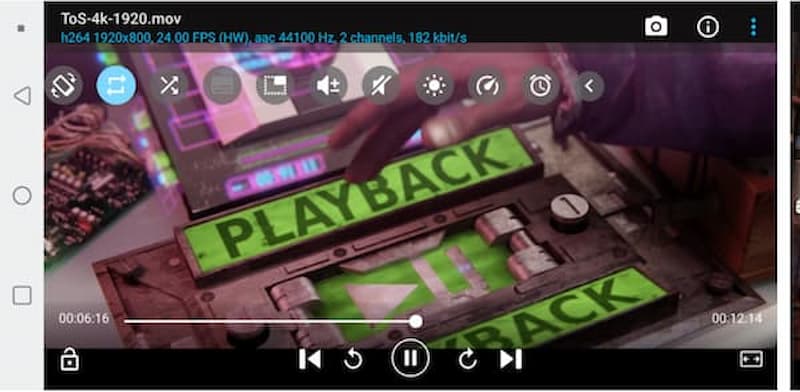 Top 4: KMPlayer - 4K/8K MP4 Player for Android
KMPlayer is a perfect playback tool that can play all types of subtitles and videos. You can play an MP4 file on your Android with a high definition of up to 4K UHD video quality.
Support bookmark on your wanted position to play.
Provide an equalizer for your favorite music and video.
Support playback speed control function up to 0.25 ~ 4 times.
Provide beautiful music and video playback UI.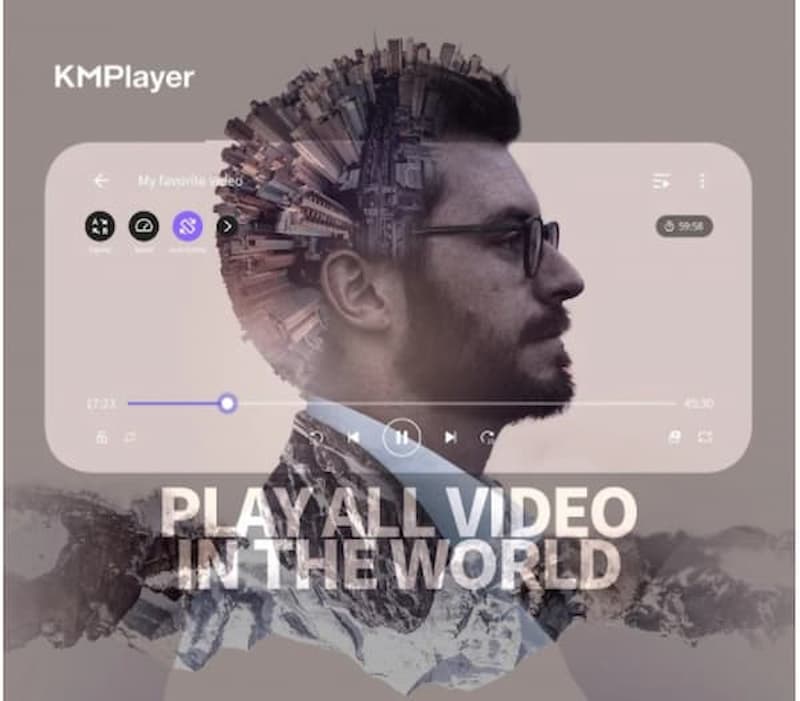 Top 5: FX Player - Multitasking MP4 Player for Android
As an Android MP4 player, FX Player can deliver a variety of features. It supports lots of popular audio and video formats aside from MP4. Moreover, it allows you to watch other apps when you are playing MP4 videos with pop-ups.
Provide a pop-up player to watch other apps simultaneously.
Adjust the video playback speed from 1X to 3X.
Keep your videos stored externally to save your phone space.
Provide zoom function to enlarge/reduce/move specific part.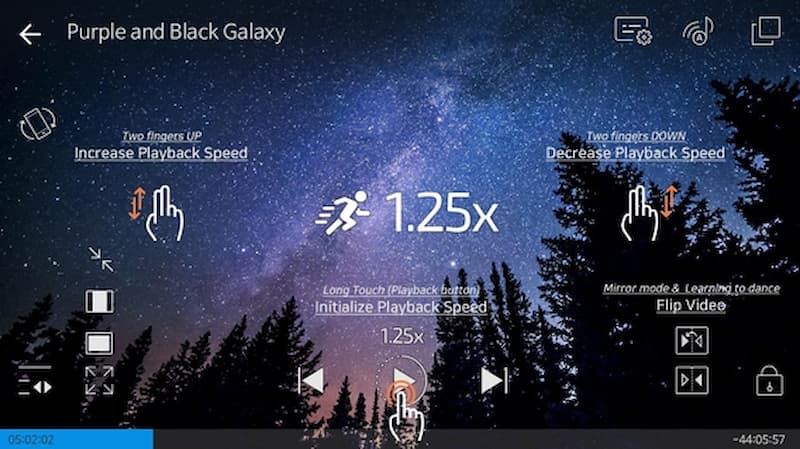 Recommend: Vidmore Player - Universal Android MP4 Player Alternative for Wins/Mac
Vidmore Player is a universal Android MP4 Player Alternative for Wins/Mac. It allows you to play all video/audio formats like MP4 losslessly. There is a navigation menu by which you can adjust the audio/video track, channel, subtitle, etc freely. Moreover, you can use the Snapshot feature to capture your favorite picture.
Guarantee a smooth playback of your MP4 files without lagging.
Provide a navigation menu to adjust the playing settings.
Customize the video effects like hue, brightness, contrast, etc.
Switch the desired audio track to deliver the best sound effect.
Provide you a user-friendly and intuitive interface.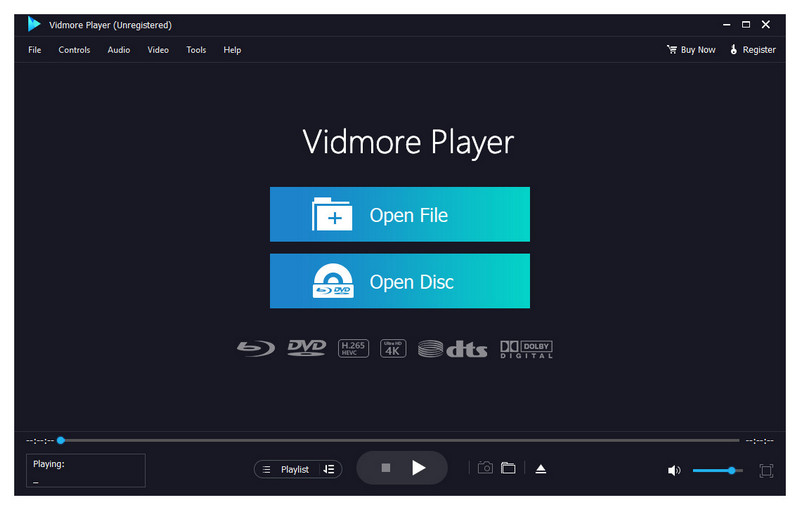 Part 2: FAQs of 5 best MP4 player Apps for Android
1. Can Android play all MP4 files?
No. Android can't play all MP4 files. Although it can open most MP4 files in their default media player app, which are generally movies or music files. However, there are also MP4 files that won't open on Android because the codec of your MP4 file is not supported by your Android media player.
2. What is the best HD video player for Android?
There are a lot of choices. But if you want to free download an HD MP4 player for android, you can choose the VLC for Android, ASD Music, and Video Player, and Xender, etc.
3. Is there audio player software on Android?
Yes, there are many audio player and free music player software on Android, such as FFmpegMediaPlayer.
Conclusion
In this article, we introduce the top 5 excellent MP4 players on Android devices. If you are confused by the issue that your default Android media player can't open MP4 files, you should try the above-mentioned 5 professional playing software. Moreover, if you want to play your favorite MP4 file on Windows or Mac, the Vidmore Player should be your first choice for its powerful functions.