Top 3 ALAC to WAV Converter: Starter Packs You Need
The ALAC format is an audio coding system created and primarily utilized by Apple devices such as the iPhone and iPad and the iPod, iTunes, and similar products. However, you cannot play this kind of format on a device not supported by Apple. Therefore, you need a compatible format on devices that you can play on Windows and other devices. And one of the most excellent types of format is the WAV. Successfully convert ALAC to WAV with the most trusted programs below.

Part 1. How to Convert ALAC to WAV Online and Offline
1. Vidmore Video Converter
Vidmore Video Converter is the market's premier audio and video converter. It is software with a simple user interface. Aside from that, this flexible program is compatible with both Windows and Mac operating systems. Additionally, it supports various audio and video file types, making it quicker and more comfortable for consumers.
Moreover, Vidmore Video Converter can modify videos due to its inclusion of many crucial editing tools. Additionally, it supports batch conversion, enabling users to save most of their time. Finally, Vidmore Video Converter allows you to modify the file's quality. You can find a comprehensive tutorial on converting ALAC to WAV here.
Step 1: Allow the launcher to run on your device by clicking the Free Download icon on the top site. Once it begins to run, you may begin editing your file.
Step 2: After installing the program successfully, you may begin adding files to the timeline. You may click the Add Files button in the timeline's left upper corner. However, you may touch the Plus symbol in the center for a more direct method.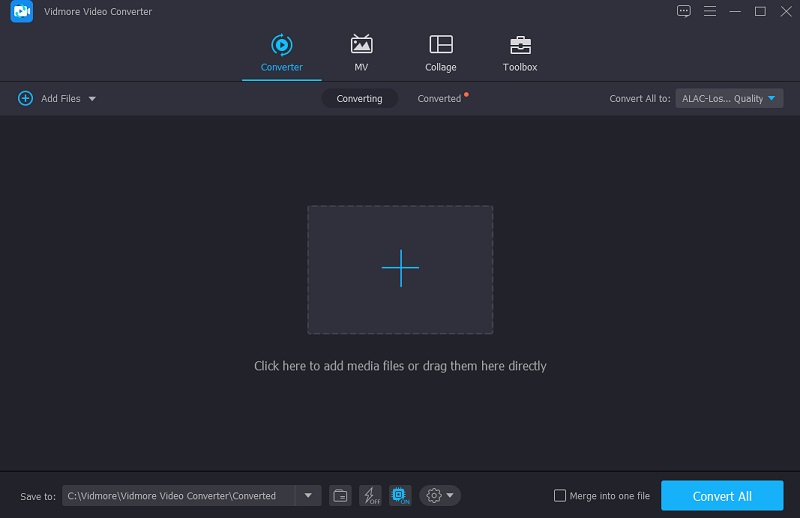 Step 3: After adding the audio track to the timeline, you can go to the Profile menu to see the software's various video and audio types. You'll see an Audio tab. Locate the WAV file using the list on the side.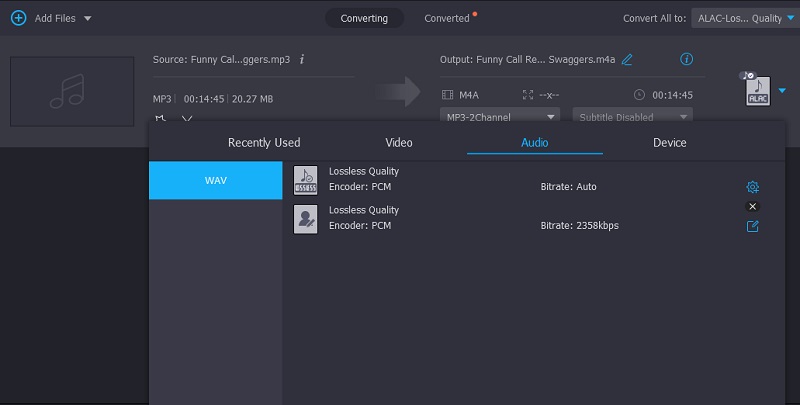 After clicking the WAV file, you may adjust the quality using the Settings button on the side. Then, you'll notice your file's channel, bitrate, and sampling rate. Once you're finished adjusting the file's quality, press the Create New button.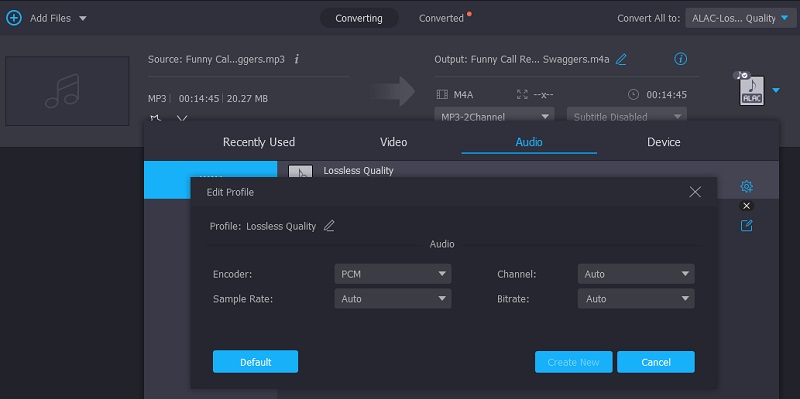 Step 4: After successfully selecting WAV as the new format, click on the Convert All option to make the change permanent and save your work.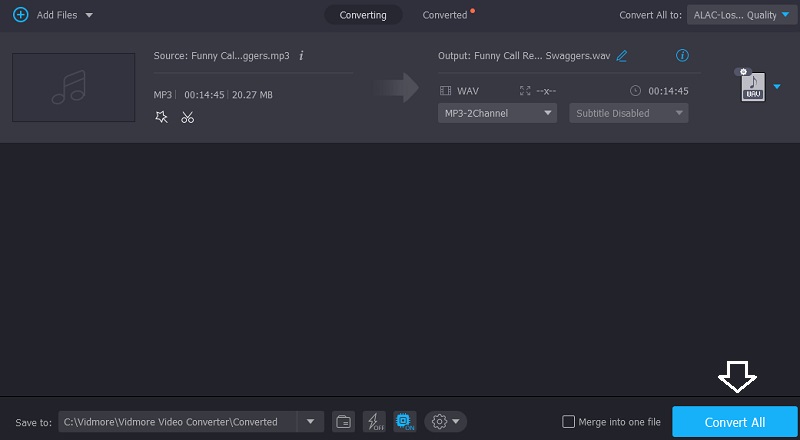 2. iTunes
As an example, suppose you wish to convert ALAC to WAV on a Mac. iTunes should come in handy in these times. It is advantageous for music and film, but it may also be advantageous for converting audio files between formats, such as WAV. Among the several codecs bundled with the program is a WAV encoder. On the other end, Apple's iTunes program does not support all file formats, including FLAC. Consider the straightforward techniques outlined below for changing ALAC to WAV in iTunes.
Step 1: On your machine, launch the iTunes application and then browse to the menu bar, pick iTunes, and then Preferences. Following that, choose Import Settings from the General menu.
Step 2: Select WAV Encoder from the Import Using menu and click OK to confirm.
Step 3: Following that, choose the iTunes file you want to convert. Select the File and then Convert from the menu bar. Under that, hit the Create WAV Version button, and the file will be converted to WAV and stored in the iTunes collection.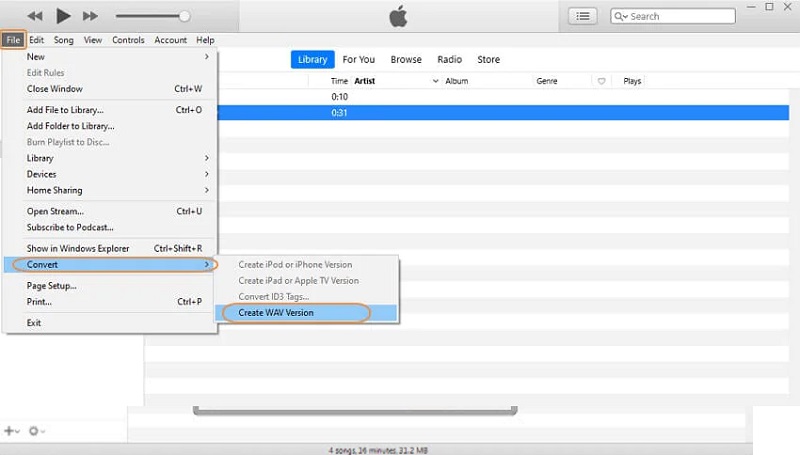 3. Vidmore Free Audio Converter Online
Vidmore Free Audio Converter Online is a simple-to-use program that you can use from anywhere. They have to provide the launcher permission to access their Windows or Macintosh device, and they're done. This audio converter has a virtual interface that enables users to access and alter their audio recordings with ease using their computers. This ALAC to WAV converter is ideal for those who are always on the road and do not want to burden their device with additional apps.
Vidmore Free Audio Converter Online is a simple audio converter. Still, it is worth your time and effort when you use it. It supports many different formats and takes files of various sizes without limitation. This video shows you how to convert ALAC to WAV using this online application.
Step 1: Begin by visiting Vidmore Free Audio Converter Online and activating it. The launcher is accessed by clicking on the Add Files to Convert button. After installing the launcher, you'll be able to access the online form.
Step 2: Multiple clicks on the Add files to convert button will allow you to choose the desired ALAC file. If you add audio, you may find that you may now work more rapidly by editing many audio tracks concurrently.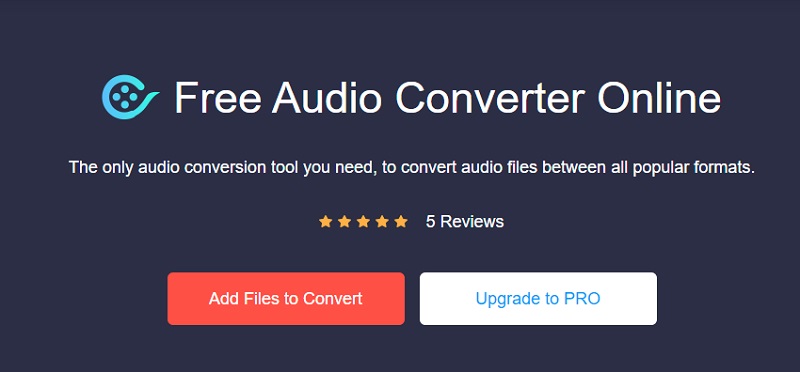 Step 3: At the end of the process, it will show several different video file types on the edge of the screen. Then, at the bottom, choose WAV from the drop-down selection.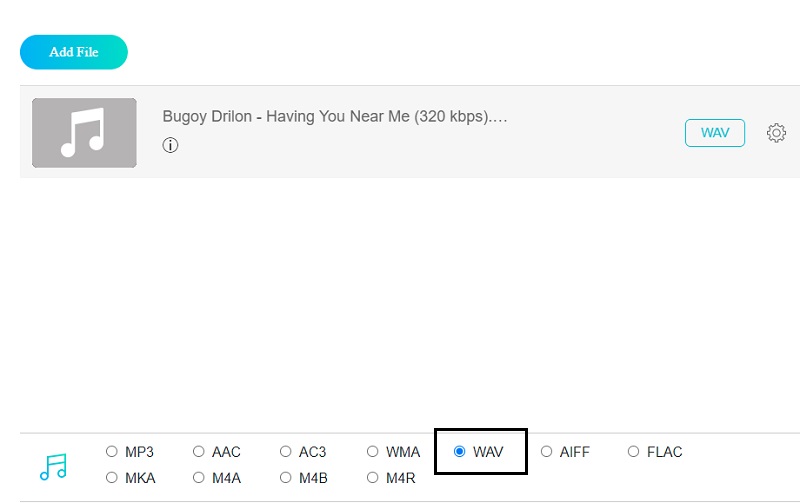 The Settings icon, which you can find to the left of the player's playing controls, allows you to adjust the audio settings and quality. Please close the window by clicking OK when the process has been completed to finish the operation.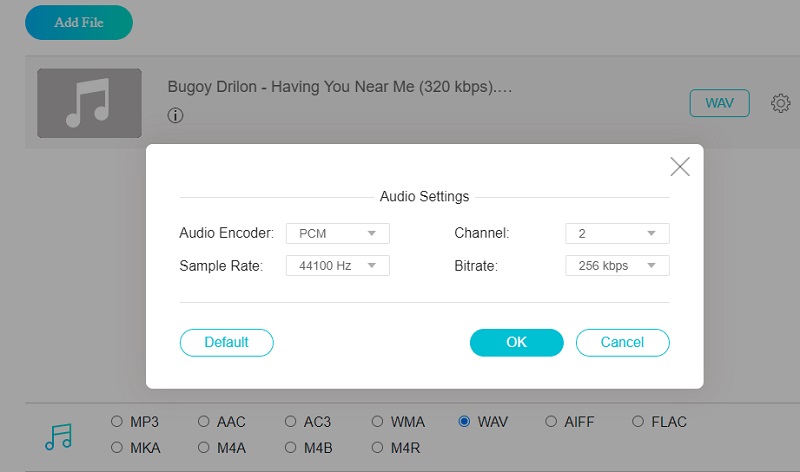 Step 4: To convert a file, click on the Convert button in the toolbar. Next, go to the relevant folder and click on the Select Folder button in the toolbar to begin converting the files.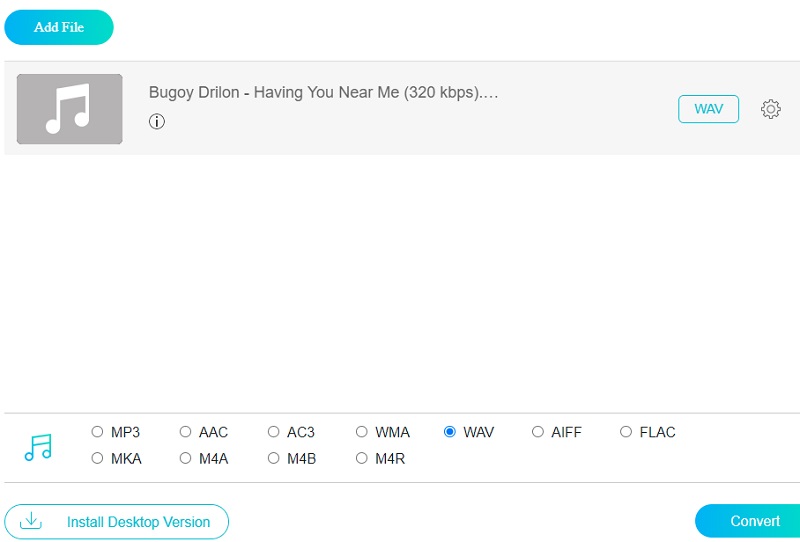 Part 2. Comparison Chart Among Converters
Qualities

Enhance audio and video

Support multiple formats

Intuitive interface
| | | |
| --- | --- | --- |
| Vidmore Video Converter | iTunes | Vidmore Free Audio Converter Online |
| | | |
| | | |
| | | |
Part 3. FAQs About Converting ALAC to WAV
What is not a good thing about WAV?
Because WAV files are enormous, if you don't have enough space on your devices, this will be a source of worry.
Which format is superior, WAV or Apple Lossless?
Apple Lossless is a lossless format that preserves the complete compliance of the uncompressed audio while taking up much less space. And it typically takes up 40 to 60 percent less space than WAV or AIFF files, on average.
What is ALAC suitable for?
ALAC is excellent since it allows you to manage your whole collection via iTunes. If you have an Apple Music or iCloud Music subscription, abandoning iTunes is not an option. You may then gradually build up your lossless music collection.
Conclusions
Since you have a background in ALAC to WAV conversion on iTunes, Vidmore Video Converter, and Vidmore Free Audio Converter, it will be more convenient to choose which tool works more efficiently. Begin changing the format of your file and choose the most appropriate tool for you!