Outstanding Tools to Convert FLAC to WAV on OS X Mac and Windows
Free Lossless Audio Codec or more commonly known by its acronym FLAC, is a file format used for compressing lossless audio files. Since it can retain the original quality even after compression, many users find it superb when it comes to audio quality compared to MP3 and WMA formats.
WAV files, in the same way, provide high-quality audio not to mention they have high compatibility with most portable gadgets and media players. Being that said, ways to convert FLAC to WAV might be a need. So, if you want to enjoy your FLAC files without worrying about issues about compatibility, then read through this post.

Part 1. How to Convert FLAC to WAV on Mac
1. Vidmore Video Converter
Vidmore Video Converter is a robust program that is jam-packed with extra helpful features besides converting tools. It allows you to convert both audio and videos without restriction with the size of the converts. Moreover, you can operate batch convert to WAV and without strictly monitoring them as the tool can operate in the background. This means that you can do other tasks and leave it running. The best part is you can utilize all its features either on Mac and Windows PC. Now here are detailed instructions about how to convert FLAC to WAV on OS X on Mac and Windows PC.
Step 1. Obtain the software
Before you can convert, get the program by downloading and installing the app. Choose the appropriate OS for your system.
Step 2. Add FLAC file
Then, hit the Plus icon on the main interface to add your FLAC file. To conveniently add your files, you may also use its drag-and-drop feature.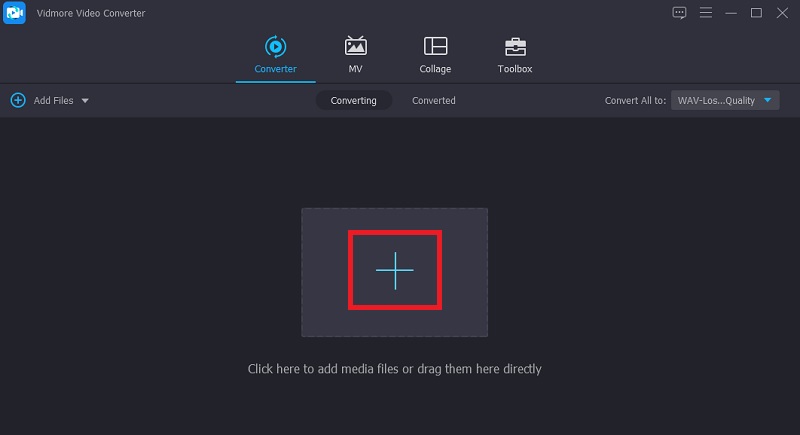 Step 3. Select WAV as output file
Next, go to the Profile menu and hit the Audio tab. From there, you will see various output audio formats available. Now select WAV and resume to the Converter tab.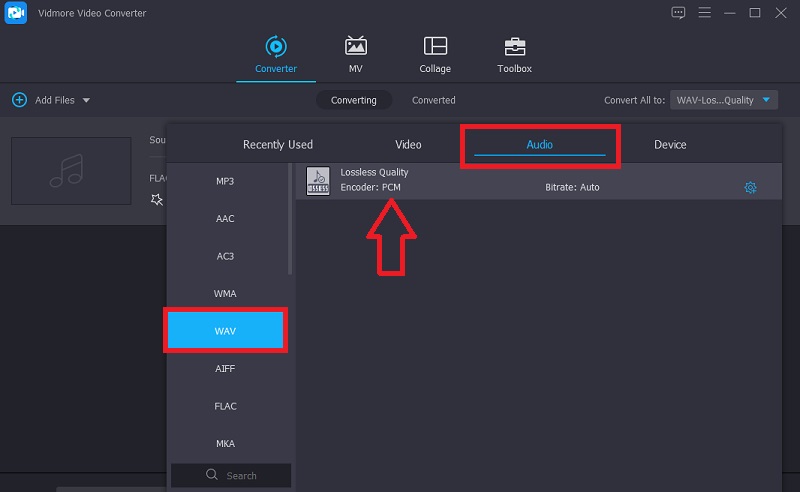 Step 4. Start the conversion process
Once you are done selecting an output format, set a location where you want to save the final version of the file and click the Convert All button at the bottom of the interface.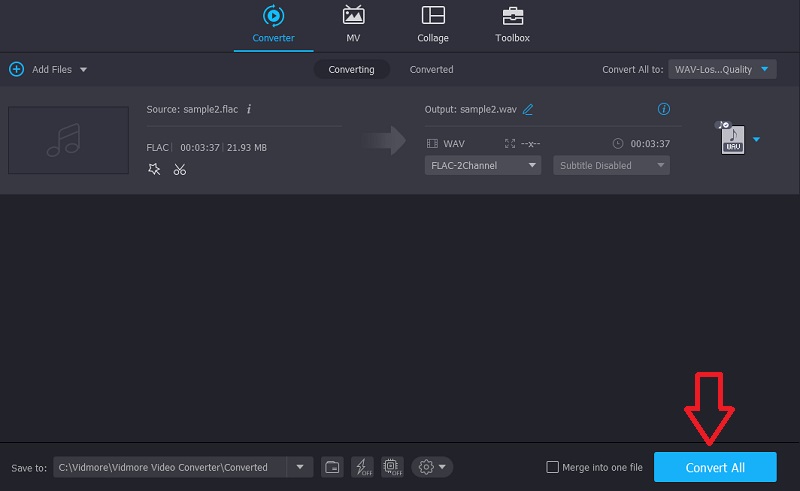 2. iTunes
Another tool that will help you convert FLAC to WAV is iTunes. Primarily, it is a music player for Apple devices like iPhone and iPad that also allows you to stream movies and TV shows. Proving its versatility, the application integrates a conversion tool allowing you to turn your FLAC to WAV in no time. However, you might need to convert FLAC first to AAC to be able to upload them to iTunes. Nevertheless, it's feasible for those who want a native app to convert FLAC to WAV on OS X. Most of all, it is not only compatible with Mac but also on Windows PC. Now to convert FLAC to WAV on iTunes, you can refer to the steps below to operate the program.
Step 1. First of all, convert FLAC files to AAC using any converter that you are comfortable using.
Step 2. Next, upload the file to the iTunes library. To do this, click on the File menu. Select Add File to Library then upload your target file.
Step 3. After uploading, go to Edit > Preferences > Import Settings. Then change the Import Using to WAV Encoder and hit the OK button.
Step 4. Finally, select the file that you wish to convert. Navigate again to File > Convert > Create WAV Version.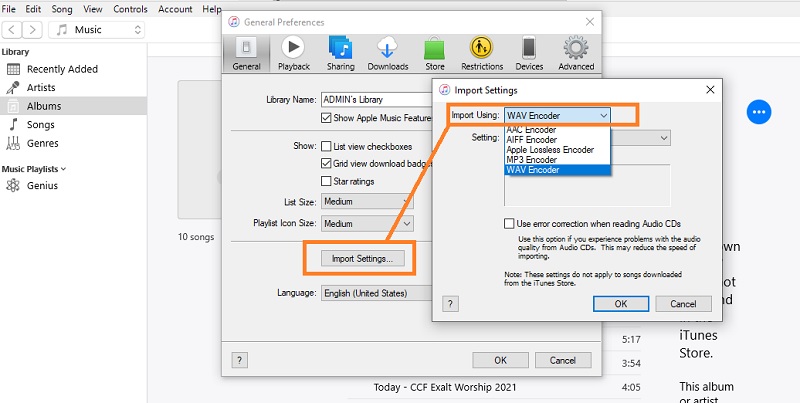 3. Audacity
Being a well-known audio editor, Audacity may also come in handy when it comes to converting audio files into other formats. With it, you won't be able to experience any issue in terms of uploading FLAC files. In addition, you can do some modifications prior to the conversion process. This lets you trim audio, and add effects according to your liking. Most importantly, Audacity FLAC to WAV conversion is done in simple steps. To learn how to operate this app, take a look at the simplified guide below.
Step 1. On your Mac, download and install Audacity then launch it.
Step 2. Upload your target FLAC file by navigating to File > Import > Audio. From the folder that will appear, select the FLAC file that needs to be converted.
Step 3. To convert FLAC to WAV, click on the File menu and hover to the Export option.
Step 4. From here, select Export as WAV and then set an output folder where you want to save the processed audio. Hit Save to confirm the changes.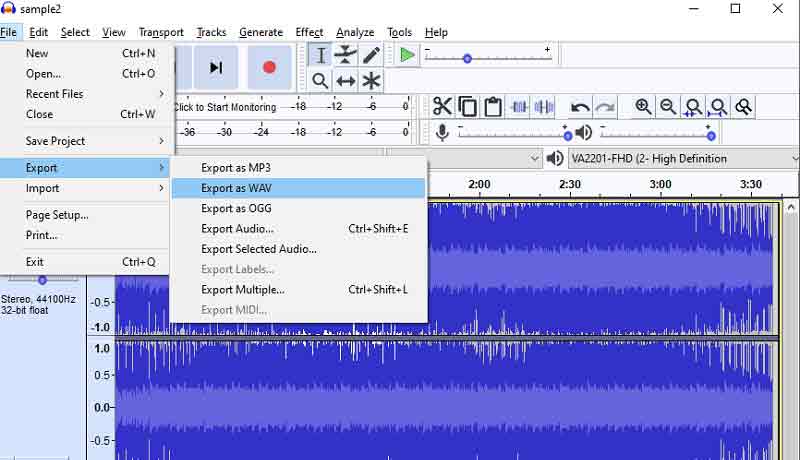 Part 2. How to Convert FLAC to WAV on Windows
If you are wondering how you can convert FLAC to WAV on Windows, there are a lot of programs and methods that you can employ. Below we will discuss two ways on how you convert on Windows.
1. VLC Media Player
Just like iTunes, VLC Media Player is traditionally used for audio and video streaming. On the other hand, this can also be of great help when you need to convert audio or video to other media formats. In the case of converting FLAC to WAV, it does the job well. See the steps below to learn how VLC FLAC to WAV conversion works.
Step 1. Open the VLC app and go to the Convert tab.
Step 2. To add a FLAC file, click the Add button from the Open Media tab. Hit the Convert/Save button afterward.
Step 3. Create a profile by setting the audio Codec to WAV under the Audio tab.
Step 4. To start the conversion process, select the WAV profile you created from the Profile menu and hit the Start button.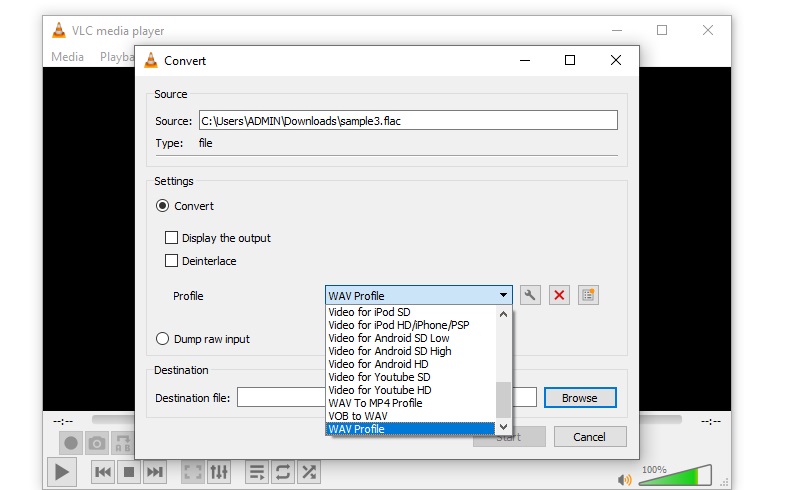 2. Vidmore Free Video Converter
At times that you don't want to download an additional program, you should consider using a web-based app like Vidmore Free Video Converter. It supports a bunch of input and output formats despite being an online converter. That means it can compete with desktop programs. The fact that it can convert multiple files at the same time is also worth mentioning. If you want to explore more what's up on its sleeve, then here's a step-by-step procedure to utilize it.
Step 1. Visit Vidmore Free Video Converter's website and take a quick installation of the launcher by clicking the Add files to convert button from the main interface.
Step 2. Once the launcher initiates, select your target FLAC file that you wish to convert.
Step 3. Click on the Music icon and you will see a couple of audio formats available. Select WAV then hit the Convert button.
Step 4. Set a folder location and then click the Convert button again for the process to commence.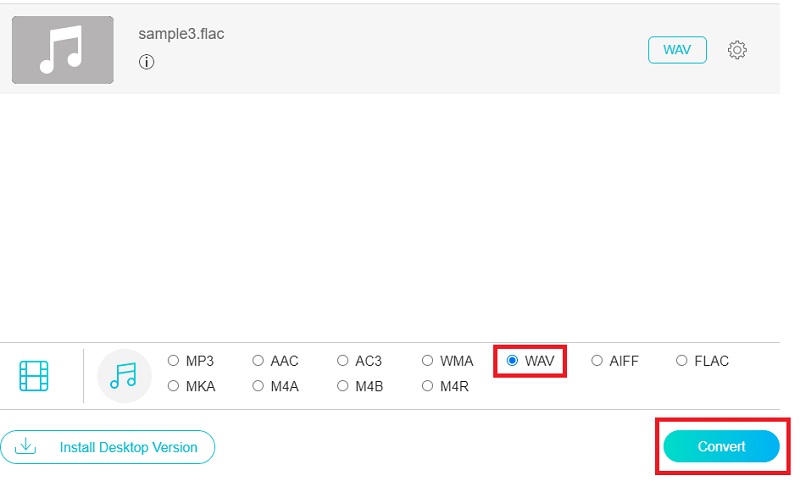 Part 3. FAQs of FLAC to WAV
How to decompress FLAC to WAV?
Since FLAC is an uncompressed format, you will be able to decompress it when you edit it using audio editors like Audacity.
What is the best FLAC to WAV converter for Mac?
When looking for the best converter, it's important to consider efficiency. All the aforementioned tools are effective yet if you are looking for a more functional program, Vidmore is the obvious answer.
Which is better, FLAC or WAV?
It depends on the usage. If your purpose is to edit audio, WAV files are great. Yet for storing more music, FLAC files are great since they are compressed. Hence, they don't take a lot of space.
Conclusion
All the aforementioned tools are easy to operate even a non-techy user could be able to convert FLAC to WAV in a matter of seconds using these programs. Just pick which one is most suitable for your needs.