Convert CAF to MP3 for Free Online and on a Desktop with Great Ease
CAF, otherwise known as Core Audio Format, is an audio container maintained by Apple Inc. and developed for the Apple QuickTime framework. That is why this program is compatible with Mac OS X and later. This audio file format was designed to fill in the shortcomings of older digital formats, like AIFF and WAV. It supports extensive audio editing applications and delivers high-quality playback.
However, it can be pretty challenging if you plan to use this audio file on different devices and players. Switching to a flexible and universal audio file format like MP3 is a great choice. That said, we researched the best and most practical tools to convert CAF to MP3 effortlessly. Check them out below to learn more.

Part 1. How to Convert CAF to MP3 on Windows/Mac
1. Vidmore Video Converter
Vidmore Video Converter is a professional tool you can use to convert audio files to MP3 or other audio file formats. Apart from that, it also supports video conversion. Besides, you can process audio/video files bulk, making it easier to handle multiple conversions. Whether you like to convert with a single audio file or in bulk, the program can work it out for you.
Best of all, the program comes with options to customize and set a profile for your audio conversion. You can set the encoder, sample rate, channel, and bitrate. Meanwhile, there are pre-made profiles, including low quality, medium quality, and high quality, for your convenience. On the other hand, check out the instructional guide to learn how to change CAF to MP3.
Step 1. Install the CAF to MP3 Converter
Before anything else, click on one of the Free Download buttons below to download the tool. Next, install and open it on your computer to see its working interface. As you can see, there are links for Windows and Mac. Hence, you can convert CAF to MP3 on Windows and Mac. You may circumnavigate the program to get used to its interface and functionalities.
Step 2. Add CAF audio tracks
Next, click the Plus sign button and load the CAF audio files to the program. You may also click the Add Files drop-down button and choose Add Folder to add multiple CAF files.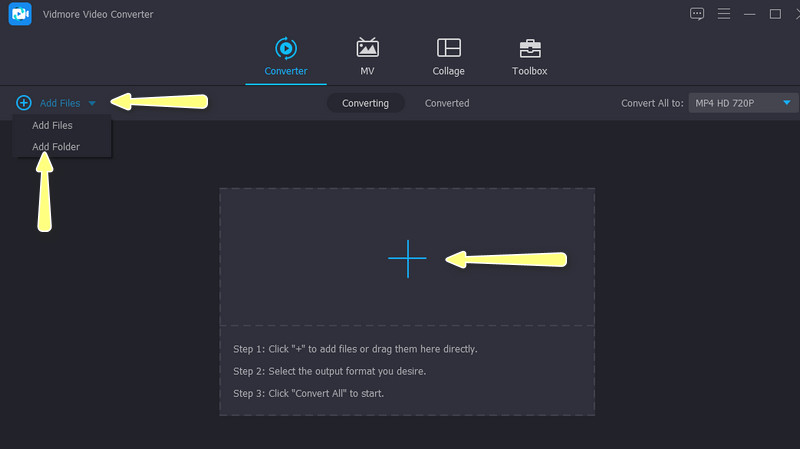 Step 3. Define the output settings
After loading audio files to the program, expand the Profile drop-down menu. Then, go to Audio and select MP3 on the left side menu. There are available profiles to choose from when you select MP3. Alternatively, you may customize your own by hitting the Custom Profile icon. By then, you may change the profile according to your needs.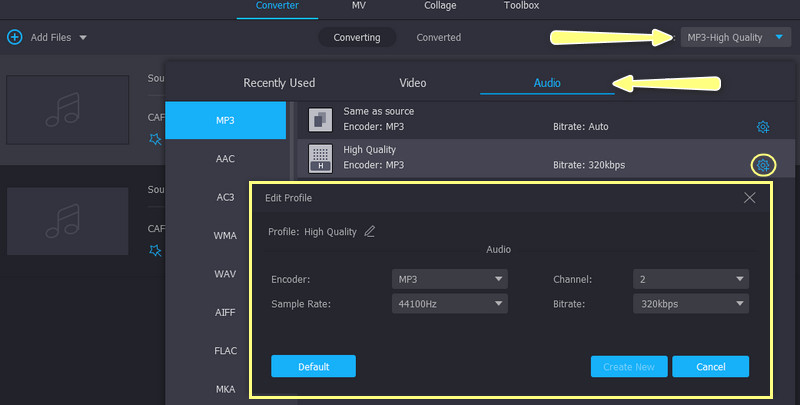 Step 4. Convert CAF to MP3
Before the conversion commences, set a location where you wish to save the converted audio files. At the bottom of the tool's interface, you will see the folder path. Click on it and edit it accordingly. Next, click Convert All at the bottom right-hand side of the interface. Since the program facilitates batch conversion, all the loaded CAF files will be converted to MP3 simultaneously.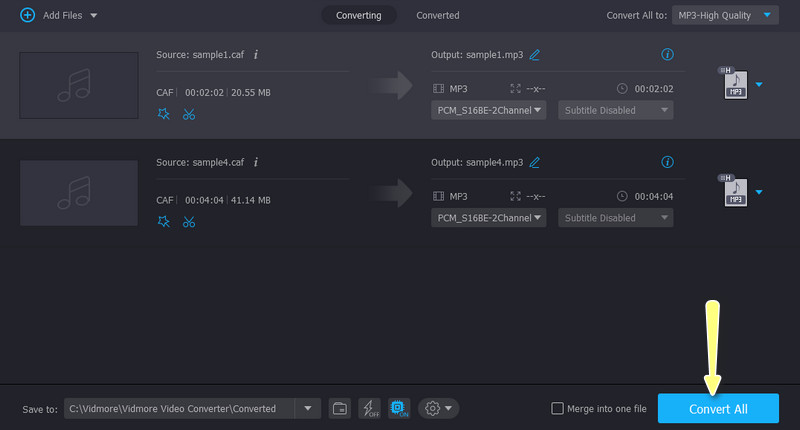 2. MediaHuman Audio Converter
Another superb audio converter you should take into consideration is MediaHuman Audio Converter. The program offers various audio formats to convert into. That includes MP3, AAC, AIFF, FLAC, ALAC, and a lot more. Above all, it comes with a preset of profiles, so you do not have to edit manually. Follow the steps below to convert to MP3 on Windows or Mac.
Step 1. Obtain and install MediaHuman Audio Converter from its official website.
Step 2. Now, load CAF files into the program by clicking the Plus sign icon. Optionally, you can drag the audio files into its interface to upload files.
Step 3. After that, go to the Profile menu and set it to MP3. Next to the audio format menu are the output settings. Select an output profile or customize one.
Step 4. Finally, hit the Start Conversion icon beside the Profile menu to initiate the process.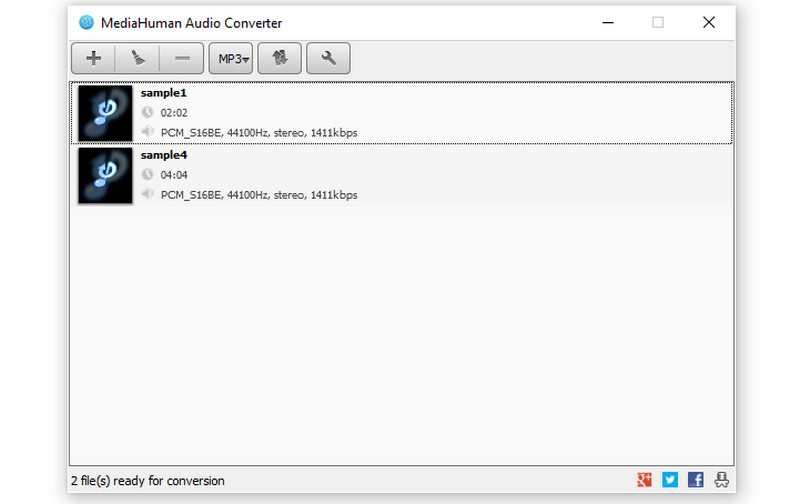 Part 2. How to Convert CAF to MP3 for Free Online
If you are looking for convenience, online programs are for you. There is no need for you to download anything on your device because all the process happens in a browser. Here, we curated the best tools you may use to convert CAF to MP3. Check them out below.
1. FreeConvert
Using FreeConvert as your CAF to MP3 converter online enables you to process audio files efficiently. Likewise, the program allows for converting multiple files at once. Aside from MP3, you can convert files to FLAC, ALAC, M4A, WMA, AIFF, and other popular audio files. On top of that, you may also change the format to audio devices.
Pros:
Adjust volume and increase volume up to 200%.
Apply fade-in and out audio effects.
Trim start and end audio.
Cons:
Limited export audio and video formats.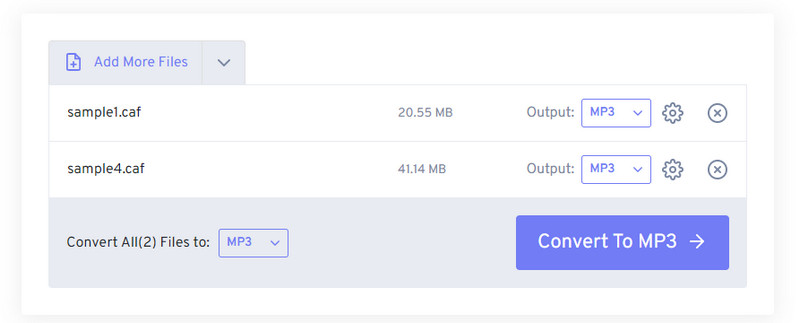 2. Audio Converter by 123Apps
Another online tool you can consider using to convert CAF to MP3 is Audio Converter by 123Apps. The program does not only enable you to import from your local drive but also from cloud storage, like Google Drive and Dropbox. Moreover, users may access some advanced settings, letting you alter bitrate, sample rate, fade, channels, etc. Since it works through a browser, you can convert CAF to MP3 on Mac or Windows PC.
Pros:
It offers quality presets, such as economy, standard, good, and best.
Convert audio to WAV, iPhone ringtone, M4A, FLAC, etc.
Edit track information of audio.
Cons:
The interface of the program is loaded with ads.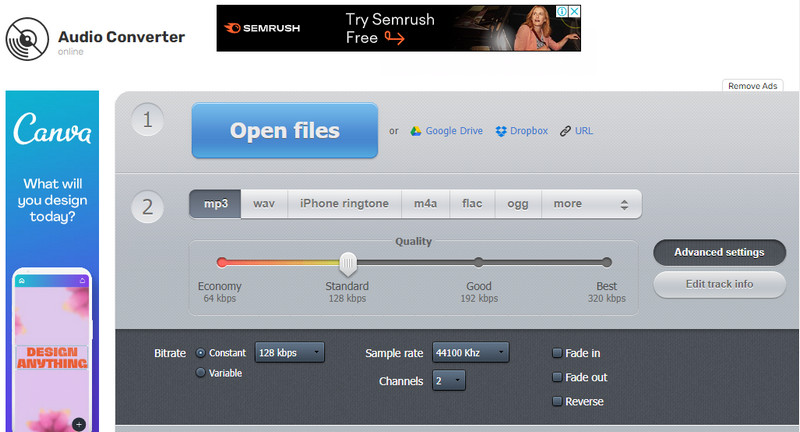 Part 3. FAQs About Converting CAF to MP3
How can I open CAF files on Windows?
As you may know, CAF files are only supported by Mac operating systems. For you to play it on Windows, you need to convert it to MP3.
How do I convert MP4 to MP3?
If you wish to extract audio from your MP4, you may convert it to MP3 using Windows Media Player.
What program can open CAF files?
Numerous audio players accept CAF files. You can play CAF files using VideoLan VLC player, Quicktime Player 7 and above, and NCH WavePad.
Conclusion
Above are the programs you may use to convert CAF to MP3. There are audio converters CAF to MP3 free to download and online tools you can use. Therefore, if you wish to process offline, the desktop tools are suitable for you. On the other hand, use the online tools if you wish to process audio files without downloading anything.