2 Best CAF to M4A Converter: Online and Offline Ways
Some of the supported formats of Apple are the CAF and M4A. iPhone and Mac operating devices only support these audio formats. CAF audio file is similar to the AIFF type, which has a large file size. That is why others prefer the M4A files over the CAF format. If you know that your storage device is being consumed with CAF files, you may consider converting them to M4A. Find the online and offline ways to convert CAF to M4A.

Part 1. What is CAF and M4A File?
What is CAF?
The CAF file extension is used for a proprietary audio file format, also known as Apple Core Audio Format. Apple, Inc. developed the CAF file format for the Apple QuickTime framework. These .caf files contain digital audio data that has been saved with 64-bit file offset encoding specifications. High-resolution records can store audio data in these CAF files.
This audio file format also supports high-quality playback and extensive audio editing applications, and larger than usual file sizes. Unlike other audio file formats with file size limits of around 15 minutes or 4Gb of audio, these .caf files can store recorded audio data worth years of playback. A CAF file can store any audio data in any number of channels. This file format also supports storing auxiliary data like text annotations, captions, and markers.
What is M4A?
Apple is responsible for developing the M4A file extension, which is used to store audio data. The M4A file format denotes the audio layer of MPEG 4 movies that do not include video. It is encoded with AAC. M4A is commonly viewed as the successor to MP3. It is a new codec that is expected to be adopted as a new standard for the compression of audio files. It produces better audio quality and is smaller in size than MP3 files.
Part 2. How to Convert CAF to M4A Quickly
There are different ways to convert CAF to M4A without having difficulty. It is through online and offline solutions. But keep in mind that online ways have limitations, unlike offline tools. But all in all, it will help you convert CAF to M4A.
1. Vidmore Video Converter
With the aid of the Vidmore Video Converter, you may convert CAF files to M4A in the most secure manner possible. This application can run on various operating systems, including Microsoft Windows and Apple macOS. There are no restrictions on the audio and video files that may convert with Vidmore. The Vidmore Video Converter is capable of a wide variety of file formats, back to the very first ones ever created. Customers can rely on the program despite the file type in which their data is recorded, which is one of the benefits offered by the software. In addition to that, batch conversions may be performed using this software.
It indicates that you can convert an unlimited number of films and audio files in parallel. As a result of the inefficiencies, you will not be required to convert your files. The fact that it may improve the quality of the audio or video you are working with makes it more user-friendly for most users. You are the only person who will ever get this special education.
Step 1: Proceed to the program's main page and select the button for Free Download when you get there. After that, you should give the launcher some time to operate on your machine. After completing the installation process, you are now able to send in your file.
Step 2: After that, go to the CAF file stored on your computer's hard disk by choosing it from the Add Files option, which is situated on the left side of the screen. You may add more by selecting the Plus button in the screen's center. It is an additional option.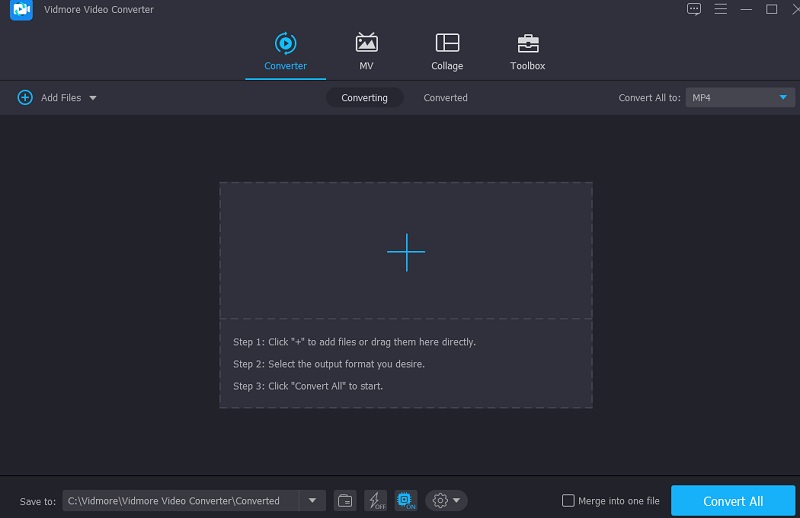 Step 3: Once the CAF files have been loaded into the timeline, you may begin the way by changing them to a different format. The Profile tab is accessible through the dropdown list on the screen's right side. Then, go to the Audio section and locate the M4A file inside. After determining the format you need, you must make modifications to it.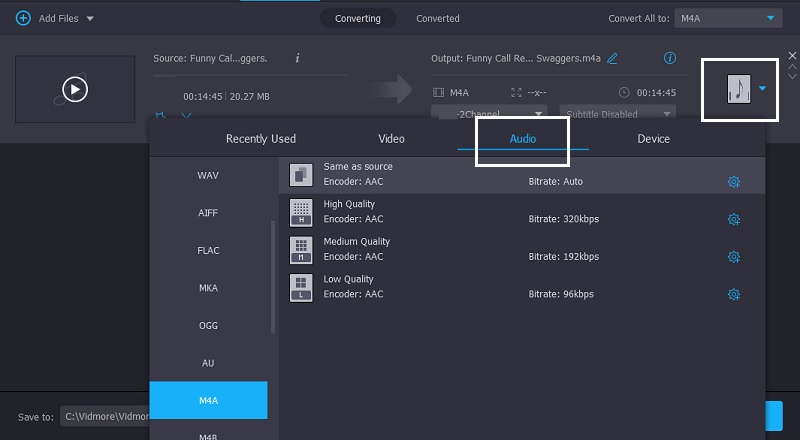 To change the size and quality of a file, click the Settings icon in its upper-right corner. After customizing the file's size in the preceding step, tap the Create New button in the following section.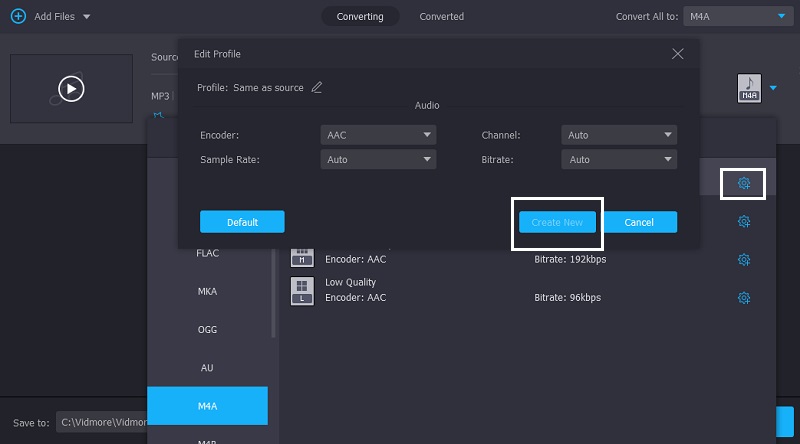 Step 4: After making any necessary modifications to your file, you can complete the conversion process by clicking the Convert All option at the bottom of the screen. Then, it would help if you waited until you had correctly converted your file.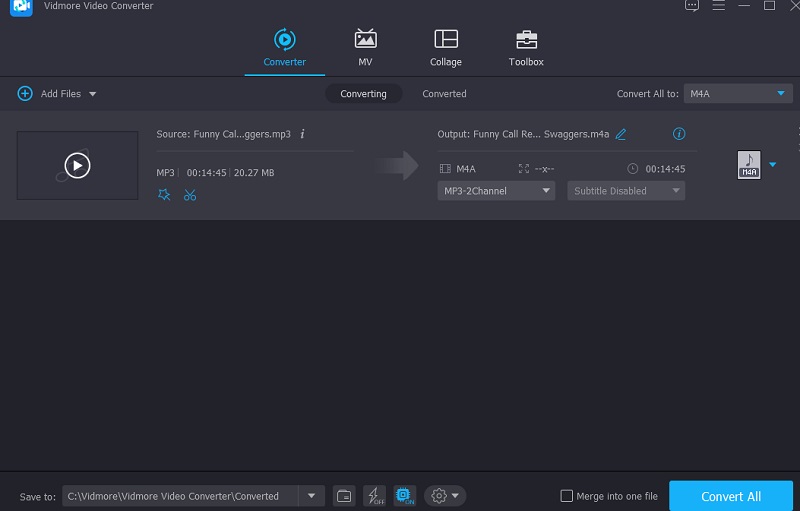 2. CloudConvert
CloudConvert also functions as an online audio converter that can convert between CAF and M4A. Because it is compatible with the vast majority of audio and video formats, converting it to the format of your choice should not present you with any difficulties. In addition, CloudConvert makes it possible to conduct high-grade conversions. As a result, the integrity of your audio recordings will not be affected. As a direct consequence of this, there will be no detriment to the quality of the audio recordings you make. This tool is restricted because it can only do 25 file conversions each day. It is one of its limitations.
Step 1: Visit the CloudConvert website for official information. Click the Select File button, which is located on the main page, and then go to the file's location whose destination you want to convert.
Step 2: You may locate the M4A file by using the dropdown menu on the right-hand side of the screen to make your selection. After the M4A has been located, you will be able to save it in any format that is currently accessible.
Step 3: After you have finished that, you are free to start the conversion process. After ticking the Convert button, you will need to wait for the conversion process to finish running on your computer.

Part 3. FAQs About Converting CAF to M4A
How are MP4 and M4A dissimilar?
M4A is a filename extension representing audio files and can only include MPEG 4 Audio. MP4 may or may not include MPEG 4 Audio. However, it is compatible with MPEG 4 video formats. M4A is the filename extension for MP4 containers containing audio information in the lossy AAC or its lossless ALAC codecs.
Are M4A and AAC equivalent?
M4A is only a file extension, while AAC is an audio encoding technique. AAC encoded audio may have the extensions AAC, MP4, and M4A.
What are the advantages of using CAF files?
CAF files have several advantages over other standard audio file formats: available file size, safe and efficient recording, support for many data formats, dependencies, etc.
Conclusions
The CAF to M4A converters listed above will assist you in swiftly converting your files to a more handy format. But suppose you want to protect the audio files without sacrificing their quality. In that case, you may want to try utilizing Vidmore Video Converter.