Best Available ALAC to MP3 Converter Free Programs and Tools
ALAC is an abbreviation for Apple Lossless Audio Codec. It is a particular type of file extension used to compress lossless audio streams for digital music. The codec was developed and maintained by Apple. Back then, it was not available for inception, but in late 2011, it was made available royalty-free and open-course. That means anyone can use the audio file for free without worrying about copyright. Equally important, the codec can compress audio files about 40% - 60% of the original file while preserving the audio quality.
Despite these advantages, ALAC files are less compatible with portable players and devices unless Apple manufactures them. Luckily, you no longer have to buy an Apple device. You can listen to your ALAC files on any device and player by converting them to MP3 format. MP3 is superior in terms of compatibility. That said, we recommend you try these three practical methods below to convert ALAC to MP3.

Part 1. Why Convert ALAC to MP3
Unlike ALAC, MP3 adopts lossy compression technology that helps in reducing the file size of the audio file. The size is actually about 1/11 of the original file when ripping CD files. You can easily share this audio file over the internet due to its small size. In addition, MP3 is a friendly format allowing you to play it on almost all media players and devices. Thus, it is a standard audio format.
Due to its high compatibility, many users want to convert less compatible formats to MP3. Sharing it on the web is a piece of cake, and you can also store plenty of this audio file as it takes little space on devices and computers. Gladly, it is easy to produce MP3 files from ALAC. In the next paragraph, you will know some of the great ALAC to MP3 converters for Mac and Windows. Continue reading to learn further.
Part 2. How to Convert ALAC to MP3 on Desktop
1. Vidmore Video Converter
Regardless if you are a Windows or a Mac user, converting ALAC to MP3 using Vidmore Video Converter is a wise choice. This program is the right fit for both Windows and Mac systems with a satisfactory interface. That means you can operate a fast conversion and audio quality preservation, making it a desirable program for most users. It has a wide acceptance in nearly all audio//video formats. Not to mention, it supports a batch conversion process, and you can even convert an entire folder of songs simultaneously.
Aside from that, the program comes with an audio editor allowing you to adjust the duration and the volume as you prefer. Now, refer to the steps below to learn how to convert ALAC to MP3 using this tool.
Step 1. Install the ALAC to MP3 Converter
Grab the tool by ticking on one of the Free Download buttons beneath. Ensure to get the right installer based on your computer's operating system. Afterward, install it by following the wizard and prompts. Run the program right after.
Step 2. Import ALAC audio file
Click on the Plus icon from the tool's main interface to add an audio file to the program. Locate the ALAC file you want to convert and import it by clicking the Open button from the Folder window.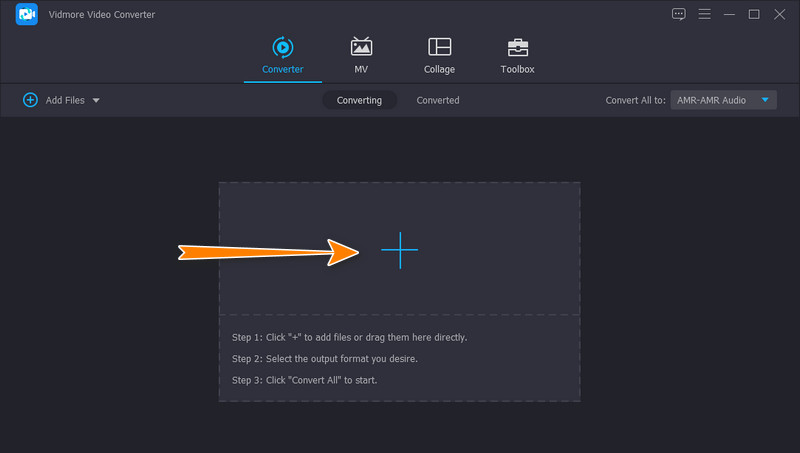 Step 3. Choose MP3 as the output format
At this point, you need to set an output format. Simply expand the Profile menu located at the upper right portion of the interface. Now, go to the Audio tab and select MP3 from the left side menu. You may select the audio quality you prefer or customize your profile by clicking the Custom Profile icon.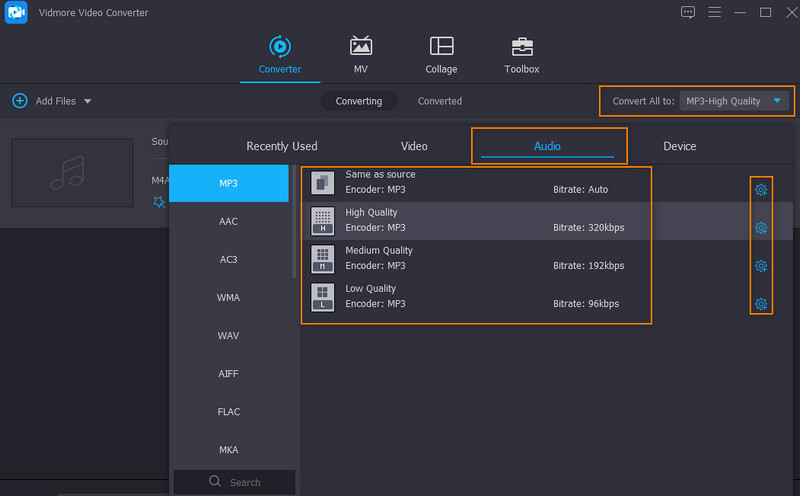 Step 4. Save the MP3 file
This time, set an output folder where you wish to save the output audio. Just click on the Output Folder icon and select an output folder. Once everything is set, click the Convert All button at the bottom right corner to initiate the conversion process.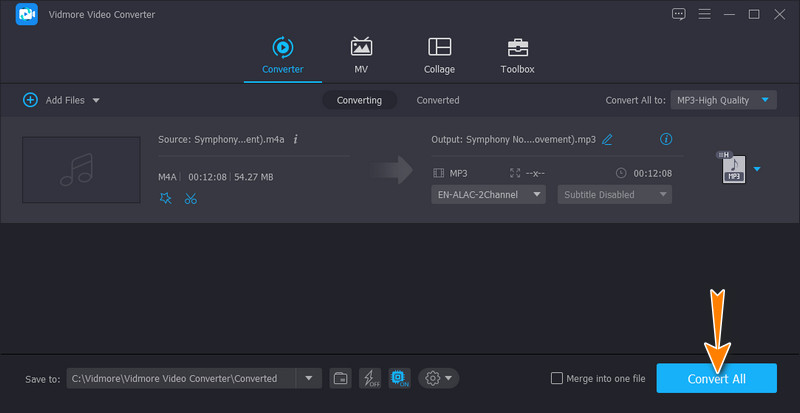 2. iTunes
You can also use the converter built into iTunes to aid in converting ALAC to MP3. You have read it right. iTunes is not just intended for buying and streaming audio files. It can also be useful for converting files you bought from it or converting audio files for playing on other devices. Meanwhile, here are the steps to convert ALAC to MP3 in iTunes:
Step 1. First, make sure that iTunes is installed on your computer device. Then, launch it.
Step 2. Adjust the settings for the conversion by navigating to Edit > Preferences > Import Settings.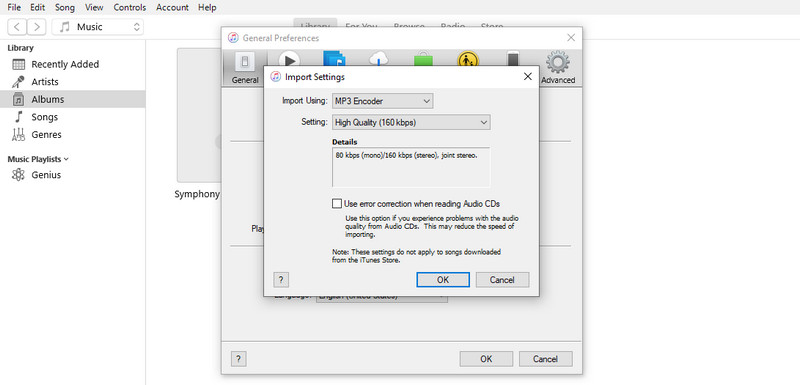 Step 3. Now, select MP3 Encoder for the Import Using option. Hit OK to confirm and return to the iTunes library.
Step 4. Import the song you wish to convert. Ensure that the ALAC file is selected in the library. Now, go to File > Convert. Then, click Create MP3 Version to convert ALAC to MP3.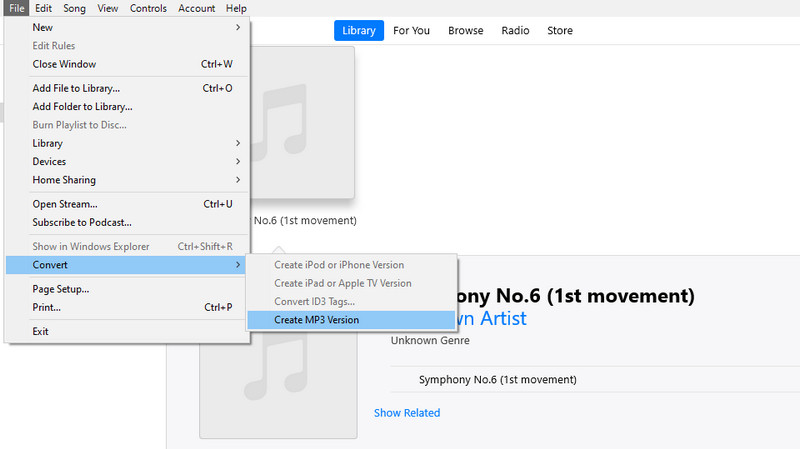 3. Zamzar
If you do not prefer downloading an application on your device, you might consider using Zamzar. It is an online program that aids in converting audio, video, and document files from the web page. Although the tool is free, some implemented restrictions, such as a limited number of converts. Nevertheless, if you only convert a few audio files, you can rely on this app. Follow the simplified guide below to use this ALAC to MP3 converter online app.
Step 1. Visit the app's main page and click the Choose Files button to import a file on your browser.
Step 2. Drop down the Profile menu and set MP3 as the output format.
Step 3. Lastly, click the Convert Now button, the final step in the conversion process. This operation initializes the process, and you can download the result afterward.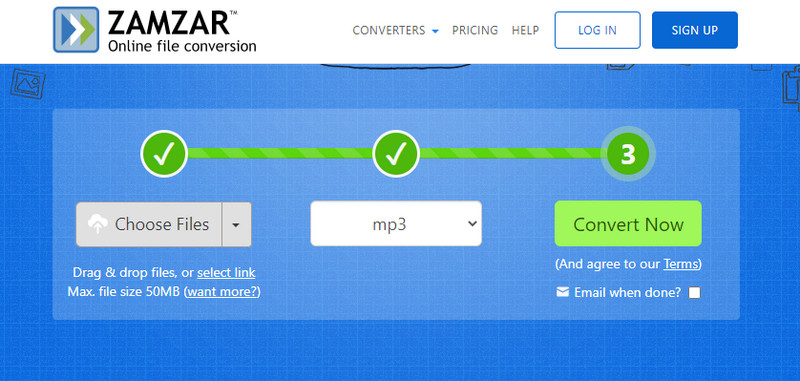 Part 3. FAQs on ALAC to MP3
Is ALAC better than MP3?
ALAC is far better than MP3 in terms of audio quality. Compared to MP3, ALAC files are true CD quality, which is a determining factor for an audiophile who wishes to listen to quality songs.
Does FLAC sound better than ALAC?
Yes. FLAC offers 24-bit encoding, whereas ALAC offers 16-bit. Generally speaking, higher bitrate equates to better audio quality. Plus, FLAC offers a higher sampling rate. That means it can reproduce an identical copy of the original file.
What is the ALAC format used for?
ALAC files come with many advantages. The most compelling benefit is its ability to recover damaged original CDs. By doing this, you can make a recordable CD by saving them as ALAC to recreate and reproduce the damaged files.
Conclusion
The primary reason to convert ALAC to MP3 is the compatibility issue. Thankfully, ALAC files can be safely converted to other formats, like MP3, which is a standard audio format. Therefore, you will be able to play them on any device and not just on your iPhone, iPod, or iPad. On the other hand, you have several methods to do the conversion. Vidmore is an excellent solution if you prefer an efficient conversion process, offering advanced features and functionalities.