Compress Your MP3 Files With These Helpful Online and Offline Tools
Having a large audio file size is a bit complicated. For instance, if you wanted to send an MP3 file to your friend through email, you would fail to send it because sending a file in email has limitations. Thanks to various programs being made today, we will now be able to send up to how many MP3 files by email using an audio compressor. If you want to know how to compress your MP3 files on a PC, depend on this post. We will give you the most reliable ways to compress MP3 files through online and offline tools.

Part 1. What Are Audio compression Techniques?
There are two types of compression techniques: lossy and lossless. Lossy compression reduces the size of a file by deleting some of the most relevant data. While lossless compression does not diminish or eliminate part of the file's quality, it does remove some of it. As a result, lossless compression is created that appears identical to the original. The lossless has only one disadvantage: it is not as good as the lossy.
Indeed, there are various reasons why people desire to compress their files to make them smaller. The first thing they could think about is the storage capacity of their gadget or accessibility. But one thing is sure: we all desire the finest to maintain our files in good condition. That is why some people use compression methods.
Part 2. Compress MP3 Files With Top 4 Tools
At this point, to help you solve your concern, we listed down these four popular online and offline MP3 compressors that will definitely help you compress your most loved files.
1. Vidmore Video Converter
Vidmore Video Converter is the first and most recommended tool for changing the size of your MP3 file. Because of its user-friendly and beginner-friendly layout, you can effortlessly compress your MP3 files with this professional tool. There's no need to be concerned about the quality of your file being harmed when you squeeze it because you may adjust the file's settings. Furthermore, the converting procedure is simple. Here is a step-by-step method to provide you with a better understanding of how this program works.
Step 1: Download the MP3 Compressor
You must first get the program. The software can be downloaded using the Download links provided below. Then, once the program has been installed, start it up.
Step 2: Upload the MP3 File You Require to Compress
After the software is up and running, click on the Add Files or Plus symbol on the left top side of the screen. Then, choose the file you want to compress from your device's storage.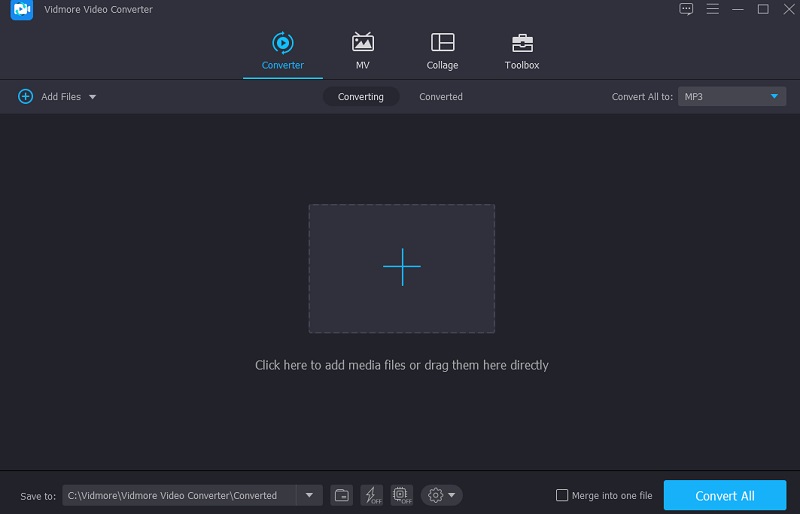 Step 3: Compress the MP3 File
Go to the Audio area in the dropdown menu on the right once you've added your MP3 file. Decide on a file type for your work. Then, choose a bitrate with low or medium quality from the available quality options.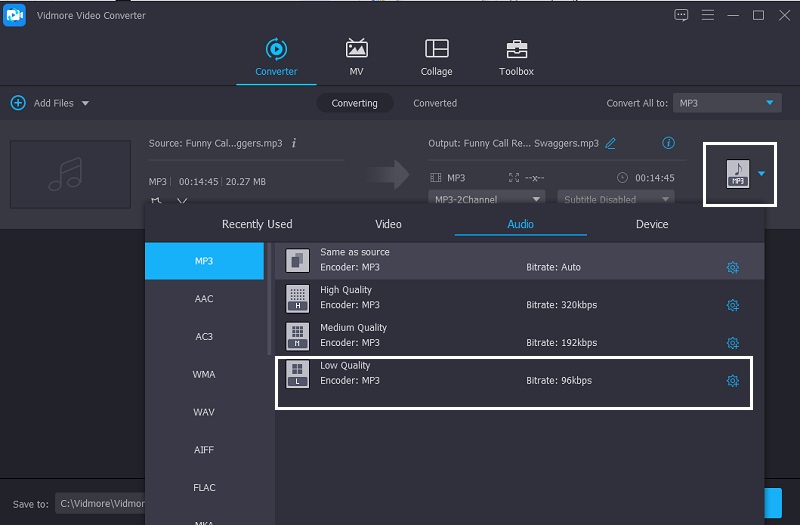 Step 4: Convert the Compressed MP3 File
After selecting a bitrate for your audio file, convert it to compressed audio format to the Convert All tab. Everything else is as simple as waiting a few seconds! The size of your file has been lowered.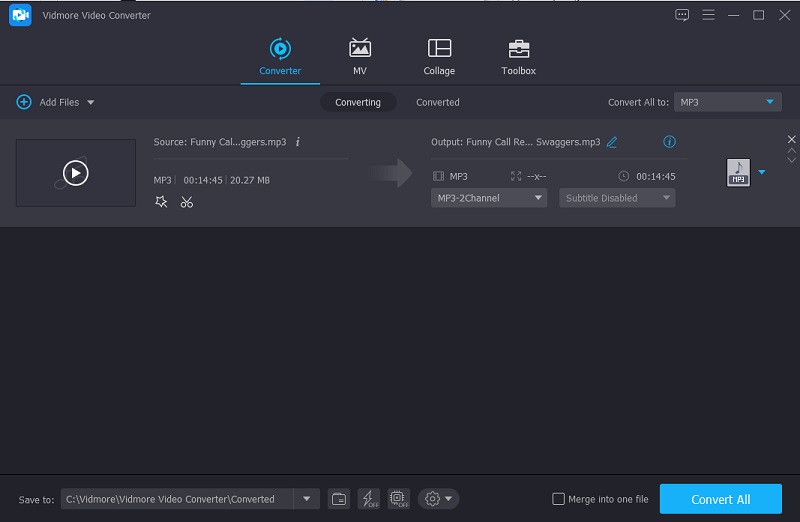 2. Audacity
Audacity is also another free audio compressor that does a great job. A comprehensive program that runs on PC, Linux, and Mac means you can use it on whatever device you own. Your audio tracks may be edited and merged with this app. If you're looking for anything that can handle the current audio format, Audacity is a fantastic option. It's possible to compress your files with this software. Beginner users may find it challenging to navigate. Nevertheless, if you're looking to compress a large file, this is a great tool to have at your disposal.
Step 1: It's time to open the Audacity app. You can then upload the file that you want to compress. After that, click the Control A button to select the file you want to compress.
Step 2: Go to the upper menu and click on Effects. Then, under Compressor, hit it. Then, a new window will open up where you can change the settings.
Step 3: After making changes in the Settings, click the OK button to save the changes. That's all there is to it!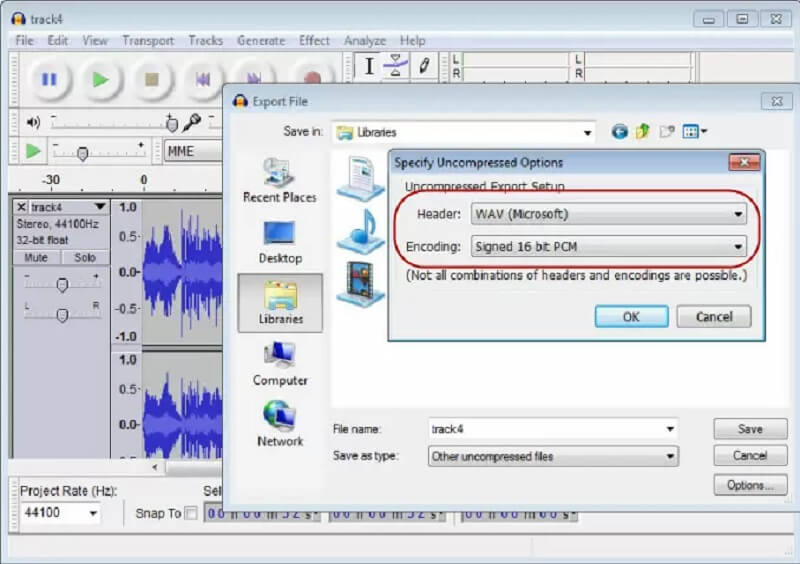 3. Free Convert.com
If you need a web-based audio compressor, Free Convert is a decent option. It can also convert music, documents, images, and videos. This browser-based application offers a variety of file types that are compatible with your file. Examples are MP4, 3GP, AVI, FLV, MKV, WMV, MOV, and many more. Its quick conversion procedure makes it even more helpful for consumers. It allows you to compress the files you need faster. The maximum filesize for this utility, however, is 1GB. So, if you want to access a greater file size, you must join up on their website.
Step 1: Go to your browser and go to the official website. Then, click the Choose MP3 Files button.
Step 2: Then, on your Folder, choose the MP3 file you require to compress in size and click the Compress Now button.
Step 3: Lastly, click the Done button and the Download MP3 next once the compression is done.

4. MP3 Smaller
Another program that can help you compress your MP3 file online is the MP3 Smaller. It is a free service that enables you to compress MP3 audio files online and lower MP3 file size online. This service allows you to accommodate more music on your MP3 player by lowering the MP3 audio bitrate. Here is a step-by-step process below to give you a quick glimpse of how this tool works.
Step 1: Look for the MP3 Smaller on your browser and go to their official page.
Step 2: Then click the Browse button, choose the MP3 file on your Folder, and upload it on the tool's main interface. After that, on the dropdown menu below, click your desired bitrate.
Step 3: Lastly, tick the Upload File button and wait for your MP3 File to compress.

Part 3: FAQs About Compressing MP3 Files
Can I compress my MP3 file in Android?
Yes. You can install the MP3 Compressor, Winzip, and ESL File Explorer.
How do I compress an MP3 file for email?
First, put them in a folder and zip them up. Then, right-click on the file and choose to Send To from the menu that appears. Then, select the Compressed folder. Finally, give your new packed folder a name.
How to compress an MP3 file for Whatsapp?
First, you will need an audio compressor program, and Vidmore Video Converter is a good option.
Conclusion
Through the help of this post, there is no way for you not to send your MP3 files by email. With the online and offline tools above, you can now compress your MP3 files without hassle.