Best FLAC to M4A Converters for Mac and Windows PC
One of the most recommended formats used for lossless compression and preserving high audio quality is FLAC. For this very reason, you may be collecting songs saved in this format and enjoy listening to them on your favorite music or portable player. However, because of its poor compatibility issues, Apple users are not able to play them on their Apple gadgets or music players. Good thing, there are myriads of program converters that will allow you to convert FLAC to M4A free.
As we know, M4A is an audio format widely accepted by Apple gadgets and music players. Not to mention, you can enjoy a better sound quality using this format while allowing you to store a sheer amount of songs as it does not require a lot of memory space. You may refer to the recommended programs below.

Part 1. Freeware to Convert FLAC to M4A on Windows/Mac
If you don't want to depend on the internet connection in converting your FLAC files, here we have two of the best FLAC to M4A converters. Check them out below to get the information you need.
1. Vidmore Video Converter
For a fast and easy-to-use audio/video converter, you should not look further than Vidmore Video Converter. It makes use of hardware acceleration that enables the tool to convert multiple files at a very high speed. Moreover, it knows no number of converts or size of video or audio files. Meaning to say, you will be able to convert unlimitedly without worrying about the size of the media file. Aside from that, you can also combine two or more songs and arrange their order according to your liking. True to its claims, Vidmore Video Converter is a multi-functional program with lots of useful tools to offer. Here are the steps for you to follow to run this program.
Step 1. Install and launch the app
First and foremost, download the program by getting its installer using the Free Download buttons provided below. Follow the installation setup and then install it afterward.
Step 2. Upload a FLAC format
Now import the FLAC audio file that you wish to convert by clicking the Plus button at the main interface. There is also an option for you to upload a folder of music files. Simply click the Add Files drop-down arrow button and select Add Folder.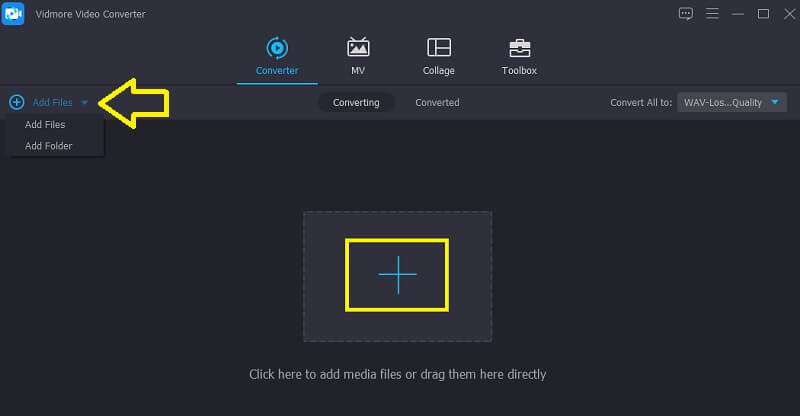 Step 3. Select output format
After that, select your output format. In this case, you should obviously choose M4A. To do this, click on the Profile menu and it will show various video and audio formats. Now select the Audio tab and select M4A format on the left section of the tab.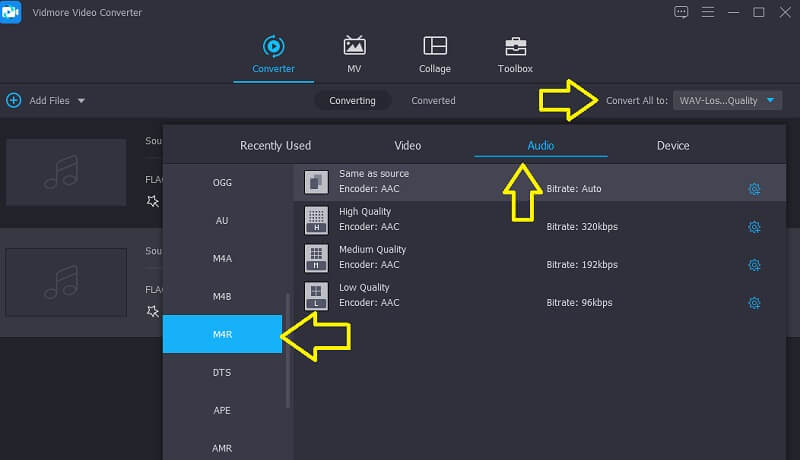 Step 4. Start converting files
Before the conversion process starts, you may add other settings to the output of the file and select the folder location where you want to save the converted audio. If you are finished altering the settings, click the Convert All button, and the conversion task will commence immediately. Furthermore, you can take the same steps as above to convert FLAC to M4A on Mac.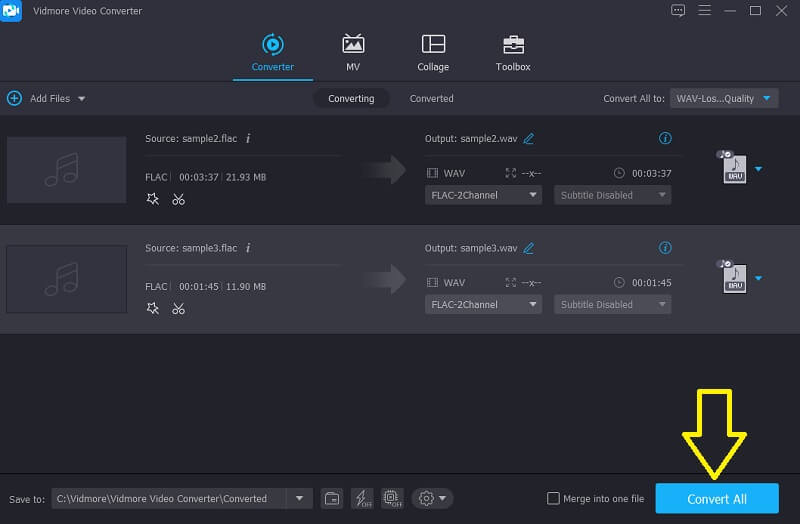 2. Freemake Audio Converter
Another excellent tool that you can use is Freemake Audio Converter. This app is fully compatible with Windows PC and is a completely free program. That means if you need to convert FLAC to M4A on Windows, Freemake Audio Converter is second to none. This also lets you easily convert to AVI, WMV, Apple, DVD, MPEG, MP4, and many more formats. To know further how this tool works, please refer to the steps below.
Step 1. To begin, download and install Freemake to your computer by getting its installer from the official webpage of Freemake.
Step 2. Launch the tool on your PC and click the Audio button to import a media file to be converted.
Step 3. Now choose to M4A option from the menu at the bottom of the interface. The converter tab will appear where you can modify the output settings.
Step 4. After making some changes, click the Convert button to confirm and start the converting files.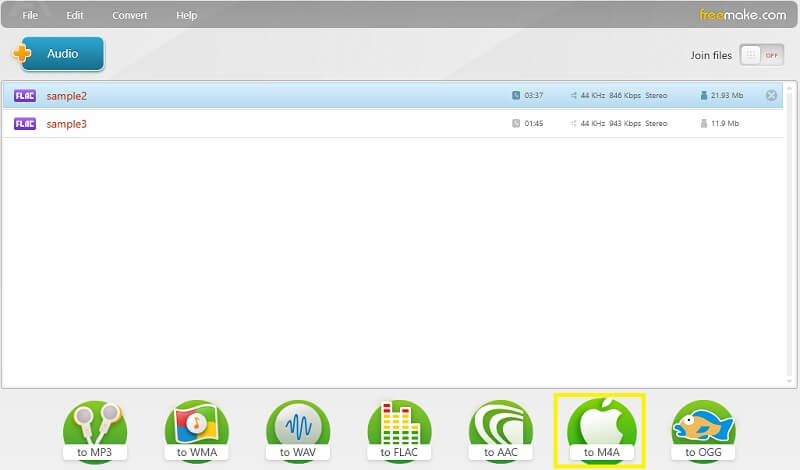 Part 2. How to Convert FLAC to M4A for Free
For users who are not willing to download another program, online programs may serve you well instead. On that note, we've also prepared tools to help you convert FLAC to M4A online. Find out which one works for you best.
1. Vidmore Free Video Converter
Vidmore has a free version in case you want to convert FLAC to M4A without losing quality using an online program. This program is very easy to navigate even if it's your first time using it. In fact, you can get your FLAC files converted to M4A in 4 easy steps. Not to mention, you may also convert multiple files at the same time with no limits to the number of converts to operate. It's just that it's fully dependent on the internet for you to access all its functions and convert FLAC to M4A online. Nevertheless, here is the instructional guide on how to use the program.
Step 1. Go to the main website of Vidmore Free Video Converter. Once you reach the page, press the Add Files to Convert button and it will prompt you to add your target file to convert.
Step 2. Select the FLAC file that you like to convert and click the Open button on the folder.
Step 3. Next is to select your output file format by clicking the Music icon at the right side bottom part of the panel. From here, choose M4A.
Step 4. Then hit the Convert button to set an output folder and begin with the conversion job. It will immediately process the file and you will get the playback in an instant.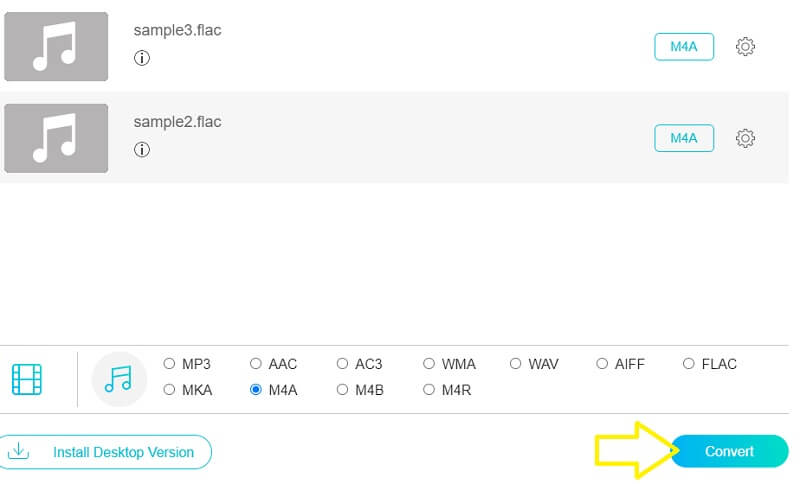 2. Convertio
Last on the list of converters and another great online program is Convertio. This is a web-based app that works pretty much like the desktop programs allowing you to convert FLAC to M4A online without compromising the quality. Moreover, it has a relatively huge number of output formats that you can employ. On the other hand, you may take the simplified guide to help you utilize the program.
Step 1. Access the Convertio website using a browser on your computer.
Step 2. Upload your desired FLAC file to convert from your file folder by clicking the Choose Files button.
Step 3. Next, select M4A from the output format options or use the search bar to quickly locate the file format.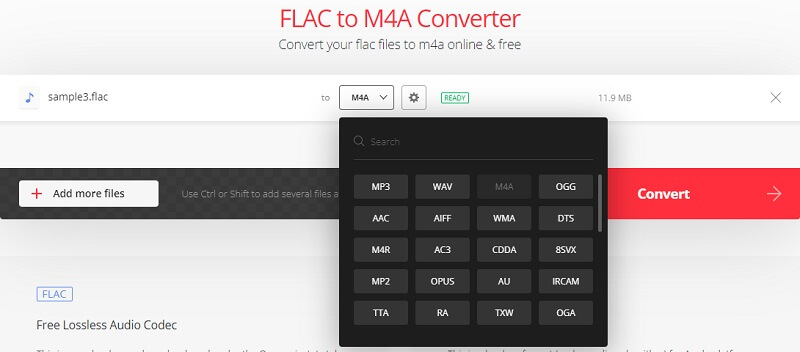 Part 3. FAQs of FLAC to M4A
How can I convert FLAC to M4A on iTunes?
Unfortunately, iTunes does not accept FLAC files for conversion. What you can do is to convert the FLAC file to another format supported by iTunes and then convert the file using iTunes.
Best batch FLAC to M4A converter for Mac?
If you are wondering how you can perform batch conversion on Mac, you may use Vidmore. This app is available for Mac and Windows PC in which you can access the same set of features including the conversion capability.
Is there any loss of quality after converting FLAC to M4A?
Not unless there is a difference in the bitrate of the two formats. Otherwise, the result will be the same as the source.
Conclusion
Those are the best FLAC to M4A converters to help you enjoy your FLAC files on your Apple gadgets and music players. You may choose to complete this task using desktop apps or have it done with online programs.