11 Best Audio Editors to Make Changes with Your Audio Files
There are a lot of reasons why you need to edit audio. Whether you are a music expert or just a typical music editor, you don't want to spoil your audio recording with a simple glitch or noisy background. There will be situations when you need to remove some portions that are not important. In some cases, adjusting the volume is necessary for better audio streaming. It's easier said than done though if you don't have the right tools to edit your audio files.
The reason being, you will need special tools in editing your audio files. Fortunately, there are myriads of audio editors for Mac and Windows so you won't have to worry about compatibility issues. Not to mention auditor editors for mobile devices like Android and iOS are also available. That being said, there are simple ways to do things whether you need to edit audio on your desktop or smartphone.

Part 1. Best Methods to Edit Files on Desktop
1. Vidmore Video Converter
As mentioned, there's always a simple way to do things and Vidmore Video Converter is developed in such a way that users may be able to edit the audio in a simple and easy manner. It can certainly split audio into multiple fragments in just a click.In addition, you can merge the segments into one for a seamless audio recording. Apart from the mentioned features, it packs additional features which you will surely find helpful. With it, you can edit videos by adding subtitles, watermarks, effects, filters, and so much more. To explore more of its features and functions, kindly read the steps to learn how to use this audio clip editor.
Step 1. Acquire Vidmore Video Converter
First and foremost, download the program by clicking one of the Free Download buttons presented above. After that, install and run the app.
Step 2. Import your target audio file
Next, click the Plus sign in the middle of the running interface of the tool and select the audio file that you need to modify.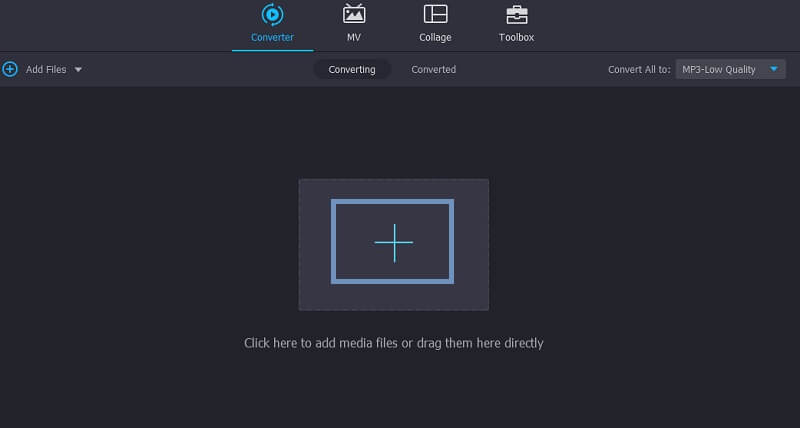 Step 3. Edit the audio clip
Next click the Cut button associated with the clip that is loaded into the program and another window will appear. On the right section is where you can preview the audio playback and apply the necessary changes. You are entitled to split audio one at a time or use the fast split to cut the clip into multiple fragments. Hit the Save button if you are ready to save the changes.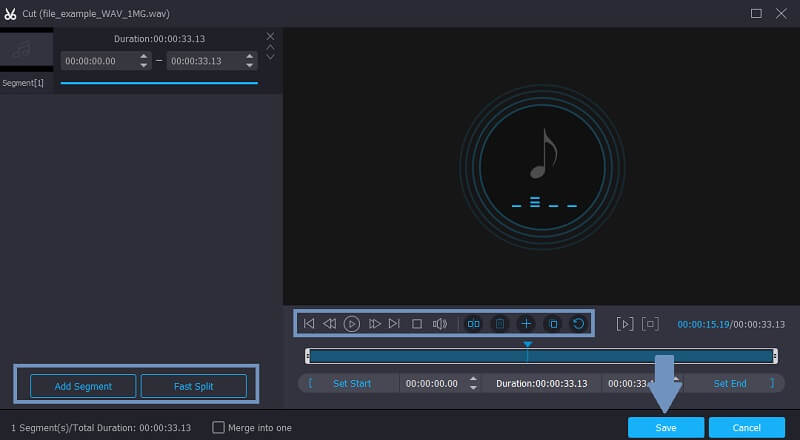 Step 4. Save the changes
Once you are done editing the audio, you may choose to keep its original audio format or select from other audio formats and export it as another audio file. Finally, hit the Convert All button and you will get the audio playback from the folder that will pop-up.
2. GarageBand
In case you are looking for an audio editor for Mac, look no further than GarageBand. This is a native app on Mac devices that boasts helpful features for editing audio recordings. With it, you can choose from the selection of presets for drums, voice, and guitar to match your music style. From fixing the decibel, rhythm, to adding audio effects, you can truly depend on GarageBand.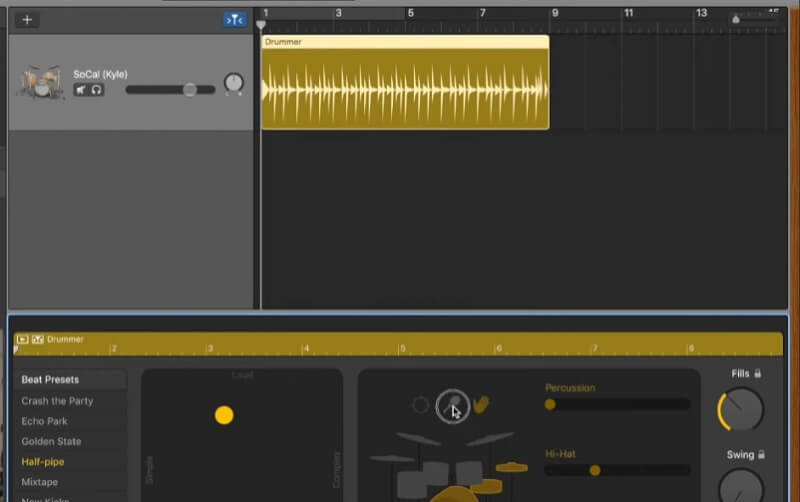 3. WavePad
Another app that is tailored for Mac and Windows computers is Wavepad audio editor. Here you will find tools for editing recordings, voice, as well as music. This is also very user-friendly making it desirable for most newbies in audio editing. As for removing unwanted portions of audio, there is a capability for you to trim and cut audio parts, reducing the background noise. In general, Wavepad audio editor is a house of essential and useful audio editing features.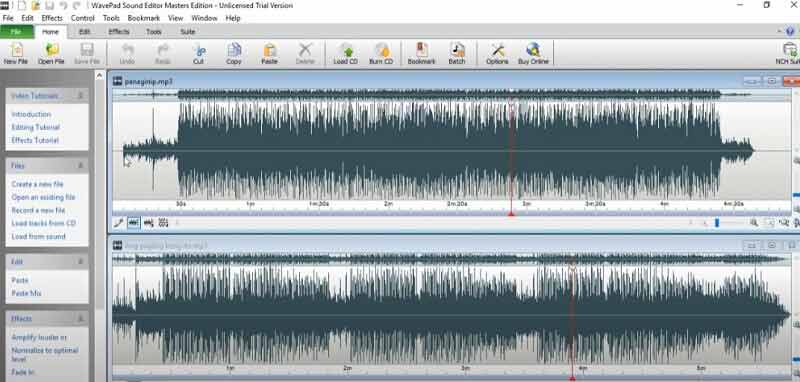 4. Adobe Audition
Coming from the family of excellent editors for media files, Adobe Audition is one of the Adobe products that you also need to consider using if you are into technical editing tasks. Just as how you would normally see in other Adobe tools, you will be welcomed with a clean tabbed interface for seamless editing. There you will be able to access different views for waveform and multitrack. There is also a mixer for mixing vocals, music tracks, or beats. However, if you are just learning the tool for the first time, you may need to spend an ample amount of time to get used to the adobe audio editor. Nevertheless, it will all be worth it once you get the hang of it.

5. Audacity
If you are looking for a simple yet free tool for basic and advanced audio editing, Audacity is a good choice, too. It does not only allow you to cut and combine sound files but also record audio from external instruments or microphones. Apart from the mentioned feature, it comes with a spectrogram view mode to visualize frequency changes. Moreover, if you are concerned about compatibility, you may install the Audacity audio editor on Windows, macOS, and Linux.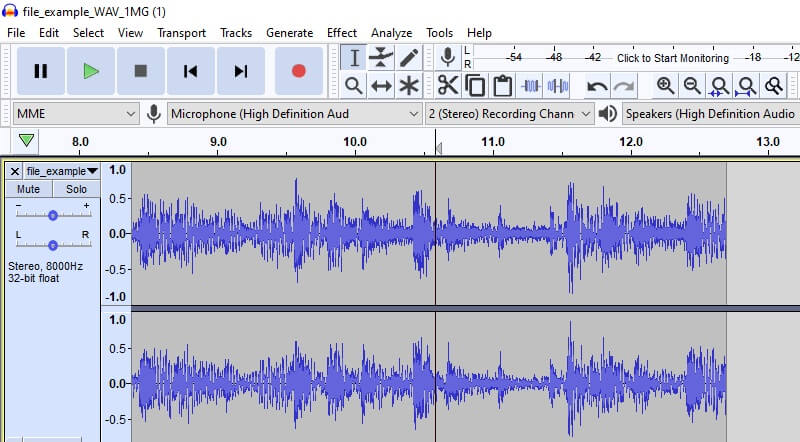 6. AVS Audio Editor
AVS Audio Editor also provides a rich set of audio editing features. This lets you join, trim, and cut audio clips. If Audacity aims to let your view energy in different frequencies, the same is true with AVS Audio Editor. The program provides analysis for frequency, waveform, as well as spectral view for easy visualization. With it, you may also apply effects like fade in and out, reverb, vibrato, tempo change and so much more. Even more, you can delete silent parts of audio through this tool.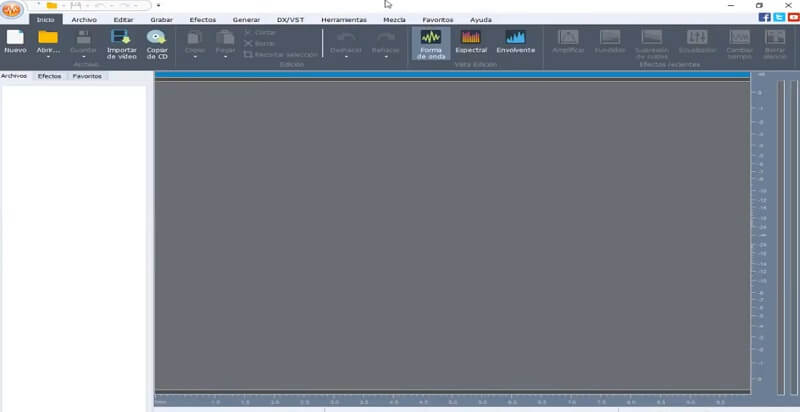 Part 2. Professional Way to Edit Audio Files
1. Bear Audio Tool
First among the list of audio editors online is Bear Audio Tool. This program provides the essential features for editing the audio including the ability to cut, crop, merge, split and so much more. These can all be done using just your browser. In other words, you don't have to spend time downloading or installing an application. What is more, the tool lets you import files via URL or import from your local computer drive. On top of that, you have the freedom.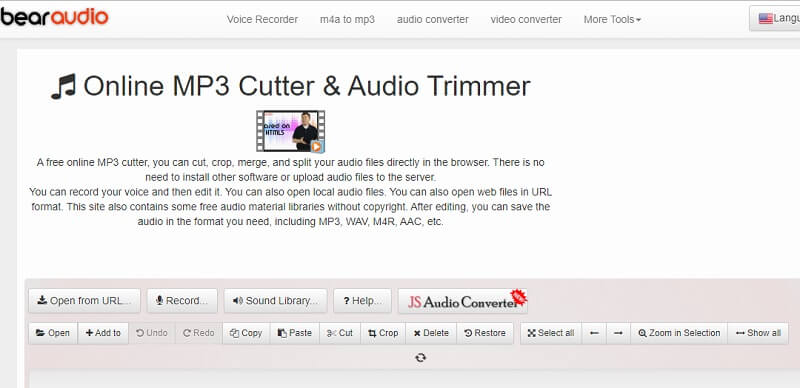 2. Audio Joiner
In cases like you want to merge several audio files, Audio Joiner by 123Apps is the tool you should consider using. This lets you process unlimited tracks as long as you have access to the internet and a compatible browser. Apart from that, you'll be able to modify the playback interval for the tracks using its slides. Through this feature, audio files are manageable and easy to deal with since the tool provides a convenient way for applying changes to the audio. Above all, one big reason why many people utilize it is the security layer integrated with the app. All the data and files won't be exposed to the public because it automatically deletes the processed files after a few hours.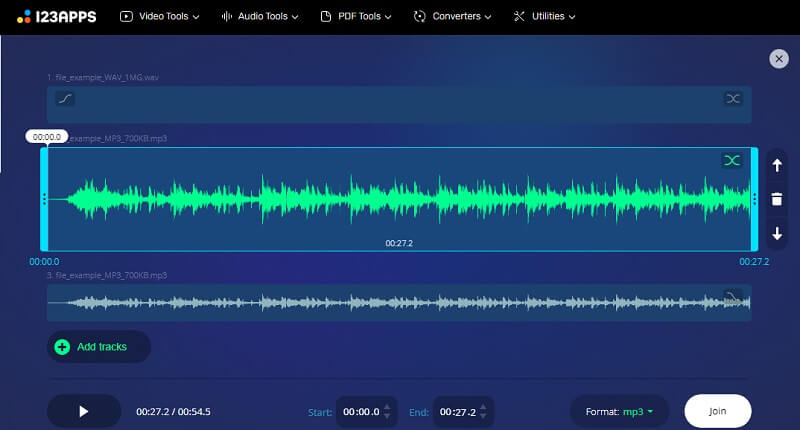 3. Soundtrap
Soundtrap is a nook for every music artist and creator for creating music without installing software. It comes with an extensive library of beats, instruments, and loops that you can incorporate to the audio recording that you are creating. What makes it one of the best audio editors is that it is equipped with a collaboration feature. This allows you to work with your colleagues as if you are in the same room especially when you and your team are away. So, anywhere you are, you can connect with each other and collaboratively produce great sounding audio recordings.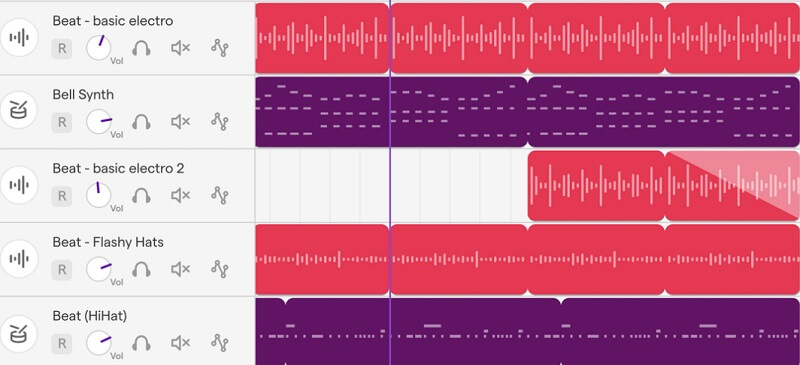 Part 3. Great Tools for Editing Audio on Mobile Devices
You can also effectively manage your audio files just by using your smartphone. But what mobile audio editing app should you consider using? Here we have two of the best audio editors for iOS and Android phones.
1. Medly
Medly is a great option for users who want to edit on their iOS device. Similarly, it offers features for editing audio including the capability to trim audio clips which are perfect when creating a ringtone or shortening a long audio clip. Also, you can use samples from its own library when trying to learn the app or exploring the program's features by editing the samples. Perhaps you want to upload your creation online and let others hear your recordings. You can do so by sharing the audio as a MIDI or Medly file. Over and above, it enables you to upload your audio recordings to SoundCloud which is a popular audio streaming and music sharing platform.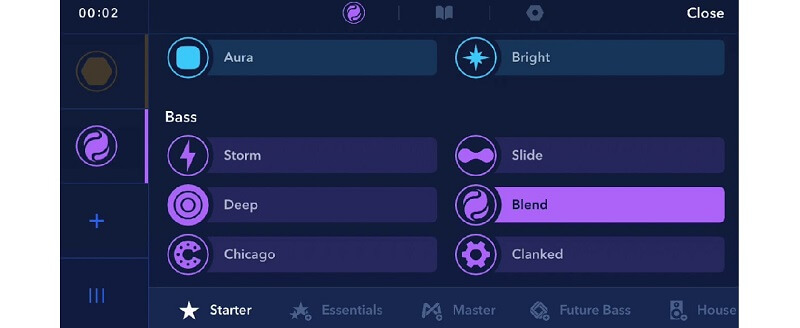 2. MP3 Cutter
On the other hand, you may use MP3 Cutter if you are using an Android device to edit audio files. The tool makes it easy for you to merge, trim, splice, and cut music with its easy-to-use interface. The ability to make ringtones using this tool is in fact one of the most compelling features why would you want to choose this app. The only drawback is that it shows full-screen ads on the screen after every completion of editing a file. Yet if you are determined to keep them from showing on the screen, you must be willing to pay $1.99 to enjoy ad-free editing of audios and enjoy other perks and benefits.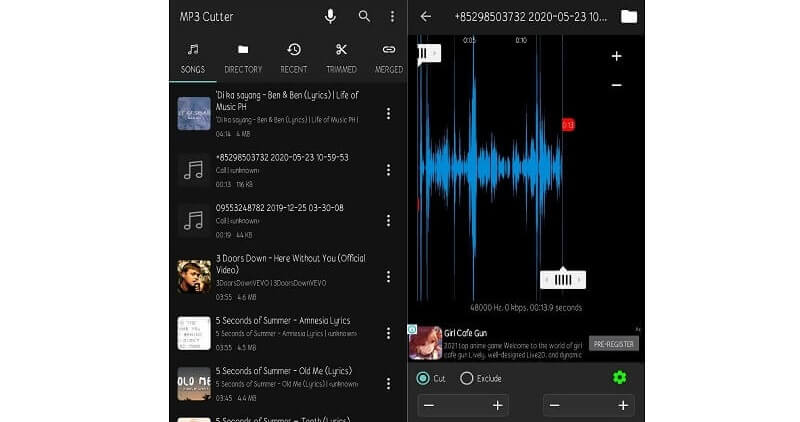 Part 4. FAQs of Audio Editing
Does Windows 10 have a built-in audio editor?
Unfortunately, no. Windows 10 does not have built-in editing software. You really need to install software on your device to edit audios or use web-based apps to edit online.
Is there a default audio editing app for Mac?
Mac computers do not also come with an audio editor. Good thing there are tons of audio editors developed for Mac that will help you access various audio editing features. Just choose the app that suits your personal requirements.
Can I edit an audio in a video editor?
Definitely! One of the tools mentioned here that will enable you to edit video and access simple audio editing features is Vidmore. Besides, this app supports many file formats for both audio and video. In this way, you can convert your audio to another format with perks for changing the output quality of the audio file.
Conclusion
Provided above are the best audio editors to help you manage and deal with your audio files easily. Keep in mind that each tool is reviewed in a nutshell, it would be better to explore their features yourself. That way, you'll be able to decide which app can serve you better.