Learn How to Cut M4A Files and Tweak Audio Files to Perfection
So you got a collection of your most-listened M4A files. In other words, they are your go-to or favorite music to listen to. Probably, they are enough to sound good for your ears, but you find that there are M4A tracks that need editing. For instance, you want to make a mashup of M4A files and combine them into one or you want to create a ringtone. The truth of the matter is these audio files are manageable and easy to deal with using the right tools. Hence, we listed some great programs that will help you edit and learn how to cut M4A files. Know further about these tools by reading through the post.

Part 1. How to Trim M4A on Windows/Mac
Here is the available and highly functional audio editor to rework your music files. Vidmore Video Converter is a cross-platform app that works on both Windows and Mac. It does not only allow you to cut certain parts of the audio but also merge songs which is particularly helpful if you want to combine multiple songs in one. Furthermore, it supports M4A, MP3, FLAC, AAC, and many other audio formats. The best part is you can transform your audio formats to another with the benefit of adjusting the output parameters according to your liking. That being said, here's how to trim M4A audio files using this excellent tool.
Step 1. Acquire the M4A Trimmer
First things first, obtain the installer of the app by clicking one of the Free Download buttons underneath. After that, open the installer and follow the setup wizard to install. Then run the program.
Step 2. Import M4A file
Upload the M4A file that you need to trim by pressing on Plus sign button from the main interface. You may also drag and drop your target file as another way of uploading files.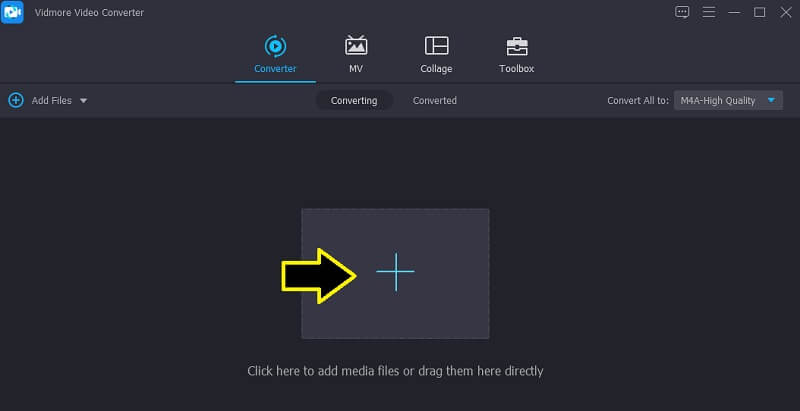 Step 3. Trim the M4A clip
To trim the M4A you uploaded, click on the Cut button attached with the song thumbnail. From here, cut the unwanted beginning part by moving the Playhead. Note that the left portion from the Playhead point of view will be removed. Then click the Split button. You may also adjust the slider to retain your desired portion or manually set the duration to mark the part that you want to keep and remove. After that, hit the Save button.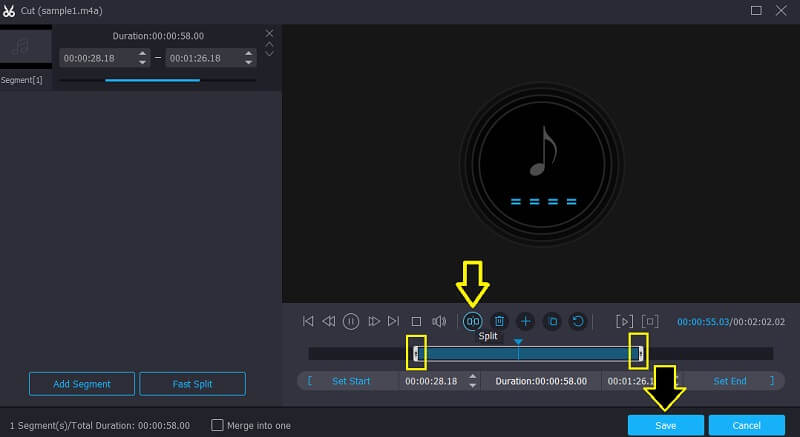 Step 4. Save the final version
Once done, resume to the Converter tab and decide whether you want to keep the same audio format or change it to another by opening the Profile menu and selecting your desired format. To confirm the changes, click the Convert All button, the conversion will commence and will save the changes you made.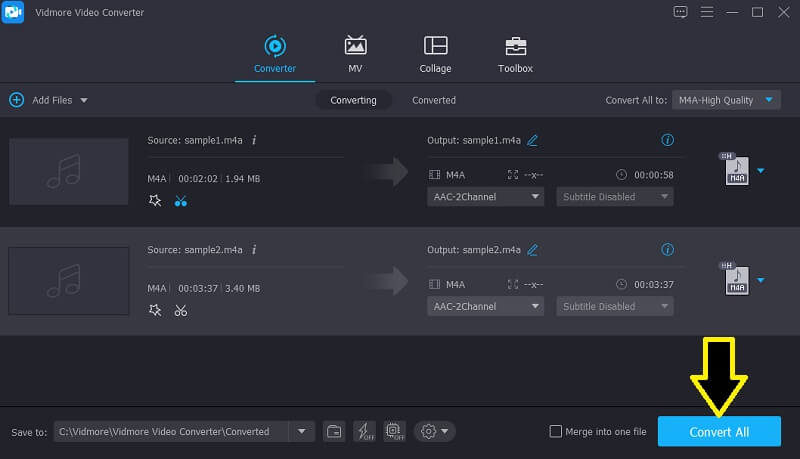 Part 2. How to Trim M4A online
Some users prefer to trim or split M4A audio files on the web which is also a good choice since you can easily edit your audio files without installing any other software. That said, here we have the best 2 online ways for trimming M4A.
1. Audio Trimmer
If you are wondering whether it is possible to trim M4A online, there are various web applications that you can use for this specific job. One of the best online programs you should consider using Audio Trimmer. This lets you cut multiple audio file formats including M4A, MP3, AAC, WAV, WMA, and a lot more. With it, you can conveniently cut audio using the slider tool or by manually setting up the duration to mark the part you wish to cut. On top of that, you can access this program using your mobile device's browser. All you need is a stable and reliable internet connection. For M4A direct cut tutorial, you may refer to the steps below.
Step 1. Open a web browser on your computer and visit the official website of Audio Trimmer.
Step 2. From the main page, press the Choose File button to add the M4A file that you wish to cut. Then click the Upload button on the right portion and it will open the editing interface of the tool.
Step 3. Position the beginning and end slider to mark the portion that you want to retain or remove. You may toggle the Mode option to Keep or Remove depending on your needs. Prior to saving the changes, you may apply fade-in and fade-out effects by toggling them on.
Step 4. Play the audio file to verify the changes. If you are satisfied with the results, click the Crop button.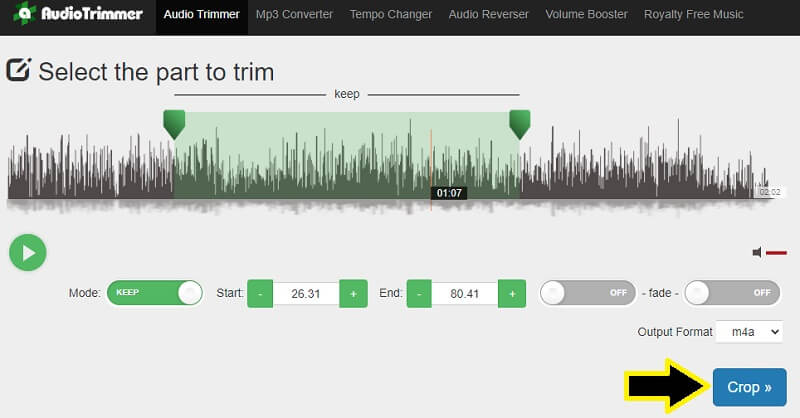 2. Online Audio Cutter
Another helpful program to rework your M4A files is Online Audio Cutter by Online UniConverter. By using this program, you can easily select the portion of audio that you want to remove or keep by moving the audio slider. Another method to cut using this tool is to specify the duration by seconds. Likewise, adding fade-in and out effects is just a tick on the checkbox. As a matter of fact, you can export the audio file from its original format to a different one. On the other hand, have a look at the step given instruction to split M4A audio files with this program.
Step 1. First off, visit the website of Online Audio Cutter and you will see the main interface of the tool.
Step 2. From here, you can choose to upload from your local folder or from cloud storage such as Dropbox and Google Drive. Choose which uploading method works for you best and import your target M4A file.
Step 3. Once the file is successfully added to the program, it should show the music editing interface. Move the sliders to mark both starting and ending points. You may also enter the specific duration to precisely cut the audio in milliseconds.
Step 4. Listen to the audio that you edited and verify the changes. If you are happy with the results, hit the Cut button to confirm.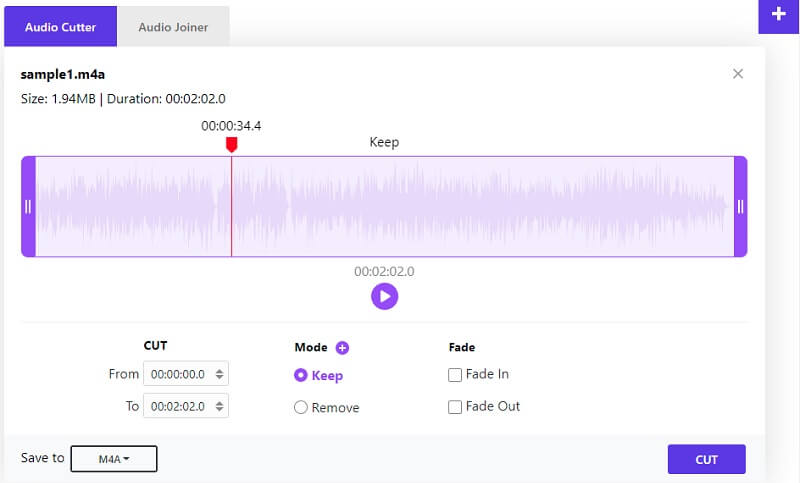 Part 3. FAQs of Trimming M4A
How to trim M4A files on Mac?
One of the tools introduced here which is Vidmore Video Converter can be used on both Mac and Windows PC. Hence, you may use this tool to trim your favorite M4A files without less effort. Besides, it comes with other affiliated features for your video editing jobs.
How do I trim M4A files on the mobile device?
Consider using an online tool that runs on a mobile web browser or a mobile app for trimming audio files to accomplish this task. One example of a mobile-friendly online application is Audio Trimmer.
Can I play M4A audio files on Android devices?
It is a good choice to download a separate music player. Yet it would be practical if you will just convert it to an Android-supported format. For this kind of need, you may use Vidmore and do a lot more than converting media files.
Conclusion
Now you can tweak your favorite M4A files to perfection with the help of the programs that will allow you to trim or split M4A audio files easily. You could remove the unnecessary noise, cut a long introduction part, make a ringtone and so much more.