FLAC Music Player – 12 Best Methods to Enjoy FLAC Music on Windows, Mac, Android and iPhone
When you want to enjoy the FLAC music files with the original quality, what are the best FLAC players for Windows, Mac, Android phone and iPhone? FLAC stands for free lossless audio codec, which retains all the audio information while it compresses a big file to create the smaller file. Just learn more about the review of 12 FLAC music players and choose the desired one from the article.

Part 1: 6 Best FLAC Players for Windows and Mac
Top 1: Vidmore Player
When you need to switch audio tracks for FLAC music file, tweak the audio volume and even navigate to a certain chapter with ease, Vimore Player is the desired FLAC player for Windows and Mac. It is equipped with the advanced audio decoding technologies, such as Dolby, DTS, AAC, TrueHD, and more others.
Play the FLAC with the original quality from computer, DVD and Blu-ray.
Offer a high quality image playback and perfect sound processing easily.
Adjust audio/video track, channel, subtitle, effects and screen size.
Equipped with advanced audio decoding, Dolby, DTS, AAC, TrueHD, etc.
Top 2: Winamp
Winamp is a popular FLAC music player for Mac supports numerous audio and video formats. It also plays streamed video and audio content, both live and recorded, authored worldwide.
Listen to Internet radio stations and access to remote Winamp Remote.
Sync the FLAC files between Android phone and computer with ease.
10,000 add-ons including skins, plug-ins, visualizations and online services.
Plugins for equalizers, additional codecs, language packs, games and more.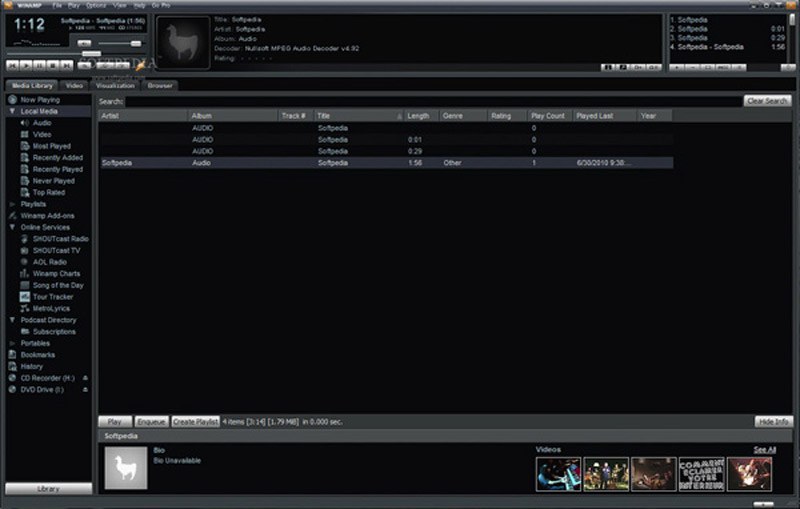 Top 3: MediaMonkey
To manage the music library with ease, the Jukebox of MediaMonkey FLAC player secures your music collection, normalizes volume levels, and kicks in automatically with music and playlists based on your criteria.
Play FLACs and other audio formats never worry about varying volume.
Record CDs and download music, movies, and podcasts within clicks.
Automatically lookup and intuitively tag album art, lyrics and other metadata.
Create playlists and let Auto-DJ & Party Mode take care of your party.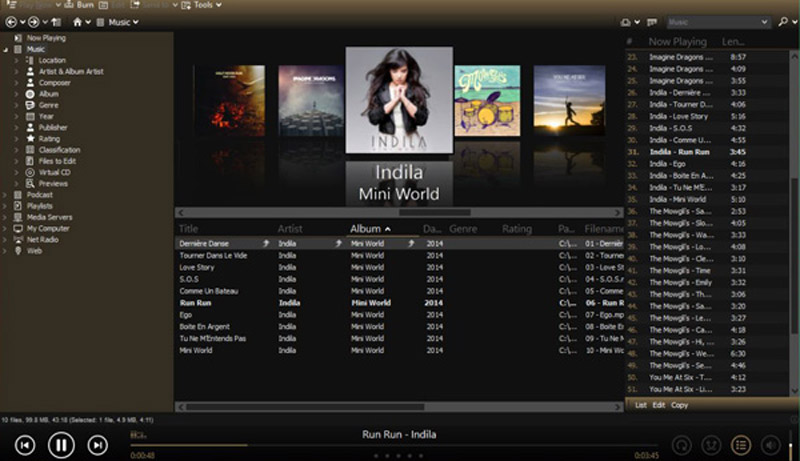 Top 4: MusicBee
When you need to enjoy music files from different channels, such as podcasts, radio, online streaming, and your computer, MusicBee is a desired FLAC player for Windows with a comprehensive feature set.
Organize, find and play music files on your computer and portable devices.
Smart playlists with the ability to discover and play new music from the web.
Provide advanced tag editing with automated artwork and tag lookup.
Advanced tools to organize file, sync music, and secure CD ripping files.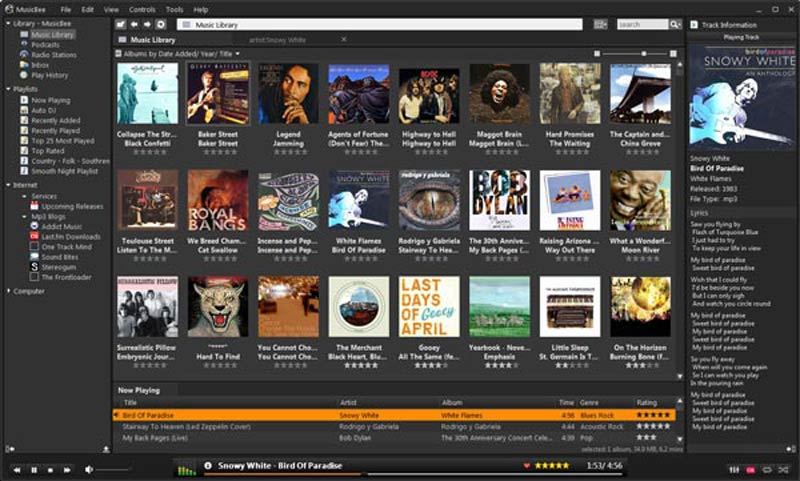 Top 5: Foobar2000
Foobar2000 is a high quality FLAC file player for Windows with excellent sound quality of music tracks. Moreover, you can also enter the console commands to control the player as a profession.
Resume the track from the same place where was closed the FLAC audio.
Provide excellent sound quality of music tracks with all sample rates.
Extract the FLAC music from online streaming sites and convert the files.
Detect and extract the FLAC music file from the archives, RAP, 7-ZIP, etc.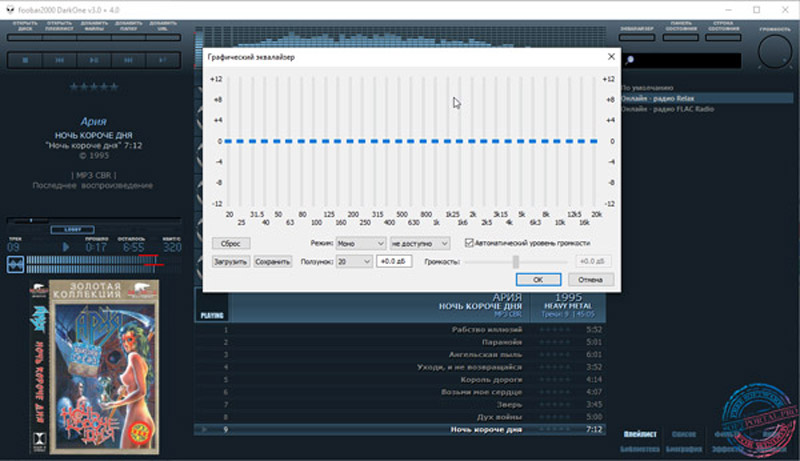 Top 6: VLC Media Player
VLC Media Player is more than a FLAC music player, but also a video player and media converter. It is an open source cross-platform multimedia player and framework that plays most multimedia files. (Want to rip DVD with VLC?)
Support FLAC music, Audio CDs, VCDs, and various streaming protocols.
Compatible with Windows, Mac, Android, iOS and more other platforms.
Enable you to play and stream FLAC music from rtmp:// protocol easily.
Transcode the FLAC to MP3, WAV, AC3 and more other audio file formats.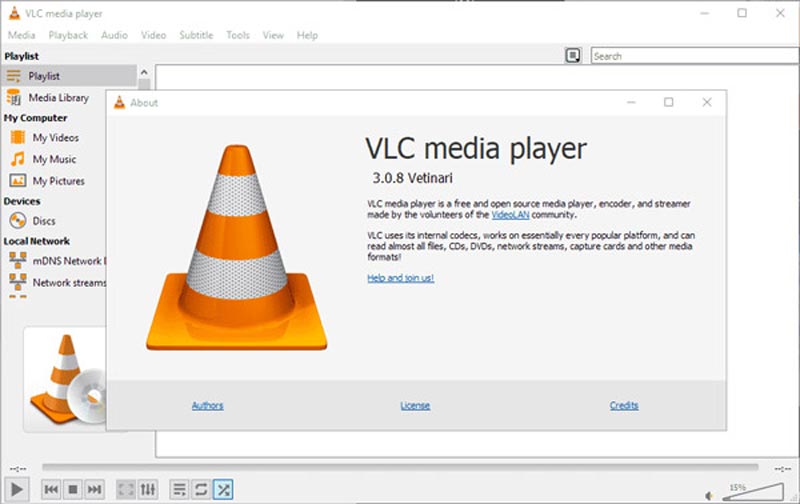 Part 2: Top 6 FLAC Players for Android and iPhone
Top 7: Pi Music Player
Pi Music Player is a versatile FLAC player for Android, which comes with a full set of features, like the FLAC cutter and ringtone maker, powerful equalizer, popular audio format, stunning themes, and even a sleep timer.
Customize interface with 4 stunning themes and 25 beautiful backgrounds.
Provide inbuilt FLAC cutter that can be used to cut your FLAC music files.
Comprises of 25 presets, bass boost, 3D-Reverb effect, and a virtualizer.
Advanced share feature allows you to share your audio music with anyone.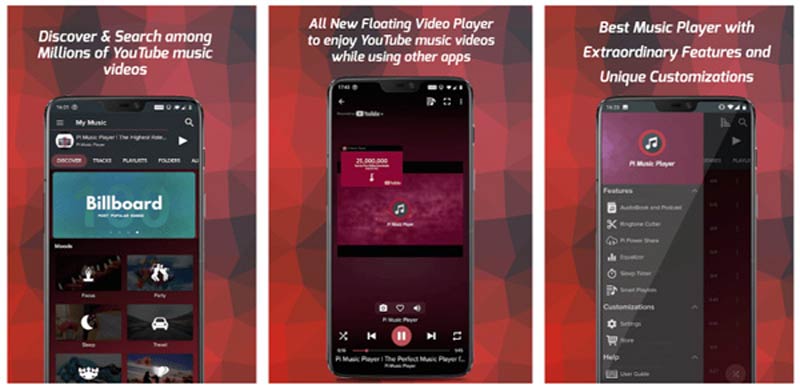 Top 8: AIMP
AIMP is a full-featured free FLAC player designed with sound quality and wide, customizable functionality. It supports more than 20 audio formats in 32 bits with crystal-clear sound and 18-band graphic equalizer.
Integrated utilities with audio library, sound recorder, audio converter, etc.
Support for a large number of formats and music playlists, including FLAC.
Work with multiple playlists at once, bookmarks and playback queue.
Great functionality and intuitive interface to playback the FLAC music.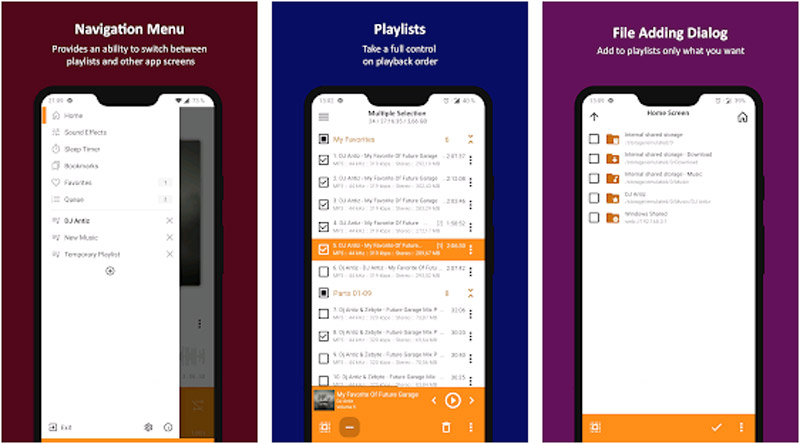 Top 9: FLAC Player+
When you want to enjoy the FLAC music files on iPhone, FLAC Player+ is a versatile FLAC player for an iPhone. It enables you to use a file-sharing interface of iTunes to sync to FLAC files to your iPhone.
Support gapless playback, playlists, equalizer preset and other features.
Manage and create your own music playlist, albums, genre and more.
Provide Wi-Fi transfer and Bluetooth headset, background audio.
Download FLAC music from NAS devices, remote login and SFTP servers.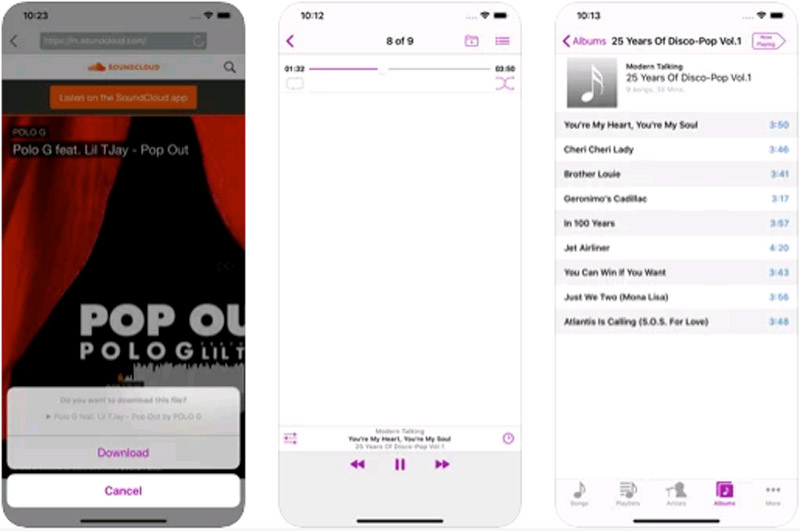 Top 10: Golden Ear
Just as the name of the music player, Golden Ear is another FLAC player for iPhone to playback the music files without converting. Besides the FLAC, it also supports ALAC, AIFF, WAV and other formats as well.
Enable you enjoy the FLAC music up to 24bit/96KHz lossless audio file.
Support the music files with CUE, LRC and more with UTF8 encoding.
Create, rename, delete, move and manage the music files with ease.
Provide a rich set of playlist themes, sleep timer and more others.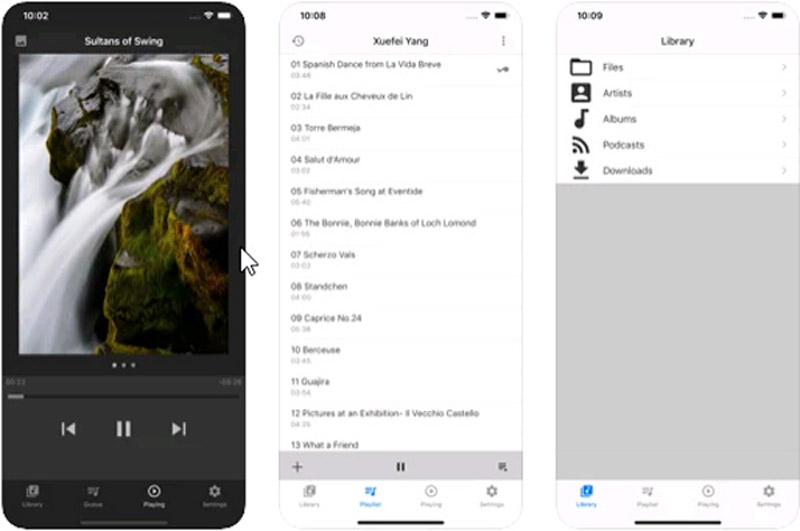 Top 11: Tonido
Tonido is more than a FLAC player for iPhone and Android phone, which allows you to access your entire collection of documents, photos, music and videos on your home computer.
Stream your entire music collection without saving them locally.
Download FLAC music directly to your iPhone and access it offline.
Create and manage playlists for the FLAC music within taps.
Browse files and documents, download them locally, edit them, etc.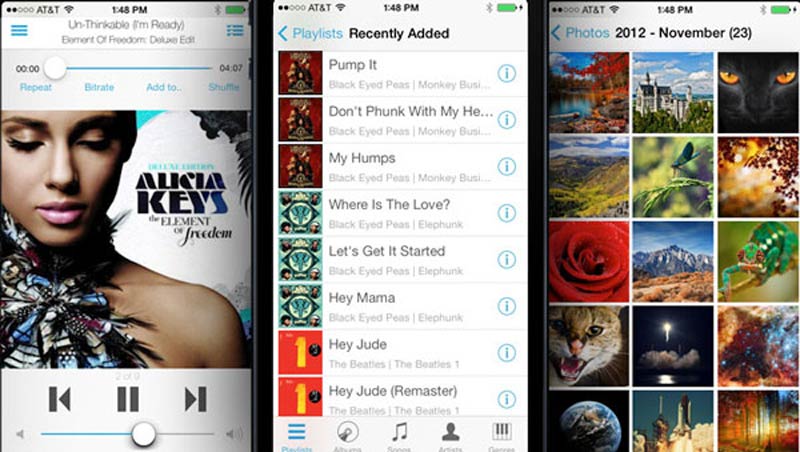 Top 12: Flacbox
Flacbox is an all-in-one FLAC music player for iPhone with audio equalizer and bass booster. You can listen to the music files from cloud service, home computer, external flash card and others.
Support Google ChromeCast, AirPlay, CarPlay, Sonos via Airplay2.
Provide different modes, such as background, shuffle and repeat.
Offer advanced searching to get the desired music files from the program.
Support FLAC, ALAC, OPUS, MP3, AAC, OGG and more audio files.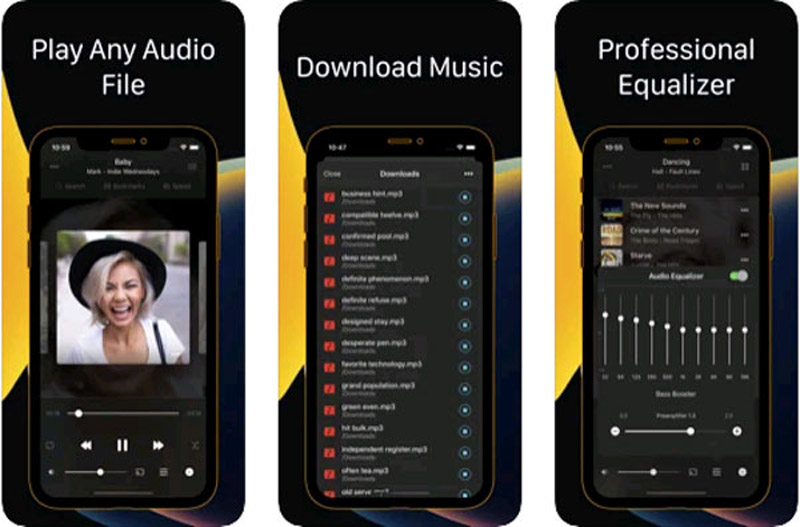 Part 3: FAQs about FLAC Music Player
1. Is There A Default FLAC Music Player for iPhone?
No, there is no default FLAC music player for iPhone. Of course, you can also use the iTunes and other mentioned music players to listen to the FLAC files. The default accepted audio formats for Apple devices are MP3, AAC, AIFF, ALAC and WAV.
2. FLAC V.S. MP3, Which is Better?
FLAC is a lossless audio format and MP3 is a lossy compression audio file. As for the case, the FLAC format is better in quality than the MP3 format. But the MP3 file is smaller in size and compatible with most of the media players. It is the reason that you need a FLAC player.
3. What is FLAC Music Format?
FLAC free lossless audio codec is a music file format that offers bit-perfect copies of CDs but at half the size. No sound quality will be lost during the compression process. There is an ffp.txt that's used to store the filename and checksum information that pertains to a specific FLAC file.
Conclusion
When you need to play the FLAC files, you can learn more about the 12 best FLAC players for your computer and smartphone. Just learn more details about the features and choose the desired one according to your requirement. Vidmore Player is a versatile FLAC player you should take into consideration.