Transform M4A to AMR and Start Playing It On Your Device
There are instances where audio tracks such as M4A cannot be played on mobile devices for speech recording because they are not compatible. But good thing there is now a solution for that! Why settle for less if you can convert your most-loved audio to AMR? Consequently, you will be able to play your audio file on your mobile device. To help you clear up your concern, here is an article that will aid you in converting M4A to AMR.

Part 1. Differences Between M4A to AMR
This portion will see a transparent comparison between M4A and AMR.
| | |
| --- | --- |
| M4A | AMR |
| M4A file is a lossy file format that is being encoded to use an AAC codec. | AMR is a type of lossy format. |
| An M4A format is compressed. | AMR file is a type of file that is saved in a compressed format. |
| M4A files are mostly used in Apple's iTunes Store. | AMR files are compatible with QuickTime Player, VLC Media Player, MacOS, Microsoft Windows and Linux Systems. |
| M4A was developed by Apple Inc. | AMR file was developed by Ericson way back 1990. |
Part 2. How to Convert M4A to AMR: Online and Offline Ways
There are many ways to convert M4A to AMR, and that is through online and offline ways. At this juncture, we will provide different programs that will help you to transform your audio tracks into another file type quickly. Along with this part are the step-by-step procedures.
1. Vidmore Video Converter
It would be beneficial if you could use Vidmore Video Converter to convert M4A to AMR without losing quality in the process. This program works best on PCs that are either Mac or Windows-based. As a result of its support for over 200 audio and video formats, Vidmore allows you the flexibility to pick the file type you desire. Additionally, the user-friendly design of this application allows you to access features and editing tools with ease. As predicted, even non-professionals may do the task without problem.
You will not have any problems even if there is no network access since it will continue to function normally. Here's how to use this offline tool to convert M4A files to AMR files.
Step 1: Download the M4A to AMR Converter
Installing the program on the computer's hard disk is the first step. To continue, choose the Free Download option from the drop-down menu. Once the conversion tool has completed its duty, you can now navigate it.
Step 2: Add the M4A File on the Timeline
Afterward, choose Add Files from the File menu and go to the M4A file located in your Folder. Additional alternatives are available by clicking the Plus symbol, which displays in the middle of the main screen, which will increase your list of choices.
Step 3: Choose the AMR from the Options
To make changes to your M4A file types, start by clicking the arrow buttons in the upper-right corner of the clip, then the Audio tab at the top of the window. After that, identify and choose the AMR file type by selecting it from the drop-down menu.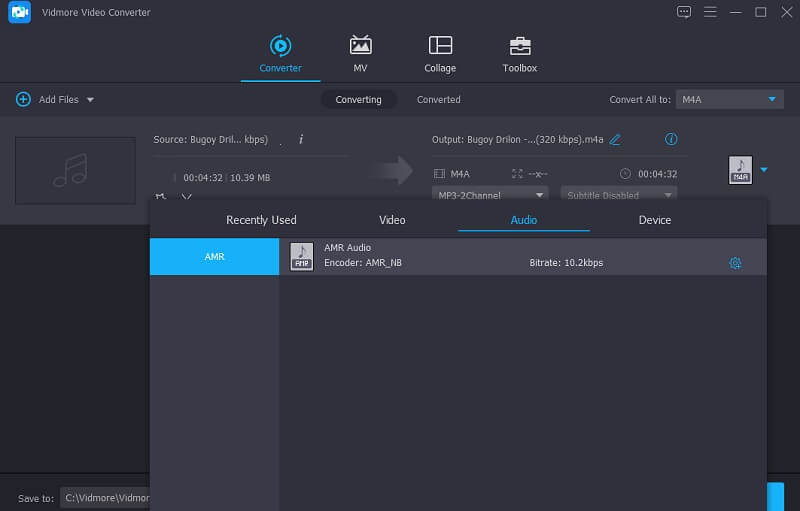 Furthermore, you may change the audio's channel and bitrate to improve the overall quality of the audio output. In the format's upper right-hand corner, click the Settings icon to bring up the settings menu. When you are done altering the audio quality, choose to Create New from the drop-down menu to save your switches.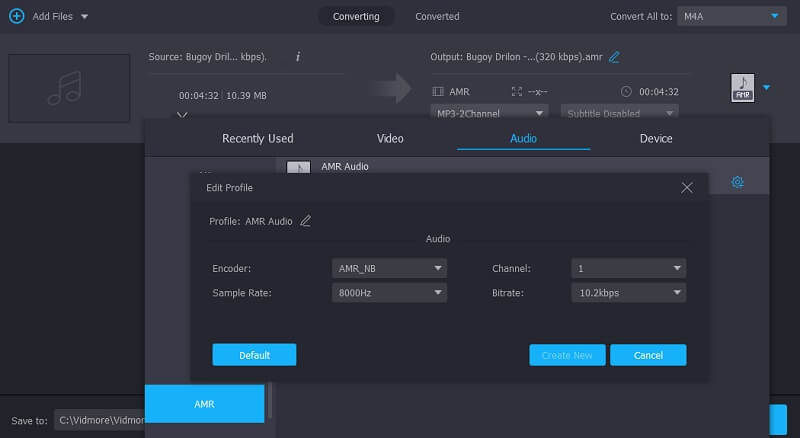 Step 4: Convert M4A to AMR
Hit the Convert All icon once you've completed all of the steps outlined above to rapidly implement the changes you've performed.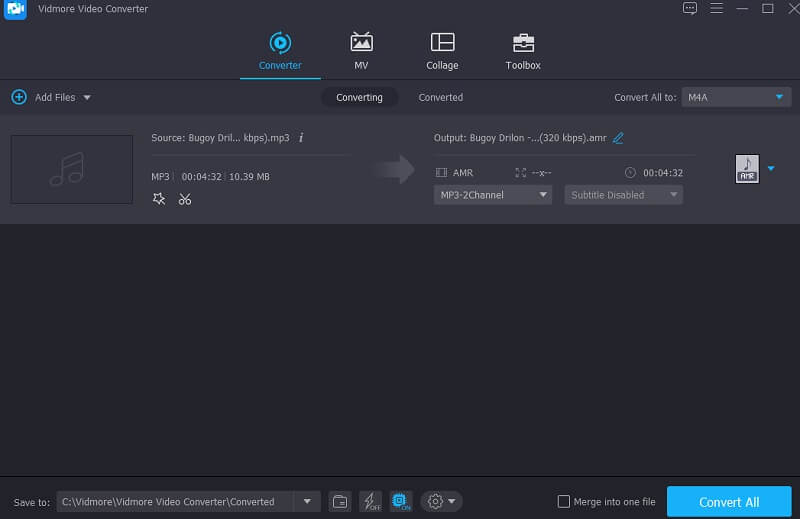 2. Convertio
You may convert M4A files to AMR files without spending a cent if you use the Convertio freeware tool. This web-based solution enables you to convert your data without going through a lot of trouble and time-consuming procedures. Because it is a powerful converter, it features a dashboard that is very user-friendly to handle this. Converting your chosen files to a different format will be a piece of cake. This converter should be reserved for tiny file sizes due to its limitation of only converting files less than 100MB in size.
Step 1: Navigate to the website for the online tool. You may select the M4A from the drop-down option next to the Choose Files icon on the official website's homepage.
Step 2: As soon as your file has been appropriately uploaded, choose AMR as your new file format from the drop-down option on the right side of the screen.
Step 3: Finally, click on the Convert button to conclude the converting procedure.
3. AConvert
Another online tool you can rely on in converting an M4A file to AMR is through AConvert. Aside from converting audio files, this tool can also convert and compress video, pdf, images, and ebooks. Users may find this online program easy because it doesn't contain complications. If you want to see how AConvert works, here are the three steps.
Step 1: Look for the AConvert on your browser and tap the Choose Files on the center screen.
Step 2: After adding the M4A file on the main screen, tap the Target Format and choose the AMR on the list of file types. Then, you may also adjust the bitrate and sample rate if you want.
Step 3: If you are okay with the modifications, you may now apply all the changes by tapping the Convert Now button below.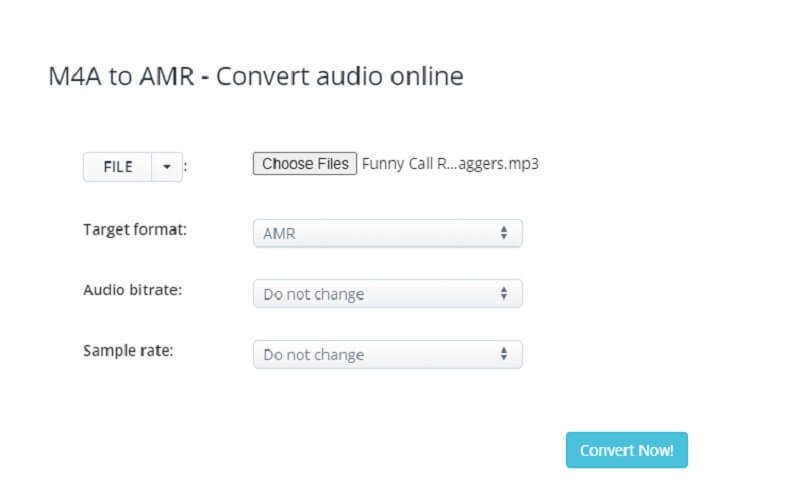 Part 3. Comparison Between Converters
If you are being confused about which converter you will use, you can look at the converters below.
Category

Easy to navigate

Support many audio and video formats

Works without internet connection

Contains other editing tools
| | | |
| --- | --- | --- |
| Vidmore Video Converter | Convertio | AConvert |
| | | |
| | | |
| | | |
| | | |
Part 4. FAQs About Converting M4A to AMR
What is the advantage of an M4A file?
The M4A file is compacted while maintaining lossless audio. You will get a lesser file with the same quality as the original. You may also use it as a ringtone on your device.
What is the advantage of an AMR file?
Because AMR has a broader speech frequency than other technologies, it has better sound quality. The AMR protocol employs low bit rates to maintain audio quality when there is capacity on a network.
Which is better, AMR or MP3?
Even though the MP3 format is perhaps the most widely used audio format today, it is not very efficient in encoding speech compared to AMR. Even though it is not extensively supported by hardware and software, the AMR format is considered superior for the encoding of speech and is favored in this regard. So, maybe you need to convert MP3 to AMR in some cases.
Conclusions
Using the appropriate tools while converting M4A to AMR is necessary, and you might choose the given above based on your needs. A single click installs the Vidmore Video Converter, allowing the hassle-free conversion of many files to high-quality formats. When doing effortless conversions regularly, you may use the online tools in conjunction.