Maximize Storage with MP2 to MP4 Converter Online and Offline
An MP2 file is also known as MPEG Layer II Compressed Audio File. This sort of file is still widely used in digital tv and radio transmissions, which is still considered standard practice. Furthermore, the higher video quality it gives consumes an excessive amount of storage space on devices. For this reason, some individuals are acting more rationally and converting MP2 files to other video formats such as MP4. This article will give some of the best MP2 to MP4 converters online and off the internet.

Part 1. How to Convert MP2 to MP4 Online
1. Vidmore Free Video Converter
Vidmore Free Video Converter is a free utility that requires no subscription. It is an excellent tool for converting MP2 to MP4 for free. In its simplest form, this web tool converts between various file formats while enabling you to keep complete control over the output files' quality.
Vidmore Free Video Converter is a versatile tool that works with both Mac and Windows devices, making it an excellent option for various circumstances.
Unlike other internet converters, Vidmore Free Video Converter is entirely feature-complete.
Using this web-based program, you may convert your files without worrying about being limited in your selections. Additionally, we've included a step-by-step method to make things easier to follow.
Step 1: Visit the Vidmore Free Video Converter page and click on the Add Files to Convert option to download the launcher. After installing the launcher, you may begin using the online program.
Step 2: To choose the MP2 file, click twice more on the Add files to the convert box.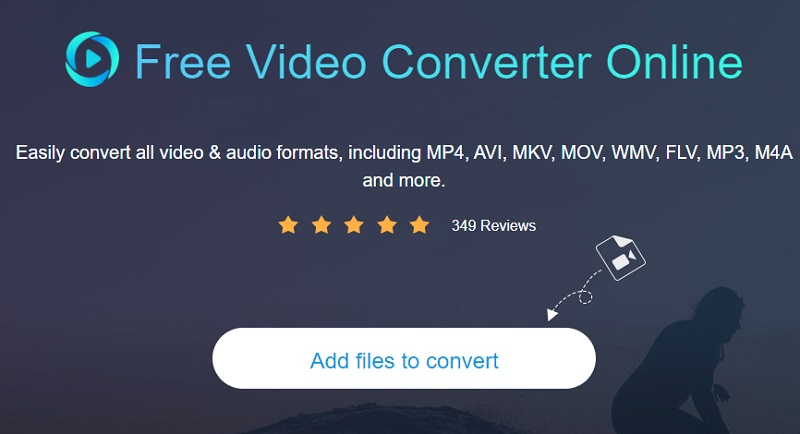 Step 3: Next, select the Movie button on the screen's side. Additionally, it will provide several video file types from which to pick. Then, from the right-hand drop-down menu, choose MP4 as the type.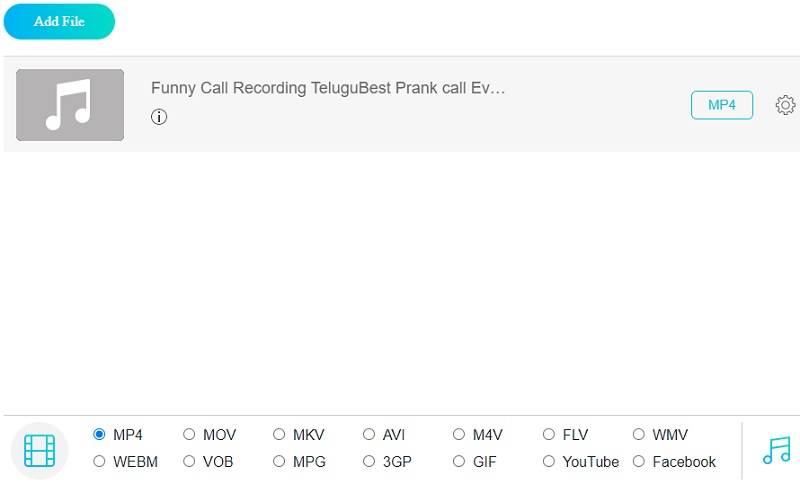 Click the Settings icon to the right of the audio to alter the level and bitrate of the video. To finish, click OK to end the window.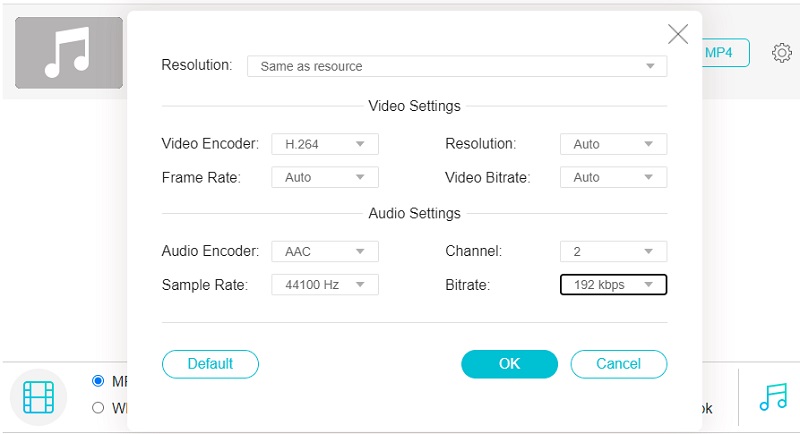 Step 4: Finally, click the Convert icon, and go to the appropriate folder using the toolbar's Select Folder icon. Vidmore Free Video Converter can convert your audio to MP4 format in seconds.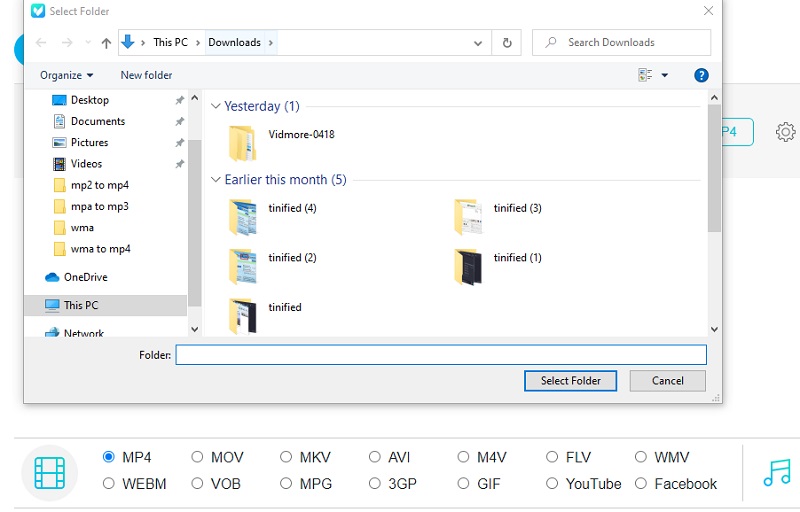 2. FreeConvert
FreeConvert is a free web file conversion application that allows you to convert any file into another format. This converter is entirely free and works flawlessly in every web browser. The program is built with a robust API that enables you to fine-tune the conversion settings to your specifications. It allows the conversion of various file kinds, including audio, video, picture, and document. However, it only allows for importing files of a specific size, and the conversion pace is also relatively poor.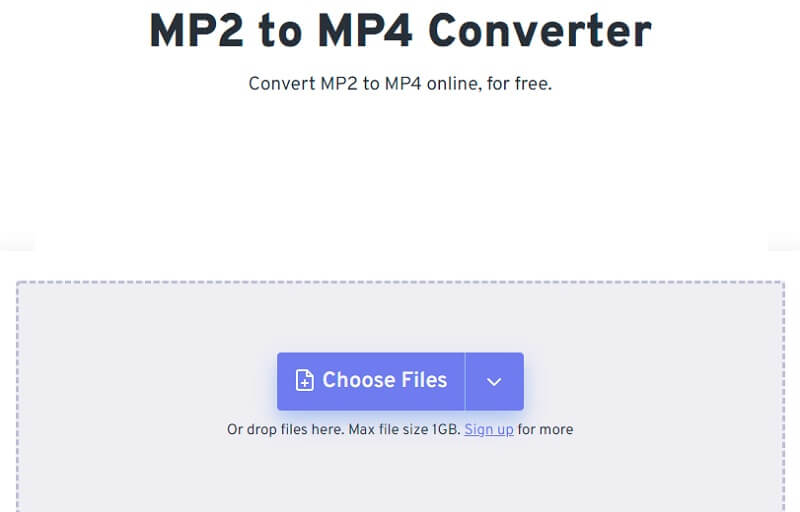 Part 2. How to Convert MP2 to MP4 on Desktop
1. Vidmore Video Converter
If you wish to install any software converter on your computer, you may utilize the Vidmore Video Converter. This tool is compatible with various operating systems, including Windows and Mac. Additionally, this tool can convert audio and video files without limitation.
Vidmore Video Converter is compatible with various file formats, ranging from the earliest to the latest. It is one of the program's advantages since consumers can depend on it regardless of the file format in which their data is saved. Additionally, this program supports batch conversions. It simply means that you can simultaneously convert as many videos and music as you want. You will not be obliged to convert your files due to the inefficiency.
Its ability to boost the quality of your audio or video makes it more user-friendly for most users. It is a lesson that has been reserved just for you.
Step 1: Navigate to the software's main page and choose the option for Free Download. After that, let the launcher work on your computer. You may now submit your file after the installation procedure is complete.
Step 2: Then, click the Add Files option on the left-hand side of the screen and choose the MP2 file from your computer's hard drive. Alternatively, you may click the center Plus button.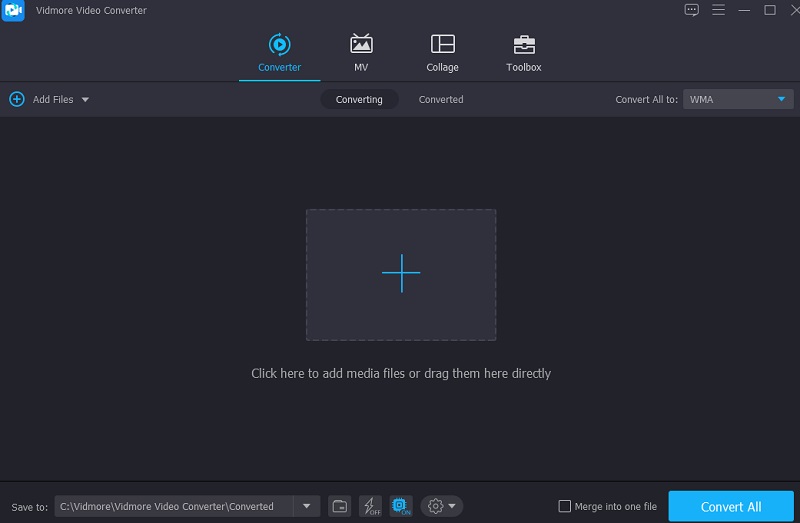 Step 3: Once the MP2 files have been added to the timeline, you may begin converting them to another format. The Profile tab is accessible through the right-side drop-down menu. After that, find the MP4 file under the Video tab. Once you've located the desired format, modify it.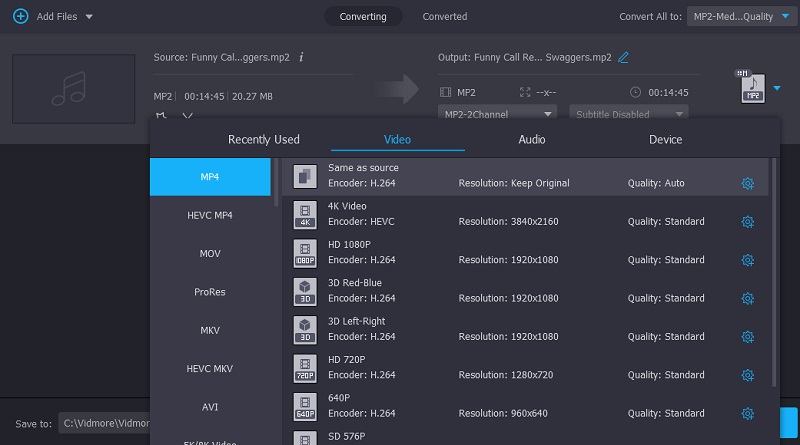 To alter their file's size and quality, click the Settings button in its upper-right corner. Once the file's size has been adjusted to your satisfaction, click the Create New button below.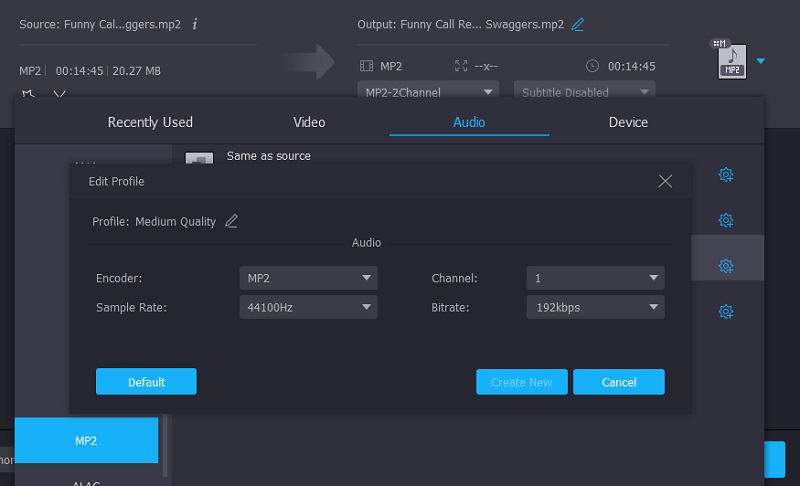 Step 4: After you've made any necessary modifications to your file, touch the Convert All button at the bottom of the interface to complete the conversion process. And then wait for your file to be converted successfully.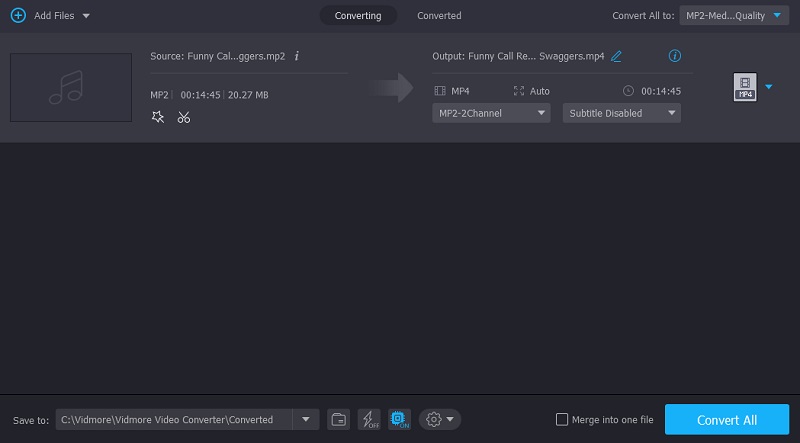 2. Total Video Audio Converter
Using Total Video Audio Converter, you can convert your video and audio from one format to another without losing any of their quality. In addition to supporting more than 100 video and audio formats, the software converts files swiftly and effortlessly. It does not need any technical understanding, and the interface is simple. Total Video Audio Converter comes with an extensive library of codecs that make it possible to convert videos and audio files quickly and with excellent quality. Finally, it only supports a restricted number of file types when converting them.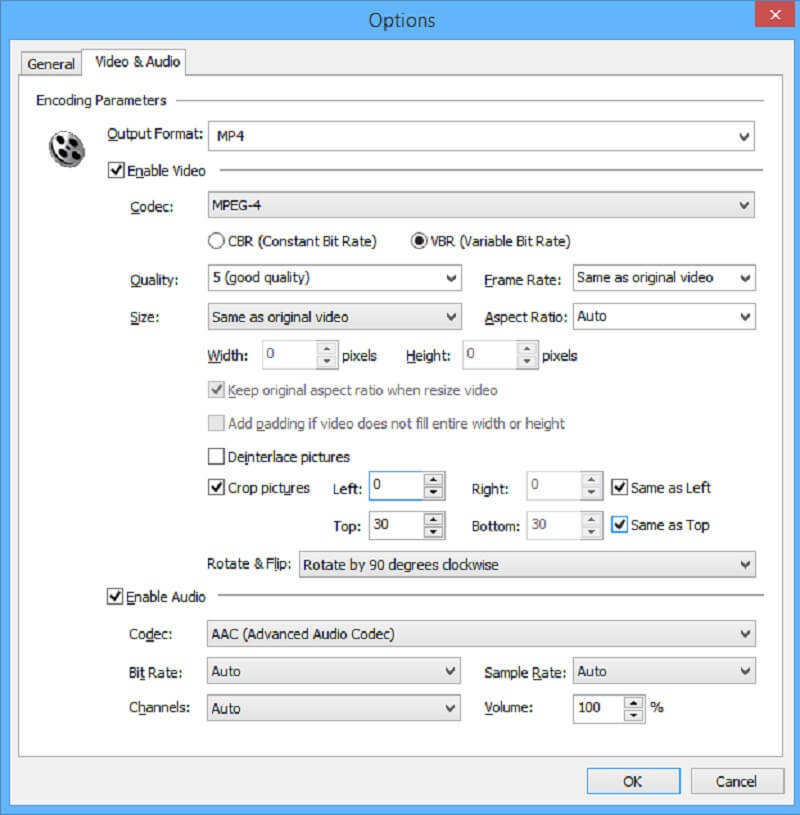 Part 3. FAQs About Converting MP2 to MP4
What is the edge of the MP2 format?
It has the benefit of preserving the high quality of video files, which is an advantage of MPEG2. Aside from that, they are much more significant.
Is MP4 a high-quality format?
Using its fast rate of compression and tiny file sizes, MP4 can deliver high-quality video and music across a wide range of streaming media applications and services.
What is the advantage of the MP4?
Another benefit of MP4 is its high compression level while creating smaller file sizes. It makes perfect for video streaming and compressing high-quality audio-video files, among other things.
Conclusions
MP2 and MP4 are both lightweight and convenient. It all varies on how and where you want to use them. If you are concerned about the quality of your file, you should consider using the MP2. On the contrary, if you want to make the most of the available storage space on your smartphone, MP4 is the format to choose. As a result, if you want to convert MP2 to MP4, Vidmore Video Converter is the best tool you can use to complete this task. However, the programs indicated above are also sure to be beneficial if you choose an online program.