The Easiest Methods to Convert iTunes M4V to MP4 with Ease
I downloaded some M4V videos from iTunes, but when I opened them in Windows Media Player, I got nothing but only an error message, do I need to convert M4V to MP4 and how to do it?
What should be the differences between M4V and MP4? You might find some M4V videos work with most of the Apple devices. But others do not work with error messages. In order to choose a suitable M4V to MP4 converter, you can learn more about the solutions from the article.

Part 1: What are the Differences between M4V and MP4
M4V is a MPEG-4 video format developed by Apple for iTunes videos, usually with DRM copyright protection. MP4 is another MPEG-4 video format with a multimedia container and compression standard for video, audio and other data. The file extensions of MP4 can be .MP4, .M4P, .M4B and .M4V.
Usually the video contents downloaded from iTunes are saved as M4V. The major difference between M4V and MP4 is that the M4V videos are protected by Apple's FairPlay DRM, but not all the M4V files are DRM copy protected.
M4V is not widely used as MP4, so it probably be hard for you to watch M4V files on Android phone, Windows PC and more. If you want to play DRM protected M4V files, you have to use iTunes, QuickTime or VLC Media Player instead.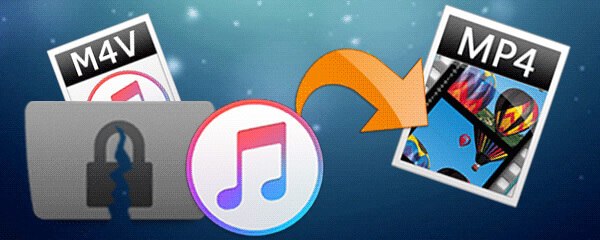 Part 2: Can You Change M4V to MP4 with File Extension?
Since M4V and MP4 are both lossy video formats in MPEG-4, can you change M4V to MP4 directly with file extension? Switch the file extension is the easiest way to convert M4V files to MP4 format. Here are two exceptional cases you should know.
Just as mentioned, some M4V files from iTunes has DRM protection, which you cannot simply change the file extension for other devices. It only works with iTunes on the machine it was bought on.
Most of the time, MP4 and M4V use the same MPEG-4 container format. But sometimes, M4V is also used RAW MPEG-4 Part 2 Video Bit-streams as the video codec.
If you are not familiar with the DRM protection or video codec, you can simply copy the M4V files, then convert M4V to MP4 by renaming the file extension. When it works, you can play back the MP4 files to the compatible device, or else, you can find some alternative solution instead.
Part 3: How to Convert M4V to MP4 Online
CloudConverter is a cloud-based M4V to MP4 converter. When you need to change the video/audio codec, add subtitles or set a certain bitrate, it should be a nice solution. It only works with the M4V files without DRM protection.
Step 1: Enter the URL of CloudConvert into the address bar of your browser. After that choose convert "M4V" to "MP4". The free M4V to MP4 online convert only supports 1 to 5 files no more than 1GB.
Step 2: In order to upload videos from computer, click "Select Files" button. You can import M4V videos from your computer, a URL, Dropbox, Google Drive, OneDrive and Box.
Step 3: Once you upload the M4V files, you can click and expand the drop down menu, and select "video" to "MP4". Hit the "toolbox" icon to get the custom options to adjust the parameters accordingly.
Step 4: After that, you can click the "Start Conversion" button to start encoding M4V to MP4. When the conversion is done, you will be presented the finished page.
Step 5: Click the "Download" button to get the MP4 videos to your computer. In order to transfer the MP4 results to your smartphone, click the "downward" icon next to the Download button and select "Get QR code".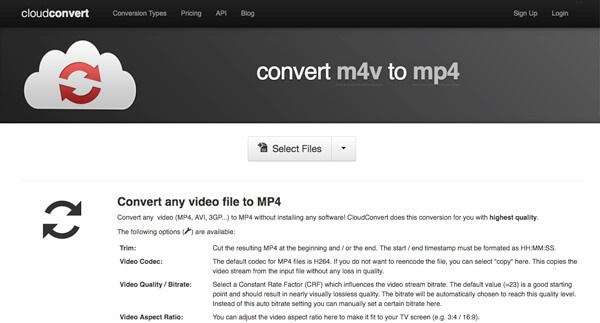 Part 4: Best Method to Convert M4V to MP4
Is there a method to convert M4V to MP4 without limitation? Whether you need to convert a large movie of iTunes, or recode the M4V to an optimal video file for iPhone, Vidmore Video Converter should always be a nice solution. It is a versatile video converter and editor works seamlessly with the iTunes M4V files.
Convert M4V to MP4, MP4 HD, MP4 4K or MP4 compatible devices.
Enhance the video quality by up-scaling resolution, video de-shaking, etc.
Add external audio track and subtitles to the output MP4 files with ease.
Further edit the videos with multiple editing features and advanced filters.
How to Convert M4V to MP4 with Ease
Step 1: Import M4V into the M4V to MP4 converter
When you download and install Vidmore Video Converter, you can click the "Add File" menu on the top ribbon and import M4V files in the Open File dialog. You can also drag-n-drop the M4V videos into the program directly.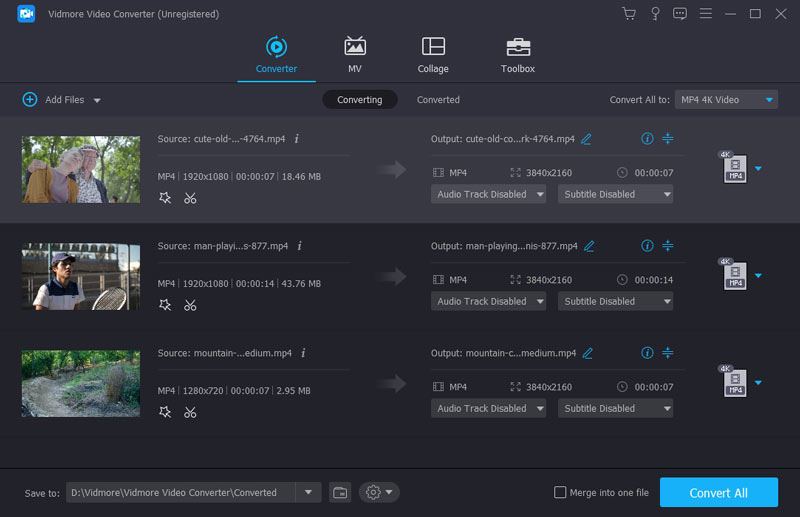 Step 2: Choose MP4 as the output format
Click and expand the dropdown list next to "Profile" and select "MP4", "MP4 4K", or the target portable device. You can also click the "Settings" option to adjust the video codec and other parameters for converting M4V to MP4.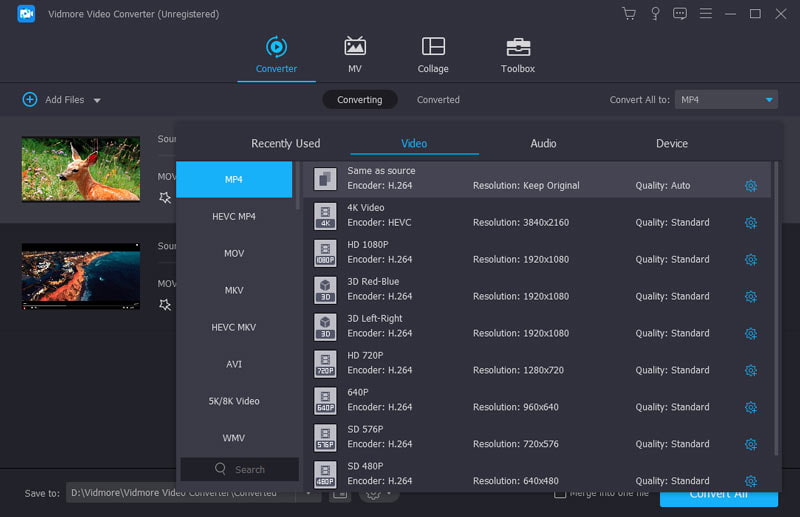 Step 3: Further edit the M4V videos
If you want to cut the video, select "Clip" and then use the sliders to remove unwanted part. You can also take advantage of other editing features, such as rotate, crop, effect, watermark and more.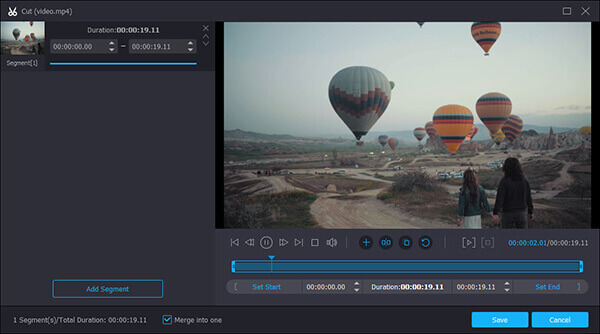 Step 4: Enhance the MP4 video quality
Click the "Enhance" menu to open the video enhancer, which you can upscale resolution, optimize brightness and contrast, remove video noise and even reduce video shake.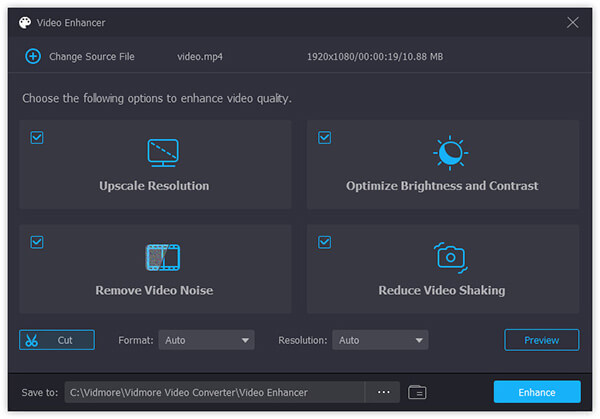 Step 5: Convert M4V to MP4 in one click
Hit the "Browse" or "Open Folder" button and select the specific folder to store the output MP4 files. Click the "Convert" button to convert the selected M4V files into MP4 format with a batch process.
Conclusion
The article discusses about how to convert M4V to MP4 with some easy methods. M4V is the prevalent video format for iTunes video files, which only works with the device you have purchased the video. In order to play the videos on more devices, you have to convert the M4V to MP4 instead. Rename the file extension should be the easiest method you can take into consideration. Of course, you can also try the online solutions. Both of them can convert the desired M4V to MP4 in clicks. If you want to convert a large M4V movie, or play back the movies on Android or other devices, Vidmore Video Converter is the recommended M4V to MP4 converter you have to take into consideration. If you have any query about how to convert M4V to MP4, you can share more detailed information in the comments.