Top 5 Powerful Audio Editors for Better Sound Quality of Your Files
Most of the time, we cannot avoid recording audio with a noisy background. Therefore, you will be needing an audio editor to edit our audio files. Especially if you are just a typical individual who doesn't have that high class equipment to remove that excess noise in your audio. That is why it is really necessary to have an editing tool to make your audio a masterpiece.
Maybe you are wondering where you can get those tools to help you in editing your files. The good news is, there is an audio editor online! And in this post, we listed the most recommended free online audio editor that is being used by many.

Part 1. Best Audio Editor Online Tools
If you are desiring to edit the quality of your recorded audio without spending a single money or without requiring you to download any application on your device, there is still an option for you. Because you can use an online editor for free! We have gathered and tested the most popular online tools that are being used by a lot of people who want to improve the quality of their audios. Take a look at the top 5 online tools listed below.
1. Creator from LANDR Samples
LANDR is also a web-based tool which helps you to take your audio files to a higher level. It uses great editing features to enhance the sound of your music. LANDR also allows you to combine up to eight audio samples that are in its library. And you can also hear those sample sounds at the same time in order for you to decide whether you are going to use a key or a tempo.
The only drawback is if you signed up for free, LANDR will have the right to remove your account with or without your permission. So, do you want to know how to use this online tool for editing your audio files? Here is the quick guide below.
Step 1. Go to LANDR official website. Once you have signed up and logged in, proceed to the Library then click the Master panel and then tick the Tracks menu.
Step 2. After you click the Tracks menu, select and upload the file that you want. After it was uploaded, click the Preview Ready tab.
Step 3. Once you click the Previews Ready tab, it will show another notification. Click the Advanced Mastering and Reference.
Step 4. Upload the references that you want to add on your audio. Once satisfied with the result of your audio files, click the Create Master button, choose the format that you want and then click Save Master.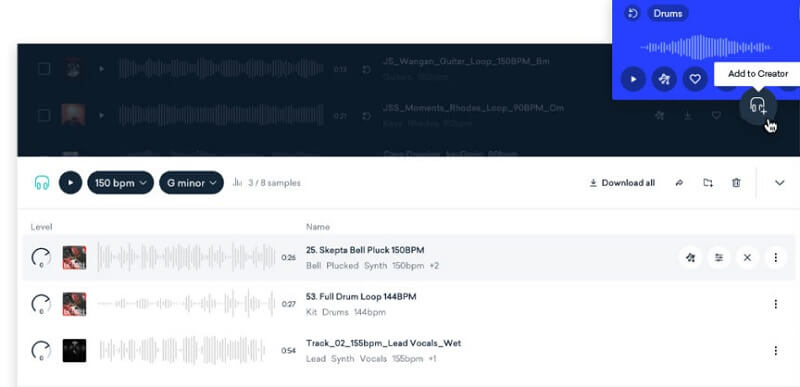 2. TwistedWave Audio Editor
Another online tool that you can use for free is TwistedWave Audio Editor. This tool allows you to record and edit your audio files with a maximum length of five minutes if you signed up for free. This application also works on mobile devices, Mac and iPad. And it can export several sound formats such as WAV, AIFF, AU, SND, SD2, MPG, MP2, MP3, MP4, M4R, M4A (iTunes), and many more. To give a glimpse how to use this TwistedWave Audio Editor online, take a look at the guide information below.
Step 1. Go to your browser and look for TwistedWave Online Audio Editor. Select on the options below where your file is coming from. Once you have chosen the file, wait for it to be uploaded.
Step 2. Click the Effects section above the main interface of the tool and it will give you options that will help to control your recorded files.
Step 3. Once you are satisfied with the result of your audio files, click the Export icon on the right upper part of the screen. It will give you an option if you want to send it to Google Drive, SoundCloud or just simply click the Download menu.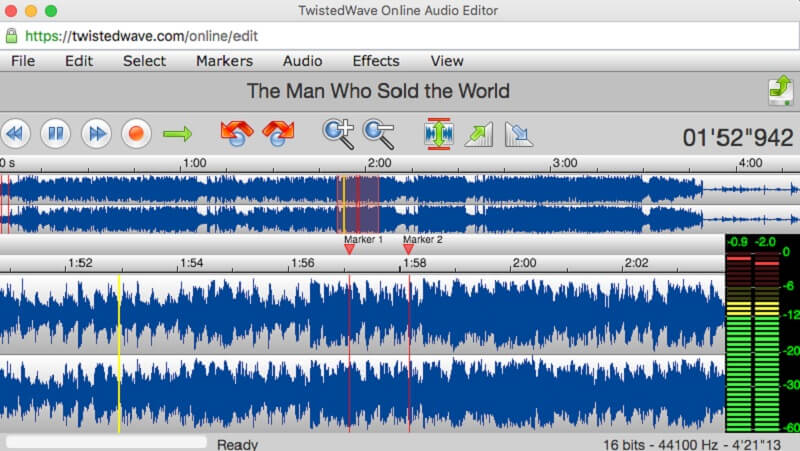 3. Audio Trimmer
This Audio Trimmer online is also an easy to use tool that lets you trim files on your system for free! It also works even on the latest mobile device. Aside from its ability to trim your audio files, it also allows you to create ringtone on your own. You can export the uploaded audio file with a maximum file size of 100MB. To help you understand how this online tool works, take a look at the steps below.
Step 1. Search for Audio Trimmer on your web browser and click the Upload button to import the audio file that you want to edit.
Step 2. Once your audio file is on the main interface of the online tool, tick and drag the Handle on the part of the audio that you want to crop. You can also put a Fade in or Fade Out effects if you want.
Step 3. When you are done, click the Crop button and then press the Download tab to save your edited audio file.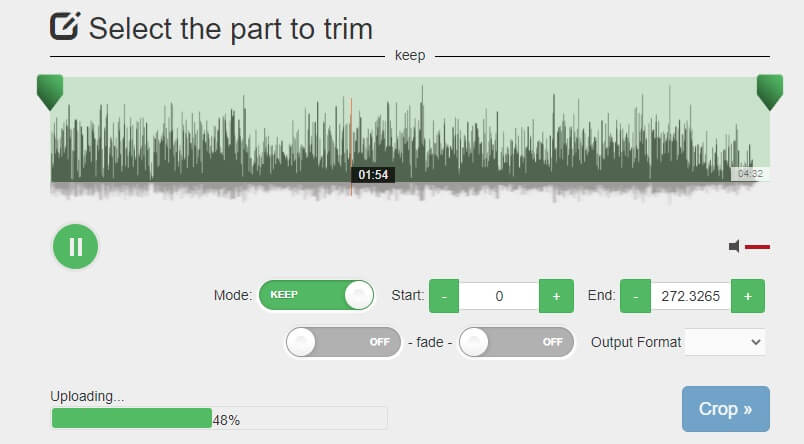 4. Audio Joiner
Another user friendly tool that you can use without a need to download an app is Audio Joiner. It is a single purpose app which is designed in combining your audio tracks supporting more than 300 editing formats. This tool doesn't allow exploring different music production but you can join tracks as many as you want. Here is a quick guide on how to use this simple online audio editor.
Step 1. On the homepage of Audio Joiner, click Add Tracks icon to select all the tracks that you want to merge or simply command Control A then drag the files at the interface of the tool.
Step 2. Enable editing your uploaded tracks by clicking it. The enabled track should appear as a color green. After that, begin choosing the part that you want to crop by moving the thin vertical line at every end of the tracks.
Step 3: When you are done choosing each part of the track that you want to join, click the Join button. After it was processed, you can now download it.

5. BandLab
BandLab is one of the most efficient audio editors online because it gives unlimited access to try more than 10,000 free samples from the library. What is great about this online tool is it allows you to be an instant music composer because it gives you the opportunity to collaborate on the compositions of other producers, musicians and artists. But the drawback of this tool is you cannot sell your BandLab sounds to its competitors. If you want to know how to use this efficient tool, take a look at the information below.
Step 1. Sign Up and Log In at the official website of BandLab. Once you log in, click the Create button.
Step 2. After clicking the Create button, it will show you the tracks where the music composition will happen. Select from the options being offered.
Step 3. Once you have chosen a track, you can edit it by clicking the MIDI Editor to make changes to it. You can also choose to edit other tracks.
Step 4: Once you are satisfied with the outcome of your track, click the Save button at the right upper part of the screen and then put a name on your sign. You will be given an option there whether you want to publish it or not.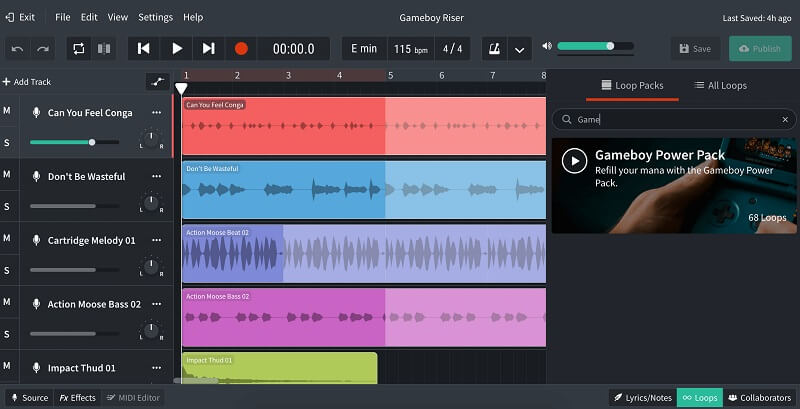 Part 2. Professional Audio Editor
If you are looking for a professional yet easy to use software, consider using Vidmore Video Converter. This tool was built in a way that users will not have a hard time understanding the technicalities of its features. Aside from that it wasn't just programmed to edit your audio files but your videos and images as well. What makes it more convenient is you can edit your tracks all at once. There's nothing to be afraid of at the file size because it converts without a limit. To explore more about this multi-purpose tool, here are the simple steps below.
Step 1. Acquire Vidmore Video Converter
Download and install the program by simply clicking the download link below. After you install it, run the app on your system.
Step 2. Add Your Audio File
Click the Add Files dropdown or the Plus sign at the center of the screen and select the audio file that you want to modify.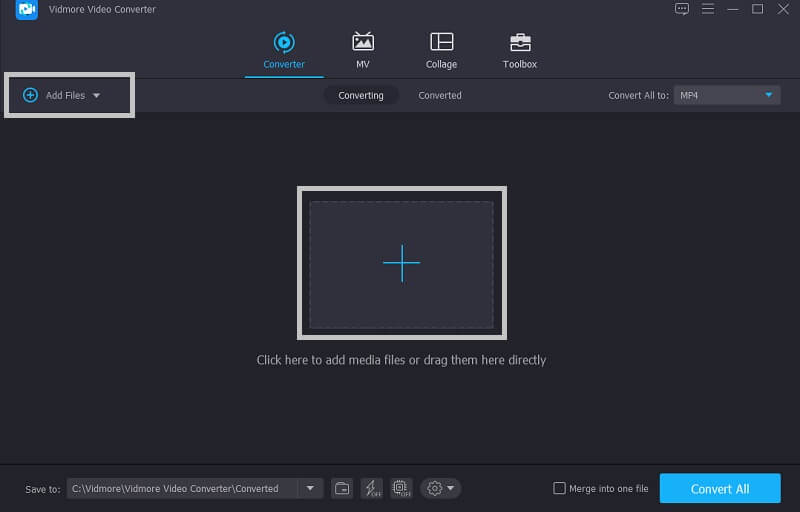 Step 3. Edit the Audio File
Click the Cut button at the lower part of the clip. It will give you the editing options that you want to add in your file. Apply the changes you require and then once you are satisfied, click the Save button.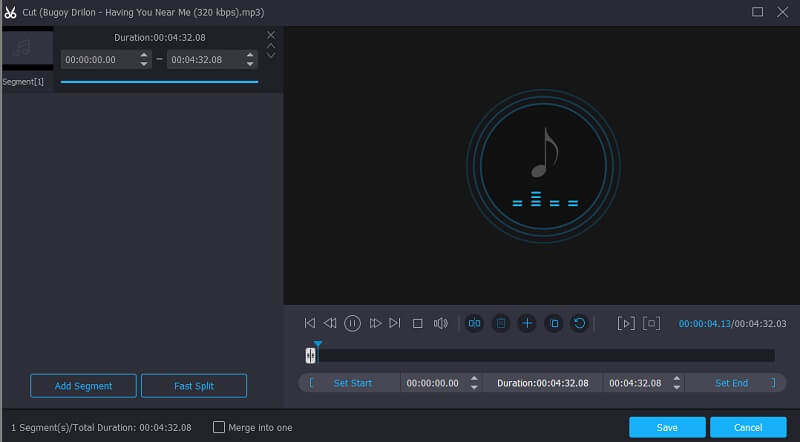 Step 4. Save the Audio File Output
Once satisfied with the changes of your audio, click the Convert All button to successfully convert the file.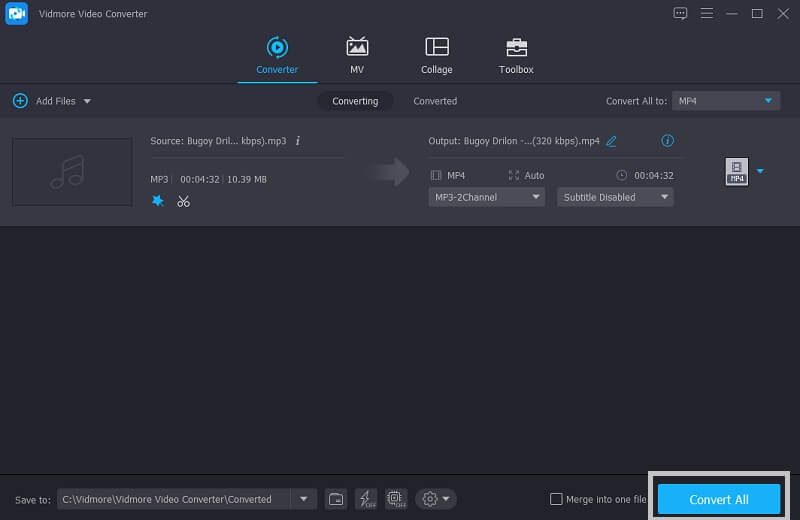 Part 3. FAQs on Audio Editor
Can I add a track to my voice recording on TwistedWave?
Yes. Just open your music track to another editor window, select and copy it. And on the voice track, place the slider where you want the music to start. After that, select Edit and click Paste Over.
Can I use Vidmore to edit my audio file on Mac?
Definitely yes because Vidmore was programmed on both Mac and Windows.
What other online apps can I use to edit audio files?
If you are looking for another full featured audio editor online, you can try Audacity.
Conclusion
Now, you will not have a hard time finding a tool that will help you in editing your audio files without the need to download an app because we already provided all the free online audio editors that you can use. All you need to do now is to choose and try the one that you desire.