Top 3 MP3 to DTS Audio Converter Of All Time: Online and Offline
We are all aware that the MP3 format is the most often used audio format. However, since this sort of file is compressed, it suffers from lossy compression. In addition, if you want to play MP3 files on your home theater system, there is a chance that you will compromise the quality in some way. But do not panic, since if you utilize an MP3 to DTS Audio Converter, you will be able to enjoy the audio track on your home theater system. Please take your time to read the message below.

Part 1. Best Way to Convert MP3 to DTS Without Quality Loss
Suppose you want to improve the sound quality of your home theater. In that case, the Vidmore Video Converter is the most excellent MP3 to DTS converter that you can use. One of the most popular file converters available on both Mac and Windows devices, this software is one of the most widely used. Vidmore Video Converter is designed to edit audio, video, and photographs. With its more user-friendly interface, this audio and video converter is easier to use when compared to other similar programs. You can use this tool to convert MP3 to DTS regardless of whether you are a seasoned professional or a complete novice.
Through its simple-to-use yet powerful editing capabilities, you can fine-tune the sound quality of your audio while keeping both the bitrate and sampling rate into consideration. Even if there is no internet service, the software functions very well. To understand how this MP3 to DTS converter works, please refer to the basic instructions provided below it.
Step 1: Download the MP3 to DTS Converter
Please download and install the tool before proceeding by clicking one of the Download buttons below. After installation is complete, run the launcher. Once the program can run, you may immediately begin using it.
Step 2: Upload Your MP3 File
Once the software has been launched for the first time, it will lead you to the software's primary interface. To add files, either click on the Add Files button or tap the Plus sign in the middle of the screen.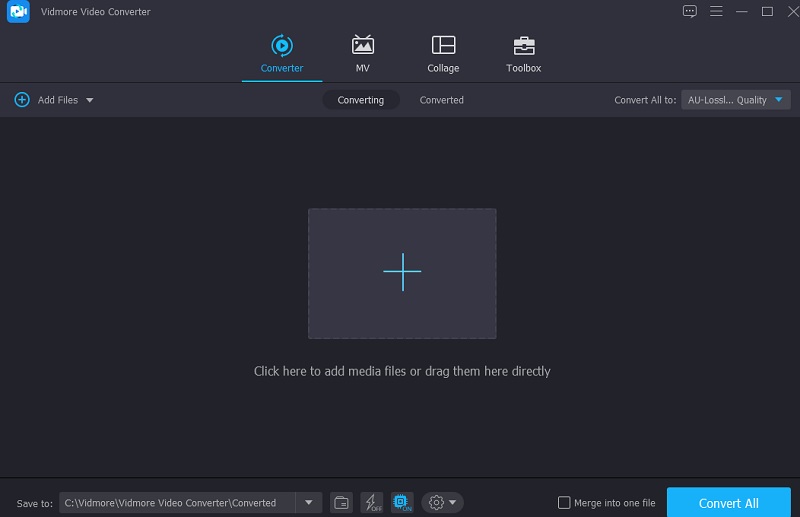 Step 3: Choose the DTS Format
After you have uploaded the MP3 file, you may alter the format by selecting the appropriate choice from the drop-down menu on the right side of the screen, as shown below. Then, choose the DTS format from the drop-down menu that appears under the Audio tab.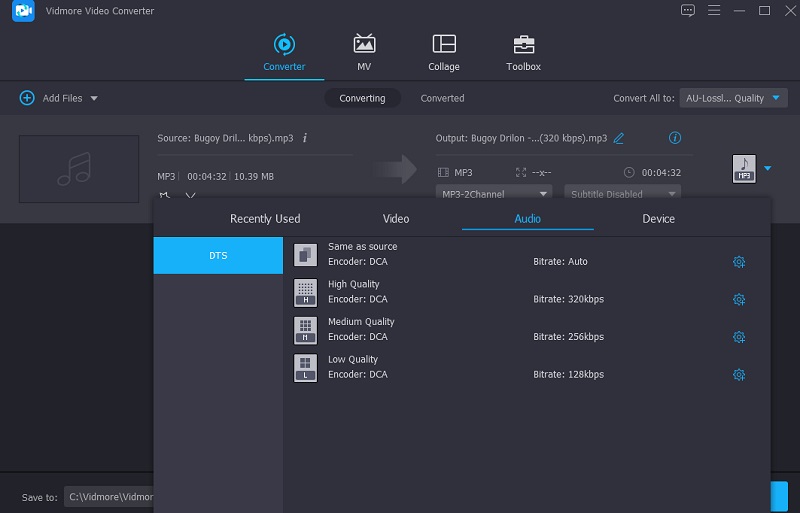 After selecting the DTS file, you may reduce or retain the audio quality. Select the Format Settings button and use the drop-down arrows to change the Bitrate, Sample Rate, and Channel. Then, select the Create New button to begin.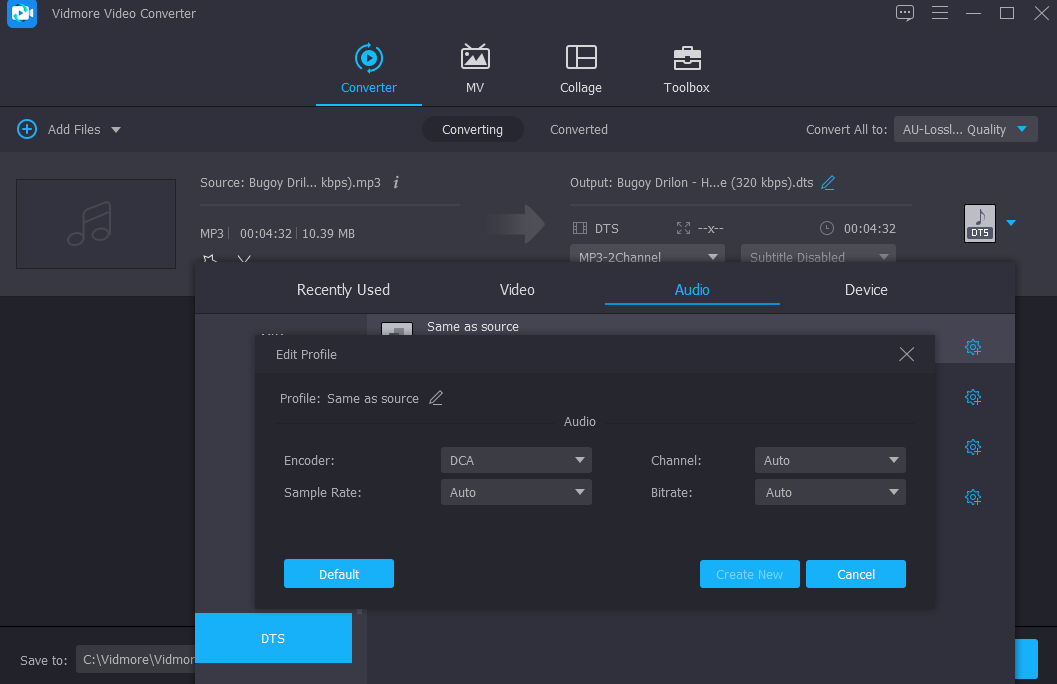 Step 4: Change the Format Permanently
After the audio quality enhancement process, the conversion process will begin. To convert everything at once, choose Convert All from the drop-down menu. That's just how it is! You may now relax and listen to the audio from your home theater system.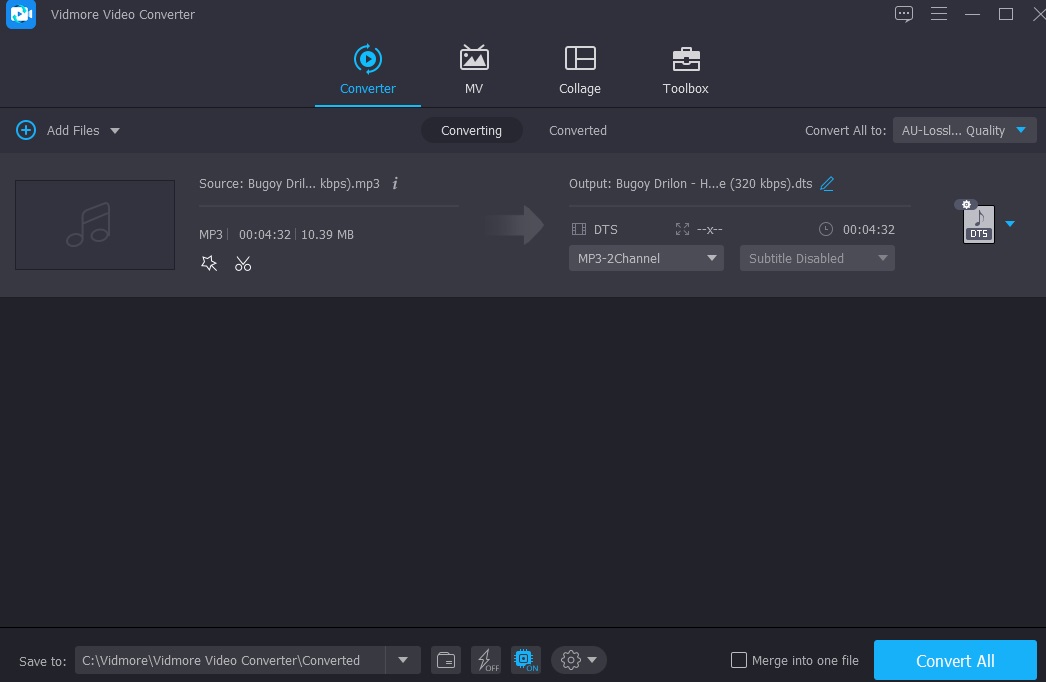 Part 2. Other Ways to Convert MP3 to DTS
1. Convertio
If you want to convert MP3 to DTS online, you may utilize Convertio. Additionally, this web-based utility is compatible with all operating systems. It is accessible for download for free, with the only constraint being a 100MB file size limit. Additionally, it streamlines the converting process by giving a simple navigation option.
Additionally, it supports various audio and video formats from which you may choose. The following is a brief overview of how to use this web-based tool, which will aid you in a more precise understanding of how it works.
Step 1: Convertio is accessible in your browser. Once on the official website, click the drop-down menu next to the Choose Files option. You will download the file from one of several different sources.
Step 2: Choose DTS as the new format by picking it from the drop-down arrow on the right when you have completed uploading your file.
Step 3: Select a file format from the drop-down menu and click the Convert button. Wait a few seconds to complete the conversion process.

2. Switch Audio Converter
If you have a Windows device and are looking for a way to convert MP3 to DTS, Switch Audio Converter is also a good choice. This format is primarily created to convert audio files only. It supports more than 40 formats such as WAV, M4A, AVI, and DTS. Aside from converting, this tool also allows you to merge and compress your audio tracks. If Switch Audio Converter is one of your options, here is a sample below.
Step 1: Install Switch Audio Converter on your device by downloading it and following the installation instructions. Then, after the setup is finished, you may start the program on your computer and enjoy its features.
Step 2: By clicking the Add File button, you can select the MP3 files currently on your computer. Then, select the new format from the drop-down option on the left-hand side.
Step 3: Locate the Convert button in the bottom right-hand corner of the program or the main interface, and choose one from the drop-down menu to convert to that format. As a consequence of taking this step, the conversion process will begin immediately.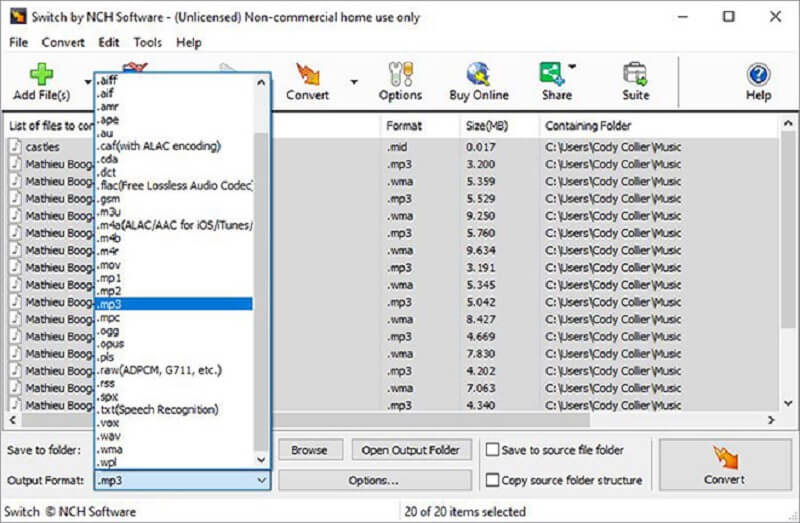 Further Reading:
15 Best MP3 Player Applications Review and Comparison
How to Add and Edit Tags to MP3 Files on Windows and Mac
Part 3. FAQs About Converting MP3 to DTS
What is DTS audio?
Digital Theater Systems developed DTS as a format for storing multi-channel audio output. A DTS file comprises five audio tracks intended for use with surround sound systems. One middle speaker, two in front, and two back speakers.
What is the advantage of a DTS file format?
It gives excellent sound for movies and music. It also provides fantastic-sounding music DVDs and concert videos.
What are the disadvantages of using a DTS file format?
There are minimal software resources to assist this option. And the few channels that are accessible are often a touch too loud and must be muted on certain discs, which is unfortunate.
Conclusion
Suppose you want to generate an excellent sound quality in your home theater. In that case, all you have to do is utilize an MP3 to DTS Converters. Everything supplied in the article mentioned above doesn't matter if it is online or offline. Why settle with a low audio quality if you can easily convert it to a great format. The material above will undoubtedly assist you in finishing your task.