How to Free MP3 to AAC Convert for Windows, Mac, Online, and Mobile
Compared to MP3, AAC attains better sound quality when performing under similar bitrates. More importantly, it can handle both lower and higher sound frequencies which MP3 is not capable of doing. This format is so good because it produces quality sound, especially at low bitrate compression, helpful in creating audiobooks.
Whatever your reason is for converting MP3 to AAC, you can quickly accomplish this task with the help of the right tool. Continue reading to learn about the practical solutions for this predicament.

Part 1. How to Convert MP3 to AAC on Desktop
Suppose you prefer to convert MP3 to AAC on a desktop tool with no restriction and limits in file size or number of converts. In that case, Vidmore Video Converter is the best choice. This MP3 to AAC software can also convert almost all types of audio/video formats. Aside from audio formats, it also supports a wide selection of devices such as iPhone, iPad, iPod, Samsung, etc. Moreover, it integrates audio editing while allowing you to cut, split, and merge several audio files. You can also customize the audio parameters like sample rate and bitrate and fine-tune the advanced settings for audio.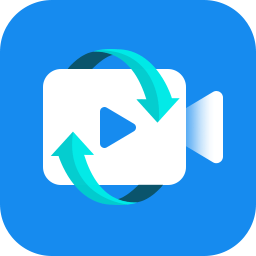 Professional MP3 to AAC Converter Software
Convert audio files into various mainstream file formats.
Adjust audio settings, including audio codec, sample rate, bitrate, and channels.
Works as an audio editor for trimming, splitting, cropping, and merging audio files.
Convert multiple audio files in batches.
Available in Mac and Windows computers.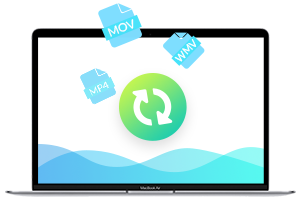 Following are the steps to learn how to convert an MP3 to AAC:
Step 1. Install Vidmore Video Converter
To get the app, click on the Free Download buttons corresponding to the operating system your computer is running. Finish the installation by following the setup wizard guide and opening the program.
Step 2. Import MP3 file to convert
Now click the Plus sign button to load your target MP3 file to convert to AAC. By then, you will see the preview of the MP3 file in the main interface. Click the Add Files at the upper right to add multiple MP3 files you want to convert.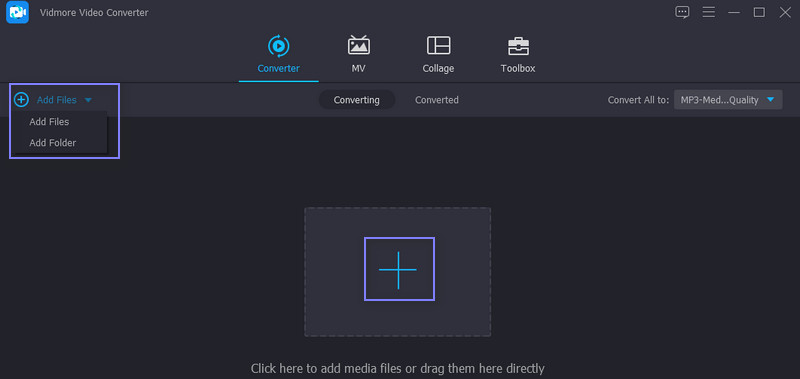 Step 3. Choose output format
After that, click the drop-down menu for the Profile and switch to the Audio tab. On the left panel, choose AAC, and it will display a list of audio quality. Choose from among the high, medium, and low audio quality, depending on your personal preference. You can also leave the quality unchanged by selecting the Same as source option.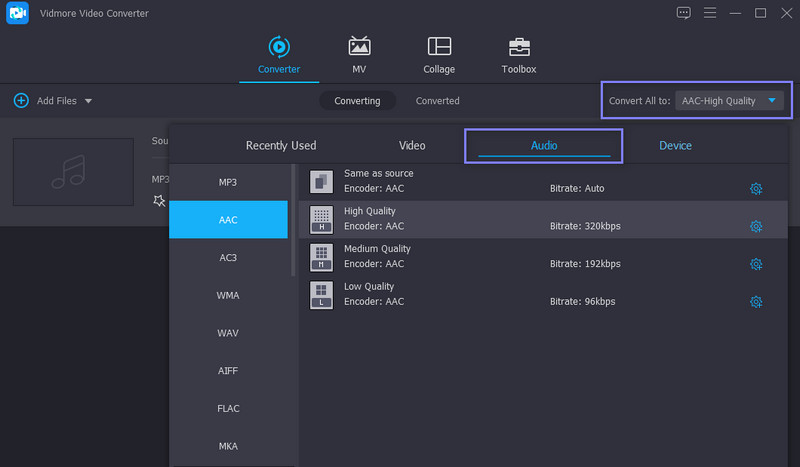 Step 4. Convert MP3 to AAC
Once done, click the Convert All button at the bottom right corner to start the conversion process. As soon as the conversion finishes, it will open a folder where you can preview the playback of the file's final version.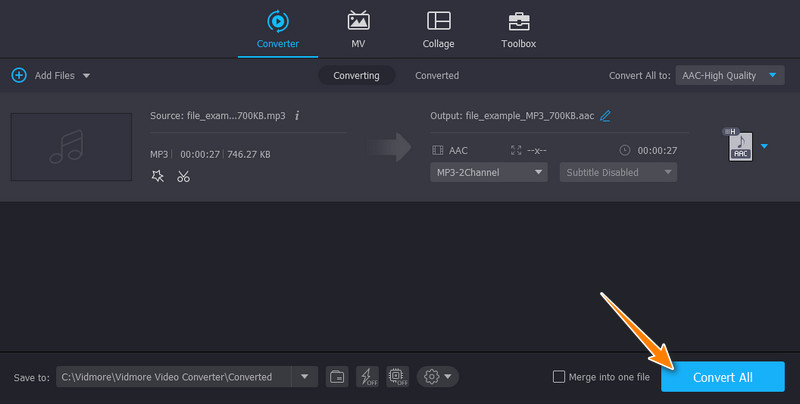 2. iTunes
Can iTunes convert MP3 to AAC? The answer is yes. It works both as a multimedia player where you can open and stream your favorite audio files as well as convert your audio files. In addition, it helps change audio parameters like audio codec, sample rate, bitrate, etc. However, it is not as user-friendly as the previous option. You need to go through a bit of a complicated process for converting media files. Nevertheless, here is the instruction on how to handle this program.
Step 1. Launch iTunes on your computer and add an MP3 file that you like to convert to AAC.
Step 2. Click the Add File to Library and locate your target audio file from the folder.
Step 3. On the same page, open the Edit option and select Preferences. From here, click on the Import Settings and set the Import Using to AAC Encoder. You are almost done and ready to convert MP3 to AAC in iTunes.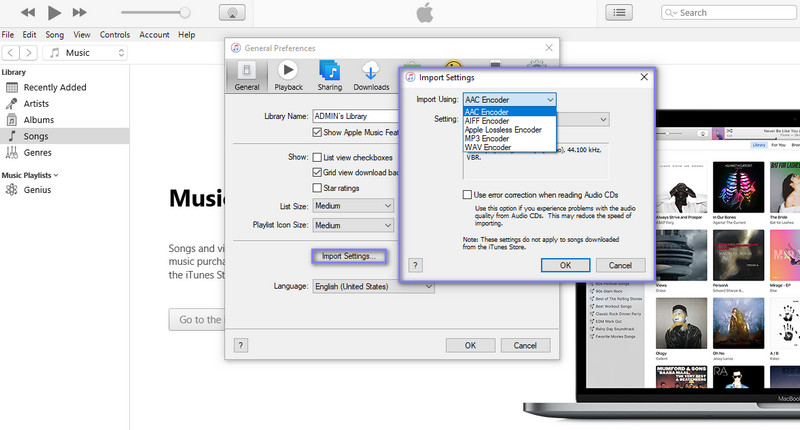 Step 4. For the quality, drop down the menu for Setting underneath the Import Using option. Then select the appropriate quality that fits your needs. Select the MP3 file from the library, hover your mouse to the Convert option and select Create AAC Version to start the conversion process.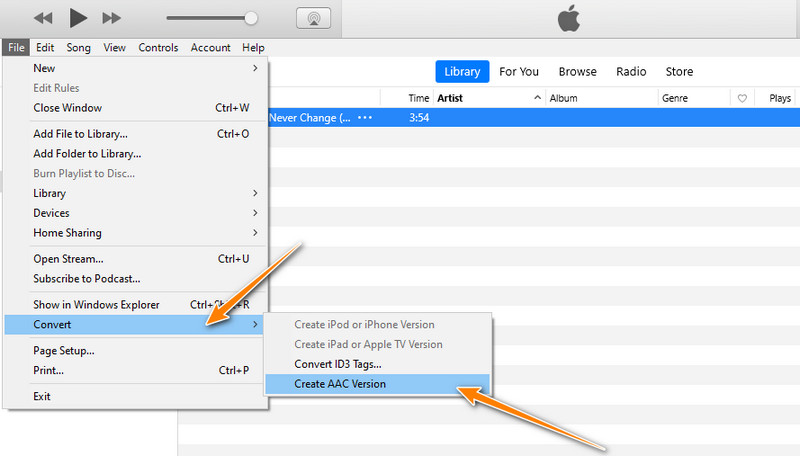 Part 2. How to Convert MP3 to AAC Online
Vidmore Video Converter is a free web application that you can use for converting media files online. This also enables you to convert major audio formats, including MP3, AAC, AC3, FLAC, M4A, and many more. Furthermore, you can also fine-tune the audio quality by altering the sample rate, bit rate, codec, and channel. Above all, this is an MP3 to AAC music converter free of download available for Windows and Mac regardless of the browser you are using. To demonstrate the process of how this MP3 to AAC converter online app works, see the clear and detailed steps underneath.
Step 1. Access the web app
First, open a browser on your computer and visit the program's official website to get to its main interface.
Step 2. Upload your target MP3
After that, click the Add files to convert button on its main page to load an MP3 file. Once the file is imported, it should appear in the conversion panel of the program.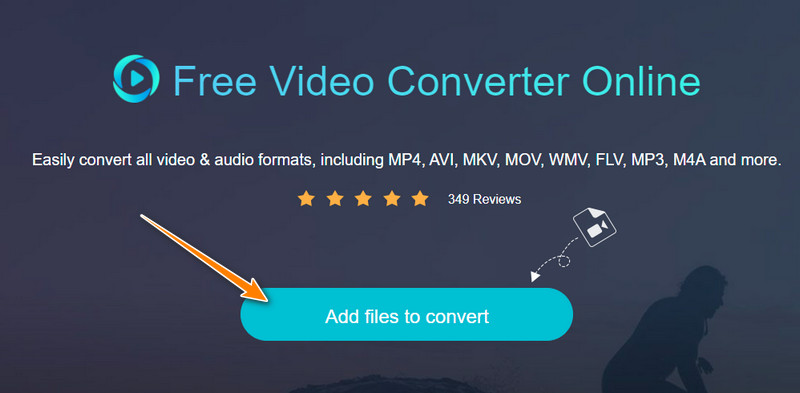 Step 3. Modify the output settings
Now, switch to the Audio format tab and select AAC as the output format. Before the conversion takes place, you may customize the file's output by clicking the Gear icon in the thumbnail of the MP3 file. Configure the necessary settings and hit the OK button to save the changes.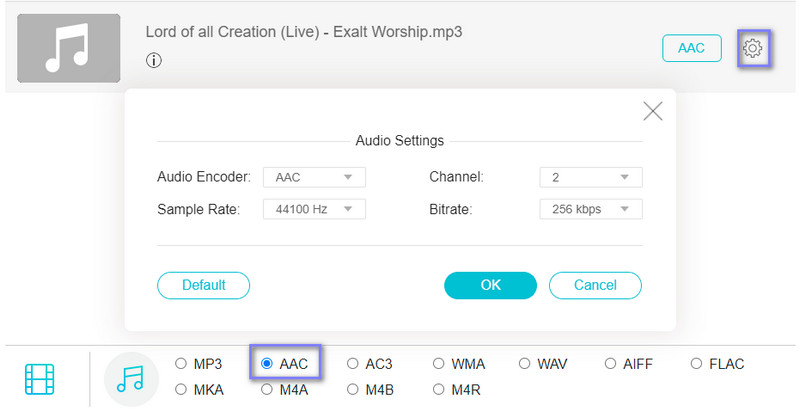 Step 4. Start the conversion
Lastly, click the Convert button to begin converting the MP3 file to AAC online. You can preview the output file from the folder that will pop up.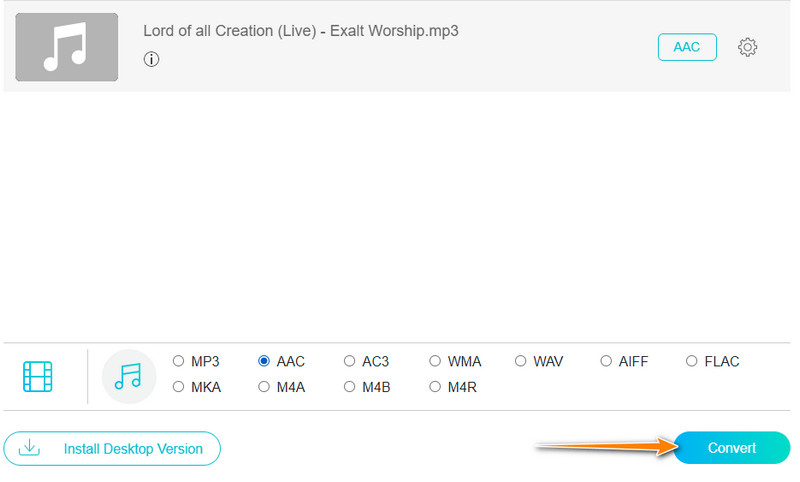 Part 3. How to Convert MP3 to AAC on Mobile
There are also audio converters to assist you in converting MP3 to AAC on your smartphone. Further, we picked the best MP3 to AAC apps for mobile devices and reviewed them. Continue reading to learn more about these programs.
1. All Audio Converter
The first mobile app that you should consider using to convert MP3 to AAC is All Audio Converter. Besides converting files, it packs some useful features like the ability to compress, merge audio files, and customize audio parameters in its intuitive user interface. Essentially, the conversion is easy and quick when using this program.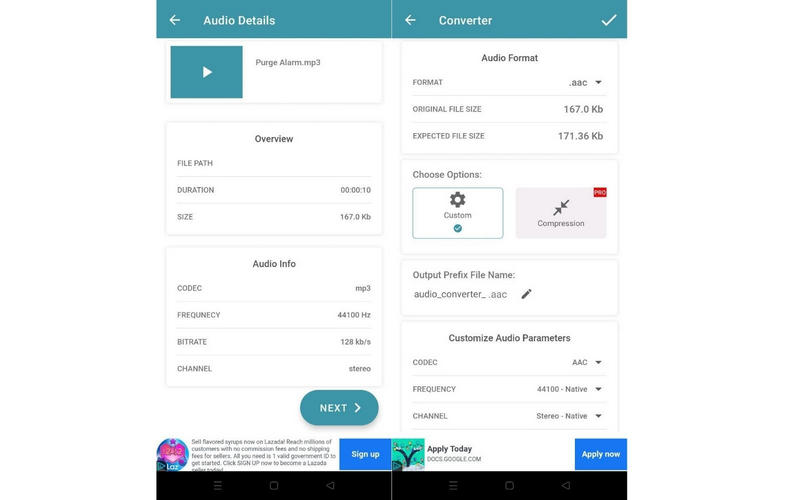 2. The Audio Converter
The Audio Converter is another mobile MP3 to AAC app that incorporates useful functions and features. This app is compatible with iPhone and iPad that allows you to import 30 file formats, including the ten most popular formats. It is interesting to use because it comes with a file browser that allows you to easily locate the files you wish to convert.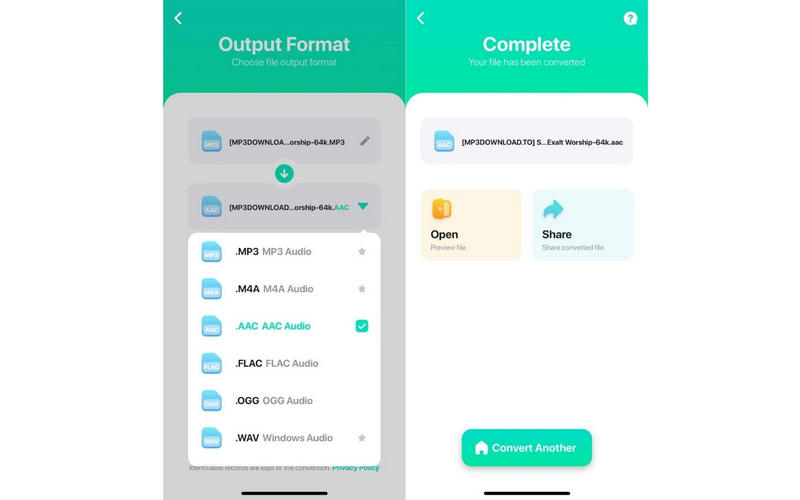 Part 4. FAQs of MP3 to AAC
How to convert MP3 to AAC iPhone ringtone online?
Creating an AAC iPhone ringtone online is not that complicated. For this, you may use online programs like Clideo, in which you can cut the MP3 file and convert it to iPhone ringtone formats such as M4R and AAC.
How can I convert MP3 to AAC without iTunes?
There are great alternatives for converting MP3 to AAC, so you don't have to use iTunes. One of the recommended tools is Vidmore Video Converter.
How to convert MP3 to AAC in iTunes Windows?
As it is known, iTunes comes with Windows and Mac counterparts. You can refer to the above procedure for converting media files in iTunes.
Conclusion
The above solutions will help you learn how to convert MP3 to AAC format for the final thoughts. Moreover, this post covers desktop, online, and mobile approaches. Thus, regardless of your preferred method, a tool is the right fit for you.